The Film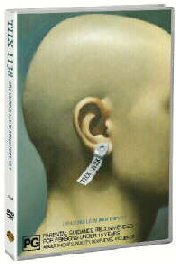 THX 118, a chilling exploration of the future is also a compelling examination of the present. In George Lucasí THX 1138 Robert Duvall stars as the title character, a man whose mind and body are controlled by the government. THX makes a harrowing attempt to escape from a world where thoughts are controlled, freedom is an impossibility and love is the ultimate crime. This synopsis on the back of the DVD gives a very brief but to the point outline of what this film is about, however letís take a closer look shall we?
DVDs are the directorís best friend, with extended editions, documentaries and commentaries a director can reveal how insightful, visionary, ironic and totally clever they really are. THX 1138 The George Lucas Directorís Cut (as it so proudly proclaims on the front cover) is a perfect example, the two DVDs filled with extras defending Lucasís much-maligned piece of work. Finally, the director gets to set the record straight on THXís shabby initial treatment by Warner Brothers and how misunderstood the film was upon its release. On top of this, many of the directorís of the seventies get together to wax lyrical in a documentary on Coppolaís failed production company, American Zoetrope (of which, THX 1138 was its first film under that production company). It feels like a white wash of the same story covered in Peter Biskindís book, Easy Riders and Raging Bulls, and therefore not nearly as salacious or fun.
THX 1138 is a visually and aurally exciting, though ultimately distancing, experiment in fractured story telling. The emphasis on elliptical editing, and minimal dialogue, means we never get involved in the story: we watch Robert Duvallís THX as if heís a frog in a jar. With Walter Murchís sound design providing an endless layer of meaningless technocratic chatter youíd have to be a veritable moron not to recognize that THX is a parable about the rise of sterile consumerism and faceless bureaucracy, in modern life.
Which is why itís more than a bit annoying when Lucas uses every breath of his DVD commentary to explain the parable, and how audiences at the time didnít get it. Lucas was only 25 when he made THX 1138 and he still sounds like a bitter arts student justifying his pretensions so that we get it. His tortured whine explains that audiences didnít recognise the humour, the many ironic juxtapositions, especially featuring the droids.
Back to the film for a moment, the Directorís Cut here include some polished scenes and a few minor additions that Lucas put back in, now that he has total control of his films as in the Special Edition versions of Star Wars the effects have been given a 21st century rejuvenation if you will. Although the new effects stick out like a sore thumb and unlike his changes in Star Wars these scenes actually add to the filmís overall empty and hollowed feeling the director was aiming for, in a way expanding the world in which, THX lives in.
Fans of Lucas will most certainly like to see the directorís beginnings here there are certainly a lot of concepts he used in THX 1138 that were expanded on in Star Wars a prime example is the sound design. The film holds up fairly well today and is an interesting peek into the once upon a time creative life of one of todayís biggest independent filmmakers.
At one point, in the making of documentary, Lucas explains that THX 1138, American Graffiti and Star Wars are all the same story - a man trapped who must will himself to escape. Lucas obviously wishes to be taken seriously as an auteur, a director with a consistent body of work. But thereís a big difference in tone in the three films: THX 1138 is cold and critical, American Graffiti is nostalgic and, ironically, the Star Wars franchise comes full circle to become part of the machinery Lucas criticizes. For all his perception, this irony seems lost on Lucas. And of course it is, it doesnít feature droids.

Video


Presented in the filmís original 2.35:1 widescreen ratio this THX certified anamorphic transfer is absolutely stunning. The image is clear and sharp with no imperfections that I could detect, the overall colour palette of the film is very white so imperfection would be very easy to spot on this canvas. Additionally skin tones are well rendered and shadow detail, most notably and especially in the final act of the film feature absolutely no low level noise. The film has been given a wondrous restoration and to put it simply this is a perfect transfer.

Audio


This film features three soundtracks all of which are presented in Dolby Digital 5.1, we have an English, French and Italian. For the purposes of this review I chose to view the film with its original English soundtrack, and just like the film transfer itself the audio has been given an upgrade from its original mono track. This new 5.1 mix is delicious, dialogue is ever so clear and distortion free, music is well mixed and separation across all channels ensure maximum effect, however itís the filmís ambient and background surrounds that offer a real treat giving Lucasí world in the film a unique life of its own. This track is a terrific compliment to the DVDs beautiful image transfer.
Additionally the disc also includes optional subtitles in English, English for the hearing impaired, French, Italian, Italian for the hearing impaired, German, Spanish, Arabic, Bulgarian, Romanian and Dutch.

Extras


DISC ONE
The first extra we have here is a feature-length audio commentary by writer/director George Lucas and co-writer/sound designer Walter Murch. In this commentary the two discuss various aspects of how the film came about and the development through American Zoetrope, as well as the difficult production period and studio reaction. Additionally we also get to hear about the technical aspects of creating the filmís unique visual style and itís complimentary sound design. The two manage to talk about quite a lot in the time allocated, fans will certainly get quite a bit out the two but the commentary does wane into the occasional Lucas ramblings about the studio and listing excuses as to why it failed when the film was first released.

Next up we have the theatre of noise sound effects only track, here you can view the film without any dialogue at all and viewers can marvel at the effect work created by Murch. Although an interesting extra to have, this is really catered for the technically incline I canít really see that many people switching this one on.

The final extra on the first disc is the master sessions with Walter Murch this branching feature sees Murch explain various aspects of the sound design. You may view this as thirteen individual segments, one continuous segment, or as branching vignettes throughout the film, similar to the Ďfollow the white rabbití feature on "The Matrix" DVD. Overall this is an excellent look at the creation of sound and music for a film.

DISC TWO

The first extra we find here is the feature-length documentary A Legacy of Filmmakers: The Early Years of American Zoetrope, this documentary focuses on the young careers of George Lucas and Francis Ford Coppola, their beginnings at film school and in the industry and of course the creation of their joint production company American Zoetrope, for which THX 1138 was to be its first feature film project set up at from their production deal with Warner Brothers. The documentary focuses on what went on at Zoetrope from the companyís initial rise to its demise. Filmmakers and friends reminisce about the Ďgood old daysí and how the 60ís were about free love, experimentation and boundless imagination. While generally very informative this often feels like a love letter to George, Francis and their beloved company.

Following that we have a new retrospective documentary entitled Artifact from the Future: The Making of THX 1138 this new piece created exclusively for the DVD, includes some new interviews with Lucas and some of his contemporaries. Here we continue on the path of what Lucas was like as a young director and the struggle that was making this futuristic opus about consumerism. This documentary gives the viewer an interesting perspective on the making of the film, however it feels a little too one sided at times, as not a single Warner Brothers executive from that time got to interject with their two cents, it would have been nice to hear what they had to say about the film when it was originally presented to them rather than hearing it second hand from Lucas.

Following the two documentaries is Lucasí original student short film Electronic Labyrinth THX 1138 4EB, described by Steven Spielberg as a gift to all the filmmakers in the room the night it premiered. This short is effective, with inexorable repetitiveness, helmeted bureaucrats dog the hapless escapee as he desperately rushes through empty car parks and escalators. It also looks no more special than most films Iíve seen at fringe festivals and student exhibitions. The series of images of society in conflict, rhythmically cut until titles ask us to ponder the terrible state weíre in. The End fades in, closely followed by a question mark. While itís nice to have this companion piece to the film it would have benefited greatly with a separate commentary of itís own.

Next up is the filmís original 1971 EPK featurette entitled Bald This short piece features interviews with Lucas as well as some of the cast as they talk about the bald look of the citizens in the film and the difficulty in finding actors that are willing to shave their heads, which proved quite difficult especially for actress Maggie McOmie who played THXís mate LUH 3417.

Rounding out the extras a series of trailers that include the original trailer plus a series of five re-release trailers for the filmís directorís cut re-issue into theatres. The five re-release trailers are titled The Future, Whatís Wrong, Characters, Pure Cinema and Be Happy and each follow different themes as their titles suggest.

Packaging


The packaging features a written introduction by Lucas on the inside front cover.

Overall


THX 1138 is a visually and aurally compelling film that features some fine performances from itís principle cast, but the hollowed and empty feel of the film distances one from it and doesnít really allow you to make any sort of personal connection despite itís themes of freedom and escape. In this Directorís Cut, Lucas expands on his original vision with the inclusion of new special effects and a beautiful restoration. Warner Brothers have included a stunning image and audio transfer and a series of extras that will keep you going for quite some time.
| | | | | |
| --- | --- | --- | --- | --- |
| The Film: C+ | Video: A+ | Audio: A+ | Extras: A | Overall: A- |