The Film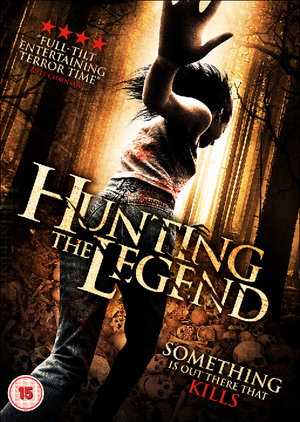 ***This is an A/V and Extras review only. For reviews on the movie from various critics, we recommend visiting HERE.***

There's something out there… something that hungers for flesh… something that kills.

Five years after his father was mysteriously slaughtered while out hunting, Chris Copeland enters the Alabama woods on a mission of revenge. Accompanied by a handful of his friends, he is fearless, foolhardy and oblivious to the terror that awaits them all.

As they become lost in the dense and desolate woods, they smell blood, and the haunting sense of fear soon overtakes them. They are about to discover, perhaps too late, that the difference between the hunter and the hunted can be as thin as a strip of flesh.

Video


Multi-national distributor Image Entertainment (part of RLJ Entertainment) have released the found footage Bigfoot movie "Hunting the Legend" on to DVD at an aspect ratio of 1.80:1. The transfer is anamorphic, but is unfortunately a NTSC->PAL transfer resulting in numerous issues.

Although not immediately noticeable in the opening scenes, there are some quite unmistakable issues with combing in the transfer, especially during interview scenes in the daytime. Although it is a consistent problem, it isn't overbearing, and your average viewer likely won't notice it. There is also some occasional ghosting during some of the scenes with fast movement, but this particular concern only lasts for a few frames at a time, and is barely perceptible. As for the other elements of the transfer, we can certainly tell this is a low budget film with an inexperienced and amateur crew. Of course, with the film being in the found footage sub-genre, it is supposed to look amateurish - as if it is a few friends using a low end camcorder to document their experience. Unfortunately though, you would expect the scenes with pre-planned interviews with various local residents (exactly like "Blair Witch Project") to have slightly better levels of lighting and sharpness. The levels of details varies throughout. Some scenes look okay, with reasonable levels of smaller details in faces showing good clarity, but most scenes look a bit clunky and fuzzy. There aren't any signs of damage to the transfer, and the overall quality is similar to that of releases for other genre films of this budget range, but it is still disappointing.

The film is uncut and runs 95:06.

Audio


Two audio options have been included:
- English Dolby Digital 5.1
- English Dolby Digital 2.0 Stereo

For my viewing, I opted for the English Dolby Digital 5.1 track, which was essentially the stereo track with the very occasional use in the surrounds for wind, and other very small basic environmental effects made by the person behind the camera. Generally effects sound clean, but dialogue can be slightly muffled from time to time, usually when the characters are walking in front of the cameraman. Clarity and sharpness is quite mediocre, and overall the track does have a tendency to sound flat. Although some may believe several elements to the track sound poor, they also sound realistic for the situation (filmed on the cuff). There are no signs of damage to the track such as dropouts, scratches or background hiss.

No subtitles have been included.

Extras


Just some start-up trailers (3:38):
- "Camp Dread" (1:20)
- "The Invoking" (1:10)
- "Bloody Homecoming" (1:06)

Overall


Unoriginal, cliched, found footage guff. Skip it.


| | | | | |
| --- | --- | --- | --- | --- |
| The Film: D | Video: C- | Audio: C | Extras: E- | Overall: D |