The Film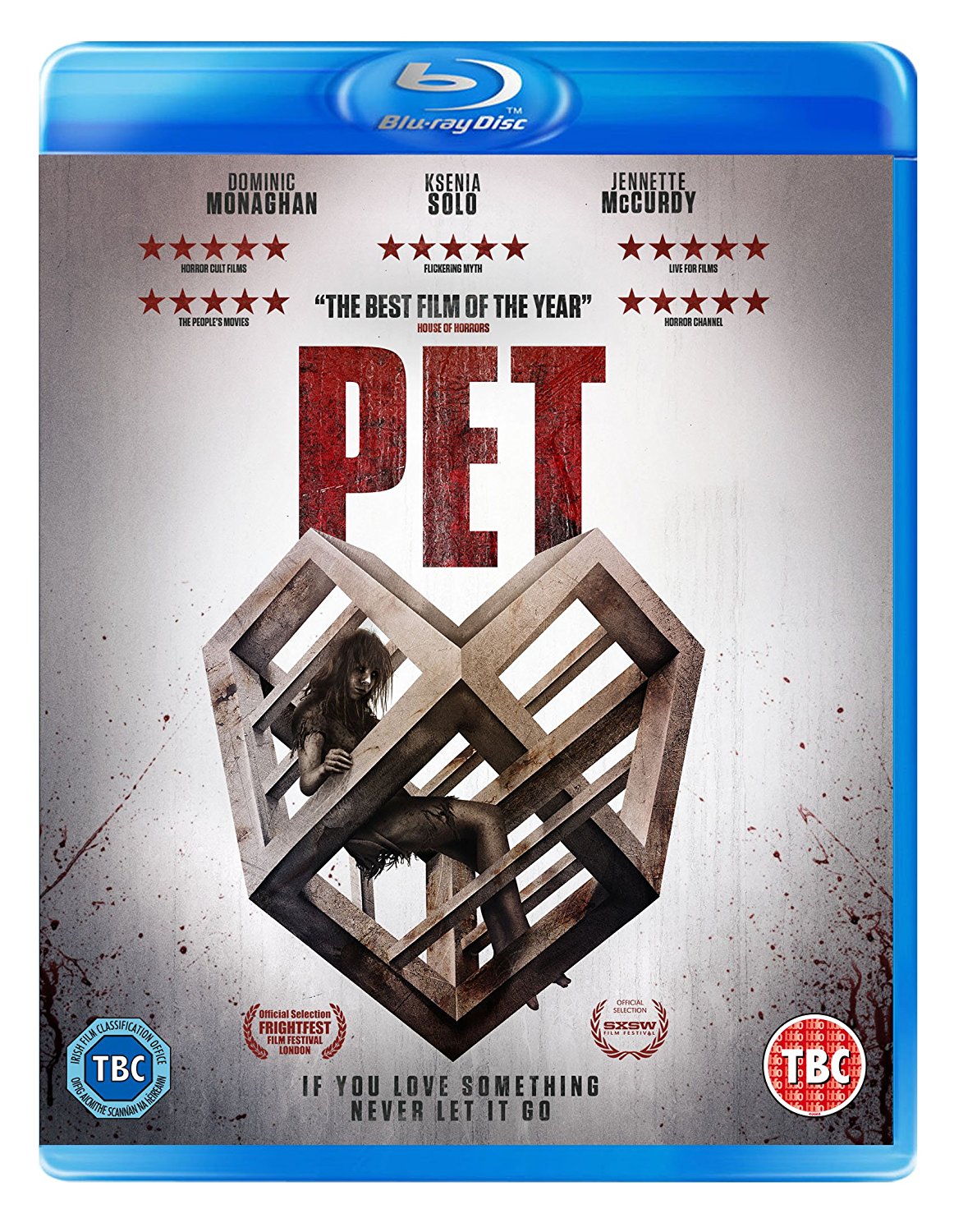 ***This is an A/V and Extras review only. For reviews on the movie from various critics, we recommend visiting HERE***

This haunting, psychological horror follows Seth, a lonely man working in an animal shelter. His monotonous routine is broken one day when he bumps into Holly, a girl from school who he soon becomes obsessed with. However, when she rejects his advances, Seth's obsession reaches a terrifying new level, with Holly hiding secrets of her own.

Helmed by Award Winning director Carles Torrens (Apartment 143, ABCs of Death 2.5) and starring Dominic Monaghan (Lord of the Rings trilogy), Ksenia Solo (Lost Girl, Black Swan) and Jennette McCurdy (Between, Sam & Cat), Pet is a dark and disturbing love story asking how much you could sacrifice in the name of love?

Video


Independent British distributor have released Pet on to Blu-ray in the United Kingdom in the original aspect ratio of 2.35:1. The feature receives an AVC MPEG-4 codec, and is presented in 1080p. The disc is a BD-25, which is plenty with the lack of extras. This transfer is solid for a low budget film shot on digital, but not reference quality.

When it comes to this sub-genre of horror/thriller films, you expect to have many dark locations, and Pet is by no means an exception with the vast majority of the film taking place either in a dark apartment, a poorly lit street at night, a seedy bar, or a darkened veterinarian practice. Thankfully, the transfer handles blacks pretty well, and although there is some minor crush here and there, it is forgivable. Shadow details are pretty good, with many smaller background items showing strong levels of clarity. In fact, details are above average throughout the feature, with facial close-ups particularly noteworthy, especially when showing small drips of sweat and tears on Holly's face as she realises her horrific predicament. There is some nice little detail in a scene where she rips off her own fingernail, that I have to admit made me cringe a little (and I have seen a lot of horror films over the years). Occasional lighter elements of the palette also fair well, and leave no causes for concern. I'd be pretty confident that Signature have changed their authoring/technical staff in the last couple of years as they have recently turned a corner for the better when it comes to their encodes and presenting films in their original aspect ratio. I noticed no obvious compression issues with this film for example. There are no problems with aliasing, edge enhancement, digital noise reduction, or any other possible technical issues.

The feature is uncut and runs 94:12.

Audio


Signature have provided two audio tracks on this release:
- English DTS-HD Master Audio 5.1
- English LPCM 2.0 Stereo

For review purposes, I of course opted for the DTS-HD Master Audio 5.1 track, and it did not get off to the best of starts. One of the opening scenes takes place on a bus, where Seth and Holly first talk to each other. In this scene, dialogue sounds absolutely horrendous - overly loud in comparison to effects and as though it has been subject to some sort of post-production issue. It makes Seth sound like Bale's Batman, and whilst the character does have a raspy voice throughout, it is laughably raised in this scene to the point where I checked another couple of discs to make sure I hadn't inadvertently changed my audio equipment settings by accident. However, the rest of the film does play without any issue and the whole enthused dialogue issue settles down almost immediately. Channel separation is good, but rather basic, though the LFE is used quite well at the right times if perhaps with a slight abruptness. There are no issues with pops, scratches, drop outs, or background hiss.

Unfortunately, no subtitles have been included.

Extras


Just a couple of start-up trailers:
- "The Good Neighbour" (2:31)
- "Beyond the Gates" (1:27)

Overall


Pet is a fun little low budget captive horror/thriller that genre fans will find enjoyable enough to warrant a purchase - if you can get past the audio issue at the beginning, and the lack of extras that is!
| | | | | |
| --- | --- | --- | --- | --- |
| The Film: C+ | Video: B+ | Audio: C+ | Extras: E | Overall: C+ |