Life on the Line [Blu-ray]
Blu-ray A - America - Lions Gate Home Entertainment
Review written by and copyright: Eric Cotenas (10th March 2017).
The Film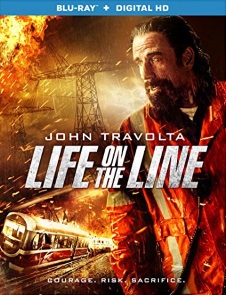 Biker-turned-lineman Beau Ginner (I Am Wrath's John Travolta) was a reckless good ol' boy until his responsible brother Danny (Godzilla's Ty Olsson) was electrocuted fixing one of his slapdash line repairs and Danny's wife was killed in a road accident on the way to the hospital, orphaning their daughter Bailey. For the last ten years, he has been rigidly by-the-book and safety-conscious on the job with no patience for the latest hires colleague Pok' Chop (The Shawshank Redemption's Gil Bellows) has hired for their contract to upgrade the longest substation in the county before storm season. The primary focus of his ire is Duncan (Final Destination's Devon Sawa), the bad boy apprentice who he believes will hold back college-bound niece Bailey (Blue Crush's Kate Bosworth) who has been toiling away in the local café well beyond high school. When Bailey reveals that she is pregnant, Duncan is overjoyed but Beau is incensed. When a major storm comes in early and knocks out lines across the grid, and a train derailment knocks out the entire city, the two men must put aside their differences to save "our girl" when her life is literally on the line (one can imagine the writers and Mob Wives/Big Ang producers marveling at their cleverness).

Purportedly based on true events (executive producer Chad Dubea, who also penned the original story is a lineman), Life on the Line attempts to depict the role linemen play among the first responders in disaster situations. The real line workers to which the film is dedicated (and are memorialized beside the end credits crawl) certainly deserved something more than an impoverished retread of Armageddon substituting a storm for a meteor and a theme song that manages to be even more annoying than the Aerosmith one; but it appears that studio Grindstone is on its way to becoming The Asylum of action movies and gritty dramas. The film piles the incidents it needs to build up to the third act while relying on genre familiarity and performances to smooth over the contrivances, including the return of ex-con Ron (The Unspoken's Matt Bellefleur) and the newly-arrived Iraq veteran with PTSD lineman Eugene (Apollo 18's Ryan Robbins) and his long-suffering wife Carline (Dexter's Julie Benz) to facilitate Bailey's peril while the climactic act of heroism will be all too predictable. Supporting performances generally fare well, with Travolta hindered more by his attempt at a Southern accent than the beard he seems to have borrowed from fellow Grindstone star Steven Seagal (End of a Gun). Sharon Stone (Cold Creek Manor) warrants no mention on the front cover and does not even not appear to have merited a character name, has a thruway bit as Duncan's embittered lineman widow mother , an alcoholic embittered by the destitute state her husband left her in when he was killed on the line. The text before the end credits providing information about fallen line workers mentions an inception date for the film as 2013 while IMDb cites a 2015 release date, suggesting that it might have been shelved for a while (and perhaps undergone some post-production tinkering between then and its 2017 streaming and physical media release considering how many other Grindstone titles are churned out in the same time period).

Video


LionsGate's BD25 1080p24 MPEG-4 AVC 2.40:1 widescreen Blu-ray encode sports good detail in the film's well-lit day exteriors and night interiors while moodier lit day interiors and stormy nights look best during close-ups.

Audio


The DTS-HD Master Audio 5.1 track is not as gimmicky as your summer blockbuster storm movie but it is a full-bodied effort with active surrounds, depth to the scoring and source music, and sound effects that do a better job than some of the CGI. Optional English, English SDH, and Spanish subtitles are available.

Extras


The principal extra is a "Behind the Scenes" featurette (16:49) in which producers Marvin Peart (Who's Your Caddy?) and Phillip Glasser (Gearheads) and director David Hackl (Saw V) discuss the origins of the project (with input from Dubea) while Travolta, Bellows, Sawa, Benz, and Bosworth discuss their characters. Travolta also reveals that he did training with the linemen in his Floridian hometown before doing more in Texas and then another week-long course with Sawa and Bosworth in Canada before the shoot. The disc also includes the "Life on the Line" Music Video by Fiona Culley and Darius Rucker which will probably not be a hit single.

Overall

---
DVD Compare is a participant in the Amazon Services LLC Associates Program and the Amazon Europe S.a.r.l. Associates Programme, an affiliate advertising program designed to provide a means for sites to earn advertising fees by advertising and linking to amazon.co.uk, amazon.com, amazon.ca, amazon.fr, amazon.de, amazon.it, amazon.es and amazon.se.