Snowden [Blu-ray]
Blu-ray B - United Kingdom - Sony Pictures Home Entertainment
Review written by and copyright: Rick Curzon (13th March 2017).
The Film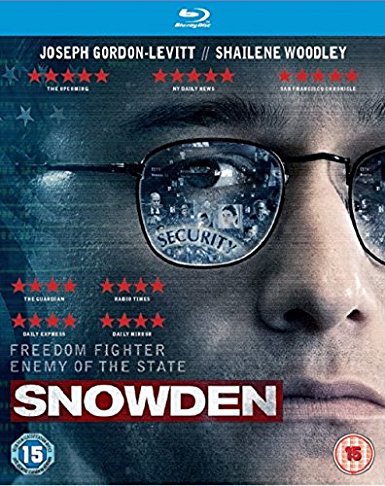 From three-time Oscar-winner, Oliver Stone, SNOWDEN is a riveting personal look at one of the most polarising figures of the 21st century, the man responsible for what has been described as the most far-reaching security breach in U.S. intelligence history. Snowden opens the door on the untold story of Edward Snowden, examining the forces that turned a conservative young patriot eager to serve his country into a historic whistle-blower and posing provocative questions about which liberties we are willing to give up in order for our government to protect us.

Video


Sony Pictures UK are releasing venerable old Hollywood warhorse Oliver Stone's latest; a version of the story of Edward Snowden who blew the whistle on American government surveillance systems and programs that had them accessing everyone in the world's phone, email, internet and social media trails.  Some see him as a hero and others  as a traitor.

Before seeing this film I'd have said Stone should have been the perfect film maker for this subject; it's edgy, controversial and perfect for his kind of paranoia and muscular film making style.  However, although a good film it somehow lacks the acidic bite I've come to expect from him.

Shot in the widescreen ratio of 2.40:1 the story starts in Hong Kong where Snowdon met with reporters from the UK's Guardian newspaper.  Although shot digitally we have the more richly coloured look favoured by Stone as seen in the past (JFK, The Doors) when working on 35mm; usually when working with Robert Richardson as DP.  As is to be expected for a brand new modern film this looks terrific with plenty of detail in both foreground and background and no signs of compression with the encode handling detail well.  I'm sure that if you were to blow the image up 200-400 times normal flaws will be visible, but that's to be expected.

Colours are robust when they need to be with no signs of bleed and It's a pleasure to see a modern production embracing a more vivid colour palette.  I was particularly taken with Stone's use of red in some shots and sequences to pick out details in where blue and green were favoured overall.

Black levels are perfectly judged with deep blacks in shadows and no signs of crush or loss of detail.  Again, there don't appear to be any encode issues that I could detect.  Contrast is also at a satisfying level that doesn't blowout detail but isn't dull either; the image pops off the screen in a most satisfying way and the range of colour and detail is enhanced.  Flesh tones are natural.

134:33 / MPEG-4 AVC

Audio


No surprises here; this is a modern film and an Oliver Stone production, so we have a very robust, florid, detailed soundtrack in English DTS-HD Master Audio 5.1.  LFE kicks in at all the right moments (marine training in the 2004 segments for instance), music is clearly separate and tends to be in the surrounds and dialogue is never compromised or hard to follow.  Ambient sounds never get in the way of the narrative but subtly enhance the sound field.

English DTS-HD Master Audio 5.1 / English subtitles

Extras


A trailer.  Disappointing considering the US release got nine minutes of deleted scenes, a 41 minute Q&A with the real Snowden and a four minute behind the scenes puff piece.  You'd have thought that a film made so close to it's source historical events would have much more material and a commentary from Stone is always worth a listen even if the guy is a tad batshit crazy.  He's one of the foremost American film makers of the last forty years.  So, a very disappointing extras package.

Overall


A solid if not Earth shattering slice of Oliver Stone film making with great audio and visual specifications as to be expected from such a recent production and for one from Stone.  Sadly, there are no extras worth a damn on this which is seriously disappointing - again - because this is a Stone film.  A barebones release of a film of this stature just doesn't cut it Sony, take heed.
| | | | | |
| --- | --- | --- | --- | --- |
| The Film: B | Video: A+ | Audio: A+ | Extras: E | Overall: B+ |

---
DVD Compare is a participant in the Amazon Services LLC Associates Program and the Amazon Europe S.a.r.l. Associates Programme, an affiliate advertising program designed to provide a means for sites to earn advertising fees by advertising and linking to amazon.co.uk, amazon.com, amazon.ca, amazon.fr, amazon.de, amazon.it, amazon.es and amazon.se.