The Film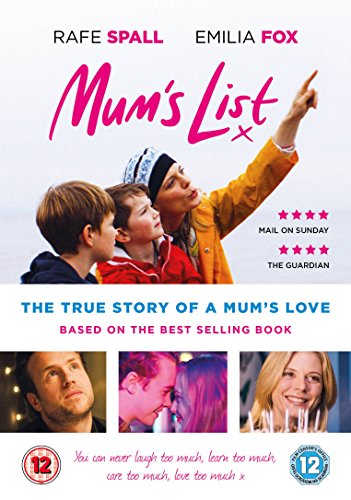 ***This is an A/V and Extras review only. For reviews on the movie from various critics, we recommend visiting HERE***

One of the most memorable, uplifting and beautiful stories of recent years, MUM'S LIST is a romance for all ages. Now a feature film, the true story of a profound, unstoppable and undying love is based on the best-selling book by St John (Singe) Greene, published by Penguin Books in the United Kingdom in 2012.

Written and directed by Niall Johnson ("White Noise"; "Keeping Mum"), it is the story of Singe and Kate, a couple from North Somerset, whose lives were turned upside down when Kate was diagnosed with an incurable breast cancer. Over her last few days, she created her list: writing her thoughts and memories down, to help the man she loved create the best life possible for their two sons, after she was gone.

Video


Studio Soho give the independent British cancer drama Mum's List its worldwide home entertainment debut on DVD, presenting the feature in the original aspect ratio of 2.35:1 which has been anamorphically enhanced. Whilst the transfer is perfectly adequate for the DVD format, it does not look as good as it perhaps should with several minor issues throughout.

The major issue for me, was the distinct lack of sharpness and clarity. Now obviously I was not expecting the pinpoint clarity a 1080p Blu-ray transfer would prescribe, but what we have here is often overly soft and hazy, and whilst I assume some of this could definitely be put down as a creative decision, the haziness is too heavy to ignore at times. External scenes - particularly those based at the beach - suffer from noticeable banding in the skylines. Banding can occasionally also be spotted along walls in internal scenes too, primarily in the more pastel colours. Some light blooming occurs through windows here and there, but this appears to be intentional and suits the moments it happens in well. Blacks aren't as deep and inky as they should be (Rafe Spall's shirt during the dinner party at ~62 mins), but the overall pastel palette plays off strongly against the subject matter. Although there aren't any extras on the disc, there was an occasion with some slight compression artefacts, but not too noticeable. There are no obvious issues with aliasing or edge enhancement, and the print itself - as to be expected for such a new feature - is clean as a whistle.

The feature is uncut and runs 97:24 PAL.

Audio


Two audio options have been included:
- English Dolby Digital 5.1
- English Dolby Digital 2.0 Stereo

For my viewing, I opted for the English Dolby Digital 5.1 track, which was good if underwhelming. The main issue with the track was the inconsistent depth with some scenes sounding flat, whilst others utilised the quiet score and occasional surround effect (the slowly quieting wind and waves at the beach at 75 mins) to bring some added intensity to a profound moment. In 'happier' moments of the story line which revolve around flashbacks, there was an interesting and well selected choice of music tracks. Dialogue is clear at all times and volume levels are consistent. There are no issues to speak of, with no signs of pops, drop outs, or background hiss.

Optional English subtitles have been included for the hard-of-hearing.

Extras


Unfortunately nothing.

Overall


Rafe Spall impresses me when he takes on more serious roles, and Emilia Fox is excellent in what must have been a very difficult role to take on. The film reminds me a lot of the superb Me Without You, and I definitely recommend it to those who have had the misfortune of going through cancer with someone close to them. Unfortunately, the technical aspects of this disc are distinctly mediocre though. There are no extra features, but the initial price point reflects that.
| | | | | |
| --- | --- | --- | --- | --- |
| The Film: B | Video: C+ | Audio: B- | Extras: F | Overall: B- |