Garment Jungle (The) (Blu-ray) [Blu-ray]
Blu-ray B - United Kingdom - Powerhouse Films
Review written by and copyright: Rick Curzon (16th November 2020).
The Film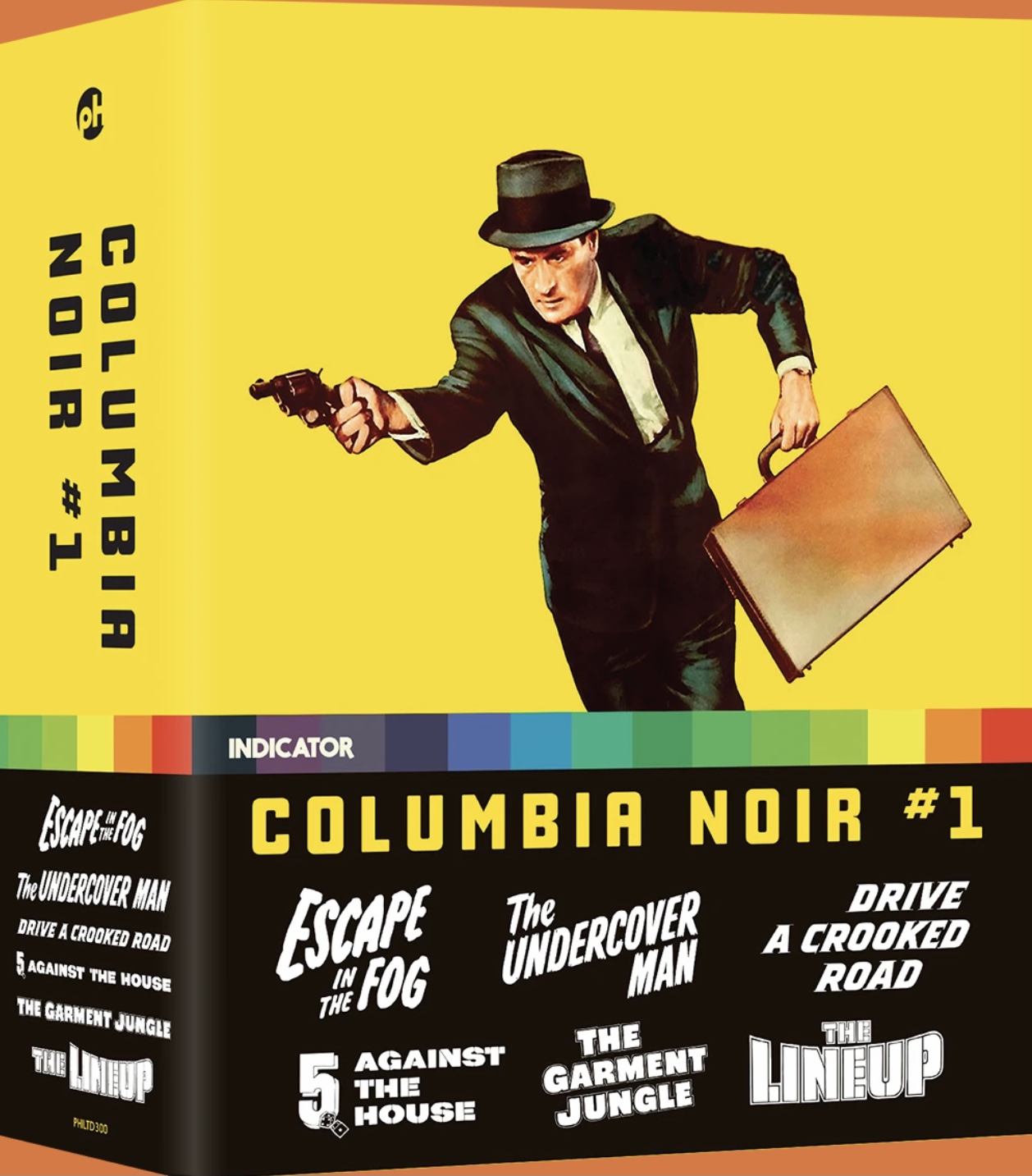 Six tough, no-nonsense noirs from six of the genre's toughest, no-nonsense directors: Budd Boetticher's Escape in the Fog, in which a nurse and a war veteran take on Nazi spies in San Francisco; Joseph H Lewis' The Undercover Man, inspired by the real-life case against Al Capone; Richard Quine's Drive a Crooked Road, which finds Mickey Rooney moving away from comedies and musicals to a tougher persona; Phil Karlson's 5 Against the House, starring Kim Novak as a nightclub singer embroiled in a casino heist; Vincent Sherman's The Garment Jungle, from which Kiss Me Deadly director Robert Aldrich was famously fired; and Don Siegel's police procedural The Lineup, based on the radio and television series, and as brutal a film as he ever made.

All six films are presented for the first time on Blu-ray in the UK, with The Undercover Man and Drive a Crooked Road making their world Blu-ray premieres. This stunning collection also boasts a 120-page book, and is strictly limited to 6,000 numbered units.

Video


Crackerjack crime drama based on an article published in Readers Digest: "Gangsters in the Dress Business" by Lester Velie. Despite the occasional clunky piece of writing (mainly in the opening scene) this is a super little film with powerful performances from several acting heavyweights; even the usually light leading man Kerwin, who is no slouch by any means, ups his game and delivers one of his career best.

In addition to the male cast listed above, mention must be made of both Gia Scala (as Loggia's wife) and Valerie French (as Cobb's fiancé) who also deliver superb, nuanced performances. The basic story and script follow a predictable pattern but the direction (old pro Vincent Sherman) and performances drive home the goods. It also looks a peach as with effective moody, noirish lighting by the late, great Joseph Biroc.

Highly recommended.

The Garment Jungle has an excellent transfer from a newer Sony 2K remaster which - at a guess - is taken from a preprint element; most likely the OCN or possibly an interpositive. My comments on early discs featuring matted 1.85:1 transfers essentially apply here.

A more shadowy monochrome noir with not a shred of colour bias creeping into the perfectly balanced gamma. This one is a darker looking film that Drive a Crooked Road but is just as robust in it's transfer.

This is the fifth film in the set another that was shot open aperture 1.37:1 but designed to be matted in projection to 1.85:1. Consequently, there's a layer of softness that the two Academy aspect ratio films in this boxset lack. As with the other films the black levels are rich and deep with a stygian quality typical of the genre when they're on screen; lots of shadow detail comes through at all times; contrast is layered and and low key with no blown out highlights and plenty of detail allowed to shine through on all focal planes. The Garment Jungle struck me as being a little more flatly lit than the others but has more of less the same look. Textures are tangible, skin and fabrics typically benefit the most with closeups being very detailed. Backgrounds are filled with detail.

Grain is ever present and mostly fine but it is much courser in process shots and exteriors but always maintains a film like appearance, never descending into digital mush. I saw no signs of noise or tinkering and no print damage; the encode by Fidelity in Motion as as good as can be with no clumping or digital splats. Opticals are obviously softer but this is still a top notch transfer and has it's B&W source looking as good as we're ever likely to see shy of a 4K UHD BD with HDR.

Another stellar transfer ('A+').

1080/24p / AVC MPEG-4 / 1.85:1 / 87:49

Audio


English LPCM 1.0
Subtitles: English HoH

A basic mono track of the time which has limited range and is channelled purely through the front centre speaker. Dialogue is always clear, the score typically lush and melodramatic but keeps it's place and sound effects are well rendered in the mix. The dialogue is the main thing and it's handled with skill and the lossless rendering does it proud. Obviously, it's not in the same league as a modern Dolby Atmos track but only a fool would expect it to do so. I noticed no distortions, no sibilant issues. This is as good as this track can be given when it was made so full marks ('A+'). Techno freaks would probably only give it a 'C' when laid against a modern track.

Subtitles for the hearing impaired are top notch and very welcome.

Extras


Audio commentary with Kevin Lyons (2020)

Lyons does his usual thorough job of researching the film and we get lots of career information on the cast and key creatives.

"It's a Jungle Out There: Robert Loggia on The Garment Jungle - Conducted by film Alan K. Rode at the Egyptian Theatre, Los Angeles on 4 May 2007" 2020 featurette (19:42)

Vintage material given a 2020 fillip. Loggia was a character and that comes over here; gravelly voiced, enthusiastic and affable with plenty of great stories. His presence in films is much missed. It seems to have been a 1.33:1 source that has been zoomed to 1.66:1 and upscaled to 1080/24p.

"Law of the Jungle: Tony Rayns on Robert Aldrich and The Garment Jungle" 2020 featurette (15:05)

A new interview with the venerable Rayns; very much a presence in my film appreciation since at least the '80s when he used to turn up introducing films on the BBC, in documentaries and subsequently on commentary tracks. Always knows his onions and very listenable. 1089/24p.

Theatrical Trailer (2:35)

Vintage promo in HD.

"Rip, Sew and Stitch" 1953 short film (16:39)

Yet another fully restored Three Stooges short presented in 1.37:1 and full HD.

The Garment Jungle Image Gallery: Original Promotional Material (44 images)

Solid HD still galery.

120-page liner notes booklet

The book is a typically superb Powerhouse booklet that covers all six films.

The Garment Jungle has twenty pages devoted to it with a 2020 essay "Hemlines and Hoodlums" by Nathalie Morris, "Robert Aldrich on The Garment Jungle" a 1965 interview with Aldrich by Peter Bogdanovich and except from Vincent Sherman's 1996 autobiography "Vincent Sherman on The Garment Jungle". Pages 101-114 cover the various short films on the set.

Packaging


Each film has it's own Digipack and all five are housed in a hard card slipcase. Each Digipack has original art on all sides.

Overall


Another B&W crime flick and another topnotch transfer with excellent image and sound. But do we expect from this company Powerhouse Films have already announced a second volume of Columbia Noirs and The Garment Jungle is the fifth in their new, much anticipated Columbia Noir Boxed Set #1; it'll be on many film buffs sets of the year I'm sure. Extras are not extensive but are choice with pride of place being the fine commentary followed by the booklet.
| | | | | |
| --- | --- | --- | --- | --- |
| The Film: A- | Video: A+ | Audio: A+ | Extras: A | Overall: A |

---
DVD Compare is a participant in the Amazon Services LLC Associates Program and the Amazon Europe S.a.r.l. Associates Programme, an affiliate advertising program designed to provide a means for sites to earn advertising fees by advertising and linking to amazon.co.uk, amazon.com, amazon.ca, amazon.fr, amazon.de, amazon.it, amazon.es and amazon.se.