Devil in a Blue Dress (Blu-ray) [Blu-ray]
Blu-ray B - United Kingdom - Powerhouse Films
Review written by and copyright: Rick Curzon (7th December 2020).
The Film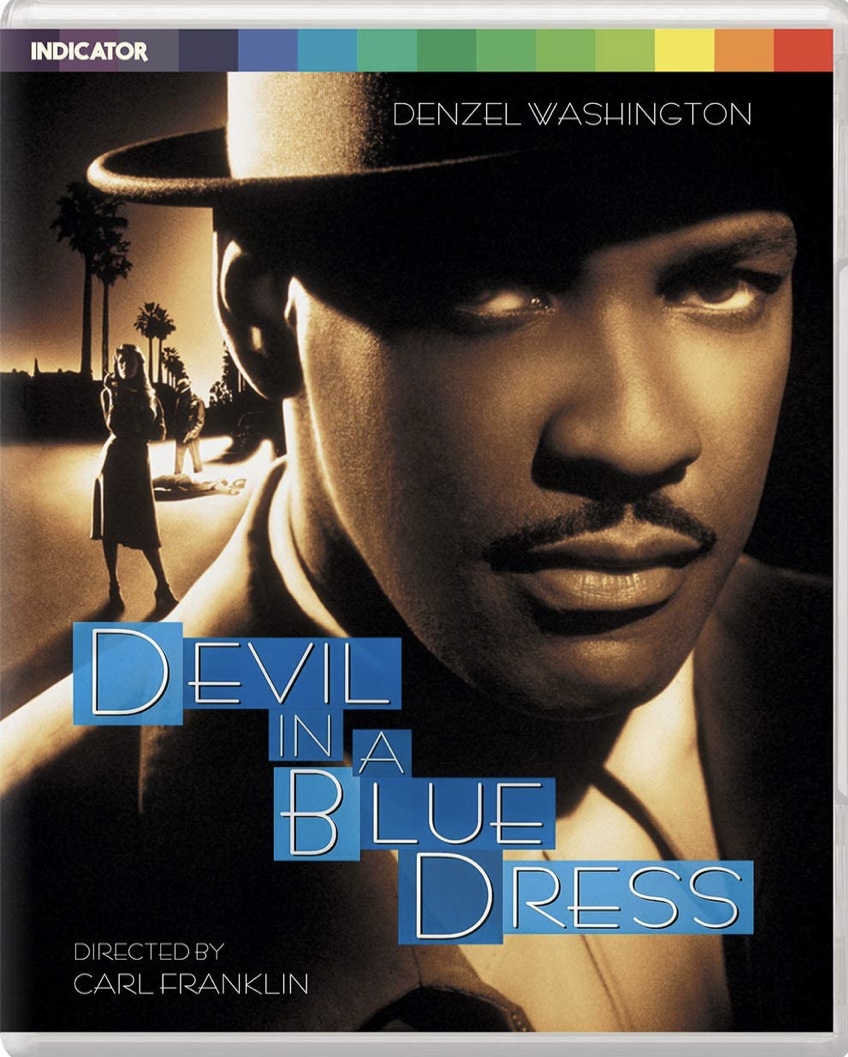 Carl Franklin confirmed his name as one of the key voices of the nineties neo-noir revival when he followed up the 1991 modern classic One False Move with this 1995 adaptation of Walter Mosley's Easy Rawlins novel. Denzel Washington plays Rawlins, a private investigator in post-war Los Angeles who uncovers a web of corruption while on the search for the mistress of a wealthy businessman.

Video


Carl Franklin's career srated out with shorts and Roger Corman low budget quickies like Eye of the Eagle 2: Inside the Enemy, Nowhere to Run (both 1989) and Full Fathom Five (1990) before gaining big notices for his neo-noir One False Move (1992). The Devil in a Blue Dress (1995) was his fifth film as director and it built on his rising reputation quite auccessfully.

A boozy, bluesy, smokey film noir proper, set in 1948 based on Walter Moseley's 1990 novel of the name name and it tells the story of Ezekiel "Easy" Rawlins played with charm and grace by Denzel Washington. He's a private eye looking for a femme fatale (Jennifer Beals).

It's a stunning looking production with terriric period eetail, costuming and production design but mostly of note, for the purposes of this technical review, is the cinematography by Tak Fujimoto. It seems to have been designed to play as equally well in monochrome as in colour, possibly to evoke the classic noirs of the 1940s. As an experiment I removed the colour and increased the contrast a couple of notches and sure enough I could've been watching an old nitrate print!

Black levels and contrast work perfectly in concert throughout with shadow detail being exceptional and I saw absolutely no signs of crush. Lighting is very chiaroscuro, particularly in smokey interiors of which there's a lot. Contrast at normal levels is subtle and supportive not allowing any blowouts but highlights look grand, picking out faces in gloom and smoke; they almost have a glow.

Colour values are warm throughout with especially deep, rich browns and reds (when they appear, check out Beals' red lipstick!); the main look delivers browns, blacks, greys and blues. Flesh tones are natural but given a slight boost in the visual mix as befitting a tale in which faces and emotional nuance take first chair.

Filmic grain is very fine and ever present with the typically superb encode from Fidelity in Motion delivering a beautiful presentation. In '95 we were a few years off the desaturated look favoured by many filmmakers in the 2000s and beyond that make movies look flat and dull. This is a great looking production and it captures the look and feel of those old Raymond Chandler style flicks from the '40s. No print damage, no digital tinkering ... beautiful. The transfer is a stunner and taken from a very good Sony 2K master based on a 2010 scan.

I haven't seen the American 2015 Twilight Time release but I have a great many of their releases and the encodes could vary from hot to cold, but I've been covering Powerhouse Films since virtually the beginning and they're collaboration with David MacKenzie and Fidelity in Motion and they always deliver the goods. Shy of a brand new scan and a 4K UHD release this isn't going to get any better. As good a Blu-ray as I've seen; top marks.

1080/24p / AVC MPEG-4 / 1.85:1 / 101:18

Audio


English DTS-HD Master Audio 5.1
English LPCM 2.0 Surround
Subtitles: English HoH

Sound comes in two flavours. The original 2.0 is encoded for surround and offers a very fine listening experience with Elmer Bernstein's noir styled score gently playing away in the rears. Dialogue is always very clear, even in low mumbled tones, of which there quite a few. The 5.1 builds on this with increasing warmth and depth. Surround channels on both are mainly delivering ambiance and score but during actionful and club and or crowd moments we get a lot of activity. A top notch track.

Subtitles for the hearing impaired are essential for those who need them and Powerhouse Films continue to ensure we have the bery best on their releases. I sample some every time I cover one of their discs and they seem to follow the dialogue 100% with nowt missed off. I only wish this was the case for every DVD and BD released.

Extras


Audio commentary with writer / director Carl Franklin (1999)

A legacy yaktrak recorded only a few tears after the film was made and for the initial R1 1999 DVD. It's a very detailed listen heavy on the adaptation from book to film, motivation of the characters and it covers a huge amount of detail . Franklin is a warm and and personable presence and keeps all the info and trivia clear and purposeful. Very few silent patches.

"Dancing with the Devil: Carl Franklin on Devil in a Blue Dress: Conducted by Film Historian Eddie Muller at Noir City Chicago, Music Box Theatre, on 17 August 2018" 2020 featurette (22:14)

A newer interview with Franklin covers all the bases and it's nice to see this film getting some love and revival.

Don Cheadle's Screen Test (15:01)

Another legacy extra that has been on every release from DVD onwards. It's obvious how and why Cheadle got the role.

Theatrical Trailer (2:27)

Vintage promo.

Devil in a Blue Dress Image Gallery: Original Promotional Material (22 images)

Decent HD gallery.

36-page liner notes booklet by Keith M. Harris, an archival interview with Carl Franklin from Positif magazine, an extract from Walter Mosley's novel, an overview of contemporary critical responses, and film credits

Typically essential companion for the film. Need I say more; if you've got any of these booklets you'll know how special they are.

Packaging


Standard clear BD Keepcase.

Overall


One of the great unsung thrillers and noirs from the '90s that deserves to be much better known. A couple of years after this Curtis Harrington brought us the much heralded L. A. Confidential (1997) which got all the notice and plaudits but The Devil in a Blue Dress (1995) is easily in the same league; those two films plus Lee Tamahori's almost as good Mulholland Falls (1996), which also fell off the radar, would make for a superb noir triple bill. The transfer in both sound and vision simply couldn't be bettered shy of UHD and 4K. Powerhouse Films have given this a maxed out bitrate and a dual layered disc to allow Sony's already great master to breathe. Extras are mostly legacy but there's a great new featurette and one those brilliant liner notes booklets that the company are known for.
| | | | | |
| --- | --- | --- | --- | --- |
| The Film: A | Video: A+ | Audio: A+ | Extras: B+ | Overall: A |

---
DVD Compare is a participant in the Amazon Services LLC Associates Program and the Amazon Europe S.a.r.l. Associates Programme, an affiliate advertising program designed to provide a means for sites to earn advertising fees by advertising and linking to amazon.co.uk, amazon.com, amazon.ca, amazon.fr, amazon.de, amazon.it, amazon.es and amazon.se.