Road Games AKA Roadgames (Blu-ray) [Blu-ray]
Blu-ray B - United Kingdom - Powerhouse Films
Review written by and copyright: Rick Curzon (8th December 2020).
The Film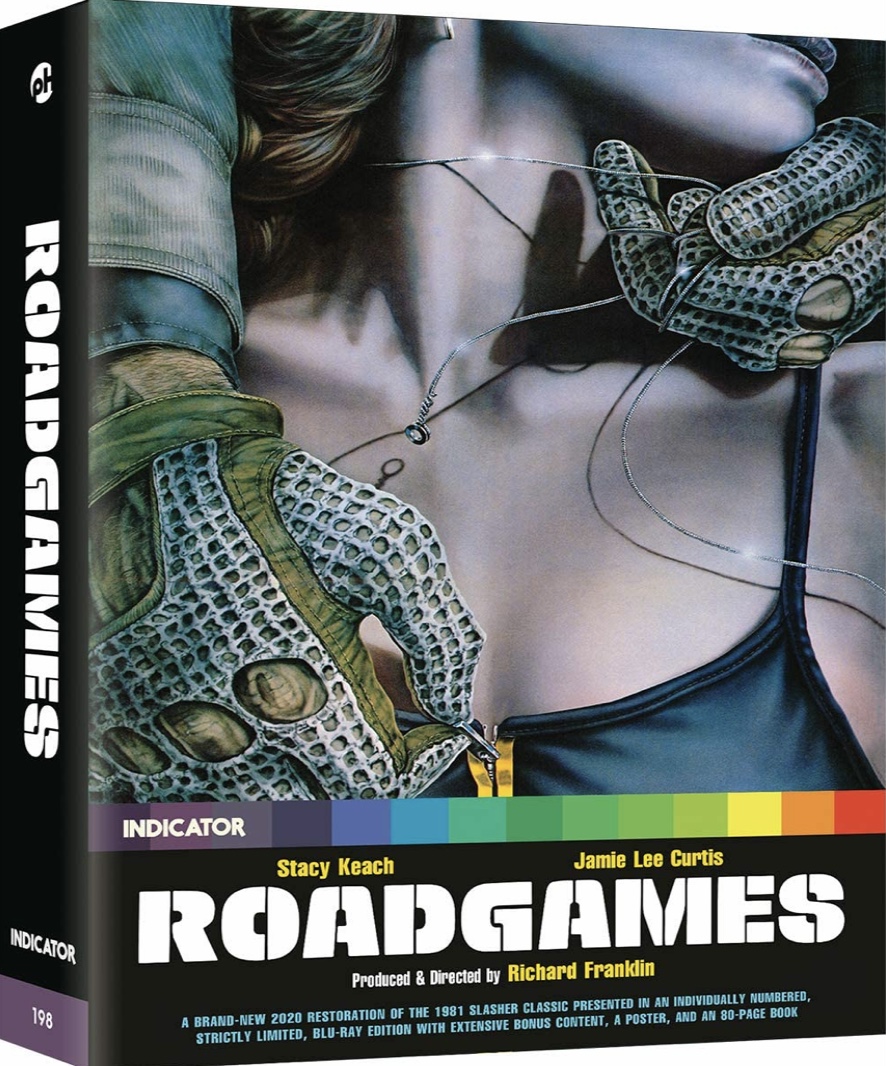 Stacy Keach (Fat City) and Jamie Lee Curtis (Halloween) star in Richard Franklin's 1981 Australian slasher classic, inspired by Alfred Hitchcock's Rear Window. Keach plays Quid, an American trucker who, with the help of Curtis's hitchhiker, tracks down a serial killer active on the long, empty roads of southern Australia.

This deluxe, extras-laden edition boasts an all-new 2020 restoration from a 4K scan of the duplicate negative, produced exclusively for this release.

Video


Effective Hitchcockian style thriller is essentially a road-based Rear Window (1954) with gabby truck driver Stacy Keach being the amateur sleuth ala Jimmy Stewart after serial killer Grant Page. Along the way he picks up US tourist and hitchhiker Jamie Leigh Curtis in an extended cameo. A good script, great direction and production support good performances in an unusual film usually lumped in with slashers but not really completely in that realm. A solid film overall it does meander a tad in the middle and the conclusion is a little daft and overblown. Brian May's score is also a mite too cheerful for such a grim horror thriller.

We have a brand new 4K scan of the internegative and restored by Powerhouse Films and Final Frame in London. It's simply the best this film has probably ever looked.

Well photographed in Panavision by Vincent Monton this is a good looking production which makes superb use of it's Australian locations. Colour values are rich but very natural, flesh tones are warm tending towards reddish. Black levels are very deep with a fair amount of seemingly intended crush. I also say some moments of light bleed; all symptoms of the original elements.

The colour palette is naturalistic but vivd and black levels are deep with some mild crush although it seems intended. Shadow detail is generally very good. This has alwaays been a contrasty production with some harshly lit moments and mild blowouts; on previous transfers skies were almost white but are properly burned in with great cloud detail. The new restoration seems to have ironed out some of these issues with much greater detail in evidence in skin and fabrics. I compared it to the Australian Umbrella BD and there's also more image on all four sides. A definite step up in quality; not that the 2016 Aussie discs was a slouch and I assume that the 2019 US Shout Factory disc utilised the same master.

No signs of any print damage or digital manipulation. Grain is very course at times, finer at others but always very filmic and handled beautifully by the Fidelity in Motion encode.

1080/24p / AVC MPEG-4 / 2.35:1 / 100:16

Audio


English LPCM 1.0
Subtitles: English HoH

The basic mono track is fairly problematic with a certain harsh quality but this was the case on the Umbrella disc so I have to assume that it's inherent in the elements. Fidelity is generally excellent but I detected some mild phasing issues early in the film and again at the end but again this was the case with the Aussie disc. Shy of a complete rebuild from the sound stems I can't see this track ever being any better. Dialogue is always clear and score florid and purposeful but never interfering.

The hard of hearing subtitles are well up to the usual high standard and very welcome.

Extras


Audio commentary by director Richard Franklin and documentary producer / writer Perry Martin (2003)
Audio commentary by cinematographer Vincent Monton, production coordinator Helen Watts, and costume designer Aphrodite Kondos, moderated By filmmaker Mark Hartley (2019)
Audio commentary with writers and programmers Anna Bogutskaya and Olivia Howe (2020)

A collection of tracks from the 2003 Anchor Bay DVD, the 2019 Shout Factory plus one new yaktrak produced in 2020. Between the three you learn pretty much all you could need to know about this scrappy classic. The 2003 deals with lots of firsthand stuff from the producer-director, ably moderated by Perry Martin. The 2019 has several key creatives and as such again a chatty, gabby discussion of the film dealing with very practical nuts and bolts of each contributor's specialty. The last track and most recent is from the point of view of being a fan and with lots of straightforward analysis.

"Kangaroo Hitchcock: The Making of Road Games" 2003 featurette (20:06)

Solid, vintage retrospective featurette dates from the 2003 Anchor Bay USA release. Presented in standard definition it has interviews with producer-director Richard Franklin and star Stacy Keach. Standard definition.

Cast and Crew Interviews:
- "Australian Long Haul: Stacy Keach on Road Games" 2019 featurette (13:25)
- 1981 Archival Interview with Richard Franklyn (25:31)
- 2001 Audio Interview with Richard Franklyn (23:08)
- 2016 Audio Interview with Stacy Keach (9:10)
- 2016 Audio Interview with Grant Page (32:48)
- 2008 Not Quite Hollywood: Interview Excerpts (63:17)

An exhaustive collection of interviews culled from prior releases culminating in the whopping collection of outtakes from Mark Hartley's superb Not Quite Hollywood: The Wild Untold Story of Ozploitation (2008). All presented in full
Hd With some material upscaled.

"Road Games: A Lecture by Richard Franklyn, Barbi Taylor and Brian May. 20 November 1980" 1981 lecture (130:28)

Vintage lecture is a fascinating document; a workshop in an academic setting in which every aspect of the film is discussed after it was made but before it was locked into it's final edit and released (March 1981 is given as the month of expected release). Everything gets discussed with the audience from the logo, to the story, to the poster. Those in the audience had been provided a detailed synopsis it would seem. Upscaled standard definition from a ropey video source; most likely VHS complete with video artefacts baked in.

"Trouble Ahead: Neil Sinyard on Roadgames" 2020 featurette (12:40)

Sinyard has been contributing to Powerhouse's releases for some time and this pie e is every bit as good as the others. He kicks off by discussing how Quentin Tarantino rates Roadgames as his favourite Australian film and conversely how Aussie critics felt that this film wasn't Australian enough being a comercial film designed to appeal to an international audience. Frankin is discussed; his ambitions etc. Also the involvement of the two American leads and his personal view of the film as a whole. Presented in full HD.

1980 Script Read (116:29)

Audio recording from early in production; another fascinating piece of ephemera. Contains deleted bits and pie es for those who might be interested.

Brian May Music Demos (4:12)

More audio material in which May performs bits of his score on a piano; I actually prefer the version of the main theme presented here.

Theatrical Trailer (2:11)

Vintage promo in HD.

Image Galleries:
- Roadgames Image Gallery: Promotional Stills and Posters (68 images)
- Roadgames Image Gallery: Promotional Guide and Test Screening Report (46 images)

Extensive collection of HD images.

"... And His Ghost May Be Heard" 1973 short film (15:31) (upscaled SD in 1080/24p)

Vintage monochrome short film directed by Richard Frankin that tells the story of an Aussie Ocker character experiencing the big city set to Waltzing Mathilda. Presented in upscaled standard definition HD with lossy Dolby Digital 1.0 taken originally from a ancient print. Plenty of print damage and signs of wear and tear and the sound has evidence of age related deterioration.

80-page liner notes book by Lee Gambin with archival interviews with Franklin, Keach and Curtis, Franklin's 1980 Alfred Hitchcock obituary, an overview of contemporary critical responses, Mark Hartley on "…And His Ghost May Be Heard", and film credits

Colossal hard copy companion to the film which also covers the Frankin short film. Largesse personified!

Double-sided poster

Not included for review.

Packaging


Hard card slipcase with a clear BD keepcase.

Overall


Despite problematic source material Powerhouse Films have delivered what is likely to be THE definitive release of this popular cult classic. Image and sound are about as good as can be expected given the nature of the source elements which is nit to damn with feint praise. Roadgames looks and sounds very good overall. Extras are stacked and best described as being a full house of elements taken from practically every significant release of this film. The book runs to a whopping 80 pages and is double the length of Powerhouse's usual indispensable hard copy booklets.

Easily one of the releases of the year; don't let this one pass you by.
| | | | | |
| --- | --- | --- | --- | --- |
| The Film: B+ | Video: A | Audio: B+ | Extras: A+ | Overall: A |

---
DVD Compare is a participant in the Amazon Services LLC Associates Program and the Amazon Europe S.a.r.l. Associates Programme, an affiliate advertising program designed to provide a means for sites to earn advertising fees by advertising and linking to amazon.co.uk, amazon.com, amazon.ca, amazon.fr, amazon.de, amazon.it, amazon.es and amazon.se.