Kilties Are Coming (The) (Blu-ray) [Blu-ray]
Blu-ray ALL - United Kingdom - Network
Review written by and copyright: Rick Curzon (5th January 2021).
The Film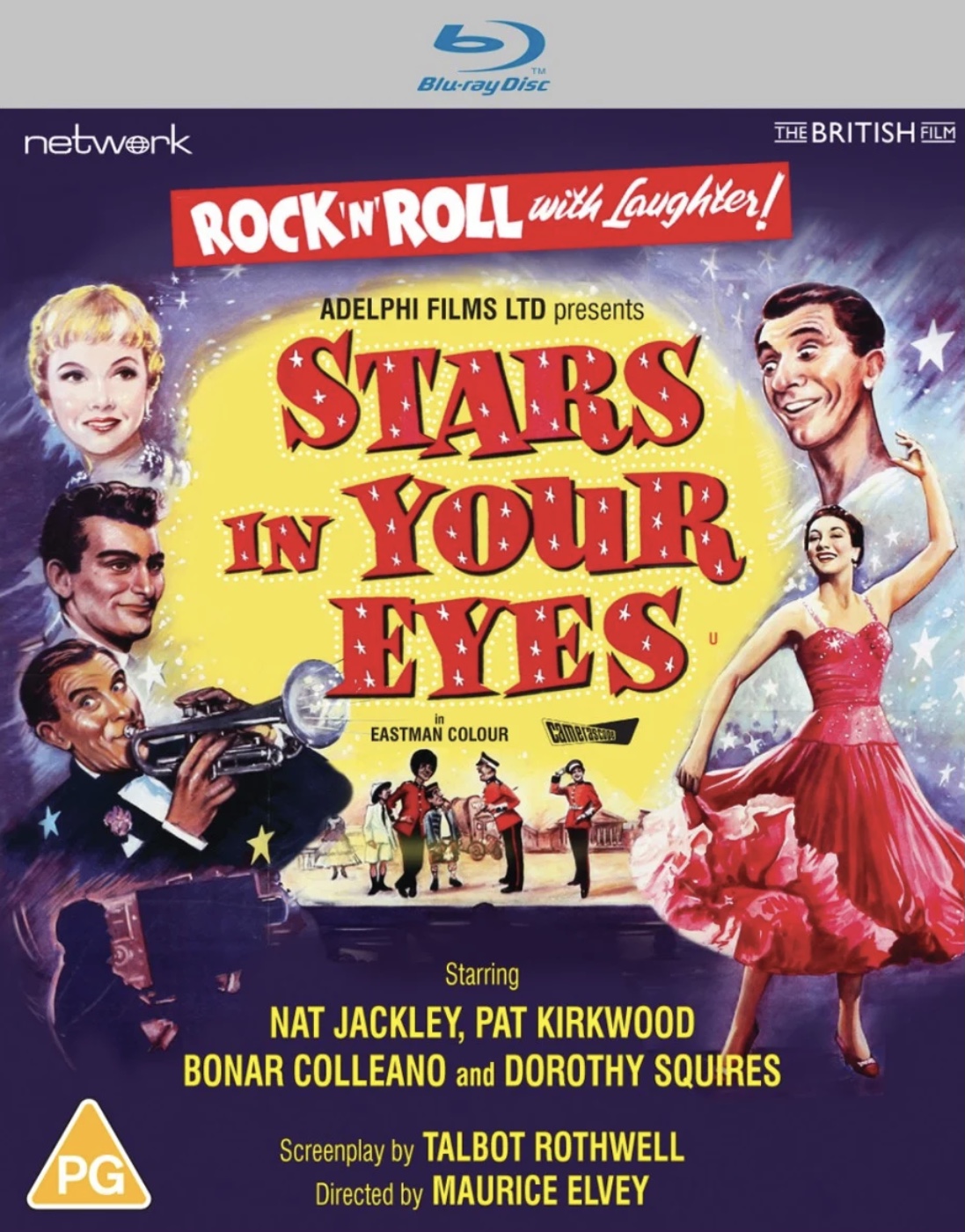 A group of feisty, talented young performers pool their resources and buy a dilapidated theatre to showcase their acts – but unscrupulous property developers also want the theatre and resort to dirty tricks to disrupt the first night's performance!

The quintessential British comedy-musical-romance, Stars in Your Eyes is a love letter to the last days of Variety that has lost none of its warmth and heart in the six decades since it was first filmed. With fabulous musical numbers, sparkling comedy routines and tear-jerking romance it showcases a terrific cast of stars of the day, and stars in the making: Pat Kirkwood, Dorothy Squires (in her only big screen appearance), Nat Jackley and Bonar Colleano feature alongside Joan Sims, Jimmy Clitheroe, Freddie Frinton and Vera Day. Directed by Maurice Elvey from a script by Talbot (Carry On) Rothwell, Adelphi Films' classic feature is presented here as a brand-new High Definition restoration from original film elements in its original Camerascope theatrical aspect ratio.

Video


Although the two quota quickie films are accessed via the extras menu, I've given them their own listing and included them in the "Video" section because, although just under an hour each, they're essentially features in their own right. Albeit at a B-level and designed to support the A-level main feature.

Stars in Your Eyes (1956)

The main attraction; the A-level production in this lovely triple bill from Network!

Silly musical melodrama typical of the period has plenty of humour and charm. I found it all a bit shrill and forced but this isn't really my genre. Looking online it seems to be a well considered film all told, so my rating reflects that.

Being a 1950s film the colour palette has that wonderful rich look typical of the period. It's a little more naturalistic that the Arthur Freed musicals from earlier in the decade but is still unmistakably from the same decade. Flesh tones are well defined and healthy and have plenty of variation; the type of variation that colourisation just never seems to take into a count. Reds are very strong and the overall cast is warm and very much of it's time; no Criterion orange and teal revisionism here I'm overjoyed to report. Even exteriors look warm and lush.

Black levels and contrast are perfectly balanced and with excellent shadow detail, no unintended crush and highlights are low key and filled with detail. Being an early Scope production it has that grainier, softer look but is still pretty sharp and obviously there are still some signs of anamorphic mumps with vertical lines at either end of the 2.35:1 frame having slight outward compression and bowing. For some restorations I've seen those distortions ironed out which expands the ratio to 2.55:1 but sadly not so here.

The encode is sympathetic and generally well achieved; I saw no signs of digital tinkering and print damage, if it was ever there, is virtually non existent. Grain is fine, ever present and filmic; as it ought to be. Seems to be from a pre-print source.

1080/24p / AVC MPEG-4 / 2.35:1 / 96:54

A Ray of Sunshine: An Irresponsible Medley of Song and Dance (1950)

Daft supporting quota quickie shot fast and cheap. The quota quickies were brought about to ensure that a certain percentage of films shown in British cinemas were of UK origin in order to protect the UK film industry. This one is in monochrome and in the Academy aspect ratio of 1.37:1. It's a very professionally done, if visually straightforward production. Compression is well handled by the encode and black levels are typically well defined, rich and deep. No signs of unintended crush and contrast is supportive; no blowouts. Pretty sharp and probably taken from a pre-print aource.

1080/24p / AVC MPEG-4 / 1.37:1 / 54:29

The Kilties Are Coming (1951)

My comments above for the first quota quickie largely apply here however this one has a slightly hazier, softer look probably from a print source a generation or two off the OCN. This one is also monochrome and in the Academy aspect ratio.

1080/24p / AVC MPEG-4 / 1.37:1 / 52:38

Audio


English LPCM 2.0 Mono
Subtitles: English HoH

The mono tracks for all three main films are typical of the '50s and budget which is to say they lack depth and are fairly flat by 2020 standards. That said, short of total rebuilds from the sound stems, assuming they all still exist, would be the only way to get anything more out of them. Dialogue is always clear, music robust and I hear no high end tinniness or other distortions; certainly fo Stars in Your Eyes. Perhaps not the top end for the era but as near as dammit given the baked in limitations.

Subtitles for the hearing impaired are very welcome done and with care although I did detect the odd dropped word and parts of lines. Sadly, they're nor provided for the additional films or the extras.

Extras


All extras are in 1080/24p

"The Nitwits on Parade" 1949 short film (24:10)

This silly little trifle is the kind of comedy short that would play in before or between the A and B level productions on the bill. Technically it's much less robust than the main features covered above. Looks to me like a pre-print element has been used. Sound is similar to the main features but with a noticeable hiss and slightly muffled quality. Monochrome and in the Academy aspect ratio (1.37:1).

Stars in Your Eyes Trailer (2:22)
A Ray of Sunshine Trailer (2:00)

Vintage promos typical of the genre and of the time.

Stars in Your Eyes Image Gallery (5:20)

Lively HD gallery.

Startup Trailers (6:21):
- What a Crazy World (3:21)
- Oh Rosalinda!! (3:00)

Vintage promos presented in 1080/24p for other Network releases.

8-page "Programme Notes" booklet; "Stars in Your Eyes: Restoration Notes" by Allen Eyles and Kate Lees, "The Adelphi Sorts", "The Rise and Fall of Variety and the Beginning of Television", "The Adelphi Films and Arthur Dent" and the original pressbook

Superb booklet covers the various films on this disc in some detail; an excellent little hard copy companion to the films.

Packaging


Clear, slimline BD case with a lovely key art sleeve which is double sided with publicity stills on the reverse.

Overall


Network have done a bang-up job putting out this Adelphi archive disc with an A-level film, two supporting B-level quota quickies and a short film plus related trailers. Mall in 1080/24p and looking sweet. Sound is standard mono of the period and extras are very good. Priced very reasonably and easily one of the discs of the year for those who appreciate rarely seen, charming UK cinema. Highly recomended.
| | | | | |
| --- | --- | --- | --- | --- |
| The Film: C- | Video: B- | Audio: C+ | Extras: A | Overall: A |

---
DVD Compare is a participant in the Amazon Services LLC Associates Program and the Amazon Europe S.a.r.l. Associates Programme, an affiliate advertising program designed to provide a means for sites to earn advertising fees by advertising and linking to amazon.co.uk, amazon.com, amazon.ca, amazon.fr, amazon.de, amazon.it, amazon.es and amazon.se.