2067 AKA Chronical: 2067
R2 - United Kingdom - Signature Entertainment
Review written by and copyright: Rick Curzon (17th February 2021).
The Film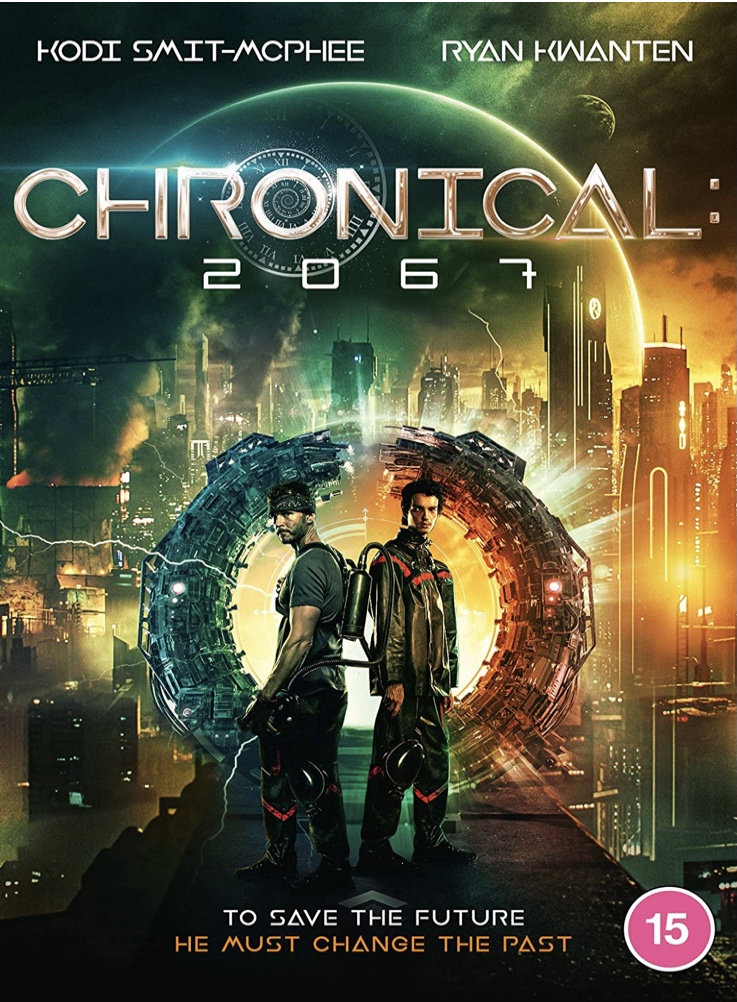 An extinction event has begun and the human race just hit the endangered species list.

With air so polluted that the only way to breathe is through manufactured air canisters, the human race is on its knees until a message from the future gives one of the biggest corporations on Earth hope.

A reclusive young man named Ethan is to be the saviour of the human race but what he discovers in his journey through time is an unthinkable conspiracy that could lead him to change the course of his timeline forever.

Would you save humanity if you knew humanity may not be worth saving after all?

Video


For some reason this film has been retitled "Chronical: 2067" (in Australia and the USA it's known simply as 2067) and there's a video generated card. Yet another depressing vision of the future with a time travel element and another example of a non-US film that grafts an American sounding lead onto the story to appeal to the US market (despite the actor being Australian and his accent occasionally falters). This looks like a pretty well funded film even if it was made on a modest budget. SPFX are excellent with convincing CGI and it's gorgeously photographed with digital cameras.

2067 is a colourful film with a nice generally rich colour palette. Primaries are healthy with warm flesh tones and delineation is good. Blacks are rich and deep with decent standard definition shadow detail; detail is overall reasonable considering the format. Contrast is also supportive maintaining highlights and detail well. Despite being only standard definition this manages to avoid the muddiness that can sometimes plague digitally lensed productions which favour muted colour when they appear on DVD.

As strong a transfer as the format will allow.

PAL / MPEG-2 / 2.4:1 / 109:57

Audio


English Dolby Digital 5.1
English Dolby Digital 2.0 Stereo
Subtitles: None

Active, lively but lossy 5.1 track; fairly standard for Dolby Digital. Dialogue is very clear and is front and centre; surrounds are taken up with ambiance, score and some directionality. Separations are generally very good without blowing the viewer away. A decent track if not top drawer.

The 2.0 stereo track is not encoded for surround but will play in surround when channelled through ProLogic II on a 5.1 amp. My basic comments for the 5.1 apply hear as well, but obviously the depth and range aren't as good. Also, the surround channels are mono.

Extras


Startup Trailers:
- Jiu Jitsu (1:42)
- Relic (2:18)

Standard promos.

Packaging


Standard black DVD Keepcase.

Overall


The film is nothing new mashing up dystopian and time travel themes; in some respects it reminded me of Twelve Monkeys (1995) but it manages to stand on its own and be worth a look for those who like gritty sci-fi. Image is slightly stronger than the sound but both are good for the format. Obviously, a Blu-ray would serve this flashy looking film better. There are no extras to speak of which is a shame because the US discs have a director-producer commentary and eight making of featurettes totalling 50:25. It's a cheap disc to buy so recommended for the casual purchaser; buffs will want a BD.
| | | | | |
| --- | --- | --- | --- | --- |
| The Film: C+ | Video: B+ | Audio: B | Extras: E | |

---
DVD Compare is a participant in the Amazon Services LLC Associates Program and the Amazon Europe S.a.r.l. Associates Programme, an affiliate advertising program designed to provide a means for sites to earn advertising fees by advertising and linking to amazon.co.uk, amazon.com, amazon.ca, amazon.fr, amazon.de, amazon.it, amazon.es and amazon.se.