Rising Hawk (The) AKA Fall of a Kingdom
R2 - United Kingdom - Signature Entertainment
Review written by and copyright: Rick Curzon (20th November 2020).
The Film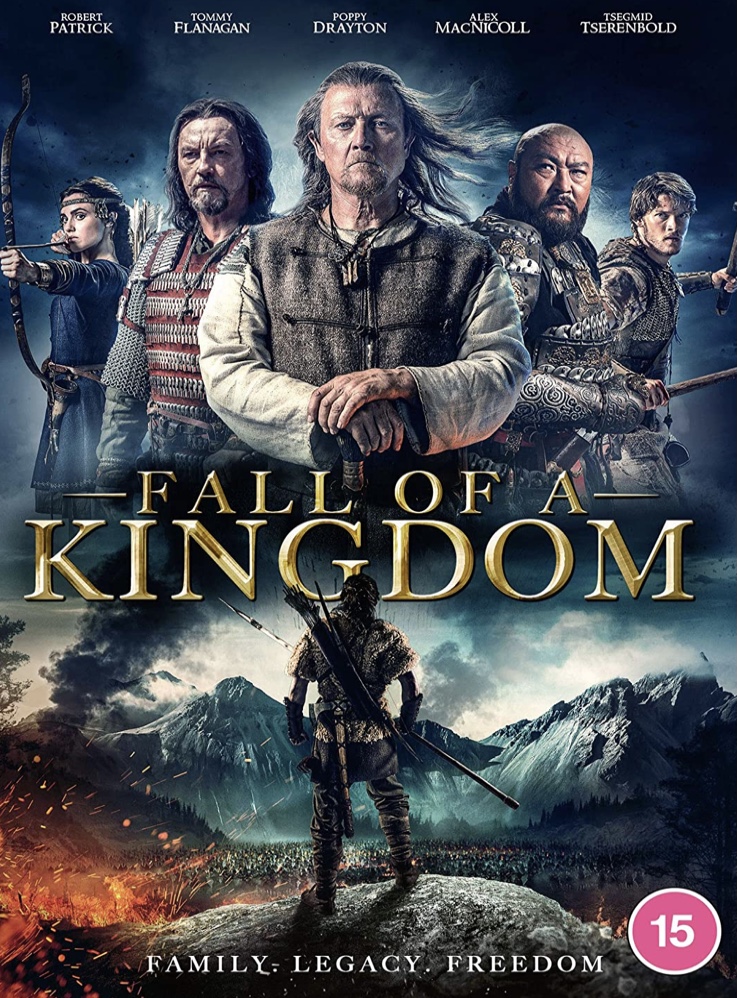 Game of Thrones meets Braveheart. Fall of a Kingdom follows a 13th century family of freedom fighters as they battle for their lives and liberty in the face of the Mongolian Empire - the largest and most brutal empire the world has ever known.

As war breaks out, both sides suffer devastating casualties. Redoubling his efforts, Burunda Khan – the Mongolian general - unleashes the full fury of his force.

Starring Robert Patrick, Tommy Flanagan and Poppy Drayton, Fall of a Kingdom is an historical, action epic; a tale of power, betrayal, and revenge.

Video


A very slick big budget Ukranian-American co-production with plenty of visual style; hot colour schemes and quality cinematography, as we've come to expect from a big budget historical epics. That said there is a pristine quality to some of these modern productions that sets them apart from traditional film and this is obvious in this transfer.

The Rising Hawk - for some bizarre reason retitled Fall of a Kingdom here - was lensed in HD and looks decent on Signature's DVD with some detail, rich use of colour and and deep, luxurious black levels. I could see no signs of compression artefacts such as pixilation, aliasing or other issues. Exterior scenes benefit especially well being naturally brighter and the digital colour correction enhances the overall look. However, there is a softness typical of standard definition transfers of HD material and on that score I can only lament the lack of a Blu-ray release here in the UK. Fans who care will import the Blu-ray from other territories which presents the film in it's full HD glory; a sad state of affairs that many a UK collector is only too aware of.

There this a certain softness to the image inherent in a standard definition transfer of an HD source. That said, this DVD is no disgrace and seems to have been encoded well although for standard definition but imagine what a dual layered Blu-ray with a maxed out bitrate would've done with this large scale epic.

PAL / MPEG-2 / 2.40:1 / 120:15

Audio


English Dolby Digital 5.1
English Dolby Digital 2.0 Stereo
Subtitles: None

Two solid lossy soundtracks. The 5.1 is obviously the way to go with a fair amount of range and plenty of surround activity. Dialogue is central and clear and the score is well defined. There is some depth here but that's to be expected. Once again, it has to be said that a lossless version would blow this lossy version out of the water. As is typical for many lossy tracks the sound level is a bit low and I had to crank the sound up on my 5.1 amp several notches to get the most out of it.

Extras


Startup Trailers:
- Blood and Money (1:34)
- Jiu Jitsu (1:42)

Meh, the usual promos for other releases.

Packaging


Standard black DVD Keepcase.

Overall


A rock solid, bare bones standard definition copy of this big hefty historical action epic. Picture and sound are more or less as good as can be for DVD and standard definition and the price is cheap, so if you're of a mind ... go for it!
| | | | | |
| --- | --- | --- | --- | --- |
| The Film: C+ | Video: B | Audio: B+ | Extras: E | Overall: C |

---
DVD Compare is a participant in the Amazon Services LLC Associates Program and the Amazon Europe S.a.r.l. Associates Programme, an affiliate advertising program designed to provide a means for sites to earn advertising fees by advertising and linking to amazon.co.uk, amazon.com, amazon.ca, amazon.fr, amazon.de, amazon.it, amazon.es and amazon.se.