The Film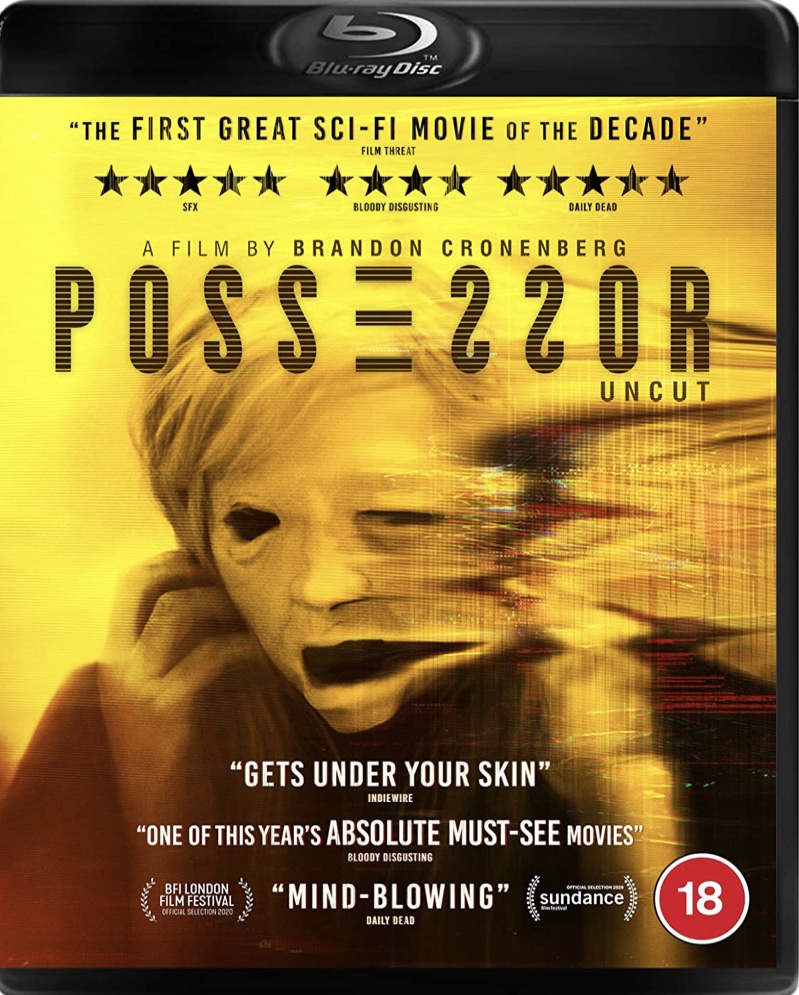 From the visionary mind of writer director Brandon Cronenberg (Antiviral), Possessor is a game-changing sci-fi thriller about elite, corporate assassin Tasya Vos (Andrea Riseborough, Mandy). Using brain-implant technology, Vos takes control of other people's bodies to execute high profile targets. As she sinks deeper into her latest assignment Vos becomes trapped inside a mind that threatens to obliterate her.

Possessor features a stellar cast including Christopher Abbott (It Comes at Night, The Sinner), Rossif Sutherland (Guest of Honour), Tuppence Middleton (Downton Abbey), Sean Bean (Game of Thrones) and Jennifer Jason Leigh (The Hateful Eight).

Video


Set in an alternate 2008 reality, an assassin, Vos (Andrea Riseborough), has her consciousness uploaded into unwilling hosts in order to carry out the kills and downloads back to her normal body when she forces the unfortunate souls to kill themselves. Things go tits up because she is having thoughts and feelings about her family and to compound the problem she's uploaded into a male host, Tate (Christopher Abbott), who she finds she can't force to commit suicide. A battle of the wills and personalities ensures.

Pin drop still and quiet ... arty sci-fi horror tale from Brandon - son of David Cronenberg - is ice cold and un-engaging. It's extreme nature and gory reputation proceeds it and is well earned; see the BBFC's reasoning for the 18 if you're wondering if this film is for you. Possessor has lots of great sci-fi ideas but the dislikable characters and arty approach worked against enjoyment, at least for me. Overall, it's worth a look and has it's intriguing moments but the edgy hand-held camera in dramatic moments (where it doesn't quite sit still) and the overall arty approach were a coldly emotional turnoff.

According to IMDB, Possessor was made using the following camera equipment: Arri Amira, Canon K35, Laowa 24mm Macro Probe, 90mm Macro Kilar and Angenieux 25-250 Vintage Zoom Lenses. The process was Digital Intermediate (4K) (master format)
ProRes 4444 (2.8K) (source format) and the negative format ProRes 4444. According to Apple:


Apple ProRes is a codec technology developed for high-quality, high-performance editing in Final Cut Pro X. Apple has licensed ProRes to select companies for use in specific products and workflows.



This is one of those modern, digitally shot productions that vacillates between strong, colourful imagery with decent contrast - mostly in exteriors and in well lit indoor sequences - and dull, dark, dim low contrast flat scenes. Primaries can be very bold and rich; by and large this one favours a warm palette. There's lots of blood and gore which tends to look dark; flesh tones are largely warm.

Blacks are deep and rich with no unintended crush and contrast is extremely low key giving much of Possessor a flat two dimensional look. All part of the mood I guess, but it doesn't make for an engaging visual experience. In any case, I'm sure this is precisely what the makers intended so can't fault it in my overall grade.

The encode is strong and detail generally pretty good but is strongest in closeups; not so good in medium and long shots. Ultimately I'm no fan of the digital look that dominates cinema and television these days and the wide range of choices digital tools provide filmmakers. I think the look of cinema was much better when it was locked into analogue technology with it's much more limited range of abilities. A good example of the kind of look I dislike would be in Arrival (2016), which is so low key to the point where it's difficult to see what's going on. The raw images captured by the camera looks much better and I suspect that will be the case with Possessor. This one is by no means as consistently graded as dully as Arrival was but is still problematic for me.

1080/24p / AVC MPEG-4 / 1.78:1 / 103:56

Audio


English DTS-HD Master Audio 5.1
English LPCM 2.0 Surround
Subtitles: English HoH

This is a very active if generally lowkey and rumbly soundtrack in which the most notable aspect is Jim Williams superb score. It's largely relegated to the surround channels which are constantly active; ambiance and score dominate throughout. Dialogue is front and centre and very loud in the mix. The 5.1 has great depth and range; the 2.0 is no slouch but is obviously not quite as good.

The subtitles for the hard of hearing are well done, translating all dialogue; at least on the sections of the film I checked with them switched on. Bravo!

Extras


"A Heightened World: A Look at Possessor" 2019 featurette (10:27)
"Identity Crisis: Bringing Possessor to Life" 2019 featurette (14:39)
"The Joy of Practical: The Effects of Possessor" 2019 featurette (12:12)

Collectively a making of that runs 37:18. Decent pieces outlining the thinking behind the film and they also focus on the creative process with some of the usual back patting expected in promo pieces but not *too* much. Those interviewed are writer / director Brandon Cronenberg, production designer Rupert Lazarus, cinematographer Karim Hussain, special makeup effects designer Dan Martin and actors Andrea Riseborough, Christopher Abbott, Sean Bean and Tuppence Middleton. 1080/24p 1.78:1 with English LPCM 2.0 Surround. No subtitles.

Deleted Scenes (8:29)
- Panic Attack (3:49)
- Reid's In the Pool (3:03)
- Wake Up and Count (1:27)

What it sys in the tine; several cut scenes all interesting. 1080/24p 1.78:1 with English LPCM 2.0 Surround. No subtitles.

"Please Speak Continuously and Describe Your Experiences as They Come to You" 2018 short film (9:32)

Intriguing little sci-fi short with some freaky imagery about a woman with an experimental implant in her brain that enables her to relive her dreams. 1080/24p 1.78:1 with English LPCM 2.0 mono sound (bizarrely given such a recent production). No subtitles.

Start-up Trailers:
- Relic (2:23)
- Synchronic (1:50)

Standard promos for upcoming releases; 1080/24p 2.4:1 (sadly, a ubiquitous aspect ratio these days).

Packaging


Standard, black BD Keepcase.

Overall


Ice cold, unpleasant sci-fi horror from Brandon Cronenberg has been the darling of the critical fraternity but I found it's pin drop arty atmosphere and characters with little emotional appeal off putting. Be warned, this is a pretty graphic film in turns of it's scenes of gore, violence and sexuality; if that's not your bag, stear clear. For me, it became more of a "cool" geek-show. Image quality is as good as the filmmaking allows vacillating between bright and colourful and flat and dull. Sound is exceptional. Extras are decent with pride of place going to the 2018 short film which was more effective at 10 minutes than possessor was at 104. Technically this is a topnotch release and fans of the cast and creator will lap it up.
| | | | | |
| --- | --- | --- | --- | --- |
| The Film: C+ | Video: A+ | Audio: A+ | Extras: A | Overall: A |