Hellraiser: Revelations (Blu-ray) [Blu-ray]
Blu-ray B - United Kingdom - Lions Gate Home Entertainment
Review written by and copyright: Rick Curzon (11th February 2021).
The Film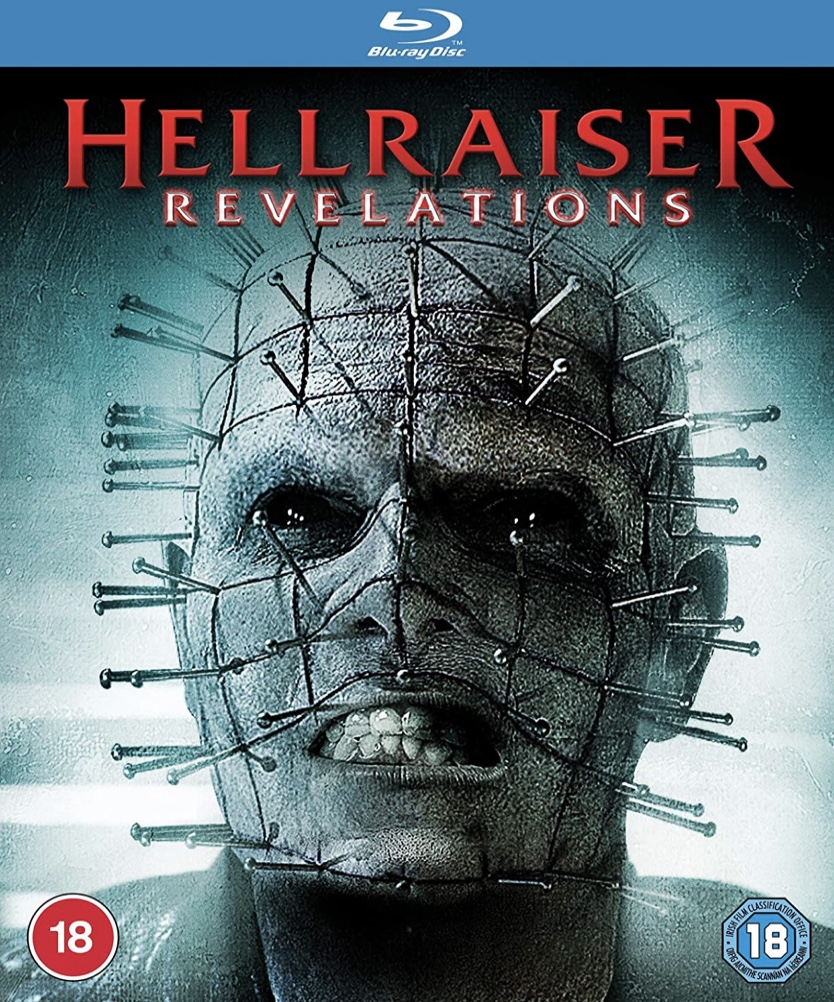 PINHEAD IS BACK IN THE EVER-POPULAR HELLRAISER SERIES created by horror master Clive Barker. Two American teenagers in Mexico for an adventure discover a familiar little puzzle box and unleash Pinhead and unspeakable terror. A year later, the boys' parents get together for a dinner in memory of their missing sons. In the dead of night, one of the boys shows up at their doorstep, exhausted, terrified and...hunted. Pinhead and his legion are closing in.

Video


Number nine in the Hellraiser franchise (released straight to video in 2011) and the first without Doug Bradley playing Pinhead. As a fan of the series I was appreciative of the opportunity to see it and it has it's moments. It's a by the numbers formula effort that might be worth a look for the faithful on a slow evening, otherwise if you're not so inclined, skip it.

Reputedly created to maintain the copyright on the rights to produce Hellraiser films rather than a serious entry in the series; dubbed an "aschcan copy" on Wikipedia; a term I was hitherto unaware of but one that started in the comics industry that indicated intent "to establish trademarks on potential titles and not intended for sale". Whether this is true is debatable.

In any case, this largely straight to video effort (it apparently played in a single Californian cinema on March 18,2011) has a generally cool colour palette with the odd moments of intense maroon (blood!), blue and grey. Flesh tones are warm but slightly muted. It doesn't look like the film has had massive amounts of digital manipulation and colour correction so overall colours are naturalistic.

Black levels are good both both satisfyingly "black" and with decent shadow detail. Contrast is generally lowkey although the flashback scenes have had some boost to make them stand out slightly. Detail os pretty decent across the board although isn't going to blow anyone away. Highlights are well handled; no unintended blow outs. There are some moments in the Conobite flashbacks where blowouts are deliberate and part of the style. I didn't notice any digital tinkering and there's obviously no signs of print damage as I suspect that this is a digitally shot film. Encoding seemed decent and was able to handle the general stygian nature of the images.

A solid transfer on a single layered BD25 which is more than adequate for such a short film all by it's lonesome on BD.

1080/24p / AVC MPEG-4 / 1.78:1 / 75:30

Audio


English DTS-HD Master Audio 5.1
Subtitles: English HoH

The 5.1 track is generally pretty active without being demo material; not a surprise for a quick cash in film shot in three weeks. Dialogue is always clear, the score is largely relegated to surrounds. Rear channel activity is present throughout mainly handling shocks and ambiance. My subwoofer was engaged quite a lot with some splendidly boomy moments. A solid track if not the most adventurous.

Thankfully English subs for the hearing impaired have been provided and seem to translate all dialogue on those bits I sampled.

Extras


None, which is disappointing because other releases worldwide have deleted scenes.

Packaging


Standard BD Keepcase.

Overall


Lesser sequel in the rambling, long-running Hellraiser franchise (it begun in 1987) made cheap and quick. It looks pretty decent on Signature's sadly barebones Blu-ray release. Image and sound are decent but not optimal for the format and there are no extras despite other releases around the world having some deleted scenes. For the price, a decent enough release for the casual fan - it can be preordered on Amazon UK for £12 at the time of writing - but if you're a buff I'd wait for reductions or pick up a cheap foreign disc for the brief extras.
| | | | | |
| --- | --- | --- | --- | --- |
| The Film: C- | Video: B+ | Audio: B+ | Extras: F | Overall: C+ |

---
DVD Compare is a participant in the Amazon Services LLC Associates Program and the Amazon Europe S.a.r.l. Associates Programme, an affiliate advertising program designed to provide a means for sites to earn advertising fees by advertising and linking to amazon.co.uk, amazon.com, amazon.ca, amazon.fr, amazon.de, amazon.it, amazon.es and amazon.se.