Twentieth Century (Blu-ray) [Blu-ray]
Blu-ray B - United Kingdom - Powerhouse Films
Review written by and copyright: Rick Curzon (21st February 2021).
The Film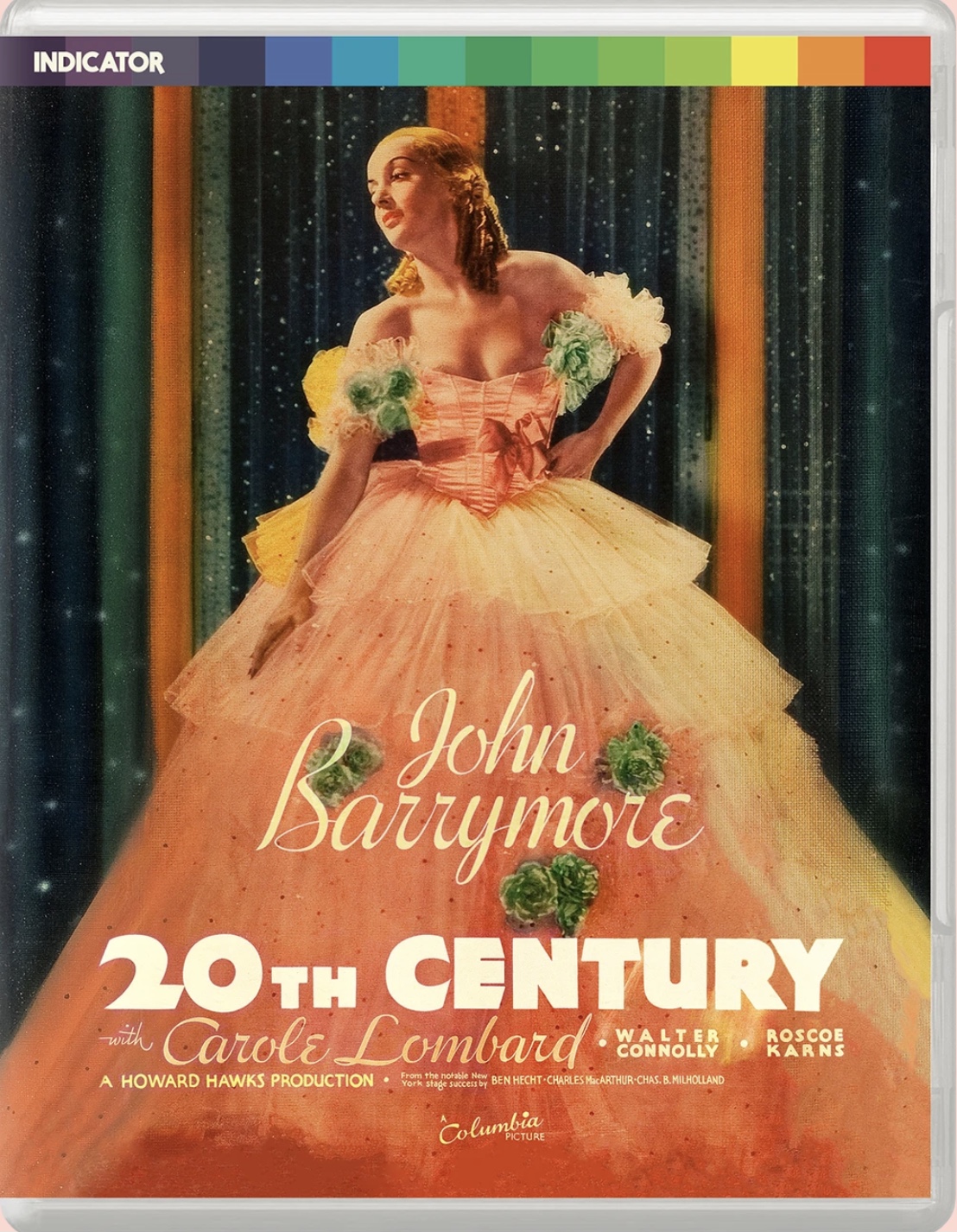 The second film Howard Hawks (The Criminal Code) made at Columbia Pictures is among his greatest works. John Barrymore plays a theatre impresario down on his luck. Carole Lombard is his former protégé, now a major star. When the two meet by chance aboard the Twentieth Century locomotive, their love-hate relationship is reignited.

Now recognised as a classic, Twentieth Century is the film which established the template for the screwball comedy – and made Lombard a star.

Video


Powerhouse Films have brought Howard Hawks' classic comedy Twentieth Century to high definition in the UK utilising a 4K restoration from Sony supervised by Rita Belda. If I had to guess, I'd say the source wasn't a negative but perhaps an interpositive or a fine grain print. I'm sure it's from the very best existing element however, so will not be bettered shy of a 4K UHD BD release, which isn't very likely to happen. Powerhouse have done their usual sterling work giving this a dual layered disc with a high bitrate. Encoding is top notch.

The image is inherently rather soft but that's par for the course for the era. This has that lovely '30s filtered, fine grain look. Detail is present and very good in closeups but less distinct in long shots, but again that seems to be par for the course for the first half of the decade in films I've seen from that time. As per usual, skin and fabric textures benefit the most in close and medium shots. Gamma is perfectly handled with no colour bias creeping in; crisp, inky monochrome with lovely grayscale.

Black levels are velvety and inky when required with decent if soft shadow detail with occasional moments of crush but largely intended. Contrast is lowkey and supportive of grain and detail; highlights are fairly modest but crisp when they appear (mainly electric lights and key lights in eyes). I saw no evidence of print damage and no signs of digital massaging; the encode is as good as can be. Given the dated as
Ecta of when this was shot it looks like it was lensed yesterday

1080/24p / AVC MPEG-4 / 1.37:1 / 91:13

Audio


English LPCM 1.0
Subtitles: English HoH

A pretty standard, limited range mono track typical of Hollywood productions of the early sound era. Slightly tinny, with a slight muffled quality; not much that will spoil the experience for anyone though. Dialogue is always clear and to the fore with ambient sounds being simple and uncomplicated ... and only when necessary. Modern tracks have greater levels of sound with almost constant "air" sounds and ambiance; not so here. There's the usual textural sound and music is much more sparingly used. If the volume is turned up too loud mild distortion can occur but that's inherent to the original track. This is about as good as a track of the era can possibly be, so top marks.

Subtitles for the hearing impaired and very well done and most welcome.

Extras


Audio commentary by Farran Smith Nehme (2021)

According to online sources Nehme has been writing about film online for over fifteen years and has worked for Film Comment and the Criterion Collection. I don't recall off hand if I've come across her work before (I covered so many discs that names do start to slip by) but this track is very listenable and filled with plenty of great trivia, history and detail. Lossy Dolby Digital 2.0 stereo.

"Stars in Her Eyes: Lucy Bolton on Carole Lombard and Twentieth Century" 2021 featurette (16:17)

Excellent summation of the life and career of Lombard. 1080/24p 1.78:1 with lossy Dolby Digital 2.0 stereo.

"Peter Bogdanovich Recommends Twentieth Century" 2021 featurette (5:10)

Vintage introduction polished up and presented in upscaled 1080/24p 1.78:1 with lossy Dolby Digital 2.0 stereo. The Bogdanovitch footage is from a substandard source and the sound is muffled somewhat and mono.

Super 8 Version (20:10)

Vintage home video digest of the film presented in 1080/24p 1.37:1 with LPCM 1.0. Lots of age related wear and tear and hissy sound.

"The Campbell Playhouse: Twentieth Century" 24 March 1939 radio broadcast (55:48)

Vintage radio adaptation has very narrow range presented in Dolby Digital 2.0 mono.

Austin Film Society Trailer (0:52)

Recent trailer selling the film to a modern audience. 1080/24p 1.37:1 pillarboxed in 1.78:1 with LPCM 2.0 stereo.

Twentieth Century Image Gallery: Original Promotional Material (46 images)

Very solid gallery in 1080/24p.

32-page liner notes booklet by Pamela Hutchinson, Howard Hawks on Twentieth Century, an overview of contemporary critical responses, and film credits

Extensive, comprehensive collection of printed material; essential.

Packaging


Standard clear BD Keepcase.

Overall


A classic slice of Howard Hawks comedy melodrama gets the deluxe treatment from Powerhouse Films as part of their stellar Indicator Series. Image and sound are as good as the elements can be and taken from a 4K restoration master. Extras are typically thorough and provide plenty of contextual added value.
| | | | | |
| --- | --- | --- | --- | --- |
| The Film: B | Video: A+ | Audio: A+ | Extras: A | Overall: A |

---
DVD Compare is a participant in the Amazon Services LLC Associates Program and the Amazon Europe S.a.r.l. Associates Programme, an affiliate advertising program designed to provide a means for sites to earn advertising fees by advertising and linking to amazon.co.uk, amazon.com, amazon.ca, amazon.fr, amazon.de, amazon.it, amazon.es and amazon.se.