Criminal Code (The) (Blu-ray) [Blu-ray]
Blu-ray B - United Kingdom - Powerhouse Films
Review written by and copyright: Rick Curzon (27th February 2021).
The Film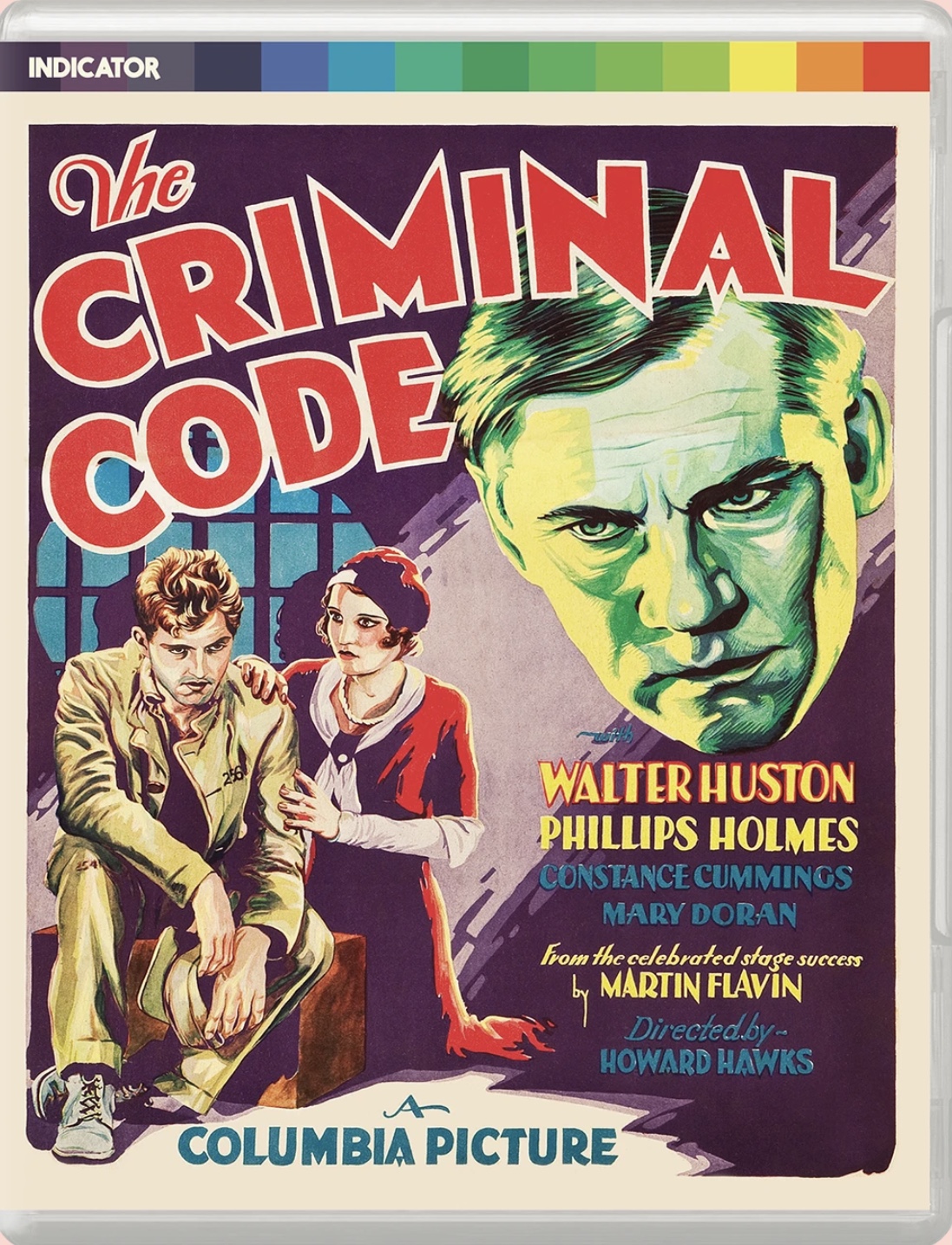 Howard Hawks (Twentieth Century) made his first film for Columbia Pictures with this pre-Code prison movie. The great Walter Huston (Dragonwyck) stars as a district attorney-turned-prison warden who gets to witness first-hand the effects of his convictions, especially Phillip Holmes (An American Tragedy), imprisoned after killing a man in a drunken brawl. Co-starring Boris Karloff (Frankenstein), The Criminal Code is tough, no-nonsense, quintessential Hawks.

Video


A young man Robert Graham (Phllips Holmes) accidentally kills a man in a drunken brawl and is sent down by D.A. Mark Brady (Walter Huston). Six years later that Brady becomes the prison warden just at the point where Graham is about to have a mental collapse and takes it upon himself to help him.

Classic prison-crime melodrama established many of the tropes that would become cliches. Superb performances and pretty potent pre-code entertainment steeped in violence and hard-edged characters.

Exquisite filming and direction under Howard Hawks; plenty of his snappy dialogue and glowing cinematography on hand. Justifiably a classic and wipes the floor with practically every other prison drama I've seen that's been made since. Holmes - who died young in a WWII aviation accident - is superb as is Karloff as his cellmate and Huston as the compassionate warden. The next time The Shawshank Redemption (1994) turns up on TV, do yourself a favour and put the Blu-ray of this on instead; far superior entertainment.

This classic gets the deluxe treatment from Powerhouse Films in a fine HD master from Sony. As usual the encode is topnotch preserving the ever present grain. Sometimes fine, sometimes course with the latter in under-lit and exterior scenes. Always very film like and consistent.

Gamma is perfectly balanced with no bias creeping in, black levels are deep and rich with lowkey, supportive contrast. Detail is generally excellent for cinematography of the era which has a slightly soft, hazy look. In any case, this is about as good as this film is going to look given the source but by any standard it's a very fine transfer and presentstion.

1080/24p / AVC MPEG-4 / 1.37:1 / 96:27

Audio


English LPCM 1.0
Subtitles: English HoH

Sound is typical of the early sound era; overall fairly quiet with a fair amount of minor hiss. It's of extremely limited range but that's inherent in the production. I tried it at various volume levels and heard no artificial distortion. Dialogue is always very crisp and clean and music when it appears never intercedes. About as good as we can expect.

Subtitles for the hearing impaired are excellent, comprehensive and very welcome.

Extras


Audio commentary by Nora Fiore (2021)

Vermont-based Fiore is more commonly known as The Nitrate Diva online with her blog under that moniker (www.nitratediva.wordpress.com). She knows her business and fills this track with plenty of good detail, trivia and history regarding the film. Lossy Dolby Digital 2.0 stereo.

"Behind the Mask: Kim Newman on Boris Karloff's Career Outside Horror" 2021 featurette (25:16)

Excellent pitted history of Karloff's non horror acting roles by the ubiquitous and always welcome Newman. 1080/24p 1.78:1 with lossy Dolby Digital 2.0 stereo sound.

"Codes and Convictions: The Many Adaptations of Martin Flavin's The Criminal Code" 2021 featurette (29:12)

Valuable and fascinating piece on the various adaptations of Flavin's book. 1080/24p 1.78:1 with lossy Dolby Digital 2.0 stereo sound.

"The Howard Hawks Masterclass with John Carpenter: The National Film Theatre, London on 21 February 1997" 1997 audio recording (36:14)

Vintage audio recording in which one of my favourite auteurs talks about his favourite auteur; unmissable. 1080/24p 1.78:1 with lossy Dolby Digital 2.0 stereo sound. Sounds decent and clean with some minor distortion but nothing all that much.

"Lux Radio Theatre: The Criminal Code" 18 January 1937 radio broadcast (58:34)

Vintage radio adaptation has dated sound but is very listenable in lossy Dolby Digital 1.0

Image Galleries:
- The Criminal Code Image Gallery: Original Promotional Material (26 images)
- El código penal Image Gallery: Original Promotional Material (27 images)

Splendid galleries in 1080/24p. Especially interesting is the second gallery documenting the lost Spanish language version.

36-page liner notes booklet by Philip Kemp, Howard Hawks on The Criminal Code, an archival article on Hawks by Henri Langlois, an overview of contemporary critical responses, and film credits

Excellent hardcopy companion to the film.

Packaging


Standard, clear BD Keepcase.

Overall


Classic Howard Hawks crime epic gets the deluxe treatment from Powerhouse brought to Blu-ray via a fine Sony HD master. Image and sound are about as good as we can expect and the encode wraps it all up in superb fashion. Extras are very good and add great contextual added value. Highly recommended.
| | | | | |
| --- | --- | --- | --- | --- |
| The Film: A+ | Video: A | Audio: A | Extras: A+ | Overall: A |

---
DVD Compare is a participant in the Amazon Services LLC Associates Program and the Amazon Europe S.a.r.l. Associates Programme, an affiliate advertising program designed to provide a means for sites to earn advertising fees by advertising and linking to amazon.co.uk, amazon.com, amazon.ca, amazon.fr, amazon.de, amazon.it, amazon.es and amazon.se.