Crimewave AKA The XYZ Murders AKA Broken Hearts and Noses (Blu-ray) [Blu-ray]
Blu-ray B - United Kingdom - Powerhouse Films
Review written by and copyright: Rick Curzon (21st March 2021).
The Film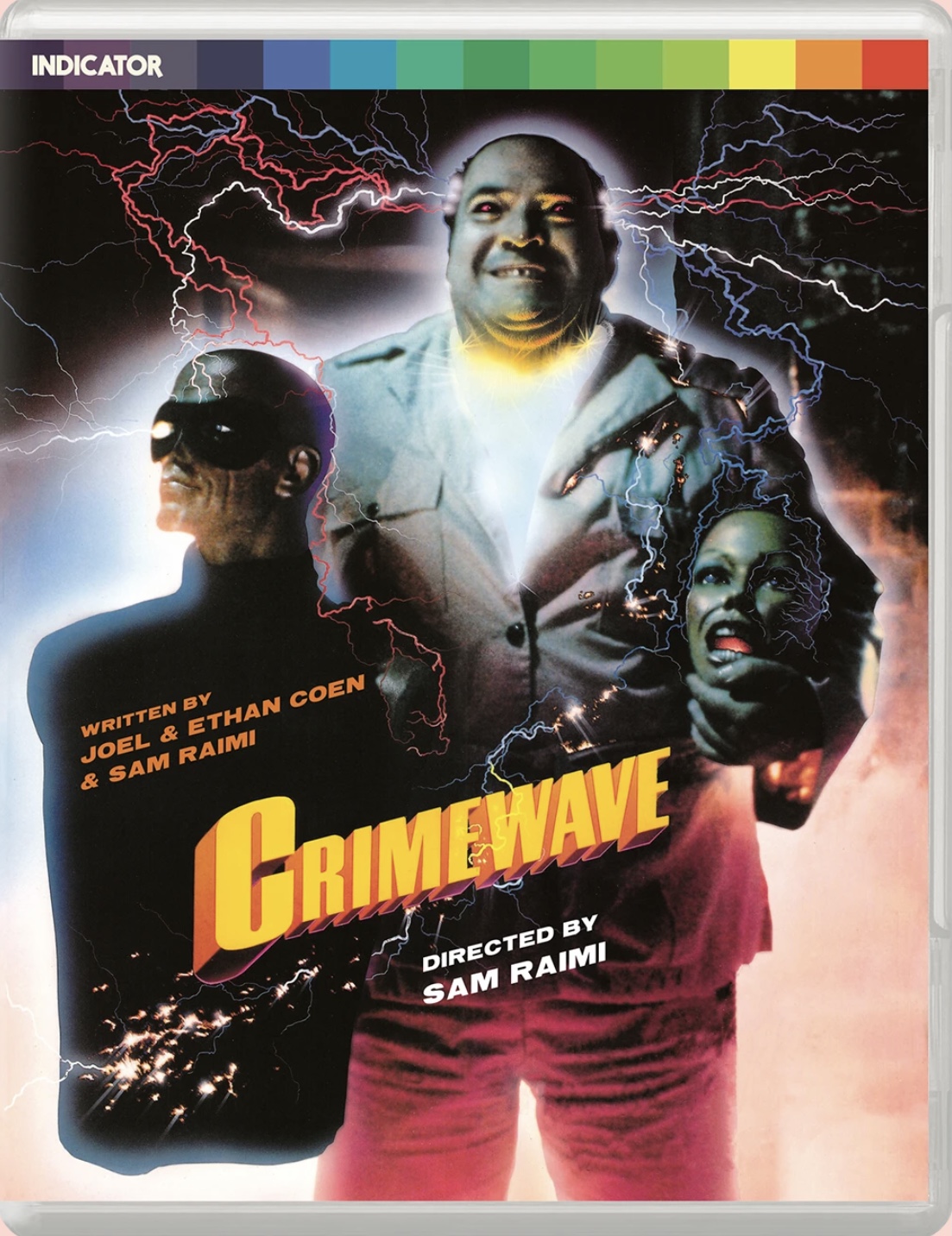 After the colossal success of The Evil Dead, director Sam Raimi teamed up with the Coen brothers (fresh from Blood Simple) to make his next film, Crimewave, an unusual mixture of screwball comedy, film noir and B-movie homage.

Raimiís film tells the bizarre story of a security-system installer, Vic (Reed Birney), who finds himself in the electric chair when he falls in love with Nancy (Sheree J Wilson), a femme fatale on the run from two bumbling exterminators Ďof all sizesí (Paul L Smith, Popeye, and Brion James, Blade Runner).

A notoriously troubled production which flopped upon its original release, Crimewave can now be enjoyed as a riotously entertaining showcase for Raimi and the Coens, which also benefits from a highly amusing performance from cult-horror star Bruce Campbell.

Video


Sam Raimi's goofy second film after his seminal The Evil Dead (1981) is similar in that it combines bone crunching violence and zany humour with the former toned down compared to the horror debut and latter increased. Raimi seems to be making his film as a tribute to '30s screwball cinema but filtered through a Warner Brothers gangster film lens with a generous whiff of the Three Stooges! But, it's set in the then present of the mid '80s ... sorta. It has a weird timeless quality. Everyone in this earns their pay check with a glorious collection of broad performances but special mention to Paul Smith and Brion James as grotesquely funny hitmen.

Powerhouse Films have given this cult favourite the deluxe treatment using Studio Canal's excellent HD master as the basis for the versions of the film found on this disc. It seems to be a very healthy image harvest taken directly off the OCN ... at a guess.

Highly stylised and shot in a vivid '80s style colour palette where primaries kick out with force, neon is glorious and warmer tones are of choice ... especially browns and beiges! Flesh tones are naturalistic but healthy with good delineation; no bleeding. Black levels are very, very black with no milkiness anywhere to be seen and contrast is very low key and supportive. Detail is exceptional for a film shot with that patented '80s grainy haze and the encode by Fidelity in Motion handles it all exceptionally well keeping transfer very filmic throughout. Grain is very fine except during some of the darker moments where it coursens but there's never any splats or clumping.

There are two different edits here: The 82 minute US version and the 87 minute international edit. Both are presented under the proper Crimewave title but the choice is given to play the longer version with alternate titles. All are based on the same master and seamlessly branched with no differences in image quality.

1080/24p / AVC MPEG-4 / 1.85:1 / 86:30, 82:03

Audio


English DTS-HD Master Audio 1.0
Subtitles: English HoH

Rock solid mono track that has decent range for what it is. Dialogue is always clear and the score comes over very well. Base is satisfyingly deep and the subwoofer was even tricked on a couple of occasions. I could detect no distortions or issues when volume was cranked up.

Subtitles for the hearing impaired are excellent and very welcome.

Extras


Audio commentary on the international version with Bruce Campbell and moderator Michael Felsher (2013)

Lively commentary from the US Shout! Factory release in lossy Dolby Digital 2.0 stereo. Campbell is a riot and flesher a dab hand at getting the most out of him. Campbell had promised prior to being able to do a commentary for Crimewave that it would be the commentary to end all commentaries and it certainly goes a long way towards living up to that claim with lots of trvia and dirt on the making of this troubled production. A must!

Audio commentary on the international version with James Flower (2021)

An excellent track from Arrow producer and Raimi expert Flower who provides plenty of detail about the film's history, it's production and the differing versions. Lossy Dolby Digital 2.0 stereo.

"The Crimewave Meter with Bruce Campbell" 2013 featurette (15:23)
"Leading Man with Reed Birney" 2013 featurette (16:04)
"Made in Detroit with Edward Pressman" 2013 featurette (8:33)
"Rank Outsider: Kim Newman on Industrial Relations and Sam Raimi's Crimewave" 2021 featurette (9:39)
"Too Much for Comfort: Rob Deering on Crimewave" 2021 featurette (7:14)

Collectively we have a chunky 56:53 worth of featurettes; three from the US Shout disc and two new ones that provide massive amounts of contextual added value and detail; all are equally interesting. All are in 1080/24p 1.78:1 with lossy Dolby Digital

On set footage (11:12)

B-roll footage shot on set from a video source presented in 480i 1.33:1 with lossy Dolby Digital 2.0 mono.

Promotional Reel (13:37)

Promo reel used to sell the film to distributors taken from a video source. 480i 1.33:1 in lossy Dolby Digital 2.0 mono.

Original Trailers:
- US Theatrical Trailer (SD) (2:21)
- US Home Video Trailer (2:18)
- French Theatrical Trailer (with optional English subtitles) (2:07)

Vintage promos in 1080/24p (bar one in standard definition) with lossy Dolby Digital 1.0.

Image Galleries:
- Crimewave Image Gallery: Original Promotional Material (90 images)
- Crimewave Image Gallery: Behind the Scenes (28 images)

Seriously chunky HD still galleries.

Crimewave - The XYZ Murders: Original Shooting Script (47 pages)

The full shooting script in HD.

36-page liner notes booklet by Amanda Reyes, selected extracts from Bruce Campbellís If Chins Could Kill: Confessions of a B Movie Actor, a guide to the differences between the script and the finished film by James Flower, extracts from retrospective interviews with cast and crew, an overview of contemporary critical responses, and film credits

Another superb hardcopy bookley with plenty of great commentary; the Campbell excerpts are typically priceless.

Packaging


Standard, clear BD Keepcase.

Overall


A superb presentation of one of the oddest 1980s cult films; excellent image and sound as well as four variations for the buffs. Extras bring together material from previous releases and add some great new stuff as well. Easily one of the the discs of the year.
| | | | | |
| --- | --- | --- | --- | --- |
| The Film: B- | Video: A+ | Audio: A+ | Extras: A+ | Overall: A+ |

---
DVD Compare is a participant in the Amazon Services LLC Associates Program and the Amazon Europe S.a.r.l. Associates Programme, an affiliate advertising program designed to provide a means for sites to earn advertising fees by advertising and linking to amazon.co.uk, amazon.com, amazon.ca, amazon.fr, amazon.de, amazon.it, amazon.es and amazon.se.