Things Change (blu-ray) [Blu-ray]
Blu-ray B - United Kingdom - Powerhouse Films
Review written by and copyright: Rick Curzon (10th March 2021).
The Film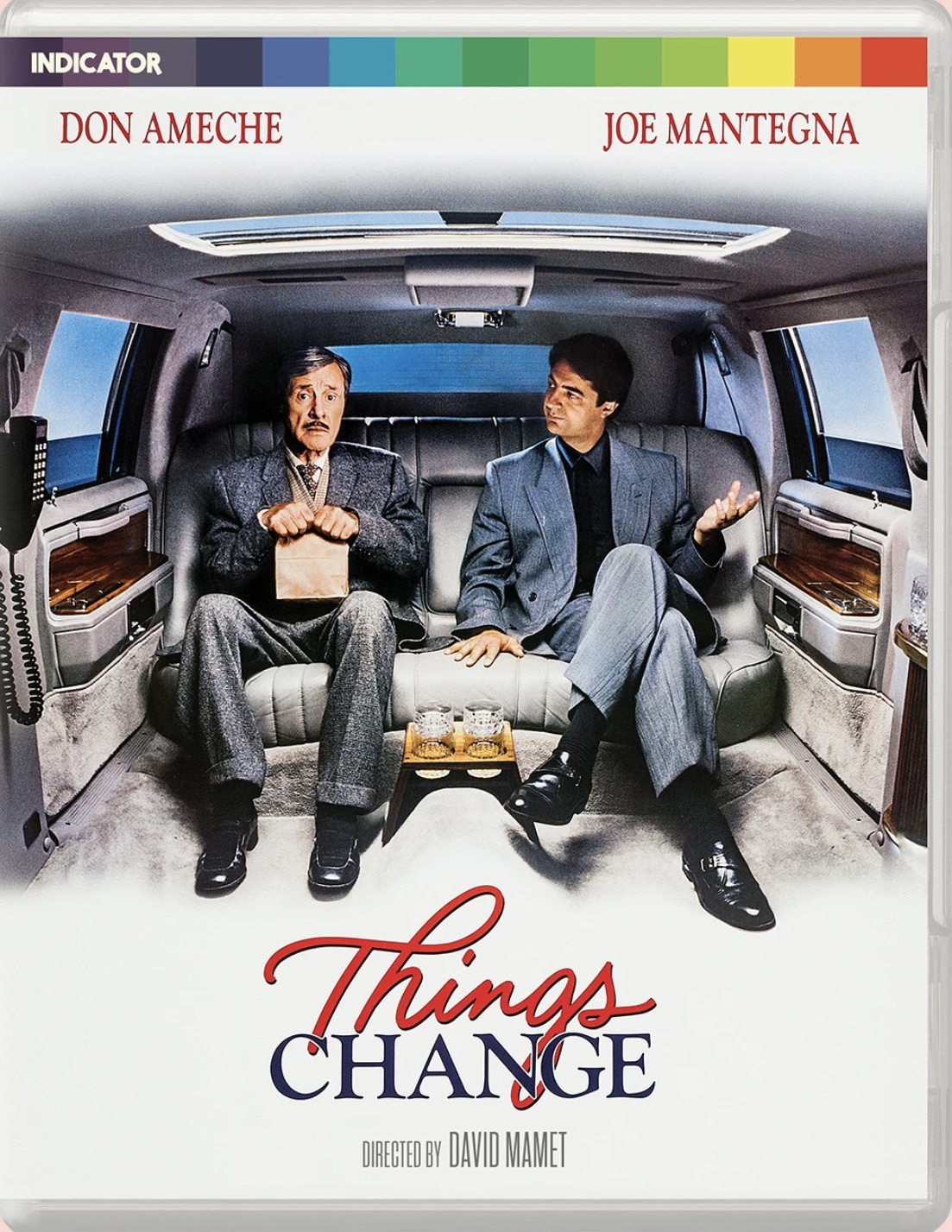 Written and directed by David Mamet (Oleanna), the Pulitzer Prize-winning playwright known for his intense dramas, Things Change is a charming, expertly crafted 'mistaken identity' comedy.

The Mob force unassuming shoe-shine man Gino (Don Ameche, Trading Places) into taking the hit for a murder he didn't commit. The pay-off? A fishing boat in Sicily when he gets out. Small-time crook Jerry (Joe Mantegna, House of Games) takes Gino on one last jaunt to Lake Tahoe before his term begins, but, when Gino is mistaken for a major league gangster, the duo soon fall prey to local hoodlums…

An unexpected change of pace for Mamet, Things Change benefits from an intelligent, witty script and superb central performances from Ameche and Mantegna, who received Best Actor awards at the Venice Film Festival for their efforts.

Video


A gentle, amusing comedy drama that is all about the performances. With David Mamet on scripting and direction duties there are no worries. Don Ameche, a lowly shoeshiner agrees to go to prison for a gangster (confessing to a murder). He goes to Lake Tahoe for his "last" weekend before the trial and porridge with his minder Joe Mantegna and a friendship develops against the odds.

Ultimately, the film is a big shaggy dog joke leading up it's punchline and last scene ... which the Wikipedia synopsis completely fails to include! It's a relatively quiet film that's more melancholy drama with plenty of smiles more than laughs. Performances are all of award calibre. It's a slight, quiet confection; the kind of film best enjoyed just before bed as your attention starts to wane just before the final scene which puts another smile on your face and then it's time for nod.

A minor film to be sure but one that has been eagerly anticipated being a worldwide BD premiere.

Powerhouse have utilised Sony's superb HD master for this beautifully presented Blu-ray release as part of their Indicator series. It's typical of the late eighties in terms of it's look with a fairly rich colour palette that emphasises a warmer aesthetic favouring browns, creams and more muted choices. Flesh tones are solid and natural; folks don't look sunburnt, nor do they look washed out. Primaries, when they appear which isn't much, are vivid.

The image is overall highly detailed and with a very fine layer of filmic grain. The encode ensures that this is natural and film like with no signs of digital tinkering or manipulation. Black levels are satisfying and truly black when required; no signs of crush at all. Ontrast is low key and supportive allowing detail to shine through in shadows or in brighter skies.

This is an incredibly strong transfer.

1080/24p / AVC MPEG-4 / 1.85:1 / 100:28

Audio


English LPCM 1.0
Subtitles: English HoH

Crisp mono track exports great fidelity and no distortion. Dialogue is to the fore and holds sway with no examples where the music or effects interfere. There's the odd moment where the base plays well occasionally activating the subwoofer; but, being a mono track it has limited range. However, this is about as good a mono track as we're ever likely to hear.

Hard of hearing subtitles are to the usual high standard.

Extras


"Engineering Things: David Mamet Remembers Things Change" 2021 featurette (20:35)
"Things Happen: Joe Mantegna Remembers Things Change" 2021 featurette (29:21)
"Melodies for Mamet: Alaric Rokko Jans Remembers Writing and Recording the Score for Things Change" 2021 featurette (17:07)
"Life as it Could Be: Rob Deering on Things Change" 2021 featurette (9:48)

A gaggle of fine featurettes that collectively form a making of retrospective running 76:51; key bases are covered. 1080/24p 1.78:1 with lossy Dolby Digital 2.0 stereo.

Theatrical Trailer (1:48)

Vintage promo in 1080/24p.

Things Change Image Gallery: Original Promotional Material (9 images)

Slight galley in HD.

32-page liner notes booklet by Ellen Cheshire, an archival production report, extracts from interviews with David Mamet and Don Ameche, an overview of contemporary critical responses, and film credits

The usual hard copy supplement with a new essay and plenty of vintage contextual support.

Packaging


Standard, clear BD Keepcase.

Overall


A much anticipated release with lots of buffs salivating at the mouth over a Mamet film being released by Powerhouse Films. Image and sound are as good as can be, as usual for Powerhouse. Extras are chunky and of a high quality; perhaps a commentary would've gone down a treat and been the icing on the cake but no one is going to feel shortchanged.
| | | | | |
| --- | --- | --- | --- | --- |
| The Film: B | Video: A+ | Audio: A+ | Extras: A | Overall: A |

---
DVD Compare is a participant in the Amazon Services LLC Associates Program and the Amazon Europe S.a.r.l. Associates Programme, an affiliate advertising program designed to provide a means for sites to earn advertising fees by advertising and linking to amazon.co.uk, amazon.com, amazon.ca, amazon.fr, amazon.de, amazon.it, amazon.es and amazon.se.