The Film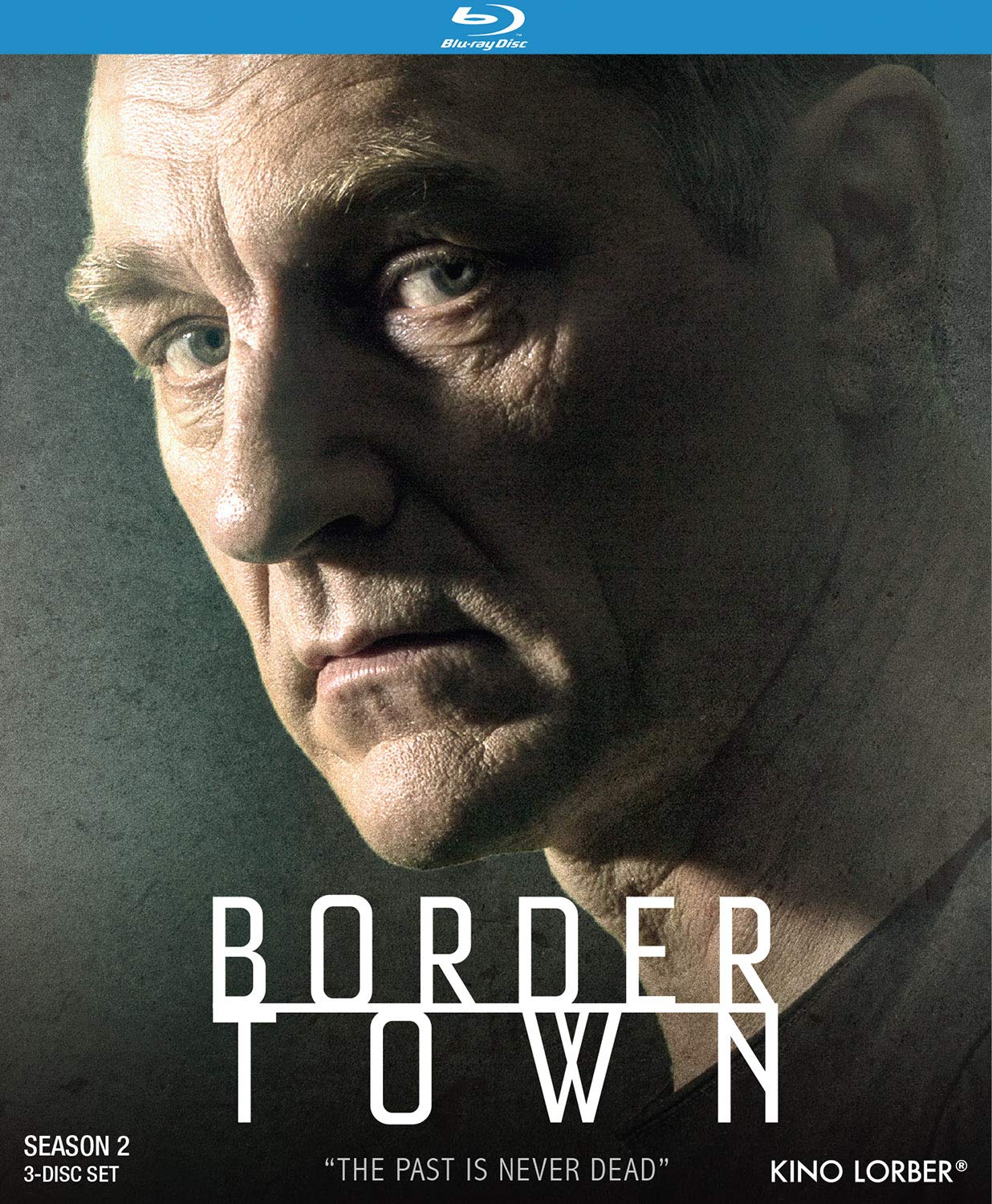 "Bordertown" ("Sorjonen") Season 2 (2018)

Upon receiving this disc in the mail, I remarked, Damn, Season Two; I better get busy watching Season One so that I know the lay of the land. So, I am happy that thanks to Netflix, I succeeded, and in the process was pulled into this Finnish saga about an investigator of the Serious Crimes Unit and his own issues with his family. My brief overview of Season One is an A. If you are interested in this series, now is the time to start binge watching and then you will be familiar with the characters and the storyline so far. Now in all fairness to the others, I am not going to supply you with a detailed description of what has already transpired, except that you do need to know that Season Two essentially picks up where the previous season had ended.

In Season One, Detective Inspector Kari Sorjonen (Ville Virtanen) makes the decision to move his family back to his wife's hometown of Lappeenranta, South Karelia, Finland to dedicate more time being with his family. Yes, I know, you can stop laughing now because being a homicide detective is a full-time job that borders on obsession. Sorjonen's wife, Paulina (MMatleena Kuusniemi) had a close call with a brain tumor but is now recovered and is restless to have something to occupy her time. They have a troubled teenage daughter Janina (Olivia Ainalli) and the three of them make up the family unit. Sorjonen is a gifted detective and is slightly autistic, but he possesses a sharp intellect and has an almost perfect memory. He is not so much on the policing side of being sensitive and wary of a victim's feelings; he is here to solve crimes and keep his family and community safe. The new hometown is located close to the Russian border and the criminals keep finding a way to come over to do their dastardly deeds in Finland. Sorjonen takes a new position with the SECRI, the Serious Crime Unit, and as such he finds himself under the microscope of the press and his fellow officers. Now a word about Sorjonen and his particular brand of Asperger's. At times, the gimmick is a tad heavy handed, until you sort of get used to the routine. Sorjonen uses what he calls a Memory Mansion technique that enables him to make connections that would otherwise be overlooked. Often this means that he is alone in his basement where he will spread out crime scene photographs on the floor and then while barefoot, he will study the pictures until something shifts. Virtanen is an incredibly good actor, and he manages to make this hokey gimmick somewhat plausible through a routine of furrowing his brow, clutching his head, and slightly mugging for the cameras. In lesser hands this material would be ridiculous and heavy handed. Once you experience this a few times, it becomes less of a big deal. I am sure that there is a particular science behind this thought process, and it makes Sorjonen less of a superior Sherlock Holmes type of detective and more of a regular person. And since this is essentially his show, the burden is on Virtanen.

In the first season, Sorjonen's partner is a former female Federal Security Service agent (FSB) and she is a rough and tumble type of cop. Often seen working out, Lena Jaakkola (Anu Sinsalo) is a take no prisoners type A personality. Lena's daughter Katia (Lenita Susi) plays a major role in the first season and also her questionable background is implemented into Season Two's plot. The push and pull of these two distinct personalities makes for some interesting conflict and an unusual friendship. Other characters are involved including the town's mayor Robert Degerman (Janne Virtanen) as an old flame of

Paulina's and is involved in a scheme to open a new casino and plaza as well as having questionable motives for hiring Paulina for his new chief of staff.

Season Two:


DISC ONE

"Five Finger Exercise" Part 1: Directed by Jyri Kahonen. Written by Miikko Oikkonen & Paula Mononen. Time 61.54.

SERI investigates a homicide of a woman and her son that may be somehow connected to Detective Lena Jaakkola's past in the FFSB.

"Five Finger Exercise" Part 2: Directed by Jyri Kahonen. Written by Miikko Oikkonen & Paula Mononen. Time 61:42.

The investigation continues as Lena, Kari and Katia contact a Russian convict who claim's to be Katia's biological father.

"The Rite of Spring" Part 1: Directed by Jyri Kahonen and Juuso Syrja. Written by Paula Mononen, Miikko Oikkonen. Time 61:06.

The manager of a local daycare becomes the focus of a SECRI investigation after an aborted fetus is found at her home. This episode was the most alarming and involved a female pedophile.

"The Rite of Spring" Part 2: Directed by Jyri Kahonen & Juuso Syrja. Written by Paula Mononen & Miikko Oikkonen. Time: 61:11.

Kari and the SECRI team uncover a conspiracy that is connected to the daycare manager's dark past. Some disturbing material is featured in this episode.


DISC TWO

"Cat's Cradle" Part 1: Directed by Juuso Syrja. Written by Antti Pesonen, Miikko Oikkonen Time: 62:28.

Niko leads the search for a deadly sniper while Kari takes leave to look after Paulina who is undergoing cancer treatment.

"Cat's Cradle" Part 2: Directed by Juuso Syrja. Written by Antti Pesonen & Miikko Oikkonen. Time: 62:00.

The hunt intensifies for the sniper as the Police declare a curfew following more bloodshed.

"The Bloodmaid" Part 1: Directed by Juuso Syrja. Written by Miikko Oikkonen. Time: 62:00.

When the body is found in the wall of a student's flat, SECRI must find the links between the student, the victim and other young women that are missing.


DISC THREE

"The Bloodmaid" Part 2: Directed by Juuso Syrja. Written by Miikko Oikkonen. Time: 62:36.

More mutilated remains are discovered as SECRI hunts for a possible cannibalistic killer.

"Without a Shadow" Part 1: Directed by Jyri Kahonen. Written by Miikko Oikkonen & Paula Mononen. Time: 62:21.

Two young men take the Sorjonen family hostage, forcing Kari to investigate the suspicious disappearance of their mother.

"Without a Shadow" Part 2: Directed by Jyri Kahonen. Written by Miikko Oikkonen & Paula Mononen. Time: 62:20.

The hostage situation at the Sorjonen's house intensifies as Lena travels to Russia to assist Kari with the investigation.

It is difficult to discuss Season 2 without acknowledging many of the events of the previous season. Various events and people that have been introduced in Season 1 come up again and will probably occur in the third season. I do not want to disclose the outcomes here and spoil the enjoyment of the show for others. Bordertown is unique in its plot structure because the show is not primarily focused on the event of a criminal act, the personal lives of the detectives and of the group dynamics as a whole supply an essential detail of the show's overall story arc. This show is definitely an acquired taste. There is a lot of explicit violence and plenty male and female nudity. This is not a family-oriented show by any means. I supply this as a warning just in case someone casually suggests that this would be perfect for binge watching with the kids. This is not your run of the mill police show like seen in the states. Roll the Credits!

Video


The cinematography in the series is excellent with unique camera positioning, the sets of the station are ultra-urban and European, with some breath-taking aerial shots interspersed throughout. The settings of Finland and Russian make for some unique film making experiences. The narrative utilizes an interesting mix of indoor and outdoor locales as well

Audio


Since I watched Season 1 on just my television, I did not get to enjoy the sonic landscape as much as I did in Season 2 when I played the disc on my home stereo system. During a rather terse interrogation scene I became aware of a low-level pulsing on the soundtrack that bubbled along adding an extra degree of suspense to the scene.

Extras


Trailers
- Season 1 (2:18)
- Season 2 (3:05)
- Season 3 (2:35)
Bonus Trailers
- "Marseille" Season 1 (2:15)
- "Marseille" Season 2 (2:01)

Available on all three discs.

Overall


So with two seasons under my belt, I can definitely suggest this as an intriguing series to follow. Since it is available on Netflix, I do not understand what market this is for. Collectors may want to own all three volumes on disc when they become available.
| | | | | |
| --- | --- | --- | --- | --- |
| The Film: A | Video: A | Audio: A | | Overall: A |