Willy's Wonderland (Blu-ray) [Blu-ray]
Blu-ray B - United Kingdom - Signature Entertainment
Review written by and copyright: Rick Curzon (28th March 2021).
The Film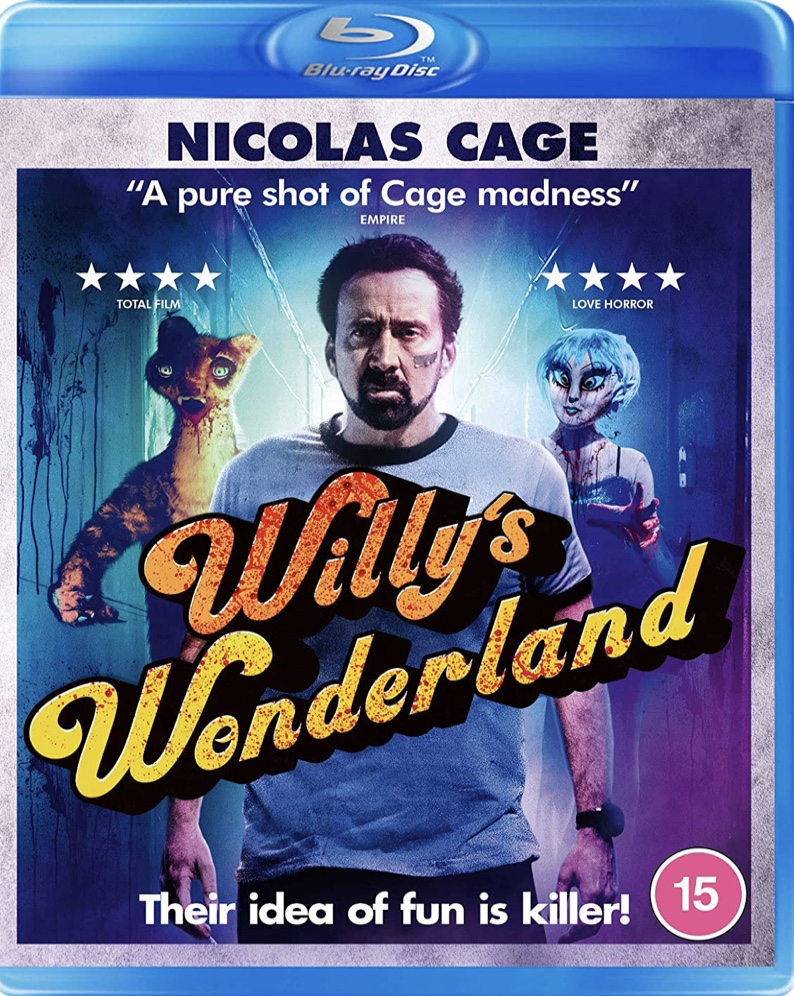 Nicolas Cage takes on a set of violent animatronic amusement park mascots in this action packed, nail-biting tale of terror that will take you on the ride of your life!

Stranded in a remote town with a car that won't work and no way to pay the local repair shop, THE JANITOR (Nicolas Cage - Spider-Man: Into The Spider-Verse) agrees to spend the night in an abandoned theme park full of animatronic characters that were once a joy to the kids of the town, but now hold a dark secret.

As night falls, these once happy mascots come to life and they're out for blood. Survive at any cost, it's only one night!

Video


Clunky, horror film with humorous undertones gets the Blu-ray treatment from Signature Entertainment in the UK.

A disappointing film overall which frequently lacks energy in the supporting performances. Cage is good but doesn't speak which leaves the younger cast who just aren't up to much and neither is the script. This is just a variation on Chopping Mall (1986) with elements of The Cabin in the Woods (2009) and the video game Five Nights at Freddy's (2014); only not as good. It's watchable but doesn't make sense if thought about for more than a few seconds and becomes repetitive after a while.

According to IMDB, Willy's Wonderland used Arri Alexa Mini cameras with P+S Technik Evolution Lenses. The negative format is CFast 2.0 ARRIRAW (2.8K) to create a digital Intermediate (2K) (master format). The source format is Evolution Scope (anamorphic) and the printed film format is D-Cinema. The final aspect ratio is 2.4:1 (or 2.39:1 according to some sources).

The short version is that this is a digitally shot film and it favours a colourful palette with plenty of healthy primaries but it has been given an unusual grade that makes everything look ... slightly odd. It's mildly pastel flavoured at times. It has crisp delineation and no signs of bleed at edges. Black levels aren't quite deep which may explain the mildly pastel look. I ticked the brightness level down three notches and this corrected the problem. However, I shouldn't have to do that; things do improve after a while but a more even presentation delivering consistent black levels would've been preferable. There's no signs of unintended crush.

Contrast is low key and layered being very supportive of fine detail when it's visible but this is quite a soft looking film; especially in darker, low lit scenes. Which is most of the time; perhaps some DNR has been applied? I wouldn't expect lots of grain on a production like this shot using up-to-date digital tech but there's usually a little more fine grain than we have here. All I can think is that it's a flat, smooth look by design. Encoding is decent enough.

1080/24p / AVC MPEG-4 / 2.4:1 / 88:52

Audio


English DTS-HD Master Audio 5.1
English LPCM 2.0 Surround
Subtitles: English HoH

A decent very active 5.1 track that makes plenty of use of separations both front and to the rear. It's got plenty of base although the subwoofer wasn't activated as much as I would've expected. Dialogue is nice and clear; the score moves around the sound field. The LPCM 2.0 track is encoded to play in full surround but the rears are essentially mono so it lacks the welly of the 5.1 so stick with that.

English hard of hearing subtitles are provided for those who need them.

Extras


"Willy's Wonderland: Inside the Fun" 2020 featurette (7:37)
"Willy's Wonderland: Set Tour" 2020 featurette (2:17)
"Willy's Wonderland: Colorful Darkness and the Demon-atrons" 2020 featurette (1:43)

Brief EPK puff pieces of generally superficial interest. All presented in 1080/24p 1.78:1 with LPCM 2.0 stereo sound.

Startup Trailers:
- Possessor (2:10)
- Wrong Turn (1:03)

Standard promos for other releases. 1080/24p in 1.78:1 / 2.4:1 and with LPCM 2.0 stereo sound.

Packaging


Standard blue Blu-ray Keepcase.

Overall


A recent, digitally shot production gets a single layered BD25 with decent if unremarkable image quality and excellent sound. Extras are standard puff pieces and promos so nothing of much interest.
| | | | | |
| --- | --- | --- | --- | --- |
| The Film: C | Video: B+ | Audio: A- | Extras: D+ | Overall: B- |

---
DVD Compare is a participant in the Amazon Services LLC Associates Program and the Amazon Europe S.a.r.l. Associates Programme, an affiliate advertising program designed to provide a means for sites to earn advertising fees by advertising and linking to amazon.co.uk, amazon.com, amazon.ca, amazon.fr, amazon.de, amazon.it, amazon.es and amazon.se.