The Film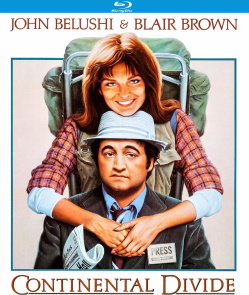 Columnist Ernie Souchak (The Blues Brothers' John Belushi) has his thumb on the pulse of Chicago. He is practically a household name with his exposé-laden weekly column, currently focusing relentlessly on the corrupt dealings of alderman Yablonowitz (The Wanderers' Val Avery) thanks to tips from whistleblowing civil servant Mark Hellinger (Scrooged's Bruce Jarchow). When Souchak's latest column gets too close to the truth, Yablonowitz has Souchak badly beaten up by two ex-cops and orders his team to root out the whistleblower. Convalescing in the hospital, Souchak is eager to get back on Yablonowitz's case despite the fervent urgings of his editor Howard McDermott (Skateboard's Allen Garfield) that he take a vacation, suggesting that he seek an interview with bald eagle conservationalist Nell Porter (Altered States' Blair Brown) in the Rockies. Souchak balks at what he believes to be a lightweight assignment with a middle-aged hermit, but McDermott's wife Sylvia (Sixteen Candles' Carlin Glynn) manipulates him into accepting the job, although he resolves to double down on Yablonwitz upon his return. Arriving in the Rockies and braving the elements hiking up one of the mountains with salty guide Deke Lewis (Butch and Sundance: The Early Days' Liam Russell) – and learning he not only has to fear bears and mountain lions but also a wild man (or "raccoon" as Deke refers to him), but he is pleasantly surprised to discover that Nell Porter is a beautiful young woman, but she only lets him stay on until Deke returns when the only alternative is getting himself killed attempting to get back down the mountain himself, refusing to give him his interview. Souchak attempts to get his story by observing her – discovering among other things that her on-again off-again lover, the so-called wild man, is Max Birnbaum (Body Rock's Tony Ganios), a football star who walked away from fame and fortune in search of a more spiritually-fulfilling life - but his assistance is more of a hindrance, and he eventually laid up in the cabin after a spill down the side of the mountain, and his attempts to be useful around the cabin are scuttled by a mauling by a mountain lion. Nell dividing her time between caring for the eagles and nursing Souchak sparks an attraction as they both discover that the other's stubbornness stems from a passion for their work. When Souchak recovers and returns to Chicago, he is the last person to realize that he has fallen in love with Nell, knowing only that his work no longer brings him the joy it once did; that is, until a suspicious death puts him back on the Yablonowitz story with a nothing-to-lose drive that may get him killed.

An early Amblin Entertainment production from producers Steven Spielberg and Bernie Brillstein – following up on the Robert Zemeckis vehicles I Wanna Your Hand and Used Cars – Continental Divide was a spec screenplay by Lawrence Kasdan that Spielberg optioned – creating a stir at the time when it was making the rounds in Hollywood – expressing his own interest in directing it as a means of getting Kasdan to script Raiders of the Lost Ark before proposing George Lucas as the project's director (and warning Kasdan that Lucas would probably want him to script what would become Star Wars V: The Empire Strikes Back). When the film eventually did go before cameras with Michael Apted –who had just had a success with Coal Miner's Daughter – in the director's chair, Kasdan was already working on his directorial debut Body Heat. The film was also an attempt by Saturday Night Live comedian Belushi to move away from the likes of Porky's to extend his range as a leading man; and while Belushi does inhabit his character outside the shadow of his more outrageous comic persona, Continental Divide for all of its beautiful Rockies scenery, gritty Chicago street scenes, wildlife encounters, and corruption and murder backstory feels rather low stakes as a romantic comedy or a comedy-tinged character drama. The film really does not become compelling until the third act with Souchak's return to Chicago, and not because of the suspicious death of his whistleblower. One Nell appears in Chicago for a fundraising lecture, the dynamic changes as the two interact in his environment, showing both her discomfort with his world and also revealing to his friends his capacity for love. The film at its most suspenseful is how the pair can successfully coexist, together or apart, with the Yablonowitz backstory relegated offscreen. It is actually quite surprising how charming the third act of the film is in comparison to the first two, but this was obviously not what Belushi's fans were looking for in a vehicle but it would be in poor taste to speculate that the failure of the film lead to the actor falling off the wagon (especially with the knowledge that his final film Neighbors was a notoriously troubled production).

Video


Released theatrically by Universal and on VHS by MCA, the film largely languished on the video rental shelves until 1991 when MCA/Universal reissued it on cassette as well as fullscreen laserdisc (the only extra being the film's theatrical trailer), with the film getting a digital upgrade with a barebones DVD in 2003. Kino Lorber's 1080p24 MPEG-4 AVC 1.85:1 widescreen Blu-ray may be derived from the same aged master as there is surprisingly little depth or extraordinary detail in the ravishing scenery – the film was shot by the great John Bailey (American GIgolo) – however, the transfer looks more than acceptable compared to some of Universal's more filtered catalogue titles from the same era. Despite its place in Belushi's short filmography, it seems unlikely the title will be revisited with a new 4K master.

Audio


The only audio option is a DTS-HD Master Audio 2.0 mono track which is proficient but noting too special. Dialogue and scoring – along with a Helen Reddy theme song – are clear, and atmosphere is supportive without being particularly striking or enveloping. Optional English SDH subtitles are provided.

Extras


Besides the film's theatrical trailer (2:52), the disc includes a new audio commentary by film historians Daniel Kremer and Nat Segaloff who provide background on Kasdan's entry into Hollywood, the stir Spielberg's purchasing of the script created, the actual greenlighting being put off while Spielberg and Lucas made use of Kasdan for their own projects, as well as original director and casting considerations. Most interesting is their discussion of the difference between the scripts Kasdan wrote for others in terms of scope with the more intimate projects he wrote to direct himself, as well as their discussion of Apted's move from jobbing British television director whose first international notoriety came from the famed documentary 7 Plus Seven to a diverse Hollywood career of increasingly larger projects culminating in The World is Not Enough before a move back to episodic television and the subsequent installments of his documentary.

Overall


While presumably not what John Belushi fans were looking for in a star vehicle given its lack of success and not entirely satisfying on its own terms, Continental Divide does shien with potential and is actually quite charming at times.