The Film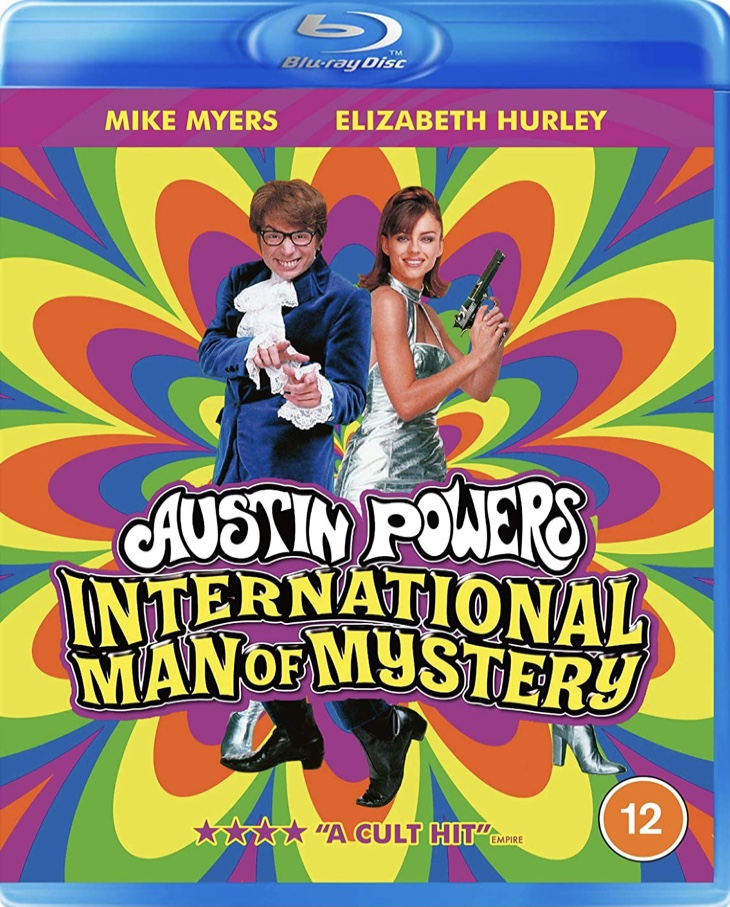 In 1967, fashion photographer by day and super-agent by night Austin Powers (Mike Myers) is on the verge of catching his arch-nemesis, Dr. Evil (also Myers), when the latter has himself cryogenically frozen. Following suit, Powers unthaws thirty years later in the '90s to find Evil threatening the world once more. Can Powers recover from his culture shock in time to battle his old foe? With the help of sexy sidekick Vanessa Kensington (Elizabeth Hurley), he just might.

Featuring a huge ensemble cast including Will Ferrell, Seth Green, Carrie Fisher, Christian Slater, Priscilla Presley and Burt Bacharach, this hilarious and iconic spy movie parody, written by and starring Mike Myers, is undeniably groovy, baby!

Video


I first saw this film on the 1997 New Line US NTSC Laserdisc which had been released on the US market around the same time that the film was playing in UK cinemas and I my copy from the late lamented Movie Boulevard in Leeds. It was THE party film of the season. I can't tell you how many times I ended up having pals over on a Friday and Saturday night with beer and pizza to watch Powers and Mrs Kensington strut their stuff in '97-'98.

Essentially a delightfully garish and occasionally crude pastiche / homage / spoof of Bond, Avengers, Man from UNCLE and the whole '60s spy film and TV boom. It essentially takes the three 1965 / 67 Bond films (Thunderball, Casino Royale, You Only Live Twice) and cribs the look and whole set pieces from them guying them in the process. The whole cast get into the heightened, hammy spirit of the enterprise. Both British and American dramatic and character tropes also get spoofed.

Back in the late '90s I loved this film, but the edge has been worn off alas. It's a solid, entertaining generally amusing spoof but it's not as laugh out loud funny as it seemed back then. Skip the sequels which just got cruder and less funny as they essentially replayed material from this film.

Icon have brought this fan favourite to the BD table for the third time in the UK and I'd hazard a guess that the same 2.35:1 master is being used yet again. What may have seemed like a strong master circa 2009 when it was most likely created; the first BD was in 2010 from Optimum and was sans extras and the second in 2015 from Three Wolves with some different extras that don't appear here.

The film is as bright and as colourful as it has ever been, mimicking the bright colours of psychedelic palettes of late '60s films such as Bond and the adventures of Matt Helm and Flint. Flesh tones are fairly strong and without bleed. Black levels are also reasonably strong but this seems to be an old master and there are the odd moments of crush but not many. There also seems to be some DNR used to smooth out the grain which although present it isn't as strong and filmic as it out to be.

Contrast is punchy; I suspect this HD master was created for one of the many reissue DVDs and as a result there is virtually no fine detail. Just take a look at any of the closeups of Powers in his gaudy wardrobe; no fabric textures. Neither do skin textures kick out. This is a very well lit, colourful film and I would expect to see plenty of texture ... and there is virtually none. Oh, there are moments and it's a step up on DVD but not by a large amount. It does improve marginally as the film progresses.

The encode seems adequate but this is a flat dated transfer on the whole. If you don't have either of the previous BDs (particularly the second) then this is worth picking up if the price is right.

1080/24p / AVC MPEG-4 / 2.35:1 / 94:40

Audio


English DTS-HD Master Audio 5.1
Subtitles: None

The audio is better than the image but it's a front focussed, unadventurous mix that only comes alive in action scenes or club / casino moments. For the most part the score remains front and centre as does dialogue which is always clear. An adequate, lossless reack but it isn't going to blow you away at all.

Sadly, there are no subtitles for the hearing impaired which is a shame. This means that none of the three UK BDs thus far is suitable for anyone who is hearing impaired. The US New Line BD has a subtitle track; could it not have been sourced and tweaked to accommodate the longer edit?

Extras


B-Roll (12:56)
Untitled 1997 Making of featurette (4:30)

The vintage making of is an EPK puff piece that has the two leads discussing "themselves" in character; this has been on every disc release since the 1997 Laserdisc. The B-roll footage is standard, rather dull stuff shot on set during production and may have some value to hard-nut fans; I don't think this has been on every disc since LD. Both are in standard definition 1.33:1 with lossless DTS-HD Master Audio 2.0 mono.

"Ming Tea: BBC" 1997 music video (2:28)

Funky tune and yet another extra on every disc since Laserdisc. Standard definition 1.33:1 (with letterboxed widescreen clips) with lossless DTS-HD Master Audio 2.0 stereo that only plays in surround if you force the sound through ProLogic II or similar via your amp.

Original Trailer (2:10)
TV Spots:
- TV Spot #1 (Not His Time) (0:30)
- TV Spot #2 (Secret Agent) (0:30)
- TV Spot #3 (Swinger) (0:30)
- TV Spot #4 (Phonograph) (0:15)

Vintage promo pieces that were also off every disc release since Laserdisc. The trailer and all of the TV spots are in standard definition 1.33:1 with lossless DTS-HD Master Audio 2.0 mono.

TV Clips:
- TV Clip #1 (Let Me Ask You a Question) (0:42)
- TV Clip #2 (Blackjack) (1:08)
- TV Clip #3 (Richie & Oprah) (0:13)
- TV Clip #4 (Mrs. Exposition) (0:50)
- TV Clip #5 (I Shagged Her) (0:29)
- TV Clip #6 (Sausage) (0:34)
- TV Clip #7 (Fembots) (0:58)

A series of clips from the film presented in open matte 1.33:1 standard definition (the film was shot in Super35 so the shots here have some side cropping but have opened up the matte top and bottom; especially the latter. Sound is DTS-HD Master Audio 2.0 mono.

Character Soundbites:
- Mike Myers (1:55)
- Liz Hurley (0:57)
- Robert Wagner (0:29)
- Mimi Rodgers (0:52)
- Michael York (0:12)

Outtakes from the EPK puff piece in standard definition 1.33:1 with lossless DTS-HD Master Audio 2.0 mono.

MISSING EXTRAS OFF PRIOR RELEASES:

- The 1997 audio commentary by director Jay Roach and star Mike Myers that debuted on the 1997 US New Kine Laserdisc.
- The extensive still galleries that have only ever appeared on that 1997 US Laserdisc (these were superb featuring dozens of great poster concepts).
- Alternative Ending 1, Alternative Ending 2,
- Special Trailers: "Cheeses of the World", "Fendi Briefcase", "Flight Attendants".
- Music to shag to animated sequence.

The five deleted scenes that have appeared on the US disc releases are edited into the main film outside of the USA; hence the difference in running time between the US (89 minutes) and International (95 minutes) versions.

Packaging


Standard blue Blu-ray Keepcase.

Overall


This audience favourite is being trotted out for the third time on BD in the UK; this time from Icon. Last available in the out of print 2010 (from Optimum) and 2015 (Three Wolves) releases. Image is vibrant and strong for this bright, candy coloured film that has usually been well served on home video disc formats. Sadly, extras are disappointing containing mostly EPK material and many kegacy e tras available on prior releases have not been ported across. Still, this is a reasonably priced disc and it presents an adequate if not stellar presentation of the longer international cut; a mild improvement on DVD. Also, it would've been better to pull together all prior extras dating back to the 1997 LD and via seamless branching have both edits of the film together on one disc.
| | | | | |
| --- | --- | --- | --- | --- |
| The Film: B- | Video: C+ | Audio: B- | Extras: C- | Overall: B- |