Final Stand (The) AKA Podolskiye kursanty
R2 - United Kingdom - Signature Entertainment
Review written by and copyright: Rick Curzon (1st March 2021).
The Film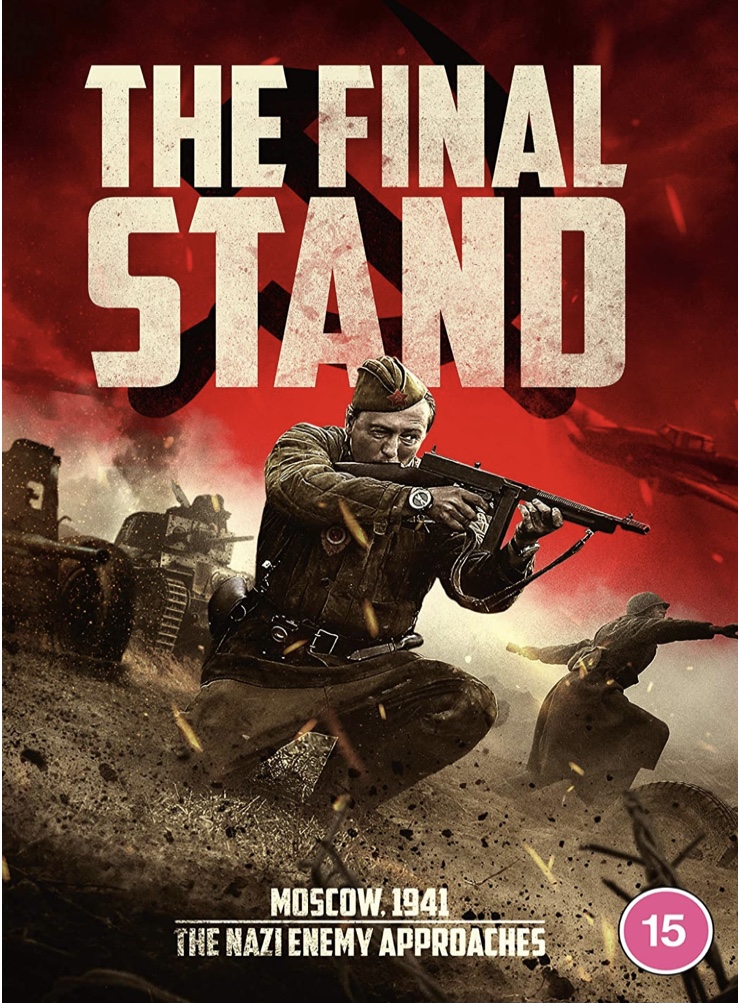 1917 meets Hacksaw Ridge, The Final Stand is a gripping and hard hitting WWII thriller based on the unbelievable true story of the heroic military stand outside Moscow in 1941.

This historical action epic follows a group of Russian soldiers who were deployed to the front line, to fight alongside units from the Soviet Army in a bid to defend Moscow against the onslaught of the Nazi advance.

Hopelessly outnumbered, thousands of young men bravely put their lives on the line in a battle that lasted almost two long weeks. With almost 3,500 deployed to hold up the last line of defence as the onslaught of Nazi soldier moved in, most never returned. This is the story of their honour, bravery, courage and true camaraderie.

Video


Yet another big budget true story Russian World War II programmer filled with way too much slow motion in the action which makes it seem more funny than anything; usually because it's used in a way that's the reverse of speed ramping and is attempting to induce pathos. Think of an on message heroic WWII film from the '40s through the '50s only filtered in terms of violence and gore, through a Saving Private Ryan lens. We also get a romantic subplot. It's all very skilfully done and more than technically competent but unsurprising and old fashioned. Still, well worth a look.

A digitally shot production matted to the seemingly ubiquitous 2.4:1 aspect ratio this has a surprisingly naturalistic but colourful colour palette. Primaries are vivid (clock the piping on the Soviet army uniforms) but flesh tones are natural and varied. Being a WWII flick set on the Russian front there are lots of browns, greys and greens all rendered clearly in standard definition without any bleeding.

Black levels are rich and satisfyingly black with no crush or pallid grey shadows. Contrast is perky but supportive giving the image a certain amount of pep than many war films made in the UK and the USA seem to lack. Day exteriors fare especially well being bright and vivid, interiors and night exteriors can have some muddiness exacerbated by being in standard def. Encoding is decent, there's little grain and no signs of digital tinkering ... at least that I could detect, nor any compression artefacts. The film has been afforded a high bitrate on dual layered DVD9.

Image is about as good as can be given it's a DVD.

PAL / MPEG-2 / 2.4:1 / 136:36

Audio


Russian Dolby Digital 5.1
Russian Dolby Digital 2.0 Stereo
Subtitles: English (forced by player)

Ignore the 2.0 as it's not encoded for surround and plays in front only stereo unless forced through ProLogic II (or similar). In any case although it's decent the 5.1 is the best in supporting the generally very active sound field. This isn't in the same league as a Hollywood blockbuster but it more than gets the job done. My subwoofer wasn't as punchy as I was expecting but it did kick in to a satisfying degree.

Subs are digitally generated but sadly forced, so if you're a Russian speaker you're buggered.

Extras


Startup trailers:
- Jiu Jitsu (1:42)
- Persian Lessons (2:15)

The usual promos for other releases; nowt worth noting. The trailer, like the film, for Persian Lessons is presented in the superwide 2.55:1 ratio. The equivalent of old CinemaScope from 1953.

Packaging


Standard black DVD Keepcase.

Overall


Skilfully made WWII action flick gets a very fine DVD presentation from Signature .entertainment in the UK. Image and sound are as good as can be for the format and in the vase of the sound design as good as the original production allows within a lossy presentation. It's somewhat mystifying why Signature have elected for a DVD only release but that's all we're getting. For the price, great value and recommended but aficionados will go for a foreign BD.
| | | | | |
| --- | --- | --- | --- | --- |
| The Film: B- | Video: B+ | Audio: B+ | Extras: E | Overall: C+ |

---
DVD Compare is a participant in the Amazon Services LLC Associates Program and the Amazon Europe S.a.r.l. Associates Programme, an affiliate advertising program designed to provide a means for sites to earn advertising fees by advertising and linking to amazon.co.uk, amazon.com, amazon.ca, amazon.fr, amazon.de, amazon.it, amazon.es and amazon.se.