Wrong Turn (Blu-ray) [Blu-ray]
Blu-ray B - United Kingdom - Signature Entertainment
Review written by and copyright: Rick Curzon (14th April 2021).
The Film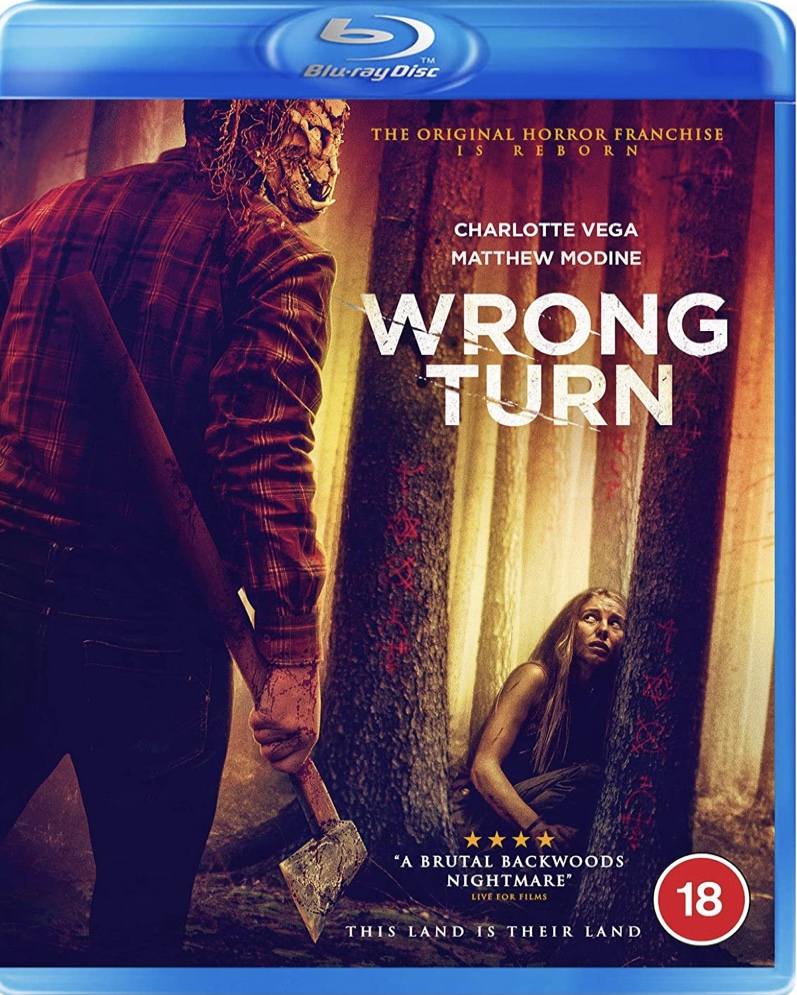 A chaotic fight for survival befalls a group of friends on the Appalachian trail in this iconic franchise reboot from the original creator Alan. B. McElroy.

When a dream trip turns into a nightmare, one group of friends finds themselves at the mercy of an urban legend - The Foundation. As a freak accident drives the group deeper into the mountains, they find themselves succumbing one by one to hunting traps large enough to take out anyone that dares venture off the beaten path.

The group soon realises they are not alone and what happens next escalates into a gruesome game of survival, as those who called the mountain home respond to this outside threat with their own swift and brutal justice..

Video


This fairly run of the mill albeit well made entry in the long-running franchise (since 2003) acts as a soft reboot. All of these backwoods horror films owe their existence to The Texas Chain Saw Massacre (1974) and The Hills Have Eyes (1977) and Wrong Turn (2020) doesn't offer anything new bar decent direction and production. The cast do well although none of the characters struck me as particularly appealing.

Visually this digitally lensed production is fairly muted and grain free although there are some fuzzier, grittier moments here and there. The colour platte is naturalistic but never really pops much although some primaries, especially red, create a mild impression. Black levels are suitably true and stygian and contrast allows detail to sing. No unintended black crush; no blown out whites and whites are true without an undue bias that I could detect. It's a modern, digitally lensed film well encoded on disc and gets a strong transfer; 'A'.

1080/24p / AVC MPEG-4 / BD50 / 2.39:1 / 110:02

Audio


English DTS-HD Master Audio 5.1
English LPCM 2.0 Surround
Subtitles: English HoH

A very strong 5.1 track with plenty of welly at times and the subwoofer kicks in at appropriate moments. The surrounds are generously used especially in the in scenes set in the woods with lots of ambiance, during action scenes and obviously in the jump shock moments. Not much more to say; a strong track, 'A'.

Obviously the LPCM 2.0 surround is very similar only with a bit less range and intensity. Subtitles for the hearing impaired are present and do their job well.

Extras


Audio commentary with Director Mike P. Nelson (2020)

I was interested to find that the opening homage to Race with the Devil (1975) and how scenes were reordered like the opening with Modine looking for his daughter was actually originally written to occur in the middle of the film. Nelson is a young man full of enthusiasm and imparts a fairly breathless amount of information covering minutia as well as larger issues. Presented in LPCM 2.0 stereo.

"Monsters Among Us: Making Wrong Turn" 2020 featurette (27:26)

Standard puff piece promo runs longer than most and has everyone on message, right on and offering enthusiasm. Presented in 1080/24p 1.78:1 (clips from the film are 2.39:1) with LPCM 2.0 stereo sound.

Deleted and Extended Scenes (7:32)
- Wrong Turn: The Foundation - Deleted Scene 1 "Ruthie Encounter" TRT 1:00
- Wrong Turn: The Foundation - Deleted Scene 2 "Bite!" TRT 0:52
- Wrong Turn: The Foundation - Deleted Scene 3 "Lost and Found (Extended)" TRT 1:54
- Wrong Turn: The Foundation - Deleted Scene 4 "The Deputy" TRT 1:22
- Wrong Turn: The Foundation - Deleted Scene 5 "Can I Help You?" TRT 0:56
- Wrong Turn: The Foundation - Deleted Scene 6 "I Found a Home" TRT 0:50

A selection of deleted scenes presented in 1080/24p 2.39:1 with LPCM 2.0 stereo sound.

Startup Trailers:
- Willy's Wonderland (0:59)
- Final Days (1:20)

Standard promos for other Signature Releases presented in 1089/24p 2.39:1 with LPCM 2.0 stereo sound.

Packaging


Standard blue BD Keepcase.

Overall


A string BD rendering of this run of this mill backwoods horror and reboot of the 18 year old franchise. Fans will eat it up, more jaded viewers have seen it all before done better. Image and sound are strong, extras solid and the price is right; recommended. This UK disc mirrors the US Lionsgate release.
| | | | | |
| --- | --- | --- | --- | --- |
| The Film: C | Video: A | Audio: A | Extras: B+ | Overall: A |

---
DVD Compare is a participant in the Amazon Services LLC Associates Program and the Amazon Europe S.a.r.l. Associates Programme, an affiliate advertising program designed to provide a means for sites to earn advertising fees by advertising and linking to amazon.co.uk, amazon.com, amazon.ca, amazon.fr, amazon.de, amazon.it, amazon.es and amazon.se.