The Film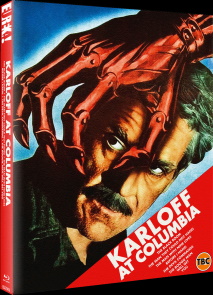 Following the expiration of his contract with Universal – which finished out with a series of diverse parts after the British "horror ban"
actor Boris Karloff made do with lesser prospects at Poverty Row studio Monogram until Columbia Pictures pounced on him for the second horror boom of the sound era – during which Karloff would also get some horror vehicles at Warner Bros. before Universal signed him on again for their Universal-International horror films of the forties and fifties.

The titular The Black Room has loomed over the Berghman dynasty for centuries ever since the younger of twin brothers murdered the older in the Black Room for control of the family fortunes. When the wife of the current Baron de Berghman (Holiday's Henry Kolker) gives birth to twins, he fears that it will be the end of the family line since the motto on the coat of arms is "'I end as I began". Young Lieutenant Hassel (Becky Sharp's Colin Tapley) does not believe in superstition but suggests removing any such temptation by bricking up the room. Forty years later, the younger Berghman twin Anton (Karloff), who was born with a paralyzed left arm, returns from Budapest after an absence of ten years at his older brother's request, confessing to the aged Colonel Hassel (The Lone Wolf Meets a Lady's Thurston Hall) that his own fear of the curse drove him away. He discovers upon returning to the castle that his elder Berghman twin Gregor (also Karloff) is the target of an assassination plot among the local villagers, but refuses to believe that Gregor is the heartless (and sadistic) tyrant that he is rumored to be since his brother has called him back hoping to make peace once and for all by unsealing the Black Room and dispelling its air of dread. Invited to dinner at the Hassel household, Gregor shows an interest in Hassel's young daughter Thea (Svengali's Marian Marsh). Her father would prefer a union with the kinder Anton, but would not be able to refuse Gregor; however, Thea is secretly engaged to Lieutenant Albert Lussan (Rio Grande Ranger's Robert Allen) of whom her father does not approve. When Gregor's housemaid mistress Mashka (Black Gold's Katherine DeMille) tries to blackmail him upon learning of his interest in Thea, he murders her and disposes of her body in the oubliette of the Black Room. When the villagers form a mob after Mashka's disappearance, Gregor agrees to abdicate his position to his younger brother who has become popular with the locals, seeing a convenience in their resemblance and another use for the Black Room.

The first of Karloff's films at Columbia Pictures – and reportedly one of his favorites – The Black Room may not have been the first horror film in which Karloff got to act without monster make-up or a mask, but it was heavily-promoted as such; however, it also offered the chance for Karloff to play a more complex horror lead (demonstrating the lack of imagination of both Universal and Warner Bros. in their vehicles for the actor), in this case a somewhat romantic one at age forty-eight. Although the story could be seen as just another mishmash of gothic horror tropes including family curses, good and evil twins, doppelgangers (in this case the duality of innocent Thea and earthy Mashka rather than the twins), dark castles, dungeons, fratricide, seduction, as well as intimations of sadism and torture within the Production Code limitations, Karloff's delineation of good and evil – far more clean-cut than the dialogue avers – is greatly aided, however, by the art direction of Stephen Goosson (The Lady from Shanghai), cinematography of Allen G. Siegler (Inner Sanctum), and the direction of Roy William Neill (Frankenstein Meets the Wolf Man) which is positively dripping with Gothic atmosphere from the chiaroscuro shadows of the castle interiors to an establishing shot of the castle, the level composition spiked by a canted wooden effigy of the crucified Christ, and the realization of the family curse to the letter is cleverly-executed. Among the large uncredited supporting cast of contract players is Edward Van Sloan, once one of the leads of Tod Browning's Dracula.


Karloff becomes The Man They Could Not Hang as Dr. Henryk Savaard who has developed a mechanical heart that will take over the operation of the organ for extended amounts of time allowing doctors to operate on damaged bodies without the limitations of time. He is about to initiate his first human test with the assistance of Dr. Lang (Champagne for Caesar's Byron Foulger) and young medical student Bob Roberts (Canal Zone's Stanley Brown) who has volunteered to be killed and brought back to life. Unfortunately, Savaard's nurse and Bob's panicked girlfriend Betty Crawford (Rebel Without a Cause's Ann Doran) panics and runs to the police telling them that Savaard is going to murder her boyfriend. The police arrive too late, and despite Savaard's claims to police Lieutenant Shane (The Night of the Hunter's Don Beddoe), the police surgeon Dr. Stoddard (Twelve Crowded Hours' Joe De Stefani) accuses him of being a madman and he is arrested, refusing to let Savaard use his invention to revive Roberts. In court, Savaard tries to defend his theories but the district attorney Drake (South of Panama's Roger Pryor) reduces the case to whether or not he murdered Roberts regardless of his intentions, and he is sentenced to hang by Judge Bowman (The Invisible Menace's Charles Trowbridge). While awaiting execution, he learns that Bowman has approved the request of a Dr. Bruckner (actually Lang) to have Savaard's body after execution for science. Months after Savaard's death, newspaper reporter "Scoop" Foley (The Mysterious Doctor Satan's Robert Wilcox) – who has been romancing Savaard's distraught daughter Janet (The Gallant Legion's Lorna Gray) – connects the hanging deaths of six men who happened to be on Savaard's jury, and his editor King (Drums of Fu Manchu's John Dilson) puts him on the story of the "Savaard Curse" on the same evening he learns that Judge Bowman, Lieutenant Shane, District Attorney Drake, Betty Crawford, Dr. Stoddard, and three of the jurors – including foreman Kearney (Racing Luck's Dick Curtis) – have been summoned to the closed up Savaard residence, seven of them via a court order supposedly signed by Bowman. The eight guests and Foley are shocked to discover that their host is Savaard himself who graphically shows Stoddard the work that had to be done on his broken neck to restore him to life with the help of his invention. When Bowman, Drake, and Shane make moves to arrest Savaard, he reveals that they are all locked inside the mansion and that their place cards at dinner not only state the order of their deaths but the exact time in which they will occur.

Although Karloff's subsequent Columbia films would all fall into the "mad doctor" genre, they each (or at least three out of five) stray from the more conventional examples of the genre by presenting him either as the hero twisted by the ignorance, fear, and intolerance of others or by fate. The Man They Could Not Hang is indeed the best of Karloff's entries in this subgenre from any of the studios at which he worked. His noble intentions are scuttled by a "stupid girl" as he refers to Betty, dismissed by the police and a narrow-minded court system, leading him to believe that he has been falsely tried and convicted for a murder for which others were responsible by not allowing him to utilize his invention. "They killed the man I was. All that's left is the will to hate and to destroy," he tells his daughter whose own subsequent act of self-sacrifice brings Savaard back to a semblance of himself even though he apparently still believes that every "Every gift that science has given them has been twisted into a thing of hate and greed" motivating his final act before the fade out. Active since the silent era but bowing out before being consigned to episodic television in the fifties, Nick Grinde (who apparently was only correctly credited with the ι in his name on his Columbia Karloff pictures which each utilized the same art deco credits lettering) was one of the lesser-known prolific journeyman directors active at both Columbia and Warner Bros., but his three Karloff pictures reveal him to have been just as much a genre stylist as his Universal contemporaries in a scenario that mixes both science fiction elements with old dark house gothic atmospherics in the second half of the film, captured in a moodily efficient manner by cinematographer Benjamin H. Kline (Zombies of Mora Tau) in which the viewer (whether one sides with Savaard or not) cannot help but watch and anticipate the impending doom of the houseguests in a manner quite unlike other "old dark house" films that late in the creaky genre.

In The Man With Nine Lives, idealistic young Dr. Tim Mason (Case of the Missing Man's Roger Pryor) runs afoul of the university medical board when his successful demonstration of frozen therapy for his professional colleagues is leaked to the press; whereupon his superior Dr. Harvey (Charles Towbridge again) chastises him that the "age of the lone wolf pioneering researcher is over" and takes the project away from him to be peer-reviewed, recommending that he take a vacation until all of the press blows over. Mason elects to track down reclusive Dr. Leon Kravaal (Karloff) whose scarce tome inspired his own experiments. Upon learning that Kravaal vanished ten years before, Mason and his girlfriend Nurse Judith Blair (The Light of Western Stars' Jo Ann Sayers) travel up to Silver Lake on the Canadian border where Kravaal had a house on an otherwise uninhabited island. Local boat renter Pete Daggett (The Invisible Ghost's Ernie Adams) warns them off visiting the island, revealing that Kravaal, Sheriff Stanton (Red River's Hal Taliaferro), District Attorney John Hawthorne (John Dilson again), local Dr. Bassett (Byron Foulger again), and a young man named Bob Adams (Stanley Brown again) boarded a boat one stormy night for the island and were never heard from again, with no evidence of even a struggle on the island. Arriving at the house hoping to find some leftover papers of Kravaal's, they instead find his derelict lab stocked with everything but. When Judith falls through the floor, however, they discover a skeleton and a secret lab with an ice-covered boiler plate door behind which they discover the frozen corpse of Kravaal. Using a synthesis of his own techniques and that of Kravaal, Mason revives the doctor who reveals that Bob Adams had tried to have him arrested over his treatment of his dying uncle, believing the doctor to be trying to get his hands on what was to be his own inheritance. Threatened with a jail unless he can show them his patient alive and well, Kravaal reluctantly takes them to the island rather than delay treatment which will certainly result in the man's death. When Bassett pronounces the man dead, Kravaal claims that he is in a state of suspended animation and has been in and out of it multiple times while Kravaal has attempted to destroy his cancer cells. He begs the men the chance to reanimate the man with a combination of poisons he intends to inject into the man, but a scuffle with Bob breaks the vial sending poisonous vapors into the air. The five men shelter in the ice room. Surmising that his patient must have revived and died accidentally from a fall, Kravaal determines that his own accidental inhalation of the poisons must have preserved his body in the ice and the trio set about trying to revive the other four men. Although the sheriff, the district attorney, and the doctor have much to ponder with the proof of Kravaal's experiments and their own subsequent role in his patient's death, Bob is angered over being cheated out of his inheritance since they have all been missing for more than seven years and have been declared legally dead. When Kravaal's written copy of the formula is destroyed in another scuffle, Kravaal holds the remaining inhabits of the island hostage as unwilling guinea pigs in order to rediscover the formula.

Karloff's The Man With Nine Lives takes a back seat for the first twenty-odd minutes of the film in favor of the young romantic leads – often given short shrift and just plain uninteresting in the bookending Karloff mad doctor films – with the film literally switching points-of-view one Karloff's doctor is revived to blurry life; whereupon, the film then digresses into a lengthy flashback of actors familiar from The Man They Could Not Hang playing variations on parts essayed by other actors in that film before rushing the rest of the action once it returns to the story proper. Of the four "serious" mad doctor films, The Man With Nine Lives's noble-intentioned doctor feels the least compelling, the most likely to go bad, so the result feels like a serial recap with the remainder being all "falling action" even before the climax. It should be no surprise that the film was scripted by The Man They Could Not Hang's Karl Brown, with the direction of Grinde and the cinematography of Kline once again livening things up. Brown would change up the formula minutely toward the better for the next Karloff vehicle.

Dr. John Garth (Karloff) is once again prevented from treating a clinically-dead patient – this time with a life-saving blood serum that could potentially stop the decay of white blood cells and extend life eternally – and is sentenced to death; however, the prison warden Thompson (She's Ben Taggart) and prison doctor Howard (Edward Van Sloan) allow him to attempt to complete his experiments in the three weeks before his execution in a literal race against death Before I Hang. With nothing to lose, Garth proposes himself as the human test subject – using the blood of an executed strangler – and Howard reluctantly agrees only for Thompson to ironically announce that Garth's sentence has been commuted to life in prison. In shock, Garth collapses but wakes up looking and feeling twenty years younger. Although still facing a life behind bars, Garth is happy to continue his work with Howard; however, one night when he is about to inoculate Howard, he is overcome with a murderous impulse and strangles the man. Garth is wounded in a struggle with another prisoner (A Woman Under the Influence's Frank Richards) who he kills, and that man is blamed for Howard's death while Garth is proclaimed a hero and is pardoned. He returns home to continue his experiments but even his daughter Martha (The Seven Year Itch's Evelyn Keyes) and her boyfriend/his former colleague Dr. Paul Ames (Mildred Pierce's Bruce Bennett) see changes in Garth who no longer sleeps and works at all hours of the day or night. Garth invites three old friends – pianist Victor Sondini (Blood and Sand's Pedro de Cordoba), attorney George Wharton (Dark Streets of Cairo's Wright Kramer), and Stephen Barclay (The Eagle's Eye's Bertram Marburgh) and offers them the chance to be inoculated against death. He is disappointed when they fearfully refuse, wandering out into the foggy night while his daughter worries. Garth appears at Sondini's house and convinces the man to let him inoculate him, only for those alien murderous impulses to overcome him again. In spite of the warden's character reference and the facts of the earlier case from his superior, Captain McGraw Stephen Barclay (Don Beddoe again) suspects Garth right away and means to catch him in the act.

Anticipating in superficial details Karloff's later British film The Haunted Strangler for American producer Richard Gordon, Before I Hang is more inventive than the previous entry even as it recycles certain horror tropes dating back to The Hands of Orlac – recently remade at the time by MGM as Mad Love – at least up front in the setup; however, things are business-as-usual in the second half the police captain's investigation implied more than seen, Keyes' worry restricted to two or three short scenes, and third-billed Beddoe is the series' second-most ineffectual romantic lead to the point where Karloff's protagonist has to take the initiative to effect the ending himself. Where Grinde and cinematographer Kline succeed here is visually, stripping away any reminders past the first mention of the use of a murderer's blood in the serum to focus instead on the sinister change that overcomes Karloff's face in mostly wordless sequences so that the killings while not graphic still surprise with the ferocity of his expressions. Stanley Allen and Charles Towbridge appear this time around in uncredited roles.


In The Devil Commands, Dr. Julian Blair (Karloff) has devised a way of graphically interpreting brainwaves with electricity, discovering that each person emits a distinct signature brainwave, demonstrating his technique both on younger colleague Dr. Richard Sayles (The Major and the Minor's Richard Fiske) and his own wife Helen (Shirley Warde). Pulled away from socializing with his colleagues to go pick up his twenty-year-old daughter Ann (Mr. Moto in Danger Island's Amanda Duff) who is returning from a long visit with friends in New York, Julian is in a shop picking up a cake for the occasion when his car is sideswiped in the rain by another automobile, killing his wife instantly. Returning to the lab after comforting his daughter, Blair turns on the machine and momentarily captures another instance of his wife's brainwave. He tries to convince his daughter, Sayles, and his colleagues that brainwaves survive after death and that there may even be a way of communicating with the dead. While his colleagues believe he is going crazy in his grief, janitor Karl (The Face Behind the Mask's Cy Schindell) convinces him to see spiritual medium Blanche Walters (The Song of Bernadette's Anne Revere). Blair is skeptical about her powers but when he experiences an electric shock during the sιance and cannot find any wiring to explain it, he starts to believe that Blanche's mediumistic powers come from the brainwaves of the dead and that he can use his machine to channel them, a power that Blanche believes will allow Blair to "own the world" if successful. With Blanche hooked up to the machine, Blair believes he has once again momentarily reached Helen but Karl is severely electrocuted and brain-damaged. Upon learning that the college is going to rule on whether to dismiss him and fearing what will happen if Karl's injury is discovered, Blair agrees with Blanche that they must find some place out of the way to continue his work. He sends Ann away and takes a clifftop house in Barsham Harbor where the locals quickly grow wary of his presence, even hostile when recently-interred bodies start vanishing from their graves. Local sheriff Ed Willis (Black Arrow's Kenneth MacDonald) is blocked from inquiring into Blair's work first by his "ask no questions" housekeeper Mrs. Marcy (The Killing's Dorothy Adams) and by cold Blanche; however, when Mrs. Marcy dies mysteriously after sneaking into Blair's lab, Ann and Sayles arrive just in time for the village mob riled up by the housekeeper's husband (The Best Years of Our Lives' Walter Baldwin).

The only literary adaptation of the Columbia Karloffs – from William Sloane's "The Edge of Running Water" – The Devil Commands has so many problems; and yet, it also possesses some of the most intriguing concepts and striking visuals of the "mad doctor" films. Karloff's doctor here is not twisted towards evil but in his grief tries to blur the boundaries between life or death, made vulnerable to the power-mad machinations of Revere's ruthless fake medium who herself seems to start believing in her abilities. Blair's lab is the most creepy creation in the series with metal-suited corpses underneath hoods arranged around a table in a pseudo-sιance, their bodies drawn to lean forward towards the center of the table by the electrical currents, and an electronic voice that may be that of Helen either drawing him in or trying to warn him off (despite the title, the film does not even intimate that what he is in contact with might be something other than his wife and might be a malevolent force). On the other hand, the film is incessantly narrated in flashback by Duff who is not present for much of what she is describing – and the film attempts to cover this by having her stress that the sheriff gave her an excessive amount of detail about her father whilst they were rushing to her father's house to head off the mob – and the aforementioned sheriff manages to be an even duller character than Fiske's romantic lead even though the former has more screentime than some of the other series investigators. While the end result is imperfect, it is another example of how formerly- blacklisted jobbing director Edward Dmytryk (Mirage) could turn out an interesting effort in just about any genre, particularly with B-pictures.

In The Boogie Man Will Get You, the historic Billings Tavern is in danger of foreclosure thanks to the neglect of Professor Nathaniel Billings (Karloff) in favor of his experiments to create a race of super humans to advance the war effort – his (dead) failures being perfectly preserved "immortal martyrs of my great experiment" – while his housekeeper Amelia (The Bat Whispers' Maude Eburne) is preoccupied with her dream of building a chicken coup and carrying on a dialogue with the radio show "The Poultry Hour." When gay divorcee Winnie Slade (In a Lonely Place's Miss Jeff Donnell) turns up to buy the wreck in hopes of opening up a colonial bed and breakfast ("Isn't this wonderful! Worm-eaten steps!"), she pays off Billings' debt to local mayor/doctor/notary/snake oil salesman Dr. Arthur Lorencz (M's Peter Lorre) and agrees to the stipulation that Billings can continue his secret experiments in the cellar and that Amelia and handyman Ebenezer (Devil's Playground's George McKay) can continue working there, along with the howling ghost of Mohican warrior Uncas. Having tracked her down across the country, her newly-enlisted ex-husband Bill (The Jolson Story's Larry Parks) arrives too late to stop her from buying the inn, and tries to prove to her it is a scam, believing the oddball happenings to be an attempt to get her to sell the tavern back cheaper than she bought it for; that is, until he discovers a dead body in Billings' lab that subsequently vanishes after investigating Lorencz decides to go into business with Billings. Their attempts to procure Bill for experimentation are disrupted when they discover one of Winnie's guests stabbed to death. When that body vanishes before Bill and Winnie can see it, this seems like a further maneuver to frighten them off. Billings and Lorencz suspect that the killer must be fellow guest J. Gilbert Brampton (Don Beddoe again), a choreographer whose research into producing a colonial musical involves lurking about at all hours of the night; that is, until another suspect comes in the form of escaped Italian fascist pilot Silvio (20 Million Miles to Earth's Frank Puglia) who is hiding in the inn with the aim of bombing a nearby munitions plant.

A supremely unfunny spoof on the "mad doctor" and "old dark house" films by way of Arsenic and Old Lace (Karloff had appeared in the Broadway stage version and Lorre would be in the film version), The Boogie Man Will Get You goes through the motions deopending upon Karloff and Lorre for laughs while every other performance is pitched to eleven as the characters run about a seedy soundstage set, with the only inkling s of atmosphere coming from the basement lab scenes with even those undercut by the overstated comedy by the likes of boxer Maxie Rosenbloom (Nothing Sacred) as a powder-puff salesman who is conned into believing Billings' experiments will make him a more confident salesman and less of a mama's boy. All of the haunted house antics feel random, thrown in recklessly in an attempt to keep the audience laughing, with little in the way of setup for the sudden appearances of extraneous characters and nothing in the way of mood. The experience is so painful, it makes the "Dead End Kids" horror-themed quickies look breezy by comparison. Karloff and Lorre would be reunited at the end of their careers in The Comedy of Terrors. Director Lew Landers (The Raven) demonstrates once again that he was probably a choice just above William "One-Shot" Beaudine.

Video


Eureka's 1080p24 MPEG-4 AVC 1.37:1 fullscreen Blu-ray transfers likely comes from the same HD masters as the DVD sets – Eureka makes no claim about the transfers beyond "All six films presented in 1080p across two Blu-ray discs" on their press release – and they are generally satisfactory given the age and preservation of the materials (including the loss of some materials like the original title sequence for The Black Room), with some speckling here and there (more noticeable during the darker passages against inky blacks), infrequent vertical scratches, the substitution of an inferior source for a stretch of The Man With Nine Lives, as well as one or two instances where a grainier, softer shot may not be a substitution of inferior source material but optical zooms to punch up the coverage of long-take scenes.

Audio


All six films have English LPCM 2.0 mono tracks that are all of generally good quality, sounding clean without being overly digital in the noise reduction. Dialogue is always intelligible, the Columbia library music never sounds muffled or shrill during its infrequent usage, while the lack of umph in the added sound effects sparseness of atmospheric background effects are the nature of the recording techniques and methodologies of the period. Optional English HoH subtitles are included without any obvious errors.

Extras


All six films are accompanied by brand new audio commentary tracks. The Black Room, Before I Hang, and The Boogie Man Will Get You are covered by film historians Kevin Lyons and Jonathan Rigby while The Man They Could Not Hang, The Man With Nine Lives, and The Devil Commands feature author Stephen Jones and author/critic Kim Newman. The Black Room includes discussion of Universal coming up with non-horror projects for Karloff to finish out his contract because of the UK "horror ban," his Monogram sting, Columbia's promotion of the Karloff projects, the themes of twins, duality, doppelgangers, and their literary and cinematic antecedents. Before I Hang includes discussion of Karloff's contrasting his mannerisms in his "old" scenes and his younger ones, the strangely genial prison warden character here, how the reshuffled character actors from the other films are nevertheless "in character," and the film's reception (including the classist British reviewers which in pre-publicity noted the effectiveness of Karloff's performance "with little make-up" and in reviews suggested that it would do well with "the industrial element"). Of The Devil Commands, they discuss the differences source novel and the adaptation – even suggesting that the film might have been reworked in post-production because of Ann's incessant narration while also noting that Sayles was the narrator in the novel which had a different structure itself – the effectiveness of the sιance visuals, and contrasting Grinde and Dmytryk (suggesting that the latter actively used his B-pictures to show the studios what he could do in hope of bigger projects).


The Man They Could Not Hang includes discussion of how Karloff's "mad doctor" films were more science fiction than horror, the direction of Grinde, the combination of gothic and modern horror elements, the loose continuity of the Grinde/Karloff "mad doctor" films, and the film's story source author Leslie T. White, whose real life backstory as a former Los Angeles District Attorney investigator may have been the inspiration for Raymond Chandler's Phillip Marlowe. In The Man With Nine Lives, they note how Karloff's appearance is held back – and how Mason's character seems like he might have been inspired by various radio and pulp series investigator characters, and the investigation plot itself to Stuart Gordon more so than H.P. Lovecraft – as well as the move of American genre film from European literary sources to "shudder pulp," and the visual means of switching from Mason's POV to that of Kravaal. In The Boogie Man Will Get You, they note the obvious influence of both the stage successes of Arsenic and Old Lace and George Washington Slept Here (the film version of which utilized the existing Arsenic and Old Lace sets), right down to the punchline in the case of the latter (with support from reviews of the time), as well as being one of the films featuring the uncredited work of Kenneth Strickfaden for Billings' laboratory equipment.

Each film's submenu also includes separate production stills and artwork & ephemera photo galleries. Disc one include as a bonus two Karloff episodes from the Inner Sanctum radio series: "The Corridors of Doom" (29:15) and "The Wailing Wall" (29:18) while disc two includes "Birdsong for a Murderer" (21:40) and "Death for Sale" (24:51).

Packaging


Packaged with the discs in a 3,000 copy limited edition O-Card slipcase is a 47-page collector's booklet featuring writing on all six films by Karloff expert Stephen Jacobs (author of Boris Karloff: More Than a Monster), film critic and author Jon Towlson, and film scholar Craig Ian Mann. In "I End as I Began: The Black Room", Stephen Jacbos discusses Karloff's Universal career at that point, the contributions of little-remembered director Neill, and the film's mixed reception while Craig Ian Mann also looks at "The Duality of Evil: Twin Horrors in The Black Room" drawing comparisons of the plot to "Hamlet" and the story of Cain and Abel. In "Karloff at Columbia: The Mad Doctor Movies", Jacobs provides brief overviews of the other five films with production anecdotes as well as quoted recollectios from Karloff and some of his co-stars (with The Boogie Man Will Get You being the richest in anecdote). In "'Not Revenge, Retribution': Karloff at Columbia", Jon Towlson discusses the Columbia "mad doctor" films in the context of Karloff progenators like The Man Who Changed His Mind and The Invisible Ray and the later The Sorcerers, and The Devil Commands and The Boogie Man Will Get You coming up as a result of Karloff's suggestion that they vary the formula.

Overall


Following a series of increasingly dissatisfying Universal monster movies cut short by the UK "horror ban," Boris Karloff got a chance to "vary the formula" at Columbia Pictures. Even though that formula eventualy got stale, it did produce some diverting works as seen in Karloff at Columbia.