Synchronic (Blu-ray) [Blu-ray]
Blu-ray B - United Kingdom - Signature Entertainment
Review written by and copyright: Rick Curzon (30th March 2021).
The Film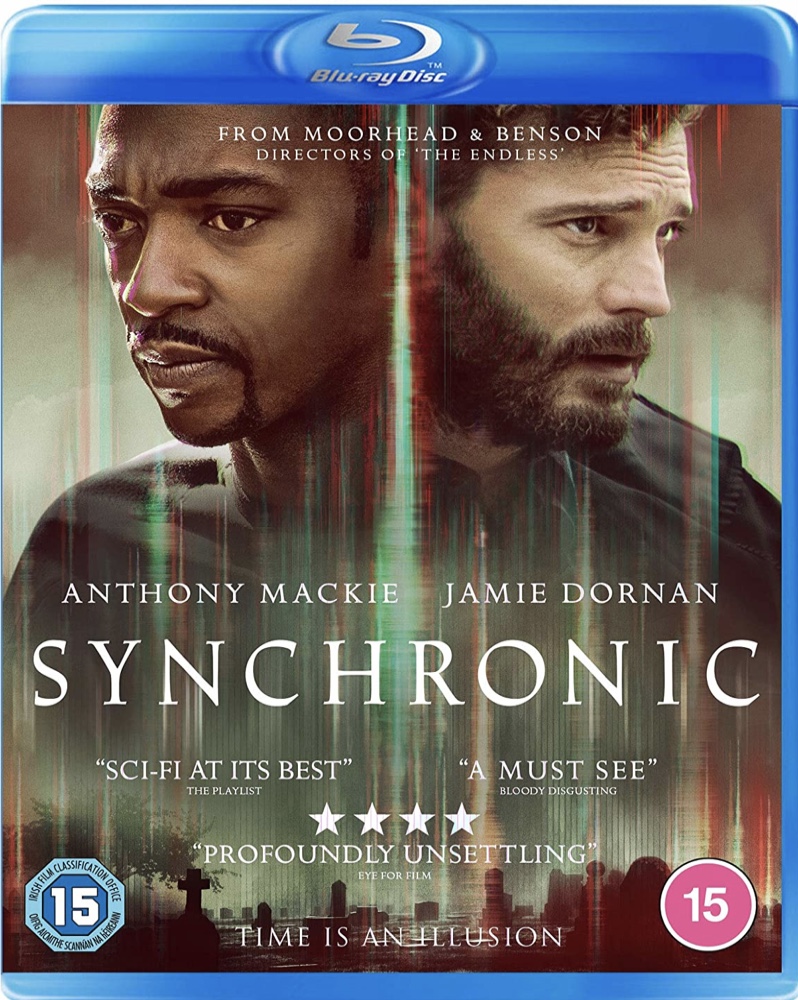 From breakout genre filmmakers Justin Benson and Aaron Moorhead (The Endless) SYNCHRONIC is a mind-bending, haunting sci-fi starring two of Hollywood's most popular actors Jamie Dornan (The Fall, Fifty Shades of Grey franchise) and Anthony Mackie (The Avengers franchise, Detroit).

When New Orleans paramedics and long-time best friends Steve and Dennis are called to a series of bizarre and gruesome accidents, they chalk it up to a mysterious new drug found at the scene. But after Dennis' oldest daughter disappears, Steve stumbles upon a terrifying truth about the supposed psychedelic that will challenge everything he knows about reality -- and the flow of time itself.


Video


Trippy sci-fi about a new drug that induces dimensional time travel and about two paramedics who investigate when they get several cases of overdose. One of the men gets the bad news he has terminal cancer and when the daughter of the other takes the Synchronic drug and disappears, the former becomes determined to use his last weeks tracking her down.

It takes it's time to get going, probably too long but stick with it. Very much concerned with etching it's characters in some depth; making them relatable and likeable with two fine lead performances. There are some surprisingly amusing moments amongst the overall grim tone. The central concept is nothing new; a drug that alters reality in some was done before in films like Altered States (1980) and Jon Dies at the End (2012) with Synchronic not being as good as the former but a step up on the latter. No masterpiece but certainly well worth a view but be warned, there's a crushing emotional moment that really got to me.

Digitally shot feature has been given a BD50 dual-layered disc and a decent encode that ensures a quality presentation given the style of the film which is naturalistic and fairly muted. Production favours a sober colour palette with colours too long out in darker scenes biut daylight scenes are desaturated to a degree.

Black levels are healthy and deep allowing shadow detail to show through and I saw no unintended crush. Contrast is typically subdued and supportive of detail. Highlights do exist, are not blown out; however, the overall look of the film is soft and muted. Detail is present but not overwhelming and there's little or no grain. The image is pretty standard for a digitally shot feature with a low contrast ratio and is largely flat in well lit sequences. There are some punchy moments (the nighttime scene where Dornan calls his wife to see if their daughter has returned home) Given how the film was made and shot, this is a strong transfer if not terribly filmic in appearance.

1080/24p / AVC MPEG-4 / 2.4:1 / 102:00

Audio


English DTS-HD Master Audio 5.1
English LPCM 2.0 Surround
Subtitles: English HoH

The 2.0 track has been encoded for surround which means that when it plays though an amp set to direct / straight / A.F.D Auto (Auto Format Direct) you get the full surround experience. However, common sense dictates that this film be played with the 5.1 which gives everything a boost. The surround channels are fairly active with some solid LFE activity kicking the subwoofer into action; especially in the trippy drug / time travel sequences. Jimmy LaValle's excellent, brooding score gets a tremendous boost in the surround creeping up and throttling the viewer at key moments. Dialogue is always clear and to the fore. It's a decent track if not obviously in the same league as the latest Bond flick, but that is obviously by design; differently scaled productions.p with differing ambitions. This is an insidious sound field designed to get under the viewer's skin. A top notch track.

Subtitles for the hearing impaired are detailed and translate all dialogue, at least in the sequences I sampled with very little - if any - abbreviated moments.

Extras


Audio commentary with directors Aaron Moorehead and Justin Benson and producer David Lawson jr. (2019)

Interesting track deals with how the film came about and is filled with the expected amounts of detail and trivia; there's lots about the time theory and where to read up on that subject. Mostly a fairly technical track. LPCM 2.0 surround although there's very little surround activity; mainly bleed from the film itself but the commentators remain firmly front and centre in the sound field (the opening Signature logo for instance as well as strong moments of film scoring). There are no subtitles.

"Synchronic" 2019 behind the scenes featurette (15:01)
"Previsualization" 2019 featurette (8:13)
"VFX Breakdowns" 2019 featurette (2:55)

A clutch of new featurettes start with an EPK piece that covers the film in general and followed up by some technical analysis. 1080/24p 1.78:1 with LPCM surround; there are no subtitles.

Deleted Scene (1:04)
Alternate Ending (with introduction from the directors) (1:24)

A decent little, rather existential scene that probably should've been left in the film and a "joke alternate ending"; the directors have done this on previous hardcopy releases for their films. 1089/24p 2.4:1 in LPCM 2.0 surround; no subtitles.

Home premiere trailer (1:46)
30 second trailer (0:30)
Teaser trailer (1:20)

Promo pieces in 1080/24p 2.4:1 with LPCM 2.0 surround; no subtitles.

Startup trailers:
- Possessor (2:10)
- Wrong Turn (1:03)

Promo pieces in 1080/24p 1.78:1 / 2.4:1 with LPCM 2.0 stereo and no subtitles.

Packaging


Standard black Blu-ray Keepcase.

Overall


A rock solid release of this intriguing new science fiction horror film. Decent image and excellent sound with some good extras to bring some modest contextual added value (the commentary is the jewel here). A cheap price on day means that this is a highly recomended release for those inclined.
| | | | | |
| --- | --- | --- | --- | --- |
| The Film: B- | Video: A | Audio: A+ | Extras: B | |

---
DVD Compare is a participant in the Amazon Services LLC Associates Program and the Amazon Europe S.a.r.l. Associates Programme, an affiliate advertising program designed to provide a means for sites to earn advertising fees by advertising and linking to amazon.co.uk, amazon.com, amazon.ca, amazon.fr, amazon.de, amazon.it, amazon.es and amazon.se.