The Film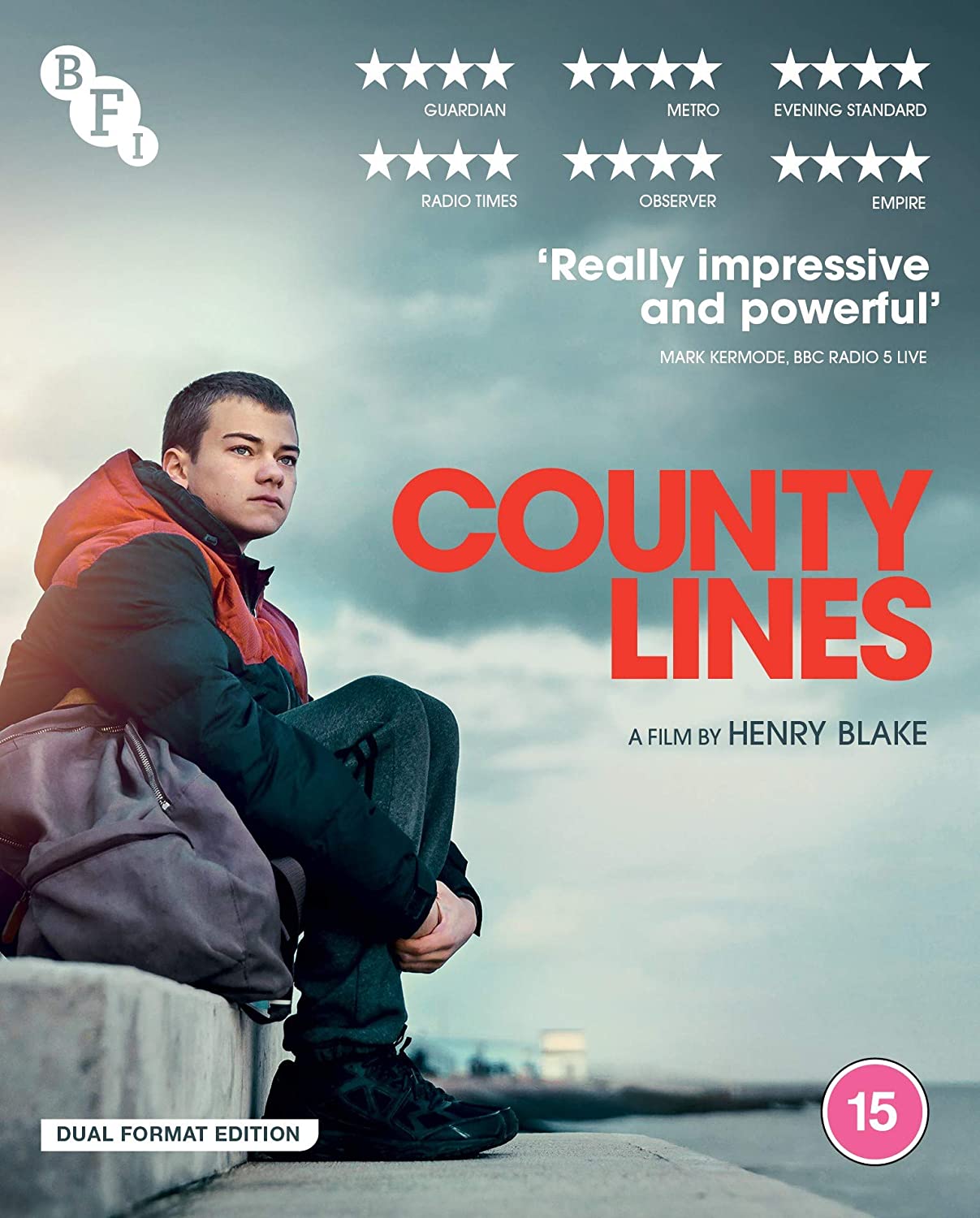 "County Lines" (2019)

Tyler (played by Conrad Khan) is a 14 year old boy living a difficult life. At school he is bullied and has no initiative to study hard or take school seriously. At home he is being brought up by his single mother Toni (played by Ashley Madekwe) who is struggling to balance work and personal life taking care of both Tyler and his younger sister Aliyah (played by Tabitha Milne-Price). It's one evening that Tyler is saved from bullies by an older kid named Simon (played by Harris Dickinson), a local drug dealer that decides to take Tyler under his wing. With a newfound confidence and a sense of purpose, Tyler gets involved in the illegal world of drug trading.

"County Lines" focuses on a serious social issue of drug trafficking in the United Kingdom in which very young children are brought in to the trade. Whether coming from broken homes or from well off families, the use of kids in the illegal business has been and still is a problem that affects families and communities in a widespread manner, and this is not just a UK but a worldwide problem. From gang violence to incarcerations, there have been violent and sometimes deadly consequences for the children robbed of a brighter and better future, with the cycle turning to grabbing just some other kid to fill in the blanks when needed. Henry Blake worked as a youth counselor helping troubled kids over the course of many years at the pupil referral unit (PRU). Hearing stories from both the children and their parents and working together to form a new positive bond, there were both successes and failures in helping the families over time. Blake also had an interest in film ever since he was young, and made a few short films during the 2010s. An idea to make a film about a troubled kid who got caught up in drug trafficking came from his time working as a counselor, in particular with two different kids he helped with during a year's period. From how the child's family life was, how he got into the business, and the consequences of being part of the dangerous business were all taken from various stories he was connected to as a counselor, and melded into one for the script of "County Lines". Getting funding for the production would prove to be difficult as Blake was not an established filmmaker and only had a handful of shorts in his filmography. With a small cast and crew, Blake made the short film "County Lines" in 2017, which would be a glimpse of the feature film. It was not a condensed version of the film but instead show a piece of the story. Audiences would see a young teenager involving himself in the drug trade with violent and disturbing consequences, but there would be much more that isn't mentioned. His family life, his school life, how he got into the business, all of these were not part of the short. Created more or less as a way to entice investors to become interested in a feature film, the short was a sales pitch.

For the feature length version of the film, some of the same cast and crew were able to reunite for the film. Cinematographer Sverre Sørdal, editor Paco Sweetman, composer James Pickering, actor Markus Rutherford and more returned for the feature, which would flesh out the story and the character of Tyler much more. Kai Francis Lewis played the lead role in the short, but was recast with Conrad Khan for the feature, who was already 19 at the time the film was released but convincingly playing a 14 year old. With every scene featuring the character of Tyler, it was very important to have an actor that could portray the frustrated youth with integrity and Khan absolutely shines in the role. From the extremely silent moments where he is able to show hesitance or shyness, to the very disturbing outbursts, his performance is incredibly varied from scene to scene, covering the growth of Tyler as an awkward bullied kid to six months later as a confident drug dealer.

The film is not at all glamorous in its portrayal of drug dealing or drug use. There are some utterly disturbing moments seen, such as when Tyler first encounters a heroin junkie during one of his routine errands, as well as one of the most powerful and shocking moments when he confronts his own mother in his home. The film is not afraid of its subject matter, and is a mirror to a part of society that most people may shun away from. Why should we care about drug dealers? Why should we care about their families? A three dimensional picture is shown with the feature film version, with how Tyler felt unimportant both at home and at school, how the only person who gave him a chance without prejudice was a drug dealer, and that there is much more to kids getting into business than just simple money or bad parenting. The character of Toni is also an interesting one as well. Raising two children alone while working as a hotel maid, she doesn't have much to fall back on. She most likely doesn't have a college education since she had kids when she was young, and the only work she can get were very basic to say the least. There is one scene that she gets dressed up to go out, leaving the kids at home, and later brings home a man late in the evening when the kids are supposed to be sleeping already. Tyler can easily hear what is going on with his mother and the man in the next room, and it could be interpreted in different ways. Is Toni a bad mother for bringing some random guy home like that? Or is she allowed to have some fun from time to time in hopes of having a real relationship? What is more questionable is after she loses her job, she takes a blind eye to Tyler's income helping the family. She wasn't completely blind as she knew something shady was happening. But when the truth is confronted, the family dynamic is already shifted to her young son being in charge rather than the parent.

"County Lines" has a fascinating look at a family's breakdown with some incredible performances from the leads, as well as having a very distinctive visual looks to the production. Shot in the unusual 1.55:1 aspect ratio, it is narrower than standard widescreen displays yet slightly wider than that of standard 4:3 displays, mimicking the size of a fully exposed 35mm film frame. In addition, the color palate is very distinct, with blue hues of coldness, the green-lit lighting of the chicken shop, the bright colors of the outdoors as well as the darkened hues of some of the grimy indoor locations, every scene has a distinctive look that relies on the performers and not the camera. Visually, most of the scenes are shot with stationary cameras and only a few key scenes utilizing handheld cameras.

The film made its premiere at the London Film Festival in October of 2019. A UK theatrical rollout had to be delayed until December 4th, 2020 due to the COVID-19 pandemic, in which it was released in select theaters in addition to streaming. The film was nominated for Breakthrough British/Irish Filmmaker of the Year for Henry Blake and Young British/Irish Performer of the Year for Conrad Khan at the London Critics Circle Film Awards, plus four nominations at the British Independent Film Awards, and a Best Supporting Actress nomination for Ashley Madekwe at the BAFTAs. "County Lines" is one of the most powerful youth films of recent times, and is an absolute must see for young people as well as older. The drug war may not have an easy solution. From the abusers to the dealers, there are no positive outcomes for anyone involved, and redemption can only come from oneself. There are thousands of Tylers out there in the world. Hopefully their futures will turn towards the better.

Note this is a region B Blu-ray and region 2 PAL DVD set

Video


The BFI presents the film in the 1.55:1 aspect ratio in 1080p AVC MPEG-4 on the Blu-ray. Th HD presentation looks very strong on the Blu-ray, with great detail seen throughout and colors being reproduced strongly. It is a visually strong work and there are no errors or flaws to speak of for the transfer. The DVD copy has the film in the 1.55:1 aspect ratio with anamorphic enhancement in the PAL formant. Downscaled to standard definition, it obviously not as strong as the HD counterpart, but still looks quite good for its transfer.

The film's runtime is 90:23 on the Blu-ray and 86:39 on the DVD, accounting for 4% PAL speedup.


Audio


Blu-ray:
English DTS-HD Master Audio 5.1
English LPCM 2.0 stereo
English Audio Descriptive DTS-HD Master Audio 2.0 stereo
DVD:
English Dolby Digital 5.1
English Dolby Digital 2.0 stereo
English Audio Descriptive Dolby Digital 2.0 stereo
Both discs feature three audio tracks: a 5.1 track, a 2.0 stereo track, and a 2.0 audio descriptive stereo track. It is a dialogue heavy film so the center speaker is the most active as the dialogue is almost entirely centered. The surrounds are used for the music cues and incidental effects and foley which are not the most active but still effective when necessary. Dialogue is always well balanced against the music and effects, with no particular issues to speak of.

There are optional English HoH subtitles for the main feature in a white font.

Extras


DISC ONE (Blu-ray)

Audio commentary by director Henry Blake
Blake gives a solo commentary, recorded during the COVID-19 lockdown as he states in an unconventional method: by recording inside his parked car on an iPad. Discussed are details about the production including his personal experience as a youth counselor, specifics about the casting, production design, lighting, colors, the unusual aspect ratio, influences from other productions, and much more. There is vey rarely a dull spot in the commentary and is a wonderful listen. In addition the commentary starts with an intro (4:06) and ends with an outro (12:32) for some additional information.
in English Dolby Digital 2.0 without subtitles

"County Lines" short film (with optional commentary by Henry Blake) (21:39)
The original 2017 short film by Blake is presented here. While it is only a snippet of the full story, it features two of the more disturbing scenes from the feature film version in an alternate earlier incarnation, including the character of Sadiq being played by the same actor in both versions. The short also features a commentary track by Blake, as he discusses making the short film including about the cast and crew, shooting on 35mm, a very expensive shot due to having the window reflected crew members being taken out of the shot digitally, and more. The commentary also includes an introduction (5:40) with Blake giving some pre-commentary insights.
in 1080p AVC MPEG-4, in 1.85:1, in English Dolby Digital 2.0 with no subtitles

Q&A with Henry Blake, Conrad Khan, and Ashley Madekwe (36:03)
This 2020 Q&A features film critic Guy Lodge remotely hosting a director and cast Q&A, with each person on a separate screen. Discussed are Blake's time as as a counselor, raising awareness of the drug trafficking issue, the mother and son relationship, the inspirations for the film, and more. The Q&A has been embedded below.
in 1080p AVC MPEG-4, in 1.78:1, in English Dolby Digital 2.0 with no subtitles

"Anatomy of a Scene" featurette (2:59)
Blake and Khan discuss the scene of Tyler and Simon talking at the restaurant and the details about it. Interestingly the pair are sitting and chatting in an indoor public space with people walking around maskless, so it's assumed this was before COVID-19 lockdowns.
in 1080p AVC MPEG-4, in 1.78:1, in English Dolby Digital 2.0 with no subtitles

Gallery (9:15)
Behind the scenes stills of the feature film as well as the original short film and "Gus & Son" short are presented in an automated slideshow, without music or narration.
in 1080p AVC MPEG-4

"Gus & Son" 2017 short (12:58)
This short film by Blake features a father and a son who are in the logging business together, yet have a troubled relationship. Very sparse in dialogue and shot on location, it is a fairly intense work even though the audience is only given a glimpse of the two men's tense family dynamic.
in 1080p AVC MPEG-4, in 2.40:1, in English Dolby Digital 2.0 without subtitles

"Children of the City" 1944 short (30:39)
In this vintage short film, it showcases juvenile delinquents and the consequences of their actions after being caught by the authorities, with court, manual labor, as well as school for rehabilitation.
in 1080p AVC MPEG-4, in 1.33:1, in English Dolby Digital 2.0 with no subtitles

Trailer (1:40)
The highly effective original trailer is presented here. It has also been embedded below.
in 1080p AVC MPEG-4, in 1.55:1, in English Dolby Digital 2.0 with no subtitles


DISC TWO (DVD)

Audio commentary by director Henry Blake
- Commentary intro (4:04)
- Commentary outro (12:29)
"County Lines" short film (with optional commentary by Henry Blake) (20:46)
- Commentary intro (5:40)
Q&A with Henry Blake, Conrad Khan, and Ashley Madekwe (34:35)
"Anatomy of a Scene" featurette (2:53)
Gallery (8:52)
"Gus & Son" 2017 short (12:27)
"Children of the City" 1944 short (29:24)
Trailer (1:36)
The film and extras are repeated in standard definition PAL.

Booklet
A 32 page booklet is included. First is a director's statement in which Blake talks about his work, his views on cinema. Next is an essay by film writer and programmer Michael Hayden about the film as well as the drug trafficking issue in the UK at the moment as depicted in the film. "People Need to Know This: County Lines and the Teenage Trauma of Drug Running" is a review by writer Isabel Stevens which was first published in Sight and Sound. "County Lines Is Fresh British Drama That Crosses New Cinematic Borders" by writer Trevor Johnston is another review that was also first published in Sight and Sound. There are also full credits, special features information, transfer information, acknowledgements, and stills.


2020 Q&A:


The BFI trailer:


Overall


"County Lines" is one of the most powerful films of the year with excellent performances and a wonderful yet disturbing story of youth and drug trade. Director Henry Blake's feature debut is an astonishing one and he is definitely a figure to watch for in the future. The BFI dual format release has an excellent amount of extras with a strong transfer making this a very high recommendation.
| | | | | |
| --- | --- | --- | --- | --- |
| The Film: A | Video: A | Audio: A | Extras: A | Overall: A |