Pulse [Blu-ray]
Blu-ray B - United Kingdom - Eureka
Review written by and copyright: Eric Cotenas (28th April 2021).
The Film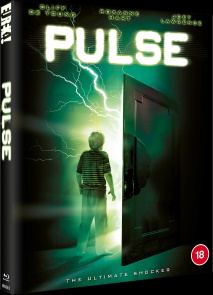 Spending the summer in Los Angeles with his advertising executive father Bill (The Hunger's Cliff De Young) and stepmother Ellen (Highlander's Roxanne Hart), young David (Blossom's Joey Lawrence) discovers that suburban city life includes window bars, high tech security systems, and neighbors who occasionally go crazy and axe-happy like the guy across the street shortly before his arrival. Left alone by his working father and stepmother often during the day and even in the evenings while Bill entertains out-of-town clients, David grows to fear the unusual behavior of the house's electronics from the TV that switches itself on and off to the water heater that shoots flames. After breaking into the house across the street and discovering that the neighbor destroyed every piece of electronic equipment in his house before being electrocuted and a scare from the creepy home inspector (Harold and Maude's Charles Tyner) who tells him that there is something evil in the electricity that uses the house's electronics as its eyes and ears, David tries to warn his father. Bill is not sure whether the house's utilities are acting up or if his lonely son is acting out; however, Ellen starts to share her stepson's growing fears about the dangers of staying plugged in and turned on.

Although the film features a child lead, a suburban setting, and familial conflicts, Pulse is not exactly a family friendly horror film, having more in common with Making Contact and the later Ghost in the Machine than something like *batteries not included. Horror had already invaded suburbia with A Nightmare on Elm Street but writer/director Paul Golding's film – not to be confused with the later Japanese Kairo or its American remake – focuses on the sinister qualities of household electronics and utilities that witness the erosion of familial relationships, perhaps exacerbating it with their steady rhythms or sudden outbursts of sound or showers of spark (illustrated by the repairman's explanation of how a water heater pipe could crack from metal fatigue accelerated by daily expansion and contraction). If the family drama seems rather shallowly-explored, the film covers it up relatively well with its macro and miniature looks at the innards of electronics, making visible the electronic charges that pass between circuits and the nature and unnatural energy spikes that cause the soldering to melt again, along with the more relatable fears of the water heater or the garbage disposal. Padding comes in the form of scenes featuring Lawrence's younger brother Matthew (who also co-starred with him in later seasons of Gimme a Break) as the only other nice suburban kid who talks to David during the day when the only other company are hostile skateboarders. The film's primary triumphs are its visuals courtesy of German production designer Holger Gross (Stargate) and cinematographer Peter Lyons Collister (The Replacement Killers).

Video


Not given the intended widespread theatrical release by Columbia Pictures, Pulse did most of its business on home video thanks to initially eye-catching artwork that soon collected dust on the video shelves. Columbia/Tri-Star put out an anamorphic DVD in 2005 but their cover art did it no favors. Mill Creek's 2017 Blu-ray featured an MPEG-2 encode but the HD image was a nice improvement over the DVD in the expected areas of darkness and overall sharpness. Eureka appears to utilize the same master for their 1080p24 MPEG-4 AVC 1.85:1 widescreen Blu-ray, and it is largely spotless apart from some heavier grain during opticals that make one appreciate more the use of macro photography and some oversized electric chips and circuit boards over animation, while also enhancing one's appreciation of the creepy textural ordinariness of suburbia in the film.

Audio


The sole audio option is an LPCM 2.0 stereo rendering of the original then-state of the art Dolby Stereo mix full of directional effects from power surges, sinister offscreen noises, breaking glass, and explosions along with the supportive but undistinguished scoring of Jay Ferguson (Bad Dreams). Optional English HoH subtitles are also included.

Extras


Extras start off with an audio commentary by film historian Amanda Reyes, author of the Made for TV Mayhem podcast and the book Are You In The House Alone?: A TV Movie Compendium 1964-1999 who not only draws comparisons between the film and the conventions of TV movies of various genres in which an outside influence threatens and threatens and/or changes the family dynamics, but also the genre of "suburban gothic" in which the illusion of suburbia's idyllic civility is only on the surface, also incorporating criticisms of suburbia as this is all illustrated in the film itself and the dynamic between father and son. "Tuning In to Tech-Horror" (14:01) is a video essay by film historian Lee Gambin who provides an overview of the genre and what it says about our dependence upon an vulnerability to the very technology that serves us. The disc also includes the film's theatrical trailer (0:55).

Packaging


House with 3000-copy limited edition O-card slipcover is a 15-page collector's booklet including the Craig Ian Mann essay "Shock Tactics: PULSE as a Consumerist Nightmare" in which he discusses the story behind why Columbia Pictures seemed determined to sabotage and bury a film with production values on par with New Line Cinema's horror output of the time, as it originated with then-president David Putnam who was ousted by the time. In spite of a glowing Variety write-up, it went to VHS after theatrical screenings in two midwest markets. The booklet also includes "An Electrifying Experience" by Adrian Garcia Bogliano who notes Golding's initial difficulty in getting funding because of the lack of a conventional explanation (no Indian burial grounds here) and his preference for suspense over outright horror.

Overall


Pulse may have fallen short as "the ultimate shocker" but it was a decent suspenser that could have done well theatrically against the likes of Freddy Krueger had it not fallen victim to studio politics.

---
DVD Compare is a participant in the Amazon Services LLC Associates Program and the Amazon Europe S.a.r.l. Associates Programme, an affiliate advertising program designed to provide a means for sites to earn advertising fees by advertising and linking to amazon.co.uk, amazon.com, amazon.ca, amazon.fr, amazon.de, amazon.it, amazon.es and amazon.se.