The Film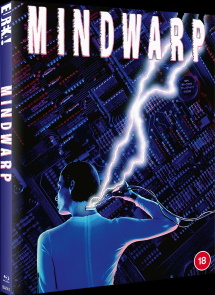 2037: The Earth has been ravaged by nuclear war and the loss of the ozone layer has caused the privileged few to seal themselves up in a protective biosphere and pacify themselves by hooking up to the virtual reality. Tired of living in her head and missing her father who suddenly vanished one day without explanation, Judy (NYPD Blue's Marta Alicia) attempts to force her mother to talk to her rather than living in her fantasy as an opera singer; however, Judy's ability to infiltrate and effect change in her mother's fantasy causes a fatal system error and accidentally kills her. The omnipresent Systems Operator then honors her wish for something real in a perverse manner by having her exiled to the Outworld in which most of the human population have mutated into cannibalistic dirt-dwelling Crawlers and the few remaining humans must shield themselves from radiation poisoning. Nearly captured by mutant slave traders, Judy is rescued by Stover (The Evil Dead's Bruce Campbell), the last of his family line who lives off the meagre resources of the land and crucifies his dead rather than letting them be scavenged in the soil by the Crawlers. Over the days in which she learns from him to survive, Judy alleviates Stover's loneliness and in turn gets to experience something real. When they are captured by the mutants and brought underground to The Seer (Phantasm's Angus Scrimm), Judy becomes his favorite and the target of the jealousy of inworlder Cornelia (Trapped Alive's Elizabeth Kent). As Stover fights his way back to Judy against the treat of infection and mutation, Judy discovers a terrible truth about the nature of the Outworld and its ties to her former home.

One of three features produced by the short-lived Fangoria Films offshoot – the other three being Children of the Night and Severed Ties – Mindwarp is a run-of-the-mill post-apocalyptic science fiction film that anticipates later films about virtual reality and philosophical questions about the nature of existence; but on that front, it is really more like the "dream therapy" slasher Nightwish than anything really so lofty. A slightly more subdued and melancholy Campbell kicks mutant ass, Scrimm glowers and sneers, while it is perhaps appropriate that somewhat stiff Alicia is the most relatable presence on the screen. Conversely for a late eighties/early nineties genre film, it is refreshingly gory (more so in its unrated overseas version but even the MPPA-cut R-rated version felt more grisly than the norm), the chilly settings are novel for a post-apocalyptic film, and production values are good since the film was lensed in Wisconsin at Windsor Lake Studio which had been founded a few years earlier by British producer Christopher Webster (Heathers) who poured capital into the studio which he thought offered up an ideal year-round backdrop for film production in spite of having to hire and cast at a distance on the coasts. Where the film falters is in the last act in which the film cannot decide what is real and what is not, throwing in twist after twist, including an "and then she woke up" one that just frustrates even the viewer who does not want to be philosophically-engaged. At best, Mindwarp was a promising start to the Fangoria Films venture that regrettable did not pan out (with their subsequent home video releases consisting of independent pickups, many of which lacked the ambition of these low-budgeted, theatrically-intended initial trio of video-bound features).

Video


Produced as part of a deal with RCA/Columbia's video line, Mindwarp was released to videotape in the states in an MPAA-edited R-rated version while the unrated version had theatrical play and home video release overseas as Brainslasher. While a tape master-sourced uncut version turned up on unauthorized German DVD, Sony's ownership fo the film kept it off home media until 2013 when Twilight Time put out a limited edition Blu-ray of the unrated version, followed by a more recent barebones Mill Creek Blu-ray (in a double feature with Brainscan). Sony themselves put out the film on Blu-ray only in Germany. Eureka's 1080p24 MPEG-4 AVC 1.85:1 widescreen Blu-ray utilizes the same master which is not new but better than Sony's DVD-era HD masters, offering up the textures of the rugged Wisconsin settings, bright red blood and some other primaries that pop amidst a rather nineties bland-looking lighting in the Inworld scenes and some flatness in the darker areas of the underground scenes (although never to the point of the "dark" dark look of some of the other Windsor Lake-lensed productions like Trapped Alive and The Chill Factor).

Audio


The sole audio option is an LPCM 2.0 rendering of the matrixed Ultra Stereo mix which makes conservative use of directional effects and rear channels, giving spread mainly to action scenes and the melancholy scoring of Mark Governor (Land of Doom). Optional English HoH subtitles are also included.

Extras


Extras start off with an audio commentary by Tony Timpone, former longtime editor of Fangoria Magazine, moderated by critic Jarret Gahan in which Timpone discusses how Fangoria Films emerged out of a TV promotional piece to gain subscribers to the magazine directed by Damon Santostefano – who had also directed the Scream Greats video documentaries for Fangoria – and "glorified typesetter" Steve Jacobs, son of Fangoria editor Norman Jacobs. Timpone notes the deal with Columbia Pictures' video arm and their need to seek out scripts that were already budget-friendly in conception, which lead them to seek out Roger Corman scripters John Brancato and Michael Ferris, a team who started out with the likes of The Unborn and Watchers II and later moved up to the films like The Net and The Game. Director Steve Barnett (Scanner Cop II) also came along by way of Corman while Campbell and Scrimm had an association with Fangoria through the Weekend of Horrors conventions. Although Timpone was only on the set for Severed Ties, he provides information on the production, and the difficulties of shooting in Wisconsin – also noting that producer Webster himself was shooting second unit – revealing that the film came in on budget but Children of the Night going over-budget caused problems for Severed Ties and the petering out of the film production arm.


Other extras consist of the film's theatrical trailer (1:28) and "Fangoria's Weekend of Horrors 1990" convention footage of the Bruce Campbell Q&A (48:13) and Angus Scrimm Q&A (21:13). It is very interesting to see the way both relate to their fans, seeming to enjoy rehashing their line readings from their earlier films. Campbell undercuts interest in Mindwarp by announcing the start that Evil Dead 3 is about to begin shooting – a project which would later become Army of Darkness, shelved by the bankruptcy of De Laurentiis Entertainment Group and released in an R-rated, shortened version by Universal – and the VHS clips from Mindwarp with unmixed sound are pretty uninspiring, but both are entertaining talks when they address their better known films.

Packaging


Packaged with the disc in the 2,000 copy limited edition O-card slipcover is a 19-page limited edition collector's booklet featureing Craig Ian Mann's "Shattered Dreams: Notes on Mindwarp" in which he discusses the Fangoria deal with Columbia Pictures and the big plans for the company to produce three features per year, the film's talent, and how reviews often favored discussing (and sometimes deriding) the exploitation aspects over the mindbending elements of the script. Also included are full page scans of Fangoria sister-publication Gorezone's "Bruce Abuse" article on the film (which is hopefully easier to read in the booklet than in the draft quality PDF sent out for review).

Overall


Mindwarp was a promising start to the Fangoria Films venture that regrettable did not pan out.