The Film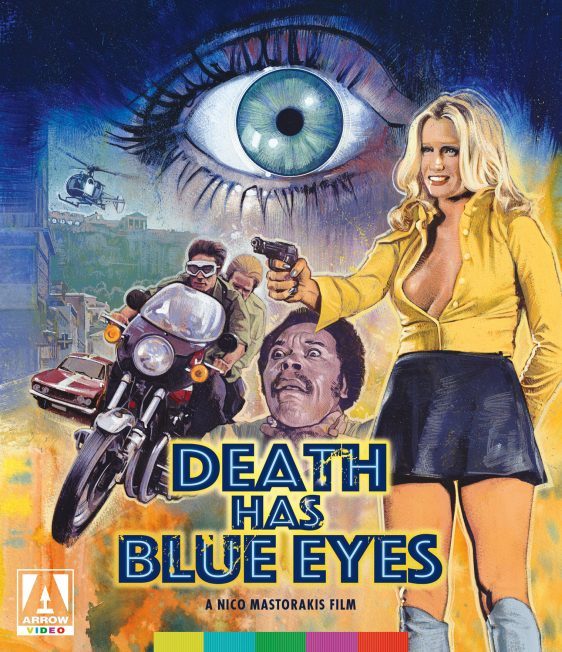 "Death Has Blue Eyes" (1976)


According to the enclosed booklet, Nico Mastorakis is cinema's most successful Greek filmmaker worldwide. This film is his debut feature, but it is his second released film Island of Death (1976), that propelled him to fame by listing it onto the UK's infamous video nasty list. The plot of Island of Death is that a couple pretending to be newlyweds arrive on the island of Mykonos and go off on a rampage of murder, killing everyone they encounter, judging them to be sinful or perverted. That film is proudly declared as "one of the most widely banned films in the world." It's too bad that this is not the film featured here because instead what we have is an interesting mix of a paranormal action thriller with touches of Giallo films mixed in. Yes, no doubt the first of its kind.

We start off with Ches (Chris Nomikos), a local boy turned gigolo, greeting his pal Bob Kovaski (Peter Winter) as he arrives at the Athens airport to begin his vacation. The duo are a pair of tricksters that like to scheme and chisel their way through the world; they begin by pretending to be a pair of businessmen that an awaiting chauffeured car is actually there for them. They proceed to a high-priced hotel and attempt to charge the dinner bill to their fictitious room, however they are hoisted by their own petards, as they are caught red-handed in the scheme by the pair of woman at the next table. They are introduced to Geraldine Steinwetz (Jessica Dublin) and her daughter Christine (Maria Aliferi); however, the two do not appear to be as they seem. Geraldine blackmails the two men into acting as bodyguards for Christine, who is apparently psychic and has telepathic abilities. The mother discloses that Christine has had her eye on the happy go lucky duo for a while now. Afterwards the duo head to the house of a woman that Ches has been servicing, but lucky for both men, Maria the maid, an uncredited piece of eye candy, answers the door in the nude with the exception of an apron. Ches sweet talks her into a threesome of soft-core frolicking and there is a lengthy scene of the three enjoying themselves. We are shown shots of the elderly household owner making her way home unannounced where she feigns a panic attack at finding the two men naked in her bed. Suddenly all three hit the highway and take it on the shoe leather trail. The guys say adios to Maria and they are summoned to the hotel by Geraldine. She communicates that her daughter has been a witness to a political assignation in Poland and her life is now in danger. So, we have started out as a zany mad capped sex romp and that has metamorphized into a semi-political thriller and that is how the director rolls. No need for exposition, no additional footage to explain a character's motives, just cut and paste and keep moving.

The problem with reviewing a film like this is much more than simply liking or disliking the final product. There are many elements to consider: the cinematography is extremely good and there are many fine location shots; the score helps keep things moving along, but then again, I am not a huge fan of this type of musical ear candy; the acting of the two leads is questionable but again, I ponder whose fault is that: the screenwriter, the director, or the men that were stuck reciting the inane dialogue? In many ways this film is pretty much a mess, albeit a somewhat distracting mess. Several reviews that I read stated that this film would best be viewed in a group setting, preferably one with alcohol served. The simple fact of it is that someone found some funding for this mishap and that, nonetheless it may have its fans, but to be honest, some of the flaws could have been corrected if more time had been spent on developing the characters and the overall plot. The director ultimately must shoulder the blame for the various misfires and frankly, he should have known more considering his experience. And as far as the title goes, that information is completely misleading. I actually thought that I was in store for a Giallo style film and instead I ended up aggravated that the director did this on purpose!

Returning to the film it is obviously transparent that I am not a fan of this genre; I am not going to bore the reader with a detailed blow by blow synopsis. However, let me try to present some positive facts about the film. Perhaps you are a fan of the director or are simply a completist and feel like your life is not fulfilled until you have seen all of the aforementioned director's work? Then, by all means friend, seek out this piece of cinematic history and indulge your cravings. We all have our secret passions and if yours happens to fit the prototype for messily plotted Grecian cinema, with extremely poor dubbing I may add, then dig in and enjoy!

Before we go any further, you are probably wondering is this film going to improve any or is this simply the schlock of another Euro-trash director? The answer is a minor yes to the first question and a definite affirmative to the later. However, this is not Mastorakis' first time at the helm of a production. The man made his name in Grecian television work for many years prior to this production and he would go on to direct several other genre bending films such as Bloodtide (1982), Blind Date (1984), and The Next One (1984); he also authored the screenplay to The Greek Tycoon (1978, J. Lee Thompson) based on the relationship between Jacqueline Kennedy and Aristotle Onassis. The man definitely liked to juggle the various plotlines and ultimately place his own stamp on the final product.

By the time that the film ends, complete with jazzy soundtrack, it is clear that someone at Arrow Films has a weakness for Mastorakis and his unique vision. Hopefully the best that I can hope for this film is that the targeted market discovers it and proves me completely wrong. Roll the Credits!

Video


The use of exotic settings is definitely a positive thing. There are many interesting locations used and the colorful settings are strikingly photographed by George Panousopoulos. The picture was restored from the original 35mm camera negative by the director himself in both the theatrical 1.85:1 aspect ratio and an open matte 1.33:1 aspect ratio options.

Audio


English LPCM 1.0
The score by Nikos Lavranos is bright and upbeat and helps keep the film moving along. The dialogue is clearly dubbed and at times it seems rather loose. The dialogue is clear and uniform in presentation.

Extras


for those collectors that are intrigued by this mixed bag, here are the usual Arrow goodies:

An interview with Nico Mastorakis (24:43), celebrating his 80th birthday with him directing the segment.

An Interview with Maria Fliferi (17:49). She speaks about her career and her positive feelings about the director.

Dancing with Death (42:03): a selection of tracks from the film including an ABBA wannabe group on vocals. Turn it up loud and smash some dinnerware on the floor to enhance the experience!

Theatrical Trailer: (2:25)

Extended Theatrical Trailer: (3:32)

Image Gallery: 25 in all, (4:10).



Packaging


First pressings include a booklet featuring an illustrated essay by Julian Grainger.
Comes packaged in a transparent case with reversible sleeve and new artwork by Graham Humphreys.

Overall


The production values are strong which accounts for this grade, but by the time it was over, I was sitting scratching me head, dazed by the mashup of various ideas.  The overall feel is that this entire production feels rushed and not thoroughly thought through. 
| | | | | |
| --- | --- | --- | --- | --- |
| The Film: C+ | Video: A | Audio: A | Extras: A | Overall: C+ |