The Film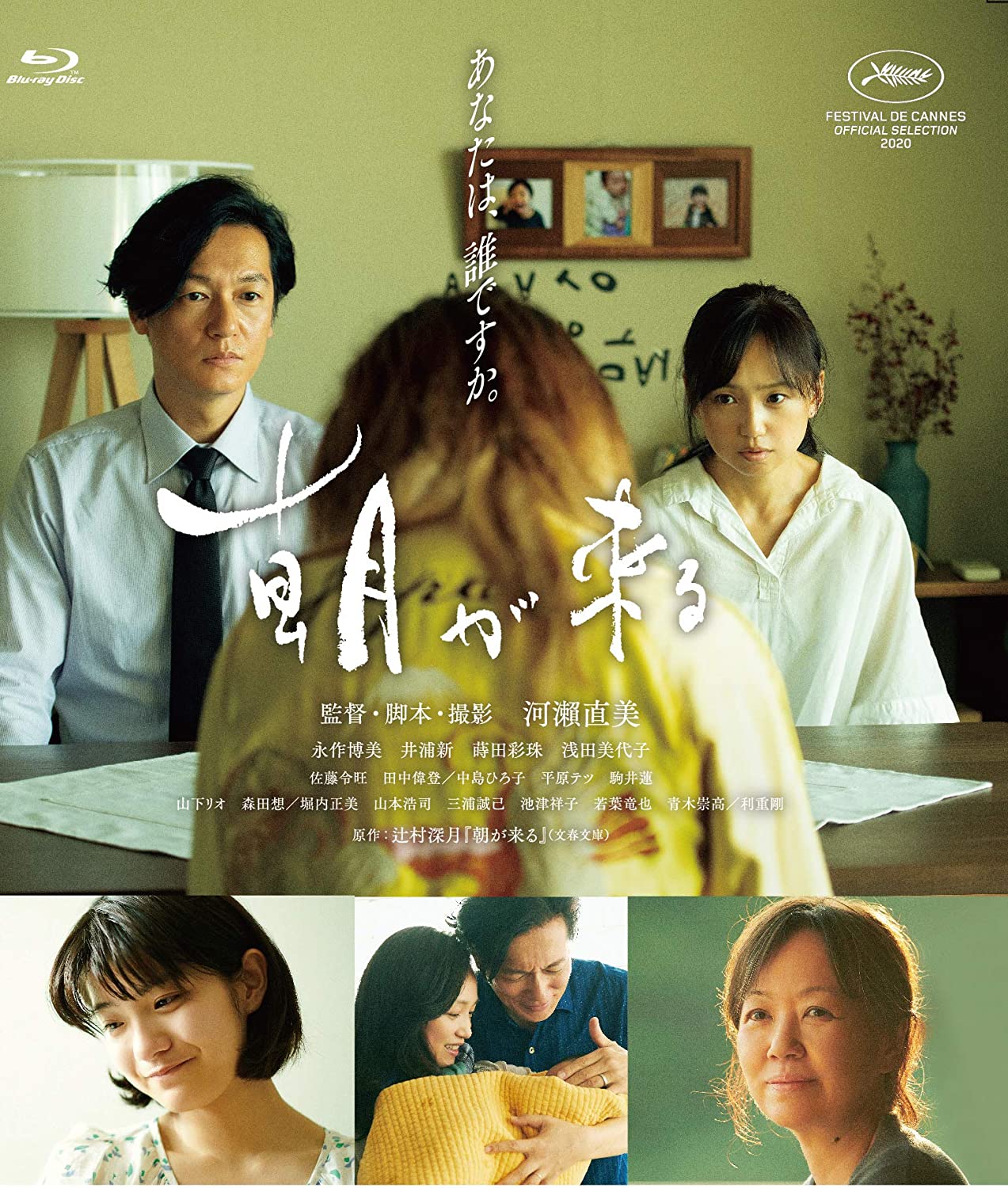 "True Mothers" 「朝が来る」 (2020)>

The Kuriharas are a family of three. The father Kiyokazu (played by Arata Iura), the mother Satoko (played by Hiromi Nagasaku), and the son Asato (played by Reo Sato). Asato is adopted, and the couple was never shy about the fact, raising him and letting him know that he has a different birth mother while also raising him with pure love as any child would. But one day they get a call from someone claiming to be Asato's real mother, asking them to return her child... But is she really his birth mother? And what is her purpose?

Writer Mizuki Tsujimura's novel "Asa ga kuru" (literally translated as "Tomorrow Comes") was first published in a serialized form in Bungeishunju Extra magazine in 2014 and published as a standalone novel in 2015. Dealing with motherhood at the differing angles of a couple that raise an adopted child and also the consequences of an unwanted teen pregnancy, the brutally honest and heartbreaking story was immediately made into an 8 episode television mini series in 2016. Four years later came another adaptation, by way of a theatrical release with acclaimed filmmaker Naomi Kawase directing the feature, also titled "Asa ga kuru" in Japanese and given the English title "True Mothers" internationally. Structurally the story has two stories running parallel. The A story is of the Kurihara family, from the time that Kiyokazu and Satoko realize that they are unable to have children, their look into adoption and eventually raising their adopted son Asato from infant to his time in kindergarten. The B story is of Hikari (played by Aju Makita), a fourteen year old girl who falls in love with a classmate, becomes pregnant and because of the disapproval of her family, has the baby with through the Baby Baton agency, which deals with helping women with unwanted pregnancies deliver the children and then immediately have the children adopted by approved parents. But the story of Hikari doesn't end there quite easily, as her emotional trauma and loss of innocence carries on into her life in the subsequent years, losing her footing with family and society.

The story is not presented in a linear fashion or an episodic one, and for this adaptation, Kawase, who co-writer of the screenplay was risk taking yet very controlled in how the two stories would converge while also going through multiple flashbacks. When the film starts, the Kurihara family are raising their son in kindergarten. But how the family came to be is told through flashbacks of the couple at fertility clinics, on dates, at the office where they work together, and also when they discover about the program of Baby Baton through a documentary they see on television one night (in which the faux documentary can fully be seen as an extra on this Blu-ray). In between the flashbacks are issues that they must deal with through parenting, such as an incident where a classmate, Sora, claims that Asato pushed him off the jungle gym which also leads to an uncomfortable dealing with the parents on both sides, especially as Asato claims that he didn't do it. The sequences with the family life of the three in both the uncomfortable scenes as well as the comforting ones are truly genuine due to the performances of the actors, with Kawase giving them space to act in pauses rather than quickly pacing through dialogue. In addition, many of the family moments such as conversations when Asato is playing was done through improvisation rather than scripted dialogue for a more natural tone. But the biggest twist for the family comes from the most unexpected moment for them when Satoko receives a call from someone claiming to be Asato's mother and wanting her child back. She says that if they don't comply, she will tell the entire neighborhood and school that he is adopted, which would cause teasing and other trouble for him, or if they give her money she would keep her mouth shut. Satoko and Kiyokazu decide to meet her in person to discuss the issue and are faced with a more troubling issue. They don't recognize the girl. Dyed brown hair, sporting a bright yellow coat and with dark makeup, she doesn't look anything like Hikari, as they met her once at the time they adopted Asato as a baby, and question who she really is.

It is from this point quite far into the story that the audience is taken back further, but this time to the story of Hikari, who as an innocent and pure fourteen year old junior high school student experiences her first encounter of falling in love with her classmate Takumi (played by Taketo Tanaka). Their story is as innocent as can be, as shown in a sequence of when Takumi first asks her out on school grounds and both of them being quite embarrassed with the interaction. But once the pregnancy is confirmed by a doctor, Hikari's family is in turmoil and her relationship with Takumi is lost as she is shipped off the Hiroshima to have the child far off from home as the family would explain her absence to school and neighbors that she is "ill". The world she encounters though the Baby Baton program is not some shady organization, but as she discovers is one with caring and heart. Run by Shizue Asami (played by Miyoko Asada, it is a program to help pregnant women in a very comfortable and friendly environment. At a seaside villa where the girls of varying backgrounds stay until they are ready to give birth, it is a place where there is no judgment from others and where all the women including Shizue help each other. While the stress of having a child in a few months time may not compare to anything else, it is the first time that Hikari is able to feel complete compassion, but that is until she has to return home after giving up the baby. It is no wonder that Hikari decides to trek back to Baby Baton a few years after the pregnancy, as she cannot find direction in her own life anymore, and she knows that working there at the villa would be a place where she could feel that comfort she had and something she could give back.

While the flashback structures and the intercutting between two major stories could prove to be confusing, Kawase's working of the script and the amount of time she puts between each sequence is expertly paced, giving each story enough time on its own, placing enough background information for each character, and showing how all the dominoes fall into place. And even with that being said, one of the most important and memorable characters comes in very far into the film with Tomoka (played by Kokoro Morita), who Hikari meets while working part time at a newspaper delivery service. Tomoka has led a very different life compared to Hikari, as she worked at bars entertaining men who have not always treated her well, as she continuously drinks and smokes. In comparison Hikari has become more of a shut in, with no social life for the last several years. But the two quickly become close friends and Hikari even shares the fact that she once became pregnant as a teen but had to give up the baby. Though the character of Tomoka is a newly introduced character towards the third act, she does seem familiar with her dyed brown hair and bright yellow jacket. There is more to Tomoka's story, as seen with hounding loan sharks, and her bruises and other physical injuries (as seen more in the deleted scenes on the Blu-ray), but the audience is given little, but just enough to see that she also comes from a broken home to a differing degree in comparison to Hikari. Morita, who started as a child actor has really transformed herself in this role, being almost unrecognizable with her brutal even if short supporting performance, standing out from an already impressive cast.

Spoiler!
One could say one of the weaker points of the film is the ending. It comes very abruptly and without context to say the least. The sequence in which Satoko suddenly finds Hikari at the bridge and the two exchange apologies, with Asato finally meeting his birth mother, it seems very unlikely this could happen. The police are searching for Hikari, yet Satoko who has no knowledge of where she could possibly be suddenly finds her? The reason for this may be because the entire sequence is a dream. Is this Satoko's dream of what it would be like to meet her again? Or is this possibly Hikari's dream where she is at the foot of a bridge, possibly about to end her life? The film does not make it clear what is being seen and whose perspective it is. It could be seen as a happy ending but in other ways it could also be seen as open to interpretation.

Kawase's direction is absolutely top notch throughout, as she was also the cinematographer in many sequences and letting the actors perform to their fullest in many emotional scenes, not letting the camera get in the way. It is mostly handheld, giving a sense of being with the characters throughout and being extremely brightly lit with natural light for even the darker portions of the story. Like her previous works like "Radiance" (2017) and "Sweet Bean" (2015), her direction has always favored performance over style, yet her distinct visual style of bright colors and shines of light in natural environments are staggeringly wonderful. "True Mothers" was scheduled to be screened at the 2020 Cannes Film Festival but was cancelled due to COVID-19. The Japanese theatrical release date was originally in June but had to be postponed to October 23rd, 2020 at a time in which theaters were open but with limited capacity and limited screenings. Prior to that it was also screened at the Toronto International Film Festival, Chicago International Film Festival and others. Throughout 2020 the film was screened at around a dozen international festivals and continues to be screened at other international festivals in 2021. Kawase was awarded Best Director at the Mainichi Film Concours and at the Japanese Academy Awards, she was nominated for Best Director and Hiromi Nagasaku for Best Actress. Though it was not the winner in any category at the ceremony, the film was chosen to be Japan's entry for Best International Film at the Oscars, where it did not receive a nomination. Though it might be light on awards, "True Mothers" is without a doubt one of the strongest and most emotionally gripping films of 2020 and will continue to live on in the hearts and minds of cinemagoers long after the credits end.

This is a region ALL Blu-ray

Video


TC Entertainment presents the film in the 1.85:1 aspect ratio in 1080p AVC MPEG-4. Shot with the Arri Alexa XT Plus, the production looks as perfect as it could, as it was shot and edited entirely in the digital realm. Colors are very bright throughout and look excellent, with attention to wardrobe and settings, and this extends into the night scenes as well, which don't look particularly dark. Depth is also excellent, with only certain flashback sequences being purposefully shot with shorter focus, and there is little to anything to fault with the transfer.

The film's runtime is 139:54.

Audio


Japanese Dolby TrueHD 5.1
The lossless audio track sounds excellent throughout, with the hauntingly beautiful compositions by An Ton That and Akira Kosemura being effectively used. Dialogue is always centered, with the surrounding channels being dedicated to music and effects. The track is not at all aggressive, yet the sound design is effective and well balanced throughout.

There are optional English and Japanese HoH subtitles in a white font. They are well timed, easy to read, and without errors.

Extras


Audio commentary with director Naomi Kawase and novelist Mizuki Tsujimura
Kawase and Tsujimura admit that this is the first time for either of them to participate in an audio commentary, and they do a fairly good job discussing about the novel and the film. Discussed are the actors and the character development, the timing and balancing of the A and B stories while also using flashbacks, the amount of improvisation, the differences between the film and the original novel, and more.
in Japanese Dolby Digital 2.0 with no subtitles

"Making" featurettes
- 1 (2:33)
- 2 (3:03)
- 3 (3:03)
- 4 (3:03)
- 5 (2:33)
- 6 (3:03)
- 7 (3:03)
- 8 (3:03)
A series of short behind the scenes footage during the production of the film is presented here, each without any dialogue or narration. There is no "Play All" for the featurettes
in 1080i 60Hz AVC MPEG-4, in 1.78:1, Dolby TrueHD 2.0

"Baby Baton" faux documentary within the film - complete version (13:10)
The documentary that the characters see on TV within the film is presented in its complete form here. While it mostly looks and sounds fine, the narration sounds a little odd, like it was recorded in an echoey room. It sounds alright during the film as the characters are watching it on television in their room, but it sounds unnatural here.
in 1080p AVC MPEG-4, in 1.78:1, in Japanese Dolby TrueHD 2.0 without subtitles

Deleted Scenes (14:57)
Included here are scenes of Kiyokazu and Asato taking a bath, Sora's mother's apology, Satoko and Kiyokazu at the office together, Satoko at a fertility clinic, Satoko and Kiyokazu on a lunch date, Hikari fainting in her classroom, Hikari holding her child for the first time, a phone call between Hikari and her mother, Tomoka and the loan sharks, and Hikari and the loan sharks.
in 1080p AVC MPEG-4, in 1.85:1, in Japanese Dolby TrueHD 2.0 without subtitles

Completion Press Event (12:20)
Actors Hiromi Nagasaku, Arata Iura, Aju Makita, Miyoko Asada, and director Naomi Kawase discuss to the press about the film, its themes, its delayed release due to COVID-19, and more.
in 1080i 60Hz AVC MPEG-4, in 1.78:1, in Japanese Dolby TrueHD 2.0 without subtitles

Stage Greeting (12:36)
Actors Hiromi Nagasaku, Arata Iura, Aju Makita, Miyoko Asada, and director Naomi Kawase give a stage greeting for the opening day audience.
in 1080i 60Hz AVC MPEG-4, in 1.78:1, in Japanese Dolby TrueHD 2.0 without subtitles

Trailer (1:32)
The original Japanese trailer is presented here.
in 1080p AVC MPEG-4, in 1.78:1, in Japanese Dolby TrueHD without subtitles


Below is the international trailer from the Toronto International Film Festival, which is identical to the Japanese trailer but with English subtitles and text.


Overall


"True Mothers" is an unforgettable story of adoption and two mothers and their stories. Kawase's direction of the very beautiful and also tense and heartbreaking story is excellent, and the Blu-ray edition is great as well. Though only the main feature includes English subtitles for international audiences, it still comes highly recommended.
| | | | | |
| --- | --- | --- | --- | --- |
| The Film: A | Video: A+ | Audio: A+ | Extras: B | Overall: A- |