The Film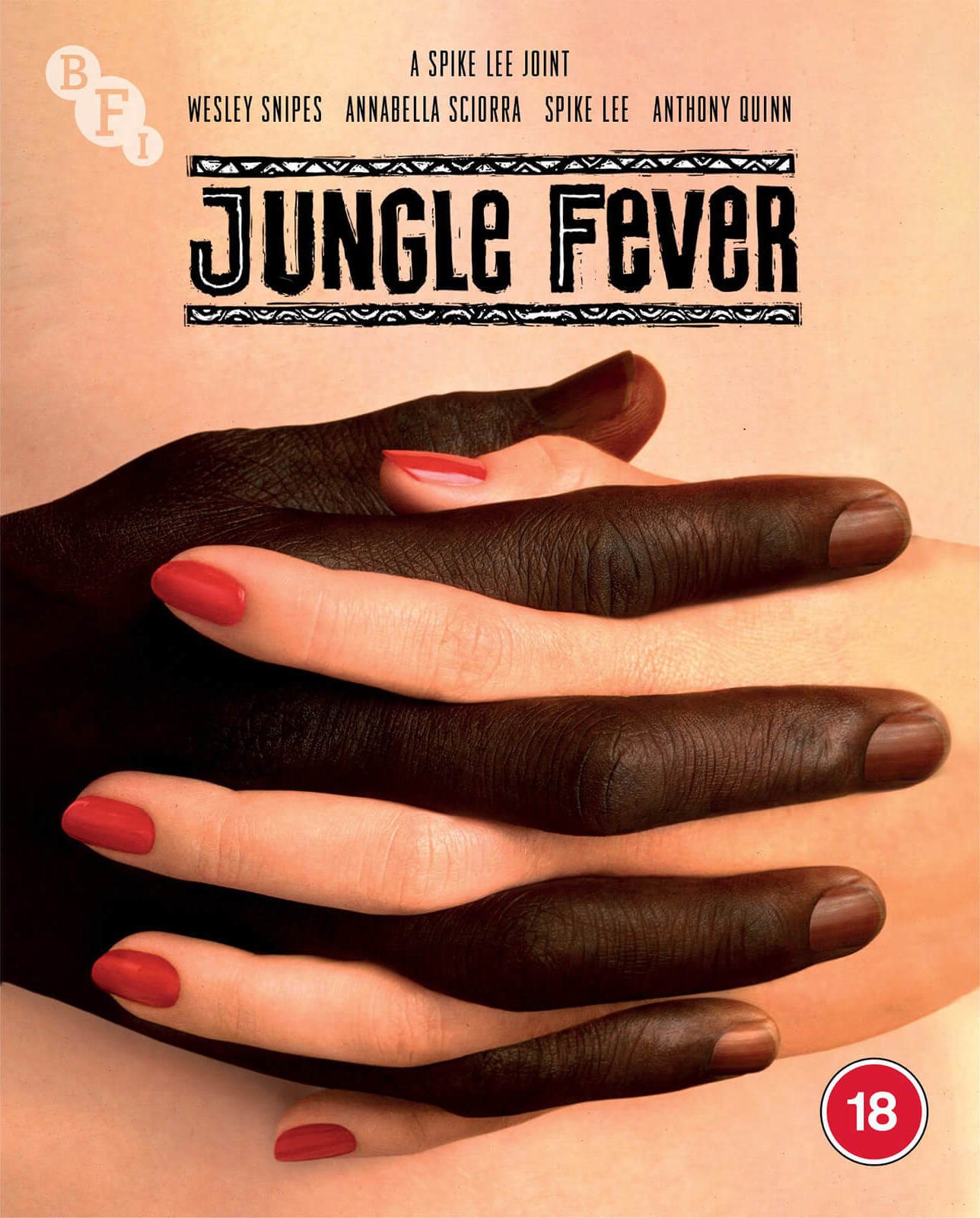 "Jungle Fever" (1991)

Flipper (played by Wesley Snipes) is a successful architect and a happily married father, living a comfortable life in New York. At his workplace he is the only black person working at the firm, and though he requested the management to diversify by hiring an African-American assistant, he is displeased when they instead hire a white woman as his temporary secretary. Though at first he is weary of the hiring of Angie (played by Anabella Sciorra), the two eventually talk and become close. But things get too close, as they the start a relationship, causing problems with Flipper's relationship with his family, as well as Angie's relationship with her family.

From the central premise, "Jungle Fever" is a basic look at race relations between a couple and how it affects everyone else around them. But writer and director Spike Lee" goes much further with much more for the story, looking at much more than just a black and white relationship, both literally and figuratively. Generational conflict between parents and children, drug abuse, the dangers of excess, religion, corporate misunderstanding of social issues, and much more are all looked at through various viewpoints, making "Jungle Fever" much more interesting than what it seems at the core.

The character of Flipper Purify comes from a strictly conservative family, with his father The Good Reverend Doctor Purify (played by Ossie Davis) being Baptist Reverend that frequently looks to the Bible for his truth. He may have pride in Flipper's success with family and marriage, he is still one to remind him of the devil's temptations and the dangers that may come, as it has affected Flipper's older brother Gator (played by Samuel L. Jackson), who is a crack addict and living on the streets. Obviously the father has no further relationship with the drug addict son, but their mother Lucinda (played by Ruby Dee) secretly helps out with giving him money even though she knows it's the wrong thing to do to support him. Gator also frequently comes around to permanently borrow money from Flipper, which is also has created a strenuous and complicated relationship between the brothers. As for Flipper's wife Drew (played by Lonette McKee), she is a career woman working at Bloomingdale's while also being a mother to their young daughter Ming (played by Veronica Timbers). When Flipper and Drew are first seen by the audience they are making passionate love, which seems to be frequent, as their daughter tells them that she thinks it's funny hearing mommy making funny noises in the mornings with daddy. In Flipper's household, sex is not something to hidden but shown as a positive example of love, as Drew tells their daughter. Most likely the same was not part of Flipper's upbringing with his parents. There is a generational differences in the ways the children are being brought up, and differences in how religion and differences in social norms are affecting the families that are still tied by blood. When Flipper starts a relationship with Angie and the word gets out, things obviously take a downward turn with Drew throwing his things out of their apartment to the delight of onlookers seeing the domestic embarrassment, but it's much more hurtful to Drew than just any person he's having a relationship with. It's obviously much deeper because she is white. It might seem trivial and racist to think that is her feeling, but there is much more to Drew's background coming from a mixed race family herself and never being treated black enough or white enough by her peers, and the trauma has continued to the breaking cycle as seen with her black husband getting some from the side she doesn't want to fully grasp herself.

As for Angie's side coming from an Italian-American family raised in New York, her relationship is also complicated as she is taking the role of both sister and mother in her household after the death of her mother. Her father Mike (played by Frank Vincent) expects her to cook and clean while she is still bringing in money from work, and she wants to escape from the life she had for so long. Though she has had a seemingly innocent relationship with childhood friend Paulie (played by John Turturro), things never became serious for them. Paulie is very nice, innocent, and a man with fair intelligence and common sense, working at a local malt shop. She knows that having a serious relationship with him would never lead her out of her current life, and when she and Flipper clicked, it was her emotional escape from her trapped lifestyle. The black and white couple's relationship is not purely sexual, not about devilish lust, nor is it purely innocent love. But to Angie's eyes, she seems to have felt a real connection with Flipper and it gets stronger throughout their time together. On the other hand with Flipper, the more time spent with Angie means more time dealing with his broken family both with his estranged wife and with his religious father that disapproves of the happenings.

"Jungle Fever" has its fair share of racial tension between families in different ways. The Reverend uses his calm and asserting words to say to both Flipper and Angie of his disapproval. On the other hand with Angie's family, her father gives her a violent beating when he finds out she is sleeping with a black man. In addition there is a memorable scene of Flipper and Angie goofing around on the street in which the police are called in thinking it was a black man assaulting a white woman. The sequence also has a nod to Lee's groundbreaking previous film "Do the Right Thing" with the same two police officers Long and Ponte (played by Rick Aiello and Miguel Sandoval respectively) reprising their positions. Obviously it means that there was no consequence to the two officers for their actions in the aforementioned film's climax. While tensions are always high with the race card in "Jungle Fever", it never seems exploitive or excessive, with consequences having actions, and having a mirror reflected back to society in a shameful way. Is it wrong for a married man to be having an extramarital affair? Yes. Is it wrong for a woman to have an affair with a married man? Yes. Is it wrong for two people of differing races to have a relationship together? The obvious answer is no, but a surprising amount of people would answer yes in their minds but not with their mouths. By the 1990s mixed race relationships were not that uncommon but there were still some eyebrows raised in certain places. It's been thirty years since "Jungle Fever" came out, and sadly the seemingly normal notion of mixed race relations is not a completely outdone topic.

The layered narrative of "Jungle Fever" and multiple viewpoints are great to see, but one portion that doesn't seem to get enough emphasis is with the character of Paulie. His relationship with his aging father (played by Anthony Quinn is not too friendly, as the father is needy following the death of the mother of the family. He also wants to get out of his life, not having his father rely on him so much, not having to work at the shop and to be free. Unfortunately Paulie's story has too many parallels with Angie's to not make it stand strong enough with the rest of the film. Though Turturro is excellent as well as the interesting cast of shop patrons that surround him, it just seems one step too far from the main story, as he has no scenes with the Flipper character at all, making it seem like a side story more than a B story. Apparently Turturro said there were more scenes with Paulie that eventually got cut, and he felt there was much more to his character's story than what was shown in the end. It may be one of the weaker elements in the final film, but there are some great sequences nonetheless.

The subplot of drugs in the community is taken to full force with Samuel L. Jackson's portrayal of the junkie older brother of Flipper, in which he has stated that the mannerisms were based entirely on personal experience, as Jackson was a recovered addict, and used his memories to create a memorable disturbing character that was real rather than cartoonish. His girlfriend Vivian (played by Halle Berry) is also exceptional, considering this was the actress' first performance and she fully went method in playing a young crack addict. Another minor yet memorable role is that of the waitress played by Queen Latifah in her first acting role. The rapper makes an incredible impact as the stubborn waitress in the lone scene she was featured in alongside Snipes and Sciorra.

Another undeniable mention with the film is the soundtrack by a Stevie Wonder, which included eleven new songs composed specifically for the film, with Lee sending the script in Braille. While it was not by any means Wonder's best music, there were still a good amount of standout tracks including the title song, plus an excellent use of his classic track "Livin' for the City" during the Taj Mahal sequence.

The film premiered at the 1991 Cannes Film Festival in May, followed by the soundtrack album later that month. Jackson received a special Best Supporting Actor award at the festival alongside a Prize of the Ecumenical Jury. It was released theatrically in America by Universal in June, with a worldwide rollout throughout the rest of the year. Jackson also received a Best Supporting Actor award from the New York Film Critics Circle Awards and the film was nominated for various awards at various festivals and shows, but none at the Oscars or Golden Globes. The $14 million production did fairly well at the box office grossing $43.9 million, becoming a hit for Lee and becoming a very talked about movie for both audiences and critics. Though the hype was not as forceful as "Do the Right Thing" was two years back, it still had enough merit to be found with its dealing of social issues and what love is and isn't. In the DVD era the film never received a particularly nice edition, with Universal releasing it with a vintage featurette and trailer as extras and nothing else. In February 2020, Kino Lorber in the US released the film on Blu-ray for the first time, but sadly with only the trailer as an extra. Elephant Films in France released their own Blu-ray in July the same year, along with the vintage featurette, trailer, and an exclusive French language featurette. It not comes to Blu-ray from the BFI in the UK for the 30th anniversary, with an excellent new edition with some new and exclusive extras.

Note this is a region B Blu-ray

Video


The BFI presents the film in the theatrical 1.85:1 aspect ratio in 1080p AVC MPEG-4. The HD transfer is sourced from Universal. The film is bold in its use of colors in set design and wardrobes, and though this is "only" a transfer from an HD master, the film actually looks quite nice, reproducing the vivid looking wardrobe by Ruth E. Carter and the striking use of colors on set such as the Taj Mahal sequence. Ernest Dickerson's cinematography comes to life quite well, and the image is always stable in its framing, with detail being very strong. There are only minor cases of visible damage and film grain seems to always be visible as well, without any artificial sharpening. Overall a solid presentation.

The film's runtime is 131:49.

Audio


English LPCM 2.0 stereo
The film was original released in cinemas with a Dolby 2.0 Surround track, and that has been replicated with here with this uncompressed 2.0 audio track. Although Lee's earlier films received 5.1 upgrades with "School Daze" and ""Do the Right Thing", "Jungle Fever" has not been given the same treatment, which is slightly unfortunate as it would have opened up the excellent score a bit more. Nevertheless the 2.0 track is a very good one, with good stereo separation for the music and effects, while keeping the dialogue track mostly centered. With Pro-Logic settings to replicate the original surround track, it certainly sounds good though the dialogue often bleeds over to the left and right channels as well as the center, not making everything entirely center based for dialogue portions. There are no issues with dropouts, hisses, pops, or other damage to the audio track. The voices are always clear and well balanced against the music and effects throughout.

There are optional English HoH subtitles in a white font for the main feature.

Extras


Audio commentary by Jim Hemphill
In this newly recorded commentary, Hemphill gives a solid discussion on the film and its background. He talks about the score and songs by Stevie Wonder, the theme of excess and destruction, lengthy biographies of the actors and crew plus quotes from them, connections to other films in the Spike Lee universe and more, generational conflict, Spike Lee's marketing campaign, reactions from other critics and press, and more.
in Dolby Digital 2.0 with no subtitles

The Independent 2009 Interview with Spike Lee (73:37)
Politician David Lammy interviewed Lee following a 20th anniversary retrospective screening of "Do the Right Thing" on stage, where they discuss race relations on film, the color palate, the score, plus discussion on other films including "Malcolm X", the change from film to digital, studio work and working independently, Michael Jackson, Michael Jordan, and more. Unfortunately nothing about "Jungle Fever" is discussed here.
in 1080p AVC MPEG-4, in 1.78:1, in English LPCM 2.0 with no subtitles

Archive Featurette (7:43)
This EPK featurette includes interviews with Spike Lee, Annabella Sciorra, Ossie Davis, Wesley Snipes, John Turturro, and Anthony Quinn, along with behind the scenes footage and selected scenes from the finished film. While everything including the interviews were shot on film, the featurette was edited on video and this comes from a standard definition source, upscaled to HD.
in 1080i60 AVC MPEG-4, in 1.33:1, in English LPCM 2.0 with no subtitles

"Top Deck" 1962 short (29:52)
"Top Deck" is a short featuring a love story between a black American soldier Johnny (played by James Anderson) and a white English bus conductress Marlene (played by Ruth D'arcy). Directed by David Andrews, the short could be considered a silent film as there is no dialogue and the only chatter that can be heard is within the background, alongside a jazzy score. While the opening shots may have a lot of grain and visible damage, for the most part the black and white image is great with detail and contrast, with little damage marks to be found. Due to the low budget roots there are some shots that look a bit out of focus, and gate hairs can be found, but nothing too terribly distracting.
The short can also be viewed for free on the BFI Player.
in 1080p AVC MPEG-4, in 1.33:1, in English LPCM 2.0 without subtitles

Image Gallery (4:12)
A series of production stills in an automated slideshow, without narration or music.
in 1080p AVC MPEG-4

Trailer (2:37)
The original US trailer is presented here, from a standard definition source and upscaled to HD.
in 1080p AVC MPEG-4, in 1.85:1, in English LPCM 2.0 with no subtitles

Booklet
A 32 page booklet is included with the first pressing. First is the essay "Jungle Fever and Spike Lee's Alternative Black Livelihoods" by film critic Kambole Campbell which he discusses the film, the themes, and the social issues then and now. "Jungle Fever in Context: Flipper Purify and Furious Styles" is a 1991 essay by Armond White which looks at the film alongside other contemporaries such as "Boyz n the Hood", "Chameleon Street" and others. "Split Screen: Cinema, Race and Relationships" is an essay by film critic Kaleem Aftab looking at various examples of race relations depicted in cinema. There are also full film credits, special features information, transfer information, stills, and acknowledgements.

A clip of the film, the scene with Queen Latifah has been embedded below, courtesy of the BFI.


As mentioned before, the US Blu-ray from Kino Lorber only had the trailer. The French Blu-ray from Elephant Films had the vintage featurette, trailer, and an exclusive French featurette.

Overall


"Jungle Fever" is an excellent layered film about the troubles of race relations, the dangers of excess and power, and family through differing viewpoints. It may not be talked as much as some of Lee's other films, but it certainly should be. The BFI release has an excellent transfer with a great selection of extras making this highly recommended.
| | | | | |
| --- | --- | --- | --- | --- |
| The Film: A- | Video: A | Audio: A- | Extras: A | Overall: A- |