The Film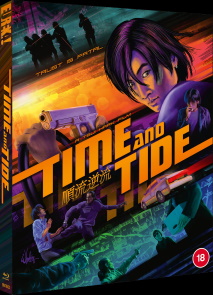 Hong Kong Film Award (Best Supporting Actress): Candy Lo (nominated), Best New Performer: Candy Lo (nominated), Best Action Choreography: Xin Xin Xiong (nominated), Best Film Editing: Marco Mak (nominated), Best Sound Design: Martin Richard Chappell (nominated), and Best Original Film Score: Tommy Wai (nominated) - Hong Kong Film Awards, 2001
Future Film Festival Digital Award: Hark Tsui (won) - Venice Film Festival, 2000
Golden Reel Award (Best Sound Editing - Foreign Film): Martin Richard Chappell (nominated) and May Mok (nominated) - Motion Picture Sound Editors, 2002
Golden Horse Award (Best Visual Effects): Cinefex Workshop Co. Ltd. (nominated), Best Action Direction: Xin Xin Xiong (nominated), Best Film Editing: Marco Mak (nominated), and Best Original Film Score: Tommy Wai, Martin Richard Chappell, and Koan Hui (nominated) - Golden Horse Film Festival, 2000
Golden Bauhinia (Best Supporting Actor): Anthony Chau-Sang Wong (nominated) - Golden Bauhinia Awards, 2001

Dreaming of a South American paradise, bartender Tyler (Bodyguards and Assassins' Nicholas Tse) has finally had it with Hong Kong when he learns nine months after a drunken one night stand with lesbian undercover cop Jo (Cop Shop Babes' Cathy Tsui) when he learns that she is pregnant and wants nothing to do with him. He takes a job at a security company run by ex-bookie Uncle Ji (The Untold Story's Anthony Wong) – staffed mainly with debtors who cannot afford to pay him – hoping to save up enough money to leave the country. While working the high profile birthday part of ex-gangster/industrialist Hong who has been targeted for a hit, Tyler is tipped off about the suspicious behavior of a gun-toting waiter by Jack (A Beautiful New World's Wu Bai), the slaughterhouse working husband of Hong's pregnant black sheep daughter Ah Hui (The Eye's Candy Lo). Envious of the relationship between the other couple, Tyler becomes a fixture in their lives – while also making periodic monetary gifts to Jo who refuses to accept them – trying to convince Jack to strike out with him on their own security company. What Tyler does not know is that before Jack was Jack, he was Juan, a member of the South American gang The Angels who turned from mercenary work to the drug trade, sending Jack to Hong Kong originally to launder some money. When The Angels – lead by elder Pablo and right hand man Miguel (Night Corridor's Jun Kung) – arrive in Hong Kong for a meeting with Hong, they threaten An Hui's life in order to compel Jack to put a hit on his own father-in-law. During the exchange, Jack instead shoots Pablo and makes off with the gang's money, hoping to flee the country with his wife and unborn child. Having been hired as one of the local bodyguards for The Angels, Tyler is the only person not in the gang to have discovered the identity of the shooter, making him a suspected accessory in the assassination for the police and his own boss. Wanting an explanation and needing to save face, Tyler inadvertently steps into the crossfire of a ferocious battle between Jack and his former gang who can only recover their lost honor by killing him.

Director Hark Tsui's Hong Kong return after his shot at Hollywood with the Jean-Claude Van Damme duo Double Team and Knock Off, Time and Tide plays like a lighter version of 's "heroic bloodshed" movies with its brotherly-bonded protagonists, threatened women and babies, epic gunplay, and so so many pigeons flapping in slow motion with the addition of some Hollywood CGI pyrotechnics. Although there are plenty of brutal fights, explosions, and exchanges of gunfire, and Tyler is under threatened as An Hui at some points, the only people who actually get killed onscreen are the villains and some extras whose demises are indirectly covered by the camera and editing. The setup feels drawn out and the chemistry between the heroes and between each man and their love interest are given mere lip service, but that becomes forgivable once the action gets underway and never really lets up with extended set-pieces in Jack's apartment building, the Hung Hom railway station, and finally below and above the Hong Kong Coliseum during a concert with the treat of gunfire and grenades raining down on a crowd of ten thousand. One cannot help but wonder if Tsui intended a sequel bringing back the leads given the relatively happy ending (Tse and Wu Bai would reunite in New Police Story). The end result is exciting but feels marred by the lessons Tsui took from working in Hollywood.

Video


Co-produced and distributed in most territories by Columbia Pictures, Time and Tide was also distributed in most territories on DVD by Columbia/Tri-Star in an anamorphic transfer – apart from Hong Kong where Tri-Star's DVD of this Super 35mm production was inexplicably fullscreen – with the only major difference between the U.K. and U.S. editions being the inclusion of an English-language Tsui Hark commentary on the latter. Eureka's 1080p24 MPEG-4 AVC 2.35:1 widescreen presentation is likely derived from the same Sony HD master provided to Carlotta Films for their limited edition Blu-ray/DVD combo and standard edition from last year. While not a new master, the image looks great in the film's stylized close-ups while the grading keeps to the late nineties, early 2000s saturated primaries, warm skintones, and blue-tinged darkness (with some heavy grain in a couple underexposed areas of the frame).

Audio


Audio options include the original Cantonese/Mandarin/Spanish mix and the international English dub in DTS-HD Master Audio 5.1 – the former shot largely with synch sound as had been increasingly common in Hong Kong cinema since the mid-nineties and mixed in Dolby Digital – and both are pretty much state-of-the-art for the time when six-channel surround was fresh, taking advantage of every gunshot, footstep, punch, body blow, and explosion to whip around directionally (the sound designers were nominated for an American Motion Picture Sound Editors award). Possibly since a U.S. theatrical release was intended, the English dub is also of a generally high quality compared to the usual for Hong Kong exports. Optional English subtitles are provided for the original mix and English SDH subtitles for the dub. Both tracks also translate the Spanish dialogue while selecting "no subtitles" in the setup menu will actually enable a third subtitle track solely for the Spanish dialogue.

Extras


Ported over from the American DVD is the audio commentary by writer, producer, and director Tsui Hark in which he discusses the various incarnations the screenplay went through – including one in which the two heroes knew each other as children – rewriting to adapt his concept to the personalities of singers and acting newcomers Tse and Wu Bai, as well as the challenge of depicting the sexual relationship between Tse and Tsui (who was only seventeen when the film was made and whose mother was always on the set), casting his crew and some industry colleagues in acting roles, and the reasons for shooting some of the location scenes in Taiwan rather than Hong Kong. He also reveals that Tse wrote music for the film, Wu Bai came up with the birthday song in the film thirty minutes before shooting the scene, and that he originally recorded the opening narration in order for Tse to match his tones and cadence only to decide to use the recording instead to frame the film as being told by a storyteller rather than from the protagonist's point-of-view.

There is also a brand new audio commentary by Asian film expert Frank Djeng (NY Asian Film Festival) in which he contextualizes Tsui's discussion in an overview of Hong Kong production of the time, the significance of the casting choices – including musicians Tse, Wu Bai, and Jun Kung as well as Wong in between his Category III infamy and more mainstream turns in films like Infernal Affairs – the influence of Tsui's Hollywood stint, the ways in which the storytelling and visuals seem to homage Wong Kar-Wai, and the musing on whether the film is also a homage to or parody of the films of John Woo. The disc also includes the film's theatrical trailer (1:13).

Packaging


Packaged with the first 2000 copies of the disc is a limited edition O-Card slipcase featuring new artwork by Darren Wheeling as well as a 19-page collector's booklet featuring new writing by Chinese-language film expert and author Stephen Teo. Teo discusses Tsui's career as one of the "Hong Kong New Wave" directors and his focus on action, his attempt to gain a foothold in Hollywood due to worries he might not be able to work in Hong Kong after the handover, the merits and deficits of his two Van Damme films, and the qualities that distinguish Time and Tide from those two earlier vehicles in terms of action tied to character development.

Overall


Time and Tide is exciting but feels marred by the lessons Tsui took from working in Hollywood.