The Marksman [Blu-ray]
Blu-ray A - America - Universal Pictures
Review written by and copyright: Eric Cotenas (1st June 2021).
The Film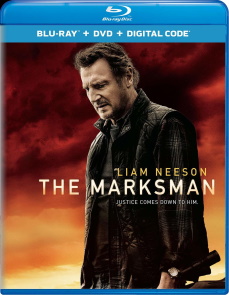 Since the death of his wife from cancer, former marine Jim Hanson (The Grey's Liam Neeson) has fallen behind on his ranch's mortgage after his savings were drained by hospital bills. He spends his days between searching for day labor, for which even his good friends think he is too old, and patrolling his land along the border with Mexico and calling Border Patrol to pick up sick and dying border crossers who only just made it beyond the fence. When single mother Rosa (Narcos: Mιxico's Teresa Ruis) and her son Miguel (Jacob Perez) are abandoned by their "coyote" (Silk Road's David DeLau) guide on the other side of the fence, they risk the run themselves, on the run after her brother Carlos (Alfredo Quiroz) double-crossed the cartel. Their progress is hindered when they are nearly run over by Jim, allowing the cartel's men – lead by Mauricio (Peppermint's Juan Pablo Raba) – to catch up to them. A shootout ensues in which Rosa is hit. With her dying breath, she begs Jim to get Miguel to Chicago where they have family. He instead turns Miguel over to the local police – among them, trusted friend Sarah (Vikings' Katheryn Winnick) – but then he feels obligated when he discovers that the bag she offered to him as payment contains enough money to catch up on his mortgage payments. Upon learning that a supposed relative is waiting back in Mexico to claim Miguel, Jim sneaks him out of the holding facility and they take to the road with his faithful dog. Tracing Jim's credit card activity across the country, Mauricio is not just after Miguel, he is looking for vengeance for his brother who Jim killed in the shootout. As they get closer to Chicago, Mauricio eliminates any witnesses along the way, and Jim and Miguel learns that they cannot even trust the authorities.

Co-written and directed by Robert Lorenz (Trouble with the Curve) – best known as assistant director and second unit director on the directorial efforts of Clint Eastwood from Absolute Power through American Sniper – The Marskman is a such a by-the-numbers thriller in which there is so little room for novelty or nuance that attempts at the latter stand out feel half-baked and ultimately a disservice to the actor rather than the character. Among them is the tension between Jim's "I've worked all my life and served my country" feeling of being wronged and his sympathy for border crossers fleeing danger or seeking opportunity and providing competition when he needs to take day labor to catch up on his bills – perhaps believable in real life but feeling incongruous in a cookie cutter script – and attempts at sketching Mauricio with more delineation through his seeming respect (if not envy) of Jim's military service and lingering shots of him staring at examples of a suburban idyll alien to him. Poor Winnick, on the other hand, is wasted in a role that goes absolutely nowhere (the film pretty much forgets about her after we have been shown that she is also tracking Jim by way of the carnage left behind by Mauricio and his men). The pace does not really barrel along so much as move in fits and starts, feeling all the more episodic with the periodic reveal that some trooper or cop the protagonists meet along the way are in the cartel's pocket. Neeson brings gravitas to a roll one present day Bruce Willis would be phoning in, such that the modest production values and intimate (budget-friendly) scope of the film feels rather beneath him. This film did not need a pandemic to relegate it to direct-to-streaming/physical media exhibition.

Video


Shot with the Arri Alexa camera and real anamorphic lenses, the contrasty, flaring photography and its transition from warm-leaning South-of-the-border and Southwest to cooler Northeast tones looks flawless on Universal's 1080p24 MPEG-4 AVC 2.40:1 widescreen encode.

Audio


No complaints about the DTS-HD Master Audio 5.1 track. It is not demo material, but well-suited to the scope of the film, being front-oriented with subtle surrounds in which more pointed sounds from footsteps, engines, and cocked guns are usually indicators of encroaching danger. Spanish dialogue is translated with burnt-in English subtitles but not transcribed on the Spanish subtitle track (the dialogue is heard and then translated on the Descriptive Video Service track).

Extras


The sole extra is "The Making of The Marksman" (8:19) – the studio's seeming lack of interest in this title seemingly indicated by them not bothering to create a still or motion thumbnail for the piece on the extras popup menu as customary with other Universal Blu-rays using the same menu template – in which Lorenz, Wynnick, Raba, and Perez mainly comment on working with Neeson. The disc also includes some uninspiring start-up trailers.

Overall


Universal's The Marksman did not need a pandemic to relegate it to direct-to-streaming/physical media exhibition.

---
DVD Compare is a participant in the Amazon Services LLC Associates Program and the Amazon Europe S.a.r.l. Associates Programme, an affiliate advertising program designed to provide a means for sites to earn advertising fees by advertising and linking to amazon.co.uk, amazon.com, amazon.ca, amazon.fr, amazon.de, amazon.it, amazon.es and amazon.se.