The Film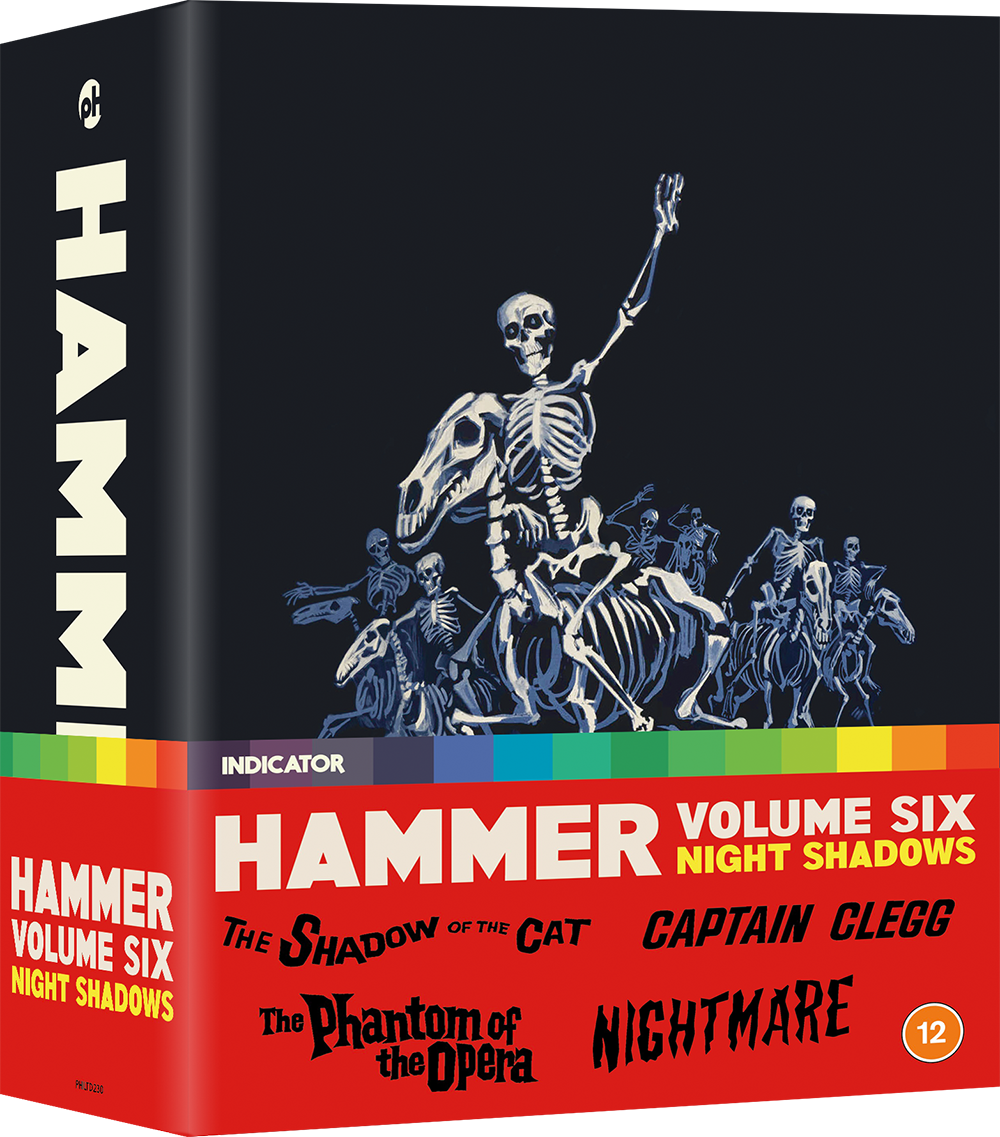 Hammer Volume Six: Night Shadows revives four consummate Hammer classics from the early sixties, exemplifying some of Hammer Films' best work in the horror and thriller genres.

Edgar Allan Poe looms large in The Shadow of the Cat, a macabre 'old dark house' tale of feline revenge, starring André Morell (Cash on Demand) and Barbara Shelley (The Camp on Blood Island); Peter Cushing (The Gorgon, Corruption) and Oliver Reed (The Scarlet Blade) star in Captain Clegg, which sees Hammer fuse horror and adventure in an eighteenth-century-set tale of smugglers and marsh phantoms; Herbert Lom (Mysterious Island) stars as The Phantom of the Opera in Hammer's acclaimed production of Gaston Leroux's Gothic classic, whilst Freddie Francis (Torture Garden) directs Nightmare, a spooky psychological thriller in the Les Diaboliques vein, which benefits from full-blooded central performances by Moira Redmond (Jigsaw) and Jennie Linden (A Severed Head).

This collection contains a wealth of new and archival extra features, including documentaries and appreciations, interviews with actors and crew members, audio commentaries, and extensive booklets. Strictly limited to 6,000 numbered units.

Video


Hammer's 1962 The Phantom of the Opera is a film I've had a long journey with since first seeing it via the 1995 US Universal Laserdisc (double billed with Paranoiac, also 1962). Prior to seeing it I was very aware of it's less than stellar reputation with the public and critics and that may have coloured my view; I wasn't overly impressed. But, down the years and via subsequent DVD and BD releases have come to like it a great deal. It'll never stack up to the classic 1925 but is easily a close second and I've also seen the 1943, 1983 (TV), 1989, 1998 and 2004 versions. A lush, beautifully directed and mounted production with uncommonly strong performances.

It's always looked good on DVD and BD including the controversially framed 2:1 versions. Here we have the film presented in European flat (1.66:1) and American flat (1.85:1) aspect ratios with the former being preferable and allowing the compositions to breathe a little more. Colour values are rich, deep, warm and very ... Hammer. Black levels are also incredibly rich and deep with no signs of unintended crush. Contrast is also very supportive allowing the filmic and ever present grain field naturally play over the image varying from fine in well-lit scenes to courser in darker, less well-lit scenes.

Detail is exceptional along all focal plains with skin textures and fabrics coming off very well. There are no signs of compression or digital artefacts to spoil the show. Encoding is typically superb. This is easily THE only home video version anyone ever need own until some madman decides to give it a 4K UHD BD release.

The rarely seen US TV version has been ported over from the 2020 Shout! Factory BD and looks substantially less pleasing with lots of crush and fudged detail; colours are washed out when compared and detail is severely lacking. Not surprisingly, it's been taken from an aged standard definition off-air recording and upscaled. It's presented in a centre crop 1.33:1 image harvest done decades ago. Despite the flaws, it's watchable enough and a very welcome addition to this definitive release of the Hammer's Phantom.

My rating of A+ applies only to the two widescreen theatrical versions.

1080/24p / AVC MPEG-4 / 1.66:1, 1.85:1, 1.33:1 / 84:13, 98:18

Audio


English DTS-HD Master Audio 1.0 (theatrical versions)
English Dolby Digital 1.0 (TV cut)
Subtitles: English HoH

A typical mono track from the period presented in lossless Master Audio. It's naturally fairly limited in range by the standards of a 2021 Dolby Atmos track but is still robust and surprisingly strong with no distortions even at a high volume. About as good a mono track as I've heard from a '60s film. Very powerful when played via my amp.

The lossy 1.0 track on the TV gets the job done but does have artefacts of it's age and home video recording source such as his and some mild distortion at high volume. It is however perfectly listenable.

Excellent hard of hearing subtitles are provided.

Extras


Audio commentary on the 1.66:1 version with Steve Haberman and Constantine Nasr (2020)
Audio commentary on the 1.66:1 version with Troy Howarth and Nathanial Thompson (2020)

Two trivia packed tracks yaktraks ported over from the 2020 US Shout! Factory BD release. Presented in lossy Dolby Digital 2.0 stereo.

"Making of the Phantom of the Opera" 2014 documentary (31:01)

A fine making of piece ported over from the 2014 UK Final Cut BD release. A comprehensive documentary and a must for fans and is written with a sly sense of humour. Initially this piece covers prior versions of the Phantom tale before spending the bulk of the doc on the 1962 Hammer version. Presented and narrated by Eduard de Sousa ... and he's interviewed with presentation / narration blurring into interviews and back again. Full disclosure; Hammer collector and historian Richard Golen is interviewed and is a friend of mine of long standing. Presented in 1080/24p 1.78:1 with lossy Dolby Digital 2.0 surround and set at a much higher volume than the rest of the extras.

"The Men Who Made Hammer: Anthony Hinds" 2020 featurette (27:44)

Extensive analysis of Hinds' career by Richard Klemensen, publisher of Little Shoppe of Horrors magazine (from 1972 and still going); Klemensen knew Hinds and keeps his story chatty and interesting. It's also a warts and all doc mentioning some of the controversies around Hinds. It's like being sat down with a mate in front of the fire and having a good natter about a subject that you both love. Ported over from the Shout! Factory BD. Presented in 1080/24p 1.78:1 with Dolby Digital 2.0 stereo.

"Phantom Triumphant: Edwin Astley and Hammer's Horror Opera" 2020 featurette (15:47)

Ported over from the Shout! Factory BD. David Huckvale has become a a beloved figure in Hammer fandom for his pieces to camera dissecting the scores on the films in a way that makes the subject both interesting and accessible. His biography from an offline source: "freelance lecturer in music and cultural history for Cambridge University, Birmingham University, The Open University, The Victorian and Albert Museum, and many adult education colleges. His work has been published in Journal of Popular British Cinema, Popular Music, BBC Music Magazine and Wagne." (Google Books). This typically enjoyable piece is 1080/24p 1.78:1 with lossy Dolby Digital 2.0 stereo.

"Herbert Lom: The Soul Behind the Mask" 2020 featurette (15:28)

Another Shout! Factory piece this time focussing on the beloved Lom, best known for being Inspector Clouseau's boss and number one nemesis in the Pink Panther film series. Presented by screenwriter / director and Hammer fan C. Courtney Joyner who knew Lom and like Klemensen makes this piece like a fireside chat with a good friend. In 1080/24p 1.78:1 with lossy Dolby Digital 2.0 stereo.

"Kim Newman Introduces the Phantom of the Opera" 2021 featurette (12:18)

Newman is always a welcome figure on any DVD / BD release extra and this fine introduction is typically interesting and filled with trivia and infirmation. Presented in 1080/24p 1.78:1 with lossy Dolby Digital 2.0 stereo.

"Hammer's Women: Rachel Knightley on Liane Aukin" 2021 featurette (6:18)

Another in Powerhouse Film's ongoing series of featurettes focussing on Hammer's female performers both leads and supporting players. Aukin is not an actress I was really aware of but this piece has now rectified that. Presented in 1080/24p 1.78:1 with lossy Dolby Digital 2.0 stereo.

"Down in the Sewers: Special Effects Assistant Brian Johnson on The Phantom of the Opera" 2021 featurette (5:59)

Interesting short piece with Johnson - who is mostly known for his work on 2001: A Space Odyssey (1968), Space: 1999 (1974-76), Alien (1979) and Star Wars, Episode V: The Empire Strikes Back (1980) - discussing Phantom, and early gig for him. Presented in 1080/24p 1.78:1 with a lossy Dolby Digital 2.0 stereo soundtrack.

Trailers from Hell with Brian Trenchard-Smith: The Phantom of the Opera (3:07)
Theatrical Trailers:
- UK Trailer (2:02)
- US Trailer (1:16)

Vintage promo pieces plus one of Joe Dante's Trailers from Hell shorts featuring the endlessly amusing Trenchard-Smith, a topnotch director of genre fare himself. Here waxing lyrical about working on Hammer trailers in the late '60s and commenting on the Phantom trailer.

Image Galleries:
- The Phantom of the Opera Image Gallery: Production Stills (47 images)
- The Phantom of the Opera Image Gallery: Promotional Material (73 images)

Extensive HD image galleries with plenty of interest.

40-page liner notes booklet by Adam Scovell, Terence Fisher on The Phantom of the Opera, extracts from original press materials, an overview of contemporary critical responses and film credits

Another excellent, value packed booklet with plenty for fans.

Packaging


Four clear plastic BD Keepcases set in a hard card outer box with a card slip.

Overall


Hammer's wonderful take on the Gaston Laroux gets the Powerhouse Films' treatment in this sixth Hammer boxset. The Universal master used is excellent with topnotch image and sound; as good as can be shy of 4K UHD. Extras a peerless; porting over all prior material from the US Shout! Factory and UK Final Cut releases.

Yet another superb release that bests all prior home video versions and is easily one of THE discs of the year and is an absolute must for Hammer and film buffs.
| | | | | |
| --- | --- | --- | --- | --- |
| The Film: B+ | Video: A+ | Audio: A+ | Extras: A+ | Overall: A+ |