The Film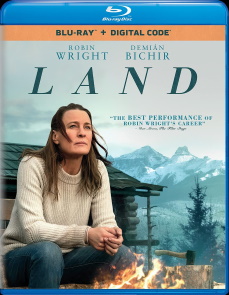 Unable to cope with life and move on after the tragic loss of her husband and child, Edee Holzer (The Princess Bride's Robin Wright) can only promise her sister Emma (Deadwood's Kim Dickens) that she will not hurt herself when she decides to quit the city for the Rockies and a derelict cabin. Although she has absolutely no experience "roughing it", she insists that guide Colt (Deepwater Horizon's Brad Leland) not check up on her, leaving supplies on and collecting rent money from the front porch. Her books about living off the land have left her ill-equipped for the physical tasks of chopping wood and planting crops before winter sets in, but a bear scavenging her cabin leaves her short on food when the snow starts to fall heavily. Subsisting on frozen cans of chili, Edee's health worsens and her body finally gives up on her. She wakes to find herself in the care of hunter Miguel (The Hateful Eight's Demián Bichir) and nurse Alawa (Sarah Dawn Pledge). Against Alawa's advice, Edee refuses to be taken to the town hospital, and Miguel assures the nurse that he will look after her. Miguel is not ignorant that Edee's discomfort with his presence is more than a reluctance to be helped, so he resolves to teach her how to hunt and fish and promises to leave her alone once she can fend for herself. As spring blooms, the pair develops a rapport based on his willingness to be open about his life and an understanding that she cannot reciprocate since she is still not ready to face her loss. When Miguel has to leave for an unspecified amount of time, Edee must apply what she has learned to see if she this is really where she belongs. When she discovers what has kept Miguel away, however, she may finally have to confront every emotion that she has tried not to feel.

The directorial debut of actress Wright – after directing several episodes of the beleaguered American iteration of House of Cards – Land is surprisingly superficial even for an indie studio prestige pic. The script by Jesse Chatham and filmmaker Erin Dignam (Loved) treats its narrative trajectory like a series of index cards or bullet points, feeling sketchily developed rather than stripped down in the interest of narrative economy. We see scenes depicting her feelings of loss and her hardships without ever being drawn in despite some moving moments depicting Edee's attempts to shield herself from her past; for instance, avoiding looking into a box of keepsakes when she fishes for something for Miguel to give to his niece after he has presented her with a drawing the girl did as a present. The ending in which Edee discovers that she has helped Miguel as much as he has helped her is of course predetermined by Edee's character arc, but it fails to resonate, feeling more like the film was plotted backwards from a grown-worthy dialogue exchange. At worst, Land feels like Hallmark material; at best, it shows that Wright is as deserving of better material as a director as she has been as an actress.



Video


Land's handsome digital lensing at first seems as if it is deliberately eschewing clarity for a "filmic" softness, but the 1080p24 MPEG-4 AVC 1.66:1 pillarboxed widescreen image soon "unfolds" detail as Edee immerses herself within her environment of the cabin with its cobwebs, rust, and splintered wood as cracks and holes in the wood that will later endanger her health illuminate hanging dust with shafts of natural light. The photography also better conveys the hazards and pleasures of the outside environments better than the film explores the emotions of its lead character. The contrast between the woods and cabin scenes and the city and town scenes is also felt in the subtitle choices in lighting and lenses.

Audio


For an intimate drama, Land's DTS-HD Master Audio 5.1 soundtrack makes good use of the surrounds beyond spread for the score and songs, giving an emotional edge to the presence of the natural world in the harshness of winter and the spring and summer idyll. Dialogue is always clear and there is Descriptive Video Service track as well as French and Spanish lossy DTS 5.1 dubs and optional English SDH, French, and Spanish subtitles.

Extras


Extras are rather skimpy, relegated to EPK-style short videos. In "Crafting Land" (5:07), Wright and the crew discuss the need to compress the story's timespan to two years and eight seasons since they only had a month to shoot, building a cabin set on location, and rearranging the schedule to take advantage of the changeable weather. In "Robin Wright: Feature Film Directorial Debut" (3:50), Wright discusses looking for projects after the end of House of Cards on which she had directed ten episodes, and in "After the Trauma" (3:19), Wright discusses her character coping with trauma, combined with some unused bits of scenes that offer a clearer picture than the film itself.

Overall


At worst, Land feels like Hallmark material; at best, it shows that Wright is as deserving of better material as a director as she has been as an actress.