The Film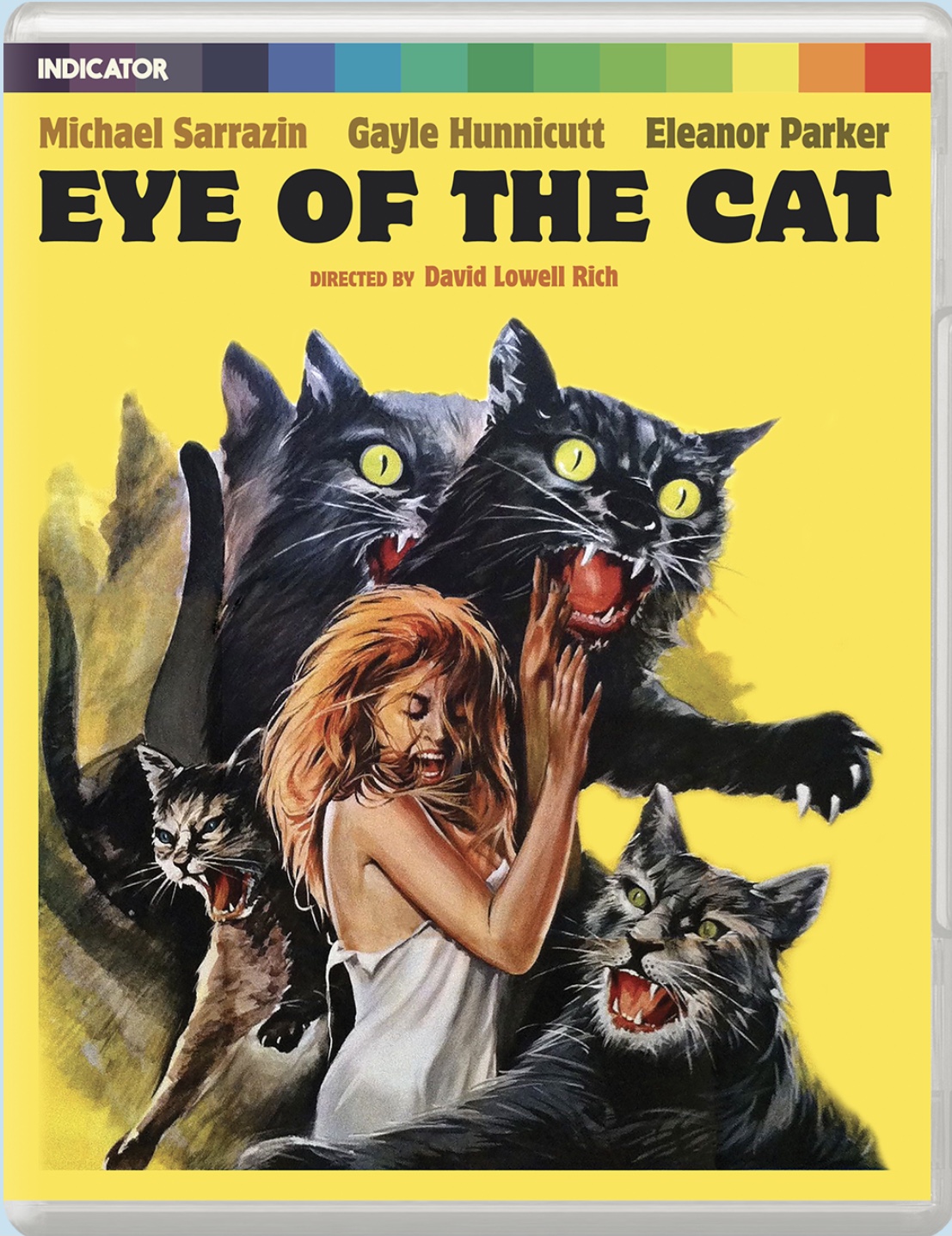 Penned by Psycho screenwriter Joseph Stefano and directed by film and TV movie veteran David Lowell Rich (The Horror at 37,000 Feet), Eye of the Cat is a skilfully crafted, San Francisco-set chiller starring Michael Sarrazin (They Shoot Horses, Don't They?) and Gayle Hunnicutt (Voices) as Wylie and Kassia – a couple whose scheme to rob wealthy, cat-loving Aunt Danny (Eleanor Parker, The Sound of Music) goes awry when Wyle's compulsive feline phobia comes up against the many cats defending Aunt Danny's mansion.

David Lowell Rich's film benefits from suspenseful cat-attack set-pieces, a menacing Lalo Schifrin (Dirty Harry) score, and a seductive sixties wardrobe courtesy of legendary costume designer Edith Head (Sweet Charity).

Video


Late sixties, medium budget Hollywood horror joins the ranks of cat-based horror films.

Two presentations of this generally forgotten little gem are on this lovely Powerhouse Films' Indicator release; the original, matted theatrical presentation in the 1.85:1 ratio and the TV version which is presented open matte; the film was shot soft matte, so little or no cropping.

Lets get the TV version out of the way right away: faded colours, crushed blacks, blown out highlights are the order of the day. Detail is compromised but overall this remains watchable enough if decidedly inferior. There's lots of little differences between the two and Powerhouse have let us view the full TV version or just watch the concise featurette that displays all the variations; I suggest the latter. The encode does what it can, with detail fudged, no grain at all and artefacts are rife. None of this has anything to do with the transfer or mastering and everything to do with Universal's ancient analogue, off the shelf master.

The main version in 1.85:1 is infinitely superior in every way. Colours are rich and warm ... and very late '60s, with healthy, if Californian, flesh tones; everyone looks tanned but that's just the way it always was! Primaries are vivid and well defined with no signs of bleed. Black levels are true black and there's no unintended crush; that is to say that there is the odd patch but it was always there from day one. Shadow detail, when it appears, is generally excellent. Contrast is typical of modern high-end transfers in that it's lowkey allowing detail, grain and textures to shine; even in brightly lit sequences such as daylight scenes etc.

There are moments where the standard practices of photochemical filmmaking compromise image such as optical effects and scene transitions. The opening credits with the cat graphic being a prime example; there's some baked in dirt and speckling and the image is softer. Around 62 minutes, the scene on the dockside just before the party, it would seem to have been dropped in from a lesser source or a different film stock was used. It could be down to lighting conditions or it could be a generation off the OCN; who knows. In any case it's brief.

The encode, as is always the case with every Powerhouse Films' Indicator release I've ever seen, is top drawer making the absolute most of the 1080p master provided by the licenser. Grain is ever present, usually fine but courser during opticals and some exteriors or darker interiors. Only a full-blown 4K presentation on UHD BD with the HEVC codec and HDR is going to make a sizeable improvement. This disc and presentation therein make the most of the master used.

1080/24p / AVC MPEG-4 / BD50 / 1.85:1, 1.33:1 / 101:33, 101:57

Audio


English LPCM 1.0 (theatrical cut)
English Dolby Digital 1.0 (TV cut)
Subtitles: English HoH

The uncompressed LPCM track has all the usual strengths and weaknesses of such tracks but is nonetheless a fairly robust track. It lacks the range and depth of a stereophonic presentation, obviously. Dialogue is always crisp and clear, the score always florid and robust but never hindering clarity. Occasionally I thought the score kicked in the subwoofer with a little LFE action (Hunnicut's sports ar mainly).

The lossy Dolby Digital mono track on the TV version has hiss and other mild issues typical of old analogue masters but is generally clear and free of major distortions. I did find that some crackle did show up in louder sounds (the car again) and if I cranked the volume up. It's perhaps a more brittle presentation when compared to the uncompressed restored version.

Subtitles for the hearing impaired are there on both versions for those who need them.

Extras


Audio commentary on the theatrical cut by Kevin Lyons (2021)

The always reliable Lyons is a fine guide to the film in a personable, literate and knowledgable track that brings lots of contextual added value. Lossy Dolby Digital 2.0 stereo. Plenty of info about the film, the cast and crew, onscreen nudity etc.

"Two Evil Eyes: A Comparison Between the Theatrical Cut and US TV Version of Eye of the Cat" 2021 featurette (37:30)
"Pussies Galore: Kim Newman on Eye of the Cat and Feline Horror" 2021 featurette (20:31)

Two new pieces to aid enjoyment of this fine film. The first is essential and preferable to watching the lesser quality TV edit in toto showing us all the variations between the two in a concise, expertly crafted 38 minutes. The other is Maestro Newman who always puts whatever film he's introducing in context within it's genre, era and within the filmographies of those involved. Both are 1080/24p 1.78:1 and with lossy Dolby Digital 2.0 stereo tracks.

Theatrical Trailer (2:08)
Radio Spot (1:02)

Vintage promo pieces; the trailer is presented in 1.33:1 pillarboxed 1080/24p and the radio spot with a black screen. Both have LPCM 1.0 sound.

Eye of the Cat Image Gallery: Original Promotional Material (69 images)

Very solid HD gallery; plenty of interest here.

36-page liner notes booklet by Kasandra O'Connell, extracts from the original pressbook, an archival interview with Gayle Hunnicutt, an overview of contemporary critical responses, and film credits

Another more than solid hard copy companion to the film; always absorbing and bringing lots of conte t to the film under discussion.

Packaging


Standard clear BD Keepcase.

Overall


A largely forgotten but very effective little slab of late '60s studio horror gets the deluxe treatment from Powerhouse Films. I age and sound are strong, extras are choice. A no brainer for fans of horror.
| | | | | |
| --- | --- | --- | --- | --- |
| The Film: B- | Video: A | Audio: A- | Extras: A | |