Invincible (Blu-ray) [Blu-ray]
Blu-ray ALL - United Kingdom - Powerhouse Films
Review written by and copyright: Rick Curzon (29th June 2021).
The Film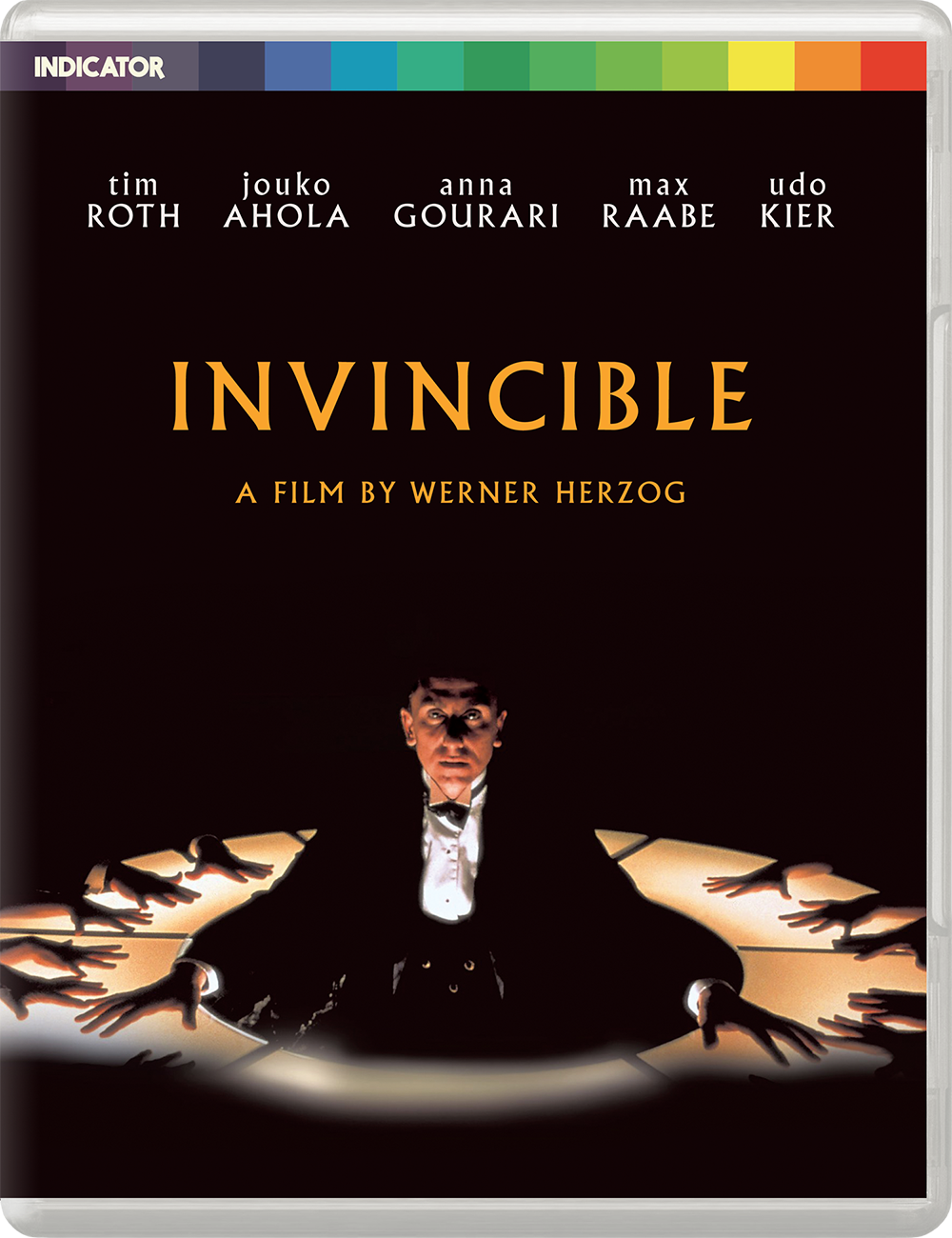 Invincible was the first dramatic work by Werner Herzog in a decade. He assembled a typically eclectic cast – including Tim Roth (Meantime), Udo Kier (Exposé) and two-time World's Strongest Man Jouko Ahola – and blended the lives of three equally eclectic real-life figures – Jewish strongman Zishe Breitbart, Austrian clairvoyant Erik Jan Hanussen, and German chief of police Count Wolf-Heinrich von Helldorff – to blend fact and fiction in his typically idiosyncratic way. This Indicator Blu-ray edition presents the film in a new 2K restoration with both its English and German soundtracks.

Video


Shot on 35mm film and framed in the matted ratio of 1.85:1, Werner Herzog's period drama gets the deluxe treatment from Powerhouse Films in the UK as part of their beloved Indicator series. One of those meat 'n' potatoes releases that came out but didn't mk m o an impact and has largely been forgotten; I hadn't ever come across it, at least not that I recall.

This has a well defined colour palette throughout with interiors being warm and richly coloured; primaries are very strong and flesh tones are natural and range from pale to warm according to the setting. Checkout the vividly coloured sequence involving thousands of red crabs around the 80 minute mark; plenty of fine detail and red just kicks off the screen lending the image a 3D quality as the little creatures crawl over some rocks.

Black levels are exceptionally strong with deep, dark genuine blacks and plenty of shadow detail. In fact detail is exceptional throughout the film with the usual culprits benefitting (skin and fabrics); foregrounds, backgrounds and all in between benefit. I'm sure that this is a major boost on the old DVD editions. Contrast is strong allowing for a full range of colours and dark-light ratio to come o the fore. No crush, no blowouts.

This is a Film Four film and I've found over the years that their masters are exceptional with this well in line with that. Eye candy through and through and one of the best-looking discs I've seen this year.

1080/24p / AVC MPEG-4 / BD50 / 1.85:1 / 132:57

Audio


English DTS-HD Master Audio 5.1
English LPCM 2.0 Surround
German DTS-HD Master Audio 5.1
Subtitles: English HoH (English versions), English (German version)

The film a shot with production sound English so I doubt anyone will bother with the German tracks but the dubbing isn't the worst I've seen but most buyers will not even consider them. In any case they're as strong as the superb quality English tracks.

These are state of the art modern soundtracks. The 5.1 has the full gamut of range and depth and although this isn't in the same league as a contemporaneous Bond film soundtrack the film's aims and very different to something on that scale. Dialogue is crisp and clear, scoring supportive and mainly relegated to the surround channels. Separations are exceptional with ambiance moving appropriately around the sound stage according to camera movement.

The 2.0 LPCM uncompressed tracks have been encoded for surround without having to engage ProLogic II or similar. Obviously, these are not as robust lacking the range and warmth, especially when one toggles between them but they're no slouch for those listening via a sound bar or other kind of 2.0 system. Obviously stick to the 5.1 English track whenever possible as it gets top marks.

The usual superb Powerhouse subtitle choices are here; English for the German tracks and English or the hearing impaired for preferred English tracks.

Extras


Audio commentary with writer-director Werner Herzog (in German with optional, newly translated English subtitles) (2002)

Vintage commentary from the 2002 DVD releases is in lossy German Dolby Digital 2.0 stereo with newly created, excellent English subtitle tracks.

"The Road to Invincible: An Interview with Peter Zeitlinger " 2021 interview (26:22)

A newly created interview piece with the film's Czech cinematographer is presented rather oddly in monochrome (and 1.85:1 when extras are usually 1.78:1) with scenes from the film in colour. 1080/24p 1.85:1 and in lossy English Dolby Digital 2.0 stereo.

"Peter Zeitlinger, Director of Photography on Invincible, Directed by Werner Herzog" 2001 interview (12:55)

Vintage piece taken from the old 2002 DVD is upscaled 1.33:1 presented in pillar-boxed 1080/24p. Sound is lossy English 2.0 stereo with some burned in English subtitles.

2001 Location Footage (2:52)

Some brief footage shot on the locations that is in 1.33:1 and has been upscaled to pillar-boxed 1080/24p. Sound is once again lossy English Dolby Digital 2.0 stereo but there's no actually dialogue.

Peter Zeitlinger Early Short Films:
- "Katharina Blum" (1978) (SD) (1:56)
- "Experiment Rayner's Garden" (1978) (SD) (1:57)
- "Birthday" (1979) (SD) (7:41)

Cinematographer Zeitlinger's very brief early shorts presented in standard definition 1.33:1 with lossy musical Dolby Digital 2.0 mono soundtracks.

UK Theatrical Trailer (2:16)
German Theatrical Trailer (2:10)
US Theatrical Trailer (2:12)

The UK and US trailers are presented in pristine 1.85:1 whereas the German trailer is rather soft 1.78:1. All are 1080/24p but I suspect the German trailer is upscaled (with optional English subtitles). Sound on all three is lossy Dolby Digital 2.0 stereo.

Invincible Image Gallery: Original Promotional Material (67 images)

Fine HD gallery.

36-page booklet with a new essay by Jason Wood, Werner Herzog on Invincible, an archival interview with actor Tim Roth, an account of the life and career of strongman Siegmund Breitbart, an overview of contemporary critical responses, Peter Zeitlinger on his early short films and film credits

Another superb hardcopy booklet; no one does these better than Powerhouse Films.

Packaging


Standard, clear BD Keepcase.

Overall


A largely obscure Werner Herzog film gets the deluxe treatment from Powerhouse Films. The master used is a typically excellent one from Film Four with topnotch image and sound (the latter in four different flavours, all strong). Extras are ported over from the old DVDs and add some new stuff. A very strong package for fans and highly recommended.
| | | | | |
| --- | --- | --- | --- | --- |
| The Film: B- | Video: A+ | Audio: A+ | Extras: A | Overall: A |

---
Rewind DVDCompare is a participant in the Amazon Services LLC Associates Program and the Amazon Europe S.a.r.l. Associates Programme, an affiliate advertising program designed to provide a means for sites to earn advertising fees by advertising and linking to amazon.co.uk, amazon.com, amazon.ca, amazon.fr, amazon.de, amazon.it and amazon.es . As an Amazon Associate, we earn from qualifying purchases.