Day of the Dolphin (The) (Blu-ray) [Blu-ray]
Blu-ray B - United Kingdom - Powerhouse Films
Review written by and copyright: Rick Curzon (29th June 2021).
The Film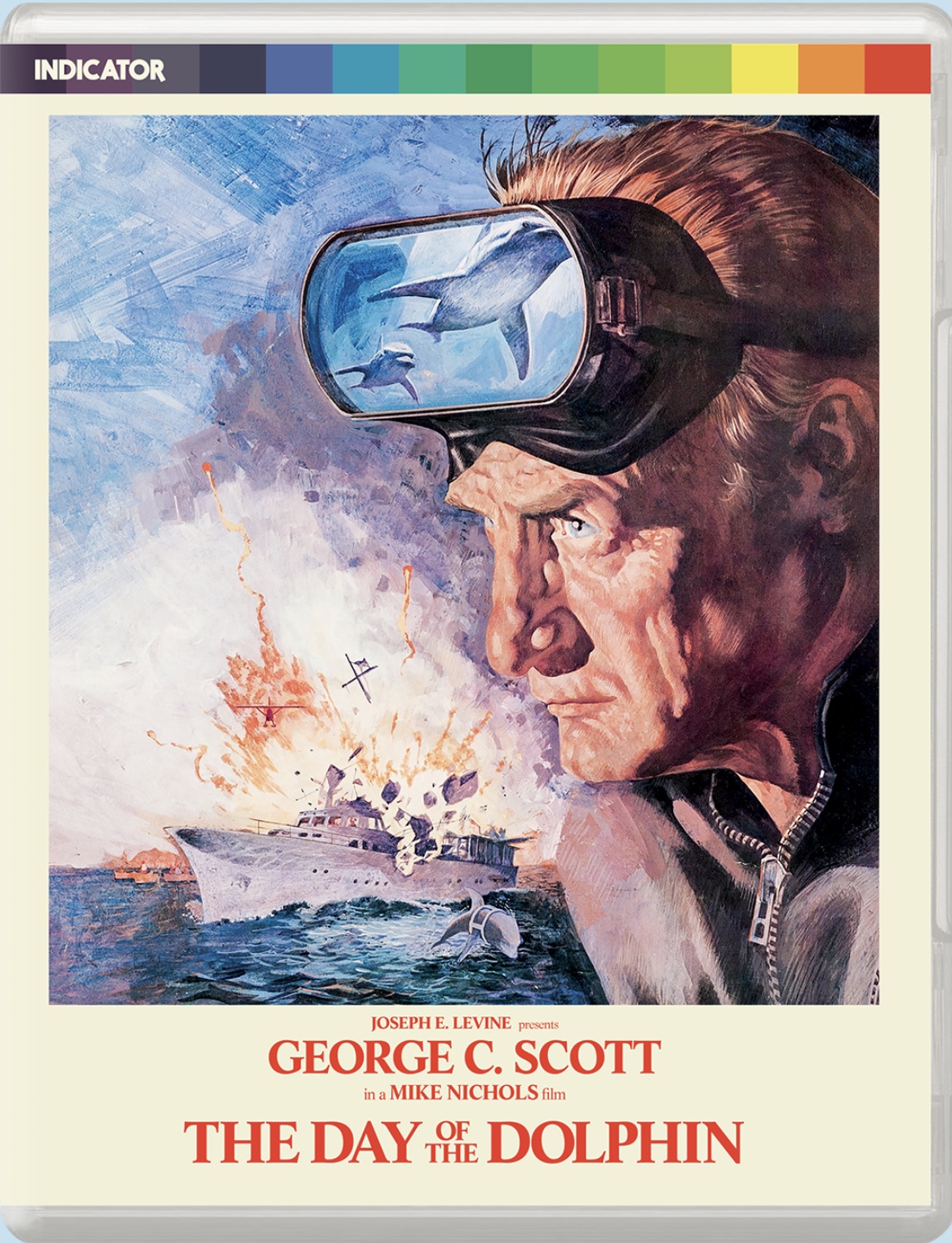 The third and final collaboration between director Mike Nichols and screenwriter Buck Henry, following The Graduate and Catch-22, The Day of the Dolphin, is a true one-off. A science-fiction thriller filmed in the Bahamas, and adapted from Robert Merle's best-selling novel, the film concerns a scientist (George C Scott, Hardcore) who is teaching dolphins to speak but finds himself embroiled in a shadowy government plot to assassinate the US president.

Video


Unusual misfire from celebrated director Micke Nichols gets the deluxe treatment from Powerhouse Films. This is an unusual science fiction thriller about communication betwixt humans and dolphins and how the this is being exploited for political ends.

Shot in 35mm anamorphic Panavision in the 2.4:1 aspect ratio; Panavision had converted to 2.4:1 in 1971 from 2.35:1. Shot in Technicolor this is a vividly shot film with a warm, naturalistic colour palette. Flesh tones have a natural range according to indivisuals and primaries are strong when they appear. It's a fairly straightforward unbiased palette in which I thought I could not detect any push towards any particular colour.

Black levels and contrast are both excellent working in concert to give the image real depth with no crush, no blowouts. Detail is exceptional except when optical process shots are involved during scene changes or credits. Being an anamorphically shot film there is some mild bowing distortion at the extreme left and right of the image but this is normal and has always been there. A strong presentation that is he equal of the 2020 Kino disc from the US and uses the same restoration; dual layered disc, maxed out bitrate. It blows the 2003 DVDs out of the water in every single aspect you could care to mention.

A strong presentation; top marks.

1080/24p / AVC MPEG-4 / BD50 / 2.4:1 / 105:01

Audio


English DTS-HD Master Audio 3.0 Stereo
English LPCM 2.0 Surround
Subtitles: English HoH

Made in 4-track stereo that has been carried over in the form of the 3.0 track here. It's an honest stereo track that remains firmly front centric even if the user pumps it through their amp with HD-D.C.S. (Studio) or similar activated which would usually channel some activity to the surround channels. I watched the film with the LPCM 2.0 surround option which made good use of the rear channels although limited to ambiance and some score. It's still a mainly front based track. Dialogue is always clear and I heard no distortions; it's been well restored with no signs of pops, clicks or other age-related issues. When the volume is increased it does sound a little hollow no matter which option is selected. Base isn't the best but this isn't a track designed to knock one's socks off with ambiance et al.

The usual excellent subtitles for the hearing impaired have been inclluded.

Extras


2021 selected scenes commentary with academic and film historian Sheldon Hall (32:40)

What we have here is one of those odd cut-down commentaries that focus on some scenes only and not the whole film. Never quite sure why this is done but Hall knows his stuff and it's worth a look; he wrote a superb book a while back about Zulu so an historian to be reckoned with. Lossy Dolby Digital 2.0 stereo.

"Days of My Life: Jon Korkes Remembers The Day of the Dolphin" 2021 interview (43:46)
"Moon Over the Bahamas: Michael Haley on The Day of the Dolphin" 2021 featurette (39:24)

Two chunky in-depth interviews produced specifically for this release, one being an actor and one being an assistant director; lots of insider info on the film as one would expect as well as plenty of information on the careers and work of the two men interviewed. 1080/24p 1.78:1 with lossy Dolby Digital 2.0 stereo.

2003 interview with Buck Henry (12:20)
2003 interview with Leslie Charleson (6:48)
2003 interview with Edward Herrmann (13:07)

Vintages pieces ported over from the 2003 DVD releases; two of the subjects - Henry and Hermann - are no longer with us so these are very valuable. Presented in standard definition 1.33:1 with a very oversaturated and hot colour palette. Sound is lossy Dolby Digital 2.0 stereo.

Theatrical Trailer (3:09)
Trailers from Hell with Larry Karaszewski: The Day of the Dolphin (2016) (3:43)
TV Spot (0:31)
Radio Spots:
- Radio Spot #1 (0:26)
- Radio Spot #2 (0:27)
- Radio Spot #3 (0:33)

Vintage promo pieces with the theatrical trailer presented cropped to 1.85:1 and the TV spot in panned and scanned 1.33:1; the Trailers from Hell is in 1.78:1 for the new material and the trailer itself 1.85:1; all are 1080/24p with lossy Dolby Digital 2.0 stereo.

The Day of the Dolphin Image Gallery: Original Promotional Material (65 images)

A substantial HD gallery.

36-page booklet with a new essay by Neil Sinyard, extracts from interviews with director Mike Nichols and producer Joseph E Levine, an archival interview with actor Trish Van Devere, an extract from the Robert Merle novel, an overview of contemporary critical responses, and film credits

The usual, excellent chunky hardcopy accompaniment.

Packaging


Standard, clear BD Keepcase.

Overall


An unusual film, largely forgotten and generally not held in high regard at the time of release but it's been reassessed higher since but still bery much a cult item. Extras are very good if not as comprehensive as other Powerhouse releases.
| | | | | |
| --- | --- | --- | --- | --- |
| The Film: B- | Video: A+ | Audio: A- | Extras: B+ | Overall: B+ |

---
Rewind DVDCompare is a participant in the Amazon Services LLC Associates Program and the Amazon Europe S.a.r.l. Associates Programme, an affiliate advertising program designed to provide a means for sites to earn advertising fees by advertising and linking to amazon.co.uk, amazon.com, amazon.ca, amazon.fr, amazon.de, amazon.it and amazon.es . As an Amazon Associate, we earn from qualifying purchases.