Big Fix (The) (Blu-ray) [Blu-ray]
Blu-ray B - United Kingdom - Powerhouse Films
Review written by and copyright: Rick Curzon (29th June 2021).
The Film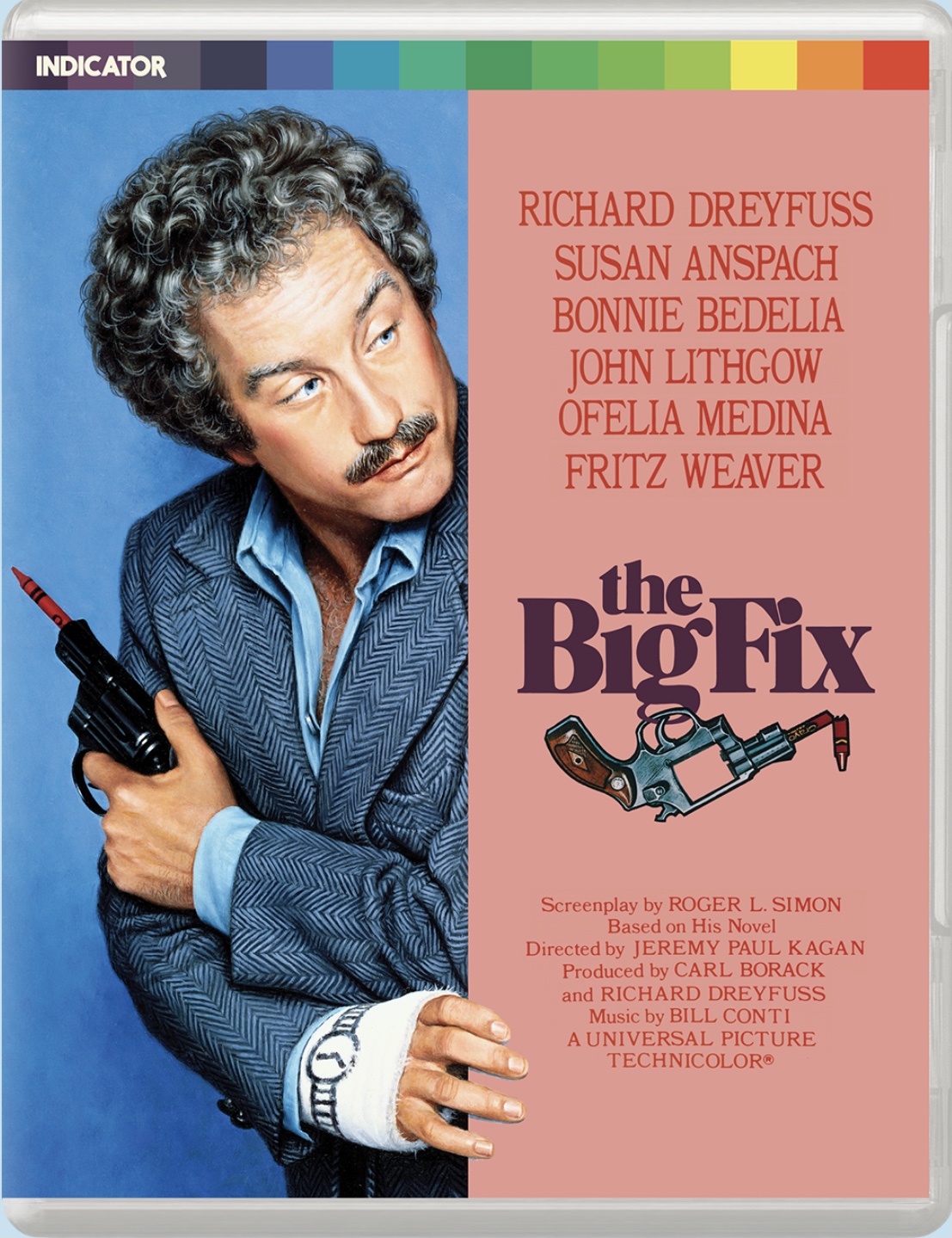 Richard Dreyfuss, riding high on the success of Close Encounters of the Third Kind and The Goodbye Girl (for which he won an Oscar), produced and starred in this quirky 1978 comedy-thriller, adapted from Roger L Simon's cult novel. Playing Moses Wine, a sixties' radical-turned-private eye, Dreyfuss is ably supported by a wealth of soon-to-be-famous co-stars, including Bonnie Bedelia, John Lithgow and F Murray Abraham.

Video


The quintessential example of what I call a "meat 'n' potatoes" movie. That is to say, a film that came out to little fanfare, was largely ignored by the public and had a mixed critical reception. Even mow it remains largely overlooked despite being a rather superb little character-driven neo-noir albeit with a lightness of touch; this has some very dark moments but Dreyfus' character Moses Wine is such a loveable, upbeat individual that he infects the entire film despite scenes of murder, violence, torture and corruption.

Based on the 1973 novel of the same name by Roger L. Simon who also adapts his book as the screenwriter turning in a great script. A topnotch thriller with first-rate performances and a great star vehicle for Dreyfus who is as good as he's ever been here. The supporting cast are all very recognisable with F. Murray Abraham in a funny turn as the lynchpin to the plot; a former '60s radical who has gone into hiding.

A very colourful film with healthy colour values throughout. Flesh tones are natural but warm and primaries kick out when they make an appearance; especially coloured gel lighting on some interiors. Detail is exceptional across the board and on all focal planes. By all reports this is a step up on the US disc from Twilight Time which was no slouch but the bods at Powerhouse Films have taken the same excellent Universal HD master and got a more out of it.

Black levels are very deep and dark with absolutely no signs of unintended crush that I could detect. Contrast works in concert with the black levels to ensure that detail is well maintained with no blown out highlights. This is a fairly darkly shot film with much of the action taking place either at night or in interiors but it feels brighter and luminous; a testament to Frank Stanley's wonderful cinematography. Being shot photochemically on 35mm film and presented in the soft matte ratio of 1.85:1 this is a very filmic transfer with plentiful gain throughout which has been expertly handled by the encode. I could see not a blemish or any other signs of age-related wear and tear and no signs of digital jiggery-pokery.

As good a transfer presented by Powerhouse Films as we've seen.

1080/24p / AVC MPEG-4 / BD50 / 1.85:1 / 107:50

Audio


English LPCM 1.0
Subtitles: English HoH

A pretty standard mono track for a modestly budgeted studio film from 1978; covers all the bases nicely with no distortions even when played at a high volume. Dialogue is always of prime importance and is always clear. I though I heard the odd burr on sibilants but on checking it was nothing. Bill Conti's excellent, song-heavy, jazzy score is supportive and never interferes. Action scenes have some punch but ultimately this is a track limited by it's technology but it manages to carry enough punch when it needs to. It's not tinny in any way and sounds solid and robust. About as good a mono track as it's possible to have.

Subtitles for the hearing impaired are exceptional and cover all dialogue.

Extras


Audio commentary by David Jenkins (2021)

Newly recorded track specifically for this release from the editor of Little White Lies magazine; I had not heard of Jenkins prior to listening to this but had read issues of his magazine down the years. Lots of great information about the film, it's literary source and all key creatives. Presented on the disc in lossy Dolby Digital 2.0 mono.

"The Big Self: Jeremy Paul Kagan on The Big Fix" 2021 interview (22:36)
"The Crime in Mind: Roger L Simon on The Big Fix" 2021 interview (7:41)

Two new featurettes; one focuses on the director and the other on the author and screenwriter. Both have plenty of interest with the Kagan piece being more in detail an covering his career. The later focuses on the writing process of Simon, how he got into the business and the film itself. Both are in 1080/24p 1.78:1 with lossy Dolby Digital 2.0 stereo and no subtitles, alas.

Archival TV Interviews (1978):
- Richard Dreyfus (5:16)
- Jeremy Paul Kagan, Roger L. Simon and Carl Corack (6:49)

Vintage interviews conducted by Bobbie Wygant with tons of interest to be had; there's an honesty in these interviews the we don't quite get these days ... or perhaps it's that the participants are less polished and on message than they would be today. Refreshing. Upscaled standard definition 1.33:1 presented in 1080/24p with lossy Dolby Digital 2.0 mono; sadly, no subtitles.

Theatrical Trailer (3:01)
TV Spot (0:31)
Radio Spots (1:36):
- Radio Spot #1 (1:03)
- Radio Spot #2 (0:33)

Vintage promo pieces presented in 1080/24p that play up the "lover not a fighter" aspects of it's lead character and make the film look lighter and breezier than it actually is. Lossy Dolby Digital 2.0 mono sound.

Image Galleries:
- The Big Fix Image Gallery Original Promotional Material (38 images)
- The Big Fix Image Gallery Behind the Scenes Images & Storyboards (29 images)

Terrific HD collection of images.

32-page booklet with a new essay by Andrew Nette, an introduction by Richard Dreyfuss, archival interviews with Jeremy Paul Kagan and costume designer Edith Head, an overview of critical responses, and film credits

Anyone who has bought any of these Indicator releases will know what to expect

Packaging


Standard clear BD Keepcase.

Overall


A cracking little film that has fallen by the wayside over the last 43 years that deserves to be more widely revived and seen gets the deluxe treatment from Powerhouse Films as part of their Indicator range. Image and sound are as good as can be and the extras provide great value. Speaking personally, one of the discs of the year even if it isn't a showy release. I want more of these minor, lesser known "meat 'n' potatoes" films to see the light of day.
| | | | | |
| --- | --- | --- | --- | --- |
| The Film: A- | Video: A+ | Audio: A+ | Extras: A | Overall: A |

---
Rewind DVDCompare is a participant in the Amazon Services LLC Associates Program and the Amazon Europe S.a.r.l. Associates Programme, an affiliate advertising program designed to provide a means for sites to earn advertising fees by advertising and linking to amazon.co.uk, amazon.com, amazon.ca, amazon.fr, amazon.de, amazon.it and amazon.es . As an Amazon Associate, we earn from qualifying purchases.