Father (The) (Blu-ray) [Blu-ray]
Blu-ray B - United Kingdom - Lions Gate Home Entertainment
Review written by and copyright: Rick Curzon (30th July 2021).
The Film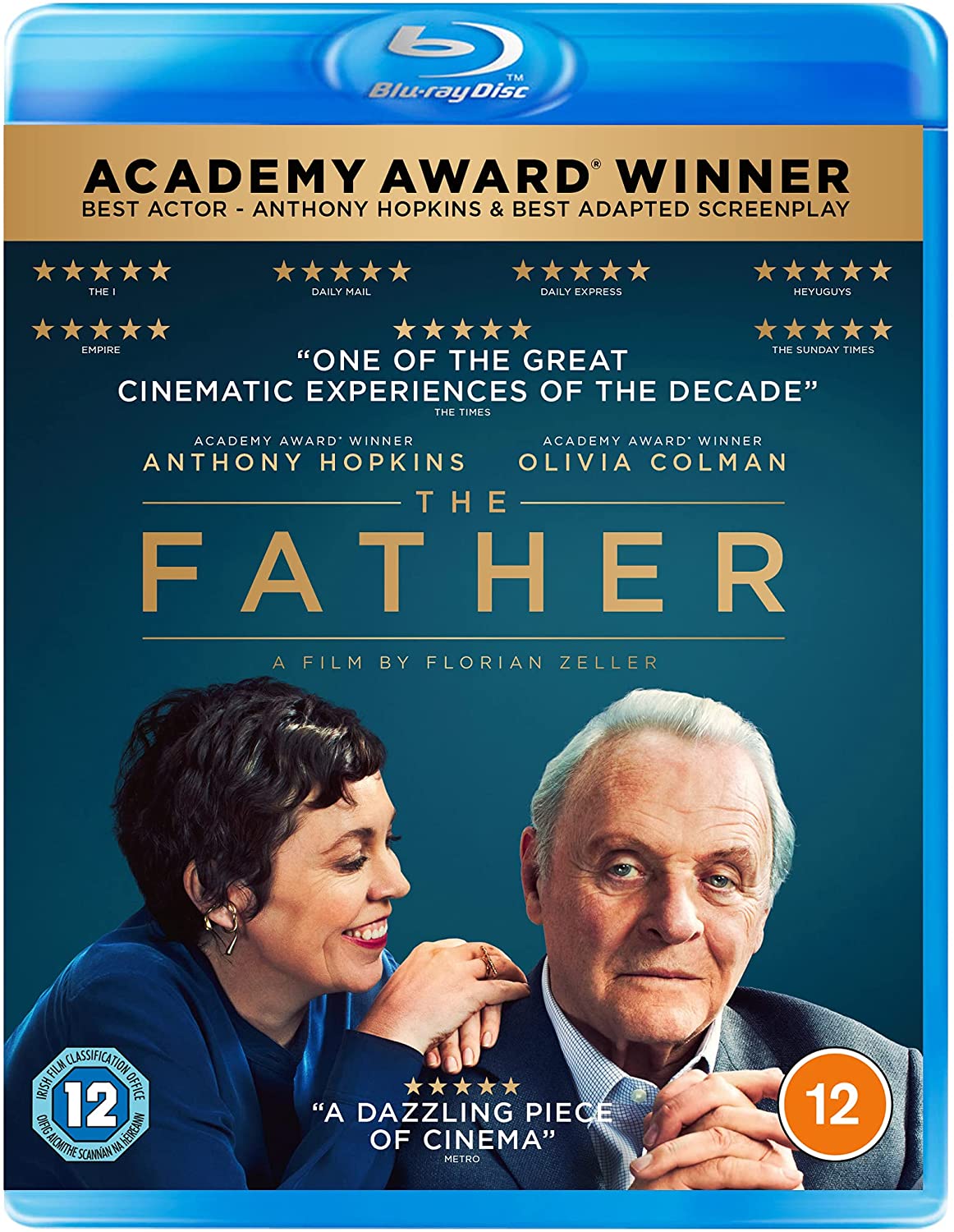 In an Academy Award(r) winning performance, Anthony Hopkins plays the eponymous role of a mischievious and highly independent man who, as he ages, refuses all assistance from his daughter Anne (Olivia Colman). Yet such help has become essential following Anne's decision to move to Paris with her partner. As Anne's father tries to make sense of his changing circumstances, he begins to doubt his loved ones, his own mind and even the fabric of his reality.

Video


Heavyweight, critically acclaimed drama is a UK-France co-production starring Oscar darlings Anthony Hopkins and Olivia Coleman; it currently has 98% on Rotten Tomatoes.

French writer-director Florian Zeller worked with writer Christopher Hampton on a screenplay of Zellar's 2014 play Le Père. Easily one of the most acclaimed films of the year. A mind-bending tale of Alzeimer's told from the point of view of the sufferer with lots of warping of reality from the poor sod's personal perspective.

We're in grim drama territory so the image reflects that.

First the tech specs: The Father was shot (from IMDB) using Sony CineAlta Venice, Zeiss Supreme Prime and Compact Zoom Lenses and the negative format is AXS-R7. The cinematographic process being the creation of a Digital Intermediate (4K) (master format) / X-OCN ST (6K) (source format) and the projection format being a D-Cinema DCP Digital Cinema Package. It's obviously been given a very heavy digital regrade and being a grim film everything is muted.

The encode is strong and the AVC codec has been used to compress the film onto a BD50 (dual-layered) so it has a maxed out bitrate allowing the relatively short film to breathe; as good as we can expect it to be given the choices made during production. Being a digital production, grain is minimal but little there is filmic. Obviously there's not print damage and no signs of digital manipulation in the transfer to disc.

Colour values are heavy on browns, blacks and grays. Bright colours are rare - a character wears an orange top at one point - but even those are fairly subdued. It's not a very interesting visual experience by design. Black levels and contrast are very supportive of fine detail however, shadow detail is strong and there are no blowouts in the highlights; again, a fairly subdued visual experience.

In any case, the visual presentation is as good as we can expect shy of an UHD BD 4K release; top marks.

1080/24p / AVC MPEG-4 / BD50 / 2.4:1 / 97:17

Audio


English DTS-HD Master Audio 5.1
English Audio Description DTS-HD Master Audio 2.0 Stereo
Subtitles: English HoH

This isn't the kind of film to have a bombastic soundtrack so temper expectations.

Surround activity is left primarily to score and ambiance, there's absolutely no distortion even when played at very loud volume; so top marks on that front. It is still a very front-centric lossless sound experience as one would expect for a heavyweight dramatic experience derived from a stage play. Dialogue is (to paraphrase Shakespeare) the thing wherein I'll catch the conscience of the king and it's always clear and to the fore.

As with the image the 5.1 audio is as good as can be reflecting the deliberately subdued production choices; top marks.

Also provided is a lossless English audio description track in 2.0 stereo. When played via a 5.1 amp straight / direct it's entirely in the front, however surround activity is present when played via ProLogic II (or similar); as with the main 5.1 track it's a muted surround experience with the dialogue and audio descriptive narration firmly in the front. There's very little LFE and my subwoofer was rarely - if ever - engaged.

Subtitles for the hearing impaired are excellent and welcome.

Extras


"The Father: A Conversation About the Father with Florian Zeller, Anthony Hopkins and Olivia Colman Moderated by Elsa Keslassy (Variety)" 2021 interview (29:55)

One of the new wave of "virtual interviews" that we're increasingly seeing due to the COVID pandemic with everyone on Teams (or similar) so although the image is HD (1080i50) it may as well be standard definition as the images are soft and lacking in fine detail ... at all. Images are set in panels within the main 1.78:1 frame even when only one person is onscreen. Everything is set with a tan image with the film's title at the top of the screen. Plenty of detail about the film is provided but obviously it's all EPK stuff.

Sound is variable as well sounding watery and odd, but if you've seen ay of these kind of extras you'll know what I mean; it's muted, tinny with at times a slightly distorted underwater quality. Unavoidable I guess until the technology used to record the image and sound improves. Sound is English DTS-HD Master Audio 2.0 Stereo (although effectively mono).

Deleted Scenes (1080/24p) (5:51):
- I Never Asked You for Anything (2:01)
- Did He Hear? (2:17)
- Frightened (1:33)

Three decent little scenes that could easily have been included in the film proper but aren't essential as they just reinforce what we know anyway. Presented in 1080/24p 2.4:1 with lossless DTS-HD Master Audio 2.0 stereo sound albeit with no surround activity or any sense of directionality even when channelled through ProLogic II (or similar).

Packaging


A standard, blue BD Keepcase.

Overall


The recent Oscar-winning success has been given a very strong audio-visual presentation on BD in the UK via Lionsgate's excellent release; image and sound are as good as can be given the muted production choices made so top marks. They're not going to be bettered unless a 4K disc comes along. Extras are adequate but culled from EPK sources. The deleted scenes are the same as to be found on the US Sony BD release, but the featurettes to be found on that release are absent, replaced by a substantial and informative French-premiere interview session with key creatives and cast.

Recommended.
| | | | | |
| --- | --- | --- | --- | --- |
| The Film: A | Video: A+ | Audio: A+ | Extras: C- | Overall: B+ |

---
Rewind DVDCompare is a participant in the Amazon Services LLC Associates Program and the Amazon Europe S.a.r.l. Associates Programme, an affiliate advertising program designed to provide a means for sites to earn advertising fees by advertising and linking to amazon.co.uk, amazon.com, amazon.ca, amazon.fr, amazon.de, amazon.it and amazon.es . As an Amazon Associate, we earn from qualifying purchases.