The Film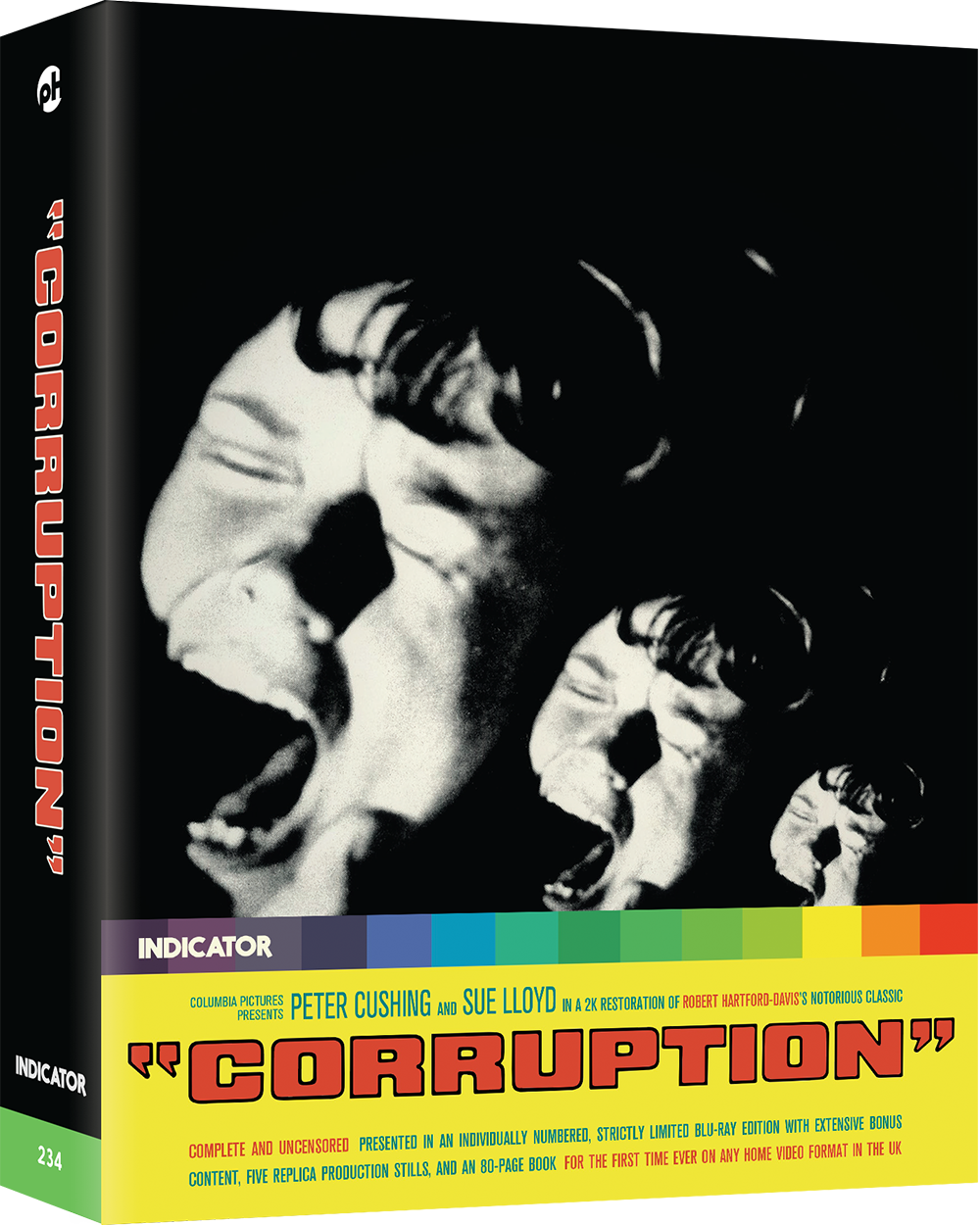 In the 1960s, director Robert Hartford-Davis (The Black Torment, The Fiend) teamed up with producer / cameraman Peter Newbrook (The Asphyx) to make a series of low-budget films capitalising on the cinematic crazes of the day. In 1968, the duo stridently ventured into the surgical horror subgenre with Corruption, a grim update of Eyes Without a Face, transposed into the scenic south-coast seaside town of Seaford, via Swinging Sixties London.

In a surprising performance, Peter Cushing (Captain Clegg, The Revenge of Frankenstein) stars as a high-class plastic surgeon who is driven to murder as part of a demented quest to rebuild the decaying visage of his fashion model wife (Sue Lloyd, The Ipcress File), who has been severely scarred at a party.

A film that pushed the envelope of gore and sleaze in its era, Corruption is presented on home video for the first time in the UK.

Video


One of Peter Cushing's lesser films get the deluxe treatment from Powerhouse Films in the UK.

Corruption is a trashy, sleazy, nasty and very silly cash-in on the then popular strand of surgical horrors begat by Georges Franju's classic Eyes Without a Face (1959). It feels more like a contemporaneous Jess Franco film and indeed Franco had done The Awful Dr. Orloff (1962) which itself cashed-in on the Franju flick. Filmed in July 1967, the month of my birth and in the summer of love!

The cast are all great with Cushing doing his usual excellent turn but it's a very cynical exploitation film especially in the continental version which has a nastier, gorier, nude version of the scene in which Cushing visits and kills a prostitute. A scene worthy of the early '80s video nasties in it's willingness to go all-out to shock and gross-out. I wasn't keen on director Robert Hartford-Davis' use of fisheye lens in intense moments and fights and the script by sexploitation veterans Derek and Donald Ford isn't up to much.

Essentially there are two versions here but the UK edit adds the British Board of Film Classification card at the beginning of the film; the same edit as the US cut.

The film is vividly shot in that late '60s way with strong colour values, vivid reds (Cushing's shirt at one point) deep black shadows and some vivid moments of contrast, especially the gloriously well-shit daylight exteriors. It looks fabulous in any version selected and I watched the US cut with commentary and the continental edit with the film soundtrack for this review. Detail is excellent, there's plenty of filmic grain expertly encoded by the dab hand of David Mackenzie and Fidelity in Motion. The master is the same one used for the US Grindhouse disc and it's been given a superior encode and presentation; Sony's superb master being the source.

Fans will be happy as this is a topnotch presentation; 'A+'.

1080/24p / AVC MPEG-4 / BD50 / 1.85:1 / 91:31, 91:20, 90:36

Audio


English LPCM 1.0
Subtitles: English HoH

A strong presentation of a loud mono track typical of the period with limited range and a mildly hollow, tinny quality when played at a loud volume. It's presented here in a form as good as it's possible to be but this is a very low budget film and probably a notch or two below in production capabilities to a contemporaneous Hammer or Amicus film. The track is generally very clear with dialogue front and centre and Bill McGuffie's gets a good workout.

The usual excellent hearing impaired subtitles are included.

Extras


Audio commentary with David Miller and Jonathan Rigby (can be played on the US theatrical cut and on the continental version) (2013)

An excellent legacy track culled from the 2013 Grindhouse BD release. Miller is the author of The Peter Cushing Companion (2002) which has many reissues under different titles over the years and Rigby is an old hand having authored many books on horror cinema; both have also done many commentaries down the years. Presented in lossy Dolby Digital 2.0 mono. The commentary varies depending on which version you select; they recorded separate sections that play seamlessly with either version.

Isolated Music and Effects Track in DTS-HD Master Audio 1.0

Bill McGuffie's strident score isolated; what it says on the tin. To my mind, the kind of score that plays better when listened to in isolation than with the film.

"The Guardian Interview with Peter Cushing: Conducted by David Castell at the National Film Theatre, London on 25 March 1986" plays as an alternate audio track over the UK cut (71:35)

Cushing was one of the great raconteurs of genre cinema and always gave good value when being interviewed and this track is utterly priceless as Cushing left us in 1994. Presented in lossy Dolby Digital 2.0 mono. It's a dated recording that has some mild distortions here and there but is always very listenable.

"The British Entertainment History Project (BEHP) Interview with Peter Newbrook: Excerpted from interviews conducted by Alan Lawson and Roy Fowler on 20 February 1985, 17 April 1995 and 15 May 1995" plays as an alternate audio track over the US cut of the film (91:20)

Another invaluable track preserving yet another nugget of British cinema history; packed with information and trivia and a priceless record of the late Brook and his career; he died in 2009. Presented in lossy Dolby Digital 2.0 mono and much higher quality track when compared to the Cushing one.

Cast Interviews:
- "The Reluctant Beatnik: Phillip Manikum on Corruption" 2021 interview (14:37)
- "What Happened to Wendy Varnals?: Wendy Varnals April 18 2013" 2013 interview (16:09)
- "Billy Murray June 6 2012" 2012 interview (13:38)
- "Jan Waters June 19 2012" 2012 interview (9:08)

One new interview and three legacy featurettes from the US BD release; all are filled with interest for fans. Presented in 1080/24p 1.78:1 with lossy Dolby Digital 2.0 stereo sound.

"Stephen Laws Introduces Corruption" 2021 introduction (7:02)

Whenever Laws does an introduction it's always THE first extra I go to and always before I even watch the film; I could watch Laws introduce every film ever made and he would make me interested in seeing them all. Need I say more. Presented in 1080/24p 1.78:1 with lossy Dolby Digital 2.0 stereo.

Laser Killer Opening Titles (2:42)

Awful quality titles taken from a French VHS release; cropped to 1.33:1 with plenty of black crush, faded colour, hissy sound and burnt in French subtitles. Upscaled standard definition presented pillarboxed in the 1.78:1 frame at 1080/24p with lossy Dolby Digital 2.0 mono.

Trailers from Hell with Edgar Wright on Corruption (2:24)

The enthusiastic Wright does his best to sell this trashy film and he does a great job; full of passion it's a fun little featurette in 1080/24p 1.78:1 with lossy Dolby Digital 2.0 stereo sound.

Trailers and TV / Radio Spots (Play All - 8:39):
- Original UK Theatrical Trailer (1:49)
- Original US Theatrical Trailer (2:06)
- TV Spot A (60 secs) (1:05)
- TV Spot B (60 secs) (1:05)
- TV Spot #1 (20 secs) (0:25)
- TV Spot #2 (20 secs) (0:25)
- TV Spot #X (10 secs) (0:15)
- Radio Spot #1 (60 secs) (0:54)
- Radio Spot #2 (30 secs) (0:30)

Vintage promos in 1080/24p 1.85:1 (trailers) and 1.33:1 pillarboxed (TV spots); sound is lossy Dolby Digital 2.0 mono.

Image Galleries:
- Corruption Image Gallery Production Stills (121 images)
- Corruption Image Gallery Promotional Materials (62 images)
- Corruption Image Gallery Director's Shooting Script (82 images)

A colossal, comprehensive collection of HD stills and script pages.

80-page liner notes book by Laura Mayne, a history of production company Titan International Films, an archival interview with producer and cinematographer Peter Newbrook, a look at the film's music, cast and publicity, excerpts from the novelisation, an overview of contemporary critical responses, and film credits

A superb hardcopy companion to the film is everything a fan of Cushing and the film could want; worth the price of the set by itself.

A set of five replica production stills

Unfortunately, not provided for review.

Packaging


Hard card slipcase which holds the standard, clear BD Keepcase and book.

Overall


Holy zarking fardwarks!

One of the trashiest, sleaziest mainstream UK horror films of it's era gets a superb presentation and deluxe package drom Powerhouse Films as part of their beloved Indicator Series and in a limited edition presentation. I thought the old 2013 US BD was a great release but this one wipes the floor with a superior encode and bags of added value. The only little minor debit is that the 1974 audio interview with Peter Cushing (7:14) hasn't been ported across from the Grindhouse disc.

Nonetheless, this is easily one of the THE discs of the year for horror fans and collectors.
| | | | | |
| --- | --- | --- | --- | --- |
| The Film: C | Video: A+ | Audio: B+ | Extras: A+ | Overall: A |