Jagged Edge (Blu-ray) [Blu-ray]
Blu-ray B - United Kingdom - Powerhouse Films
Review written by and copyright: Rick Curzon (3rd August 2021).
The Film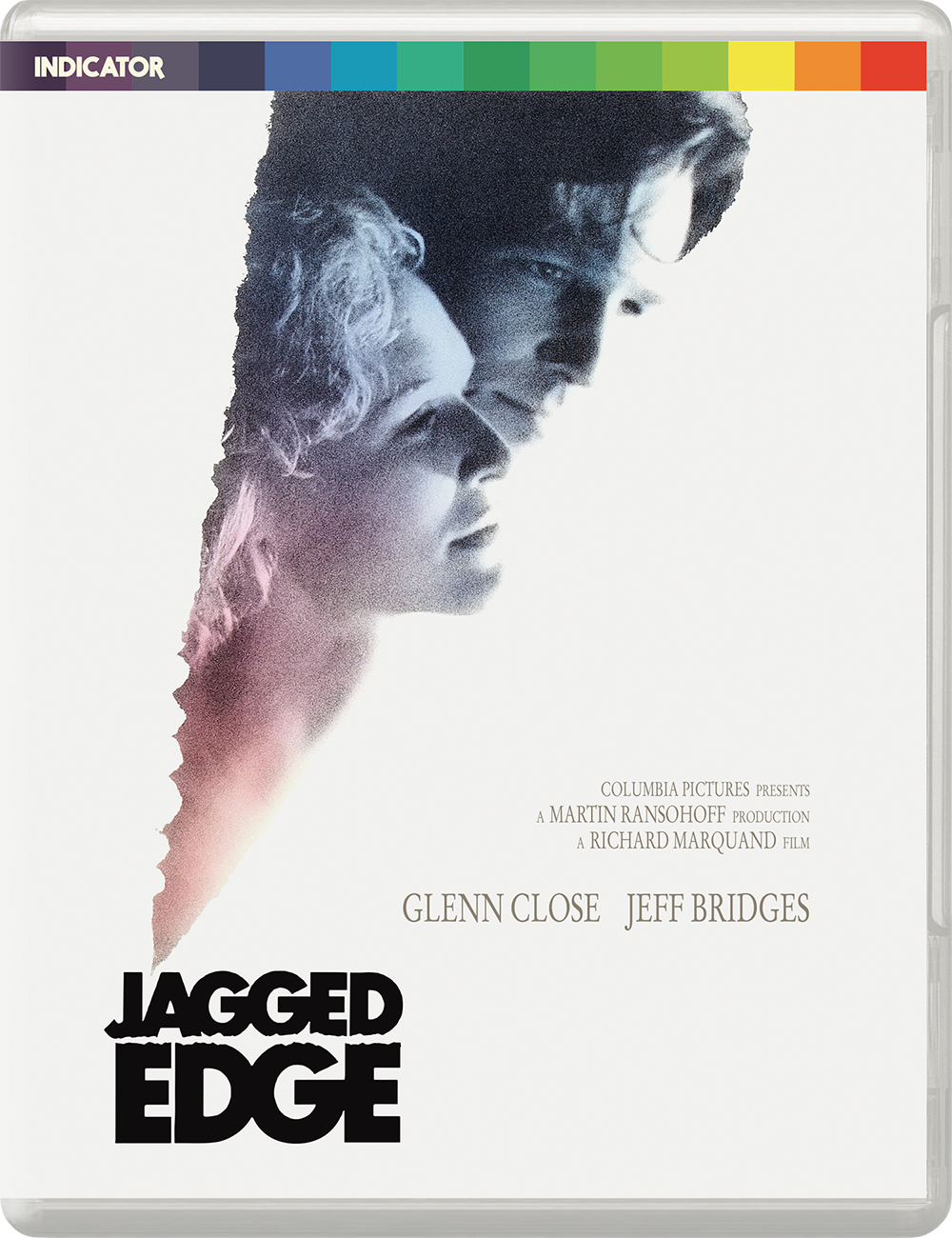 A classic neo-noir and a definitive 1980s erotic thriller, Jagged Edge stars Jeff Bridges (Fat City, Winter Kills) as a dashing newspaper publisher accused of brutally slaying his rich socialite wife in order to inherit her fortune. Glenn Close (Fatal Attraction) plays the high-achieving female attorney who is compromised when she enters into a torrid and steamy love affair with the accused.

Sleek, stylish and suspenseful, Jagged Edge benefits from assured direction by Richard Marquand (The Legacy), an ingenious script from Joe Eszterhas (Basic Instinct), and seasoned character actors Robert Loggia (The Garment Jungle, Scarface) and Peter Coyote (Bitter Moon) providing memorable support.

Video


Jagged Edge was something of a big deal at the time as it was a high profile thriller from director Richard Marquand who'd just come off the double whammy of Eye of the Needle (1981) and Return of the Jedi (1983). Jeff Bridges had been around since the early '70s headlining high profile and smaller scale films and Glenn Close had fame as a theatre actress and supporting star in The World According to Garp (1982); a highly regarded critical favourite.

It's a particularly dumb noir incorrectly sold as an erotic thriller in some quarters which sets up a strong female lawyer lead in Close but undermines her character by having her get involved with her client in a romantic way which is just frankly rather ludicrous given how much they establish she's made it in a man's world. I have never bought the idea that such a strong woman would jeopardise her hard-fought career in such a way. Not to mention any legal issues it would raise.

The look of the film is fairly unremarkable for it's era; a solid, reasonably budgeted studio production with a standard, well shot, well lit '80s studio look with that kind of mildly flat contrast feel favoured at the time. The colour palette is pretty standard for the era; solid colour values, warm primaries, healthy if tanned and occasionally pinkish flesh tones. My overall feeling is beige and brown.

Black levels are nice and true with no grays; crush is occasionally apparent in darker scenes but is never unintended. Contrast is very low key in what is only rarely a punchy image. Detail is generally excellent but mainly in closeups and medium shots with long shots being fairly soft; I feel that this is not fault of the transfer but is inherent to the production itself. This is well illustrated in the scene about 23 minutes in when Close hugs her son; one of the brighter moments but shows off the detail nicely in her hair when backed by sunlight with details being slightly muddy but in focus, highlighting my point.

Encoding is typically superb with no digital tinkering and a healthy amount of filmic grain. It's not the most dynamic looking production but I doubt this release could be bettered frankly; 'A'.

1080/24p / AVC MPEG-4 / BD50 / 1.85:1 / 108:43

Audio


English DTS-HD Master Audio 5.1
English LPCM 2.0 Surround
Subtitles: English HoH

A modest track that gets the job done but will never really blow anyone away; even when compared to films of it's era. The original Dolby Stereo track from theatrical engagements is present as the LPCM 2.0 surround and is a slightly more forceful experience that the 5.1 boost. Both are fairly front-centric with mainly score and ambiance relegated to the surround channels. Dialogue is always clear and to the fore. Short of a total rebuild using all the separations this is about as good as it can be; 'A'.

The usual peerless hard of hearing subtitles are present and welcome.

Extras


"The Guardian Interview with Jeff Bridges [and Beau Bridges]: Conducted by Geoff Andrew and the National Film Theatre, London on 18 February 1990" plays as an alternate audio track over the film (57:17)

A loud echoey recording but a detailed, fascinating screen talk with the Bridges boys. Lots of detail about the process of acting and his career. I found the comments on the long forgotten Sidney Lumet film The Morning After (1986) which was quite recent and I had seen at the cinema; ditto Tucker: The Man and His Dream. Presented in lossy Dolby Digital 2.0 mono.

"Killer Business: Joe Eszterhas on Jagged Edge" 2021 interview (23:01)
"Cutting Edge: Editor Joe Barton on Jagged Edge" 2021 interview (16:32)
"Music of Loneliness: David Huckvale on John Barry and Jagged Edge" 2021 interview (9:11)

Three great new interviews that provide plenty of contextual added value; all are filled with information and anecdotes to do with the production but Huckvale is a gift and his piece the most engaging as a result. Presented in 1080/24p 1.78:1 with lossy Dolby Digital 2.0:stereo.

Theatrical Trailer (1:58)
Radio Spot (0:31)

HD promo pieces.

Jagged Edge Image Gallery: Original Promotional Material (30 images)

Decent HD gallery.

36-page liner notes booklet by Maitland McDonagh, extracts from archival interviews with director Richard Marquand, a look at the making of the film, an overview of contemporary critical responses and film credits

Another excellent hard copy companion to the film which in this case is definitely actually more interesting that it's subject.

Packaging


The standard clear, BD Keepcase favoured by Powerhouse Films.

Overall


I'm no fan of the film; it being a silly, unconvincing thriller. However, image and sound are about as good as they can be given the original production and given the Blu-ray format; presented on it's best behaviour by Sony's excellent master and Fidelity in Motion's fantastic encode. Extras are solid and well worth the price alone. Highly recommended for those who're so inclined to buy it; great value, great quality.
| | | | | |
| --- | --- | --- | --- | --- |
| The Film: C | Video: A | Audio: B+ | Extras: A- | Overall: A- |

---
Rewind DVDCompare is a participant in the Amazon Services LLC Associates Program and the Amazon Europe S.a.r.l. Associates Programme, an affiliate advertising program designed to provide a means for sites to earn advertising fees by advertising and linking to amazon.co.uk, amazon.com, amazon.ca, amazon.fr, amazon.de, amazon.it and amazon.es . As an Amazon Associate, we earn from qualifying purchases.