People Next Door (The) (Blu-ray) [Blu-ray]
Blu-ray B - United Kingdom - Powerhouse Films
Review written by and copyright: Rick Curzon (3rd August 2021).
The Film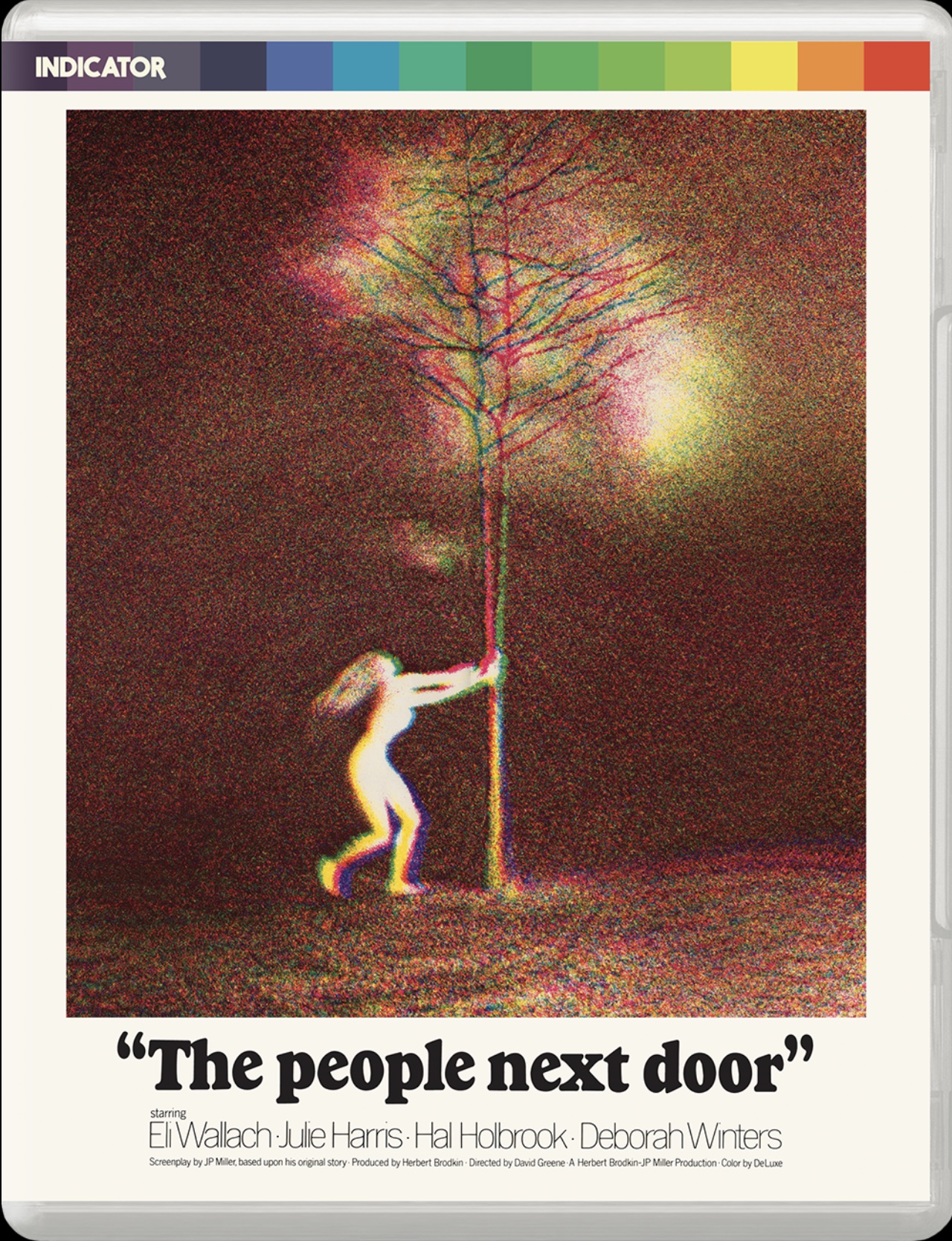 The People Next Door is an unflinching portrayal of a New York family torn asunder by drug abuse. Eli Wallach (Winter Kills) and Julie Harris (The Haunting) give compelling performances as parents whose marriage is pushed to the brink when their daughter Maxie (Deborah Winters) experiments with LSD and heroin, before experiencing a mental breakdown.

Assuredly directed by David Greene (I Start Counting, Gray Lady Down), making his first American feature and beautifully shot by Gordon Willis (Little Murders, The Godfather), The People Next Door is an unjustly forgotten melodrama, returning to UK screens for the first time since the days of VHS.

Video


Powerhouse Films in the UK have given David Greene's The People Next Door the special limited edition treatment as part of their Indicator Series (#210). British director Greene's fifth feature was shot using spherical lens, in 35mm and soft matte 1.37:1 and framed with 1.85:1 theatrical projection in mind; which is how it's presented here.

For it's time this was a heavy-hitting drama about how the different generations responded to the counter culture and drug addiction; I'd say it's still effective in 2021 but obviously is a period piece now. It's a gritty, realistic film and dated in some ways mainly stylistic although the therapy sessions are very much of their time. Personally, I found the film hard to get into mainly due to the unlovely characters but that's probably par for the course for the kind of warts and all, unvarnished story on display.

It looks to my mind like a fairly typical American drama of the period with a fairly rich, warm, brown-heavy colour palette. It also has the softish look favoured by DP Gordon Willis (The Godfather, many films by Woody Allen); the look here reminds me of the urban feel he gave Klute (1971) albeit that film was shot in anamorphic Panavision and I'm relying on distant memory having not seen that film for a number of years,

Lots of deep, dark shadows that would've made transferring People Next Door a sonoavbitch back in the '80s. I recall films with this dark look (like Klute) coming off as very dim and grainy back in the day which made them look rough and cheap. It's only in the 21st century and superior DVD and HD masters can we really see this style in all it's layered glory at home.

Primaries really pop, especially in the psychedelic club scenes and flesh tones are very healthy, pinkish ... natural under the lighting choices. Shadows are plentiful and filled with decent detail although this style does have a fair amount of intended crush. But, detail is strong when it appears along all focal planes; Winter's long hairs stand out when they're backlit by Willis and the transfer supports all this beautifully. Skin and fabrics benefit from the superior encoding.

Contrast is low key and supportive with no blown out highlights and grain is ever present and always filmic. An extremely strong transfer given the way the film was made; 'A'.

1080/24p / AVC MPEG-4 / BD50 / 1.85:1 / 93:47

Audio


English LPCM 1.0
Subtitles: English HoH

A straight forward mono track for a performance and dialogue based story and it's all very clear and unimpeded by ambiance and music. The score is strong and vibrant. Obviously, it's all limited by the technology of the time but it does it's job very well. The sound is as good as it's going to get; 'A+'.

Hard of hearing subtitles are provided and are typically thorough.

Extras


Audio commentary by Rutanya Alda and moderator Lee Gambin (2021)

Alda only has a small role in this and she's filled with perspective; she's introduced by historian Gambin as a fellow historian and they both know each other and play off each other well. Plenty of info on the era, the film, the music, the mythology that inspired the story and the origins of the screenplay in a TV play. Presented in lossy Dolby Digital 2.0 mono and it's obviously a lockdown commentary with each commentator in different locations.

"Tripping with Maxie: Deborah Winters on the People Next Door" 2021 interview (38:33)
"People Person: Vic Pratt on David Greene and the People Next Door" 2021 featurette (18:39)
"My Life in Review: John Sheldon of the Bead Game on the People Next Door" 2021 interview (14:44)
"Structured How to Feel: Supervising Film Editor Brian Smedley-Aston on the People Next Door" 2021 interview (9:15)

Four excellent new featurettes and interviews that collectively form a nice retrospective on the film and those who worked on it running a chunky 81:11. Presented in 1080/24p 1.78:1 with lossy Dolby Digital 2.0 mono. All are filled with minor motion artefacts due to having been recorded over Skype or similar, excepting the Pratt piece which seems sharper and had no visual issues.

The People Next Door Image Gallery: Original Promotional Material (32 images)

Solid HD gallery.

36-page booklet with a new essay by Peter Tonguette, an account of the reception of the controversial television play on which the film is based, an archival interview with actor Eli Wallach, a look at the film's soundtrack album, an overview of contemporary critical responses, and film credits

Excellent hard copy accompaniment to the film filled with value.

Packaging


The standard lear BD case used by Powerhouse Films.

Overall


An excellently appointed new special edition of this hard-hitting drug drama. The master used is excellent and gets the most out of the problematic source presenting it on it's best behaviour with fine image and excellent sound quality. Encoding is typically topnotch with the film afforded a high bitrate and the extras are superb. Highly recommended for those so inclined.
| | | | | |
| --- | --- | --- | --- | --- |
| The Film: B- | Video: A | Audio: A+ | Extras: A+ | Overall: A+ |

---
Rewind DVDCompare is a participant in the Amazon Services LLC Associates Program and the Amazon Europe S.a.r.l. Associates Programme, an affiliate advertising program designed to provide a means for sites to earn advertising fees by advertising and linking to amazon.co.uk, amazon.com, amazon.ca, amazon.fr, amazon.de, amazon.it and amazon.es . As an Amazon Associate, we earn from qualifying purchases.