Alone (Blu-ray) [Blu-ray]
Blu-ray B - United Kingdom - Signature Entertainment
Review written by and copyright: Rick Curzon (4th August 2021).
The Film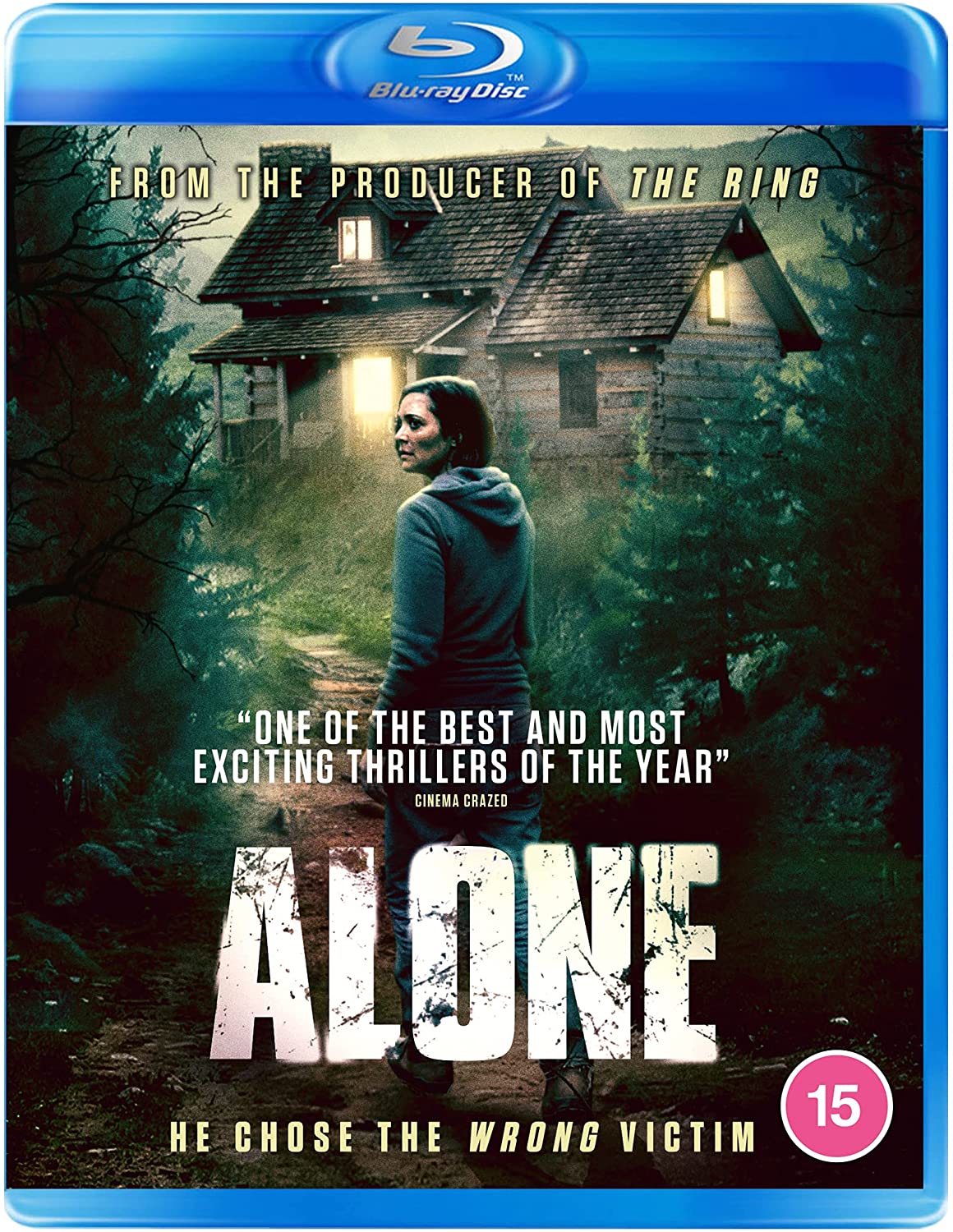 Jessica (Jules Willcox: Bloodline) drives on a long, lonely stretch of road in the Pacific Northwest.

Attempting to rebound from a tragic loss, she's packed up her belongings and is headed back to her hometown to restart her life. Also on this stretch of road is a Man (Marc Menchaca: Ozark) who, at first, seems harmless enough, but keeps showing up in the same places as Jessica.

It's no coincidence.

The Man has hostile plans for her, and once in his clutches she has to fight her way out to safety somewhere in the wilderness, away from civilization, away from any help and away from the devious psychotic out to destroy her.

And she'll have to face it all alone.

Video


John Hyams horror thriller is a solidly crafted, well-made suspense yarn about a woman menaced by a nutter whilst on the road but is yet another American remake of a non-English language film that's utterly redundant. Stick with the original which is the Swedish film Gone (2011). The original film Försvunnen (Gone) (2011) was written by Mattias Olsson who's also has written Alone.

The story goes in the usual, expected directions and offers nothing new; we even have to suffer the usual depressing back story for the lead character which is de rigeur these days. Why is it we never get a lead who is very happy with their life and hasn't had to suffer the usual grim business? Nothing new here but it has 92% on Rotten Tomatoes so my jaded view is rare with this one. It's obviously well-played etc but like most modern films it lacks the cheese / sleaze exploitation factor to make them entertaining; it's all too real and grim, too well bred by half. I'm sure that for some readers who're not into older films and don't like their films trashy it'll seem fresher but I'm personally rather tired of toothless modern survivalist vs psycho nutter films. Too worthy and grim and very dull.

I could find no specific technical information (nothing as yet on IMDB) but it's certainly a digitally lensed production and has been presented in the seemingly ubiquitous Scope aspect ratio. There was a time when 2.4:1 was a comparative rarity and as the cinema screen opened wider with the curtains reshaping to suit the wider ratio, a little thrill could be felt. These days, with 95% of films going straight to home video or streaming it seems somewhat pointless to use as often as it is and it really is way overused considering that virtually none of the films I get sent to cover have seen the light of a cinema projection bulb.

The colour palette is as expected for such a modern film ; all blacks, grays and blues with some orange / teal as well. It's not a vibrant image and the film is mostly very low contrast and dark. The encode does a great job of ensuring the image is free of noise, artefacts etc. Being digital there's little to no grain. Black levels are very deep and true with plenty of shadow detail and no crush; contrast is low key and no detail is lost due to boosting.

An excellent presentation so 'A+'.

1080/24p / AVC MPEG-4 / 2.4:1 / 98:01

Audio


English DTS-HD Master Audio 5.1
English LPCM 2.0 Surround
Subtitles: None

Generally a demo-level soundtrack with the 5.1 option obviously having a pretty big edge opening up the depth and range of the sound field. Dialogue is clear and to the front. Surrounds are pretty active with some strong LFE kicking the subwoofer into action. Obviously this isn't as active and in your face as the latest Marvel film but it's a strong listening, involving listening experience. No distortions to be heard, even at a much louder volume. Top marks bar the fact that we don't get any subtitles for the hearing impaired which is regrettable so 'A' rather than 'A+'.

Extras


Audio commentary by director John Hyams (courtesy of Rogue Commentary Podcast) (2021)

Hyams is an intelligent, articulate fellow and is much more interesting listening to him comment on the making of his film than the film itself. Uncompressed 2.0 stereo.

2020 Interview with Director John Hyams by Host writer Jed Shepherd (38:51)

Pretty standard review conducted by a writer who enjoyed the film much more than I did. The director discusses getting the script and how he approached the material amongst lots of other interesting stuff. Much better than the film itself because Hyams is an articulate, thoughtful guy but seems to have simplified the original somewhat, which isn't surprising when Americans remake much more complex foreign fare for the multiplex crowd. Lets hope that he tackles something more worthy and not another redundant translation of a foreign film into English for his next project. Presented in 1080/24p 1.78:1 with uncompressed 2.0 surround sound.

"The Making of Alone" 2018 featurette (4:24)

Standard on-message, EPK puff piece with nothing surprising to be gleaned. Presented in 1080/24p 1.78:1 with uncompressed 2.0 surround sound.

Startup Trailers:
- Wrong Turn (1:03)
- Relic (2:23)
- Possessor (2:10)

A collection of promos for current Signature Entertainment releases presented in each films proper aspect ratio in 1080/24p with uncompressed 2.0 surround sound.

Packaging


The standard blue, BD Keepcase.

Overall


I found this generally well-regarded remake of a 2011 Swedish film to be dull and annoying, but most really like it. Technical specs are as good as can be, extras are adequate with the interview and commentary being more enjoyable than the film. Recommended for those who're interested.
| | | | | |
| --- | --- | --- | --- | --- |
| The Film: C- | Video: A+ | Audio: A | Extras: C- | Overall: B- |

---
Rewind DVDCompare is a participant in the Amazon Services LLC Associates Program and the Amazon Europe S.a.r.l. Associates Programme, an affiliate advertising program designed to provide a means for sites to earn advertising fees by advertising and linking to amazon.co.uk, amazon.com, amazon.ca, amazon.fr, amazon.de, amazon.it and amazon.es . As an Amazon Associate, we earn from qualifying purchases.