Antebellum (Blu-ray) [Blu-ray]
Blu-ray B - United Kingdom - Lions Gate Home Entertainment
Review written by and copyright: Rick Curzon (1st August 2021).
The Film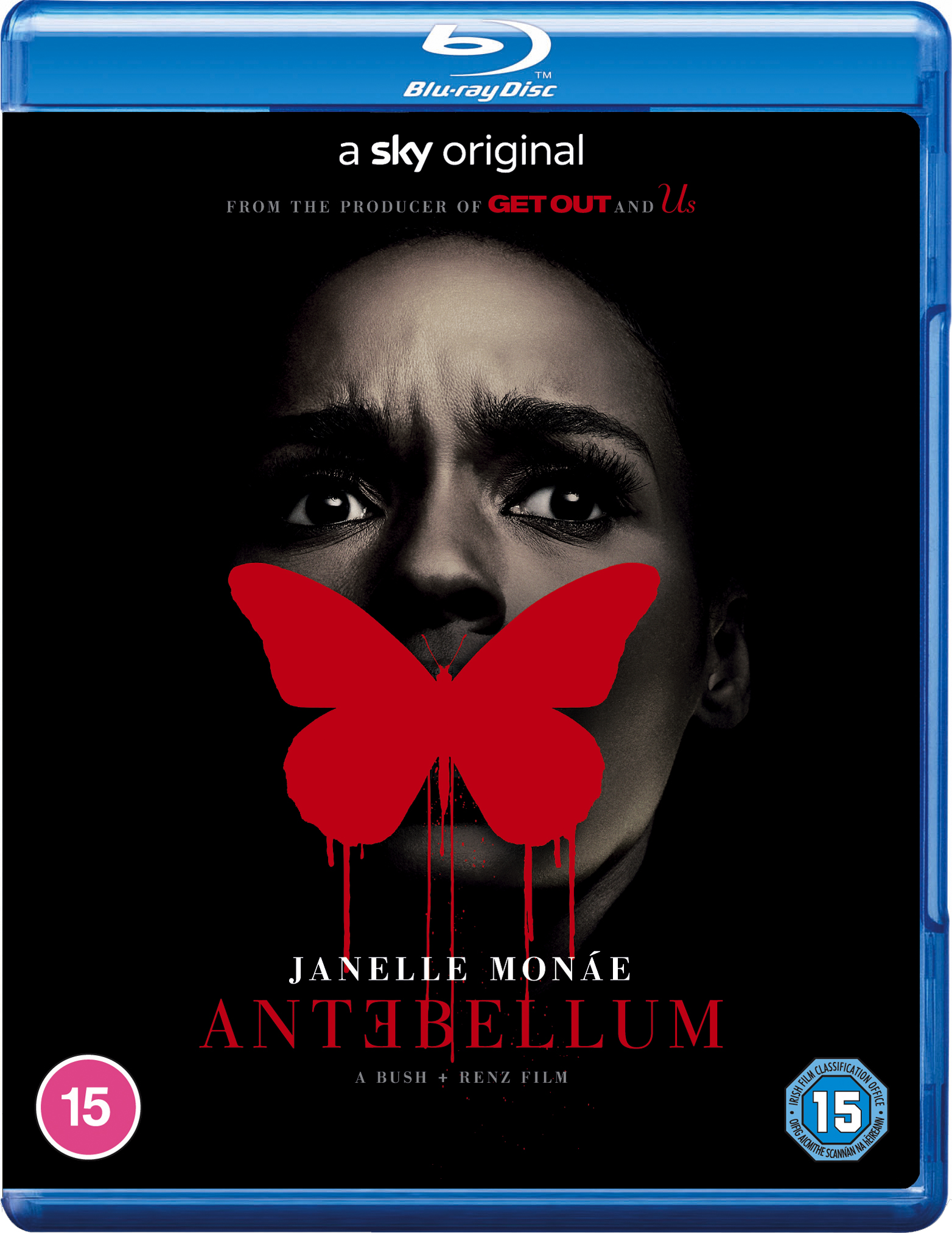 Successful author Veronica Henley (Janelle MonŠe) is finishing a book tour before she returns home to her husband and daughter. But a shocking turn of events is about to upend Veronica's existence, plunging her into a horrifying reality that forces her to confront her past, present, and future - before it's too late. From the producer of Get Out and Us comes this tense and provocative thriller with a terrifying twist.

Video


SPOILERS, skip to the technical section if you wish to avoid them:



Lionsgate in the UK have released this made for Netflix period-set thriller drama set during the slavery period on a Louisiana plantation run by sadistic Confederate soldiers, told from the point of view of a slave woman. Seems to be sold more as a horror film with a big twist in the tale that turns this into something more akin to Westworld. This comes about 40 minutes in and I didn't like at all as I found it jarring. Very much a film with an agenda and a message with exceptional script, performances and direction. Ultimately, for me it wasn't what I really wanted from my perception of what it was. I wish I liked the film more as the directors seem very interesting fellows from who I'd like to see better work in the future; also I loved the score by Nate Wonder and Roman Gianarthur.



Technical specifications (from IMDB):
Camera: Arri Alexa LF, Panavision Primo, APO Panatar, Sphero 65 and PVintage Lenses.
Laboratory: EFilm (digital intermediate).
Negative format: Codex.
Printed film format: Digital (Digital Cinema Package DCP).

Compared to many digitally rendered films this one has a more old style filmic look albeit with the usual lack of grain. The colour palette is generally pretty rich with a golden bias making the image look warm. It's obviously digitally lensed with the usual low key contrast look that supports lots of detail. During darker scenes the image is so low contrast that the image falls flat, but this is by design methinks. During well-lit scenes, especially daylight there is a a strong almost 3D quality to the images with plenty of fine detail in evidence.

The usual beneficiaries of the higher resolution are skin and fabric textures. Background detail is also notable and shadow details. Black levels are exceptional with lots of velvety depth; no washed out grays here. Encoding is strong, no digital artefacts or signs of compression issues.

Easily one of the strongest presentations of a digitally lensed film that I've seen this year; top marks 'A+'

1080/24p / AVC MPEG-4 / BD50 / 2.4:1 / 106:05

Audio


English Dolby TrueHD 5.1
English Audio Descriptive Dolby Digital 2.0 Stereo
Subtitles: English HoH

A reference quality track that really kicks out when played through a 5.1 system. It's in the slightly lesser lossless format of Dolby TrueHD but only a real sound expert is likely to tell the difference between this and a DTS-HD Master Audio rendering. Dialogue is clear, the excellent score by Nate Wonder and Roman Gianarthur has great depth and range and the surround channels are filled with activity and not just the usual score and ambiance. During action scenes it really pops out. Delineation and separation is exceptional and the subwoofer / LFE rattles the room on occasion. Top marks = 'A+'

Excellent subtitles for the hearing impaired are provided.

Extras


"The History in Front of Us: Deconstructing Antebellum" 2020 documentary (Play All - 67:06):
- Part One: The Soul (32:23)
- Part Two: The Senses (34:42)

An excellent, substantial documentary that seems to have produced alongside the main film in a way that is more interested in delving deeper; unlike most EPK puff pieces this one digs into the creative process much more; a bit less backslapping than usual which is always a plus. Presented in 1080/24p 1.78:1 with clips from the film in 2.4:1; sound is sadly lossy Dolby Digital 2.0 stereo but the track is decent and serves the documentary well.

"A Hint of Horror: The Clues of Antebellum" 2020 featurette (6:13)
"Opening Antebellum" 2020 featurette (4:46)

Two extension pieces from the main doc with the first outlining the main mystery and twist in the tale; the second deals with the opening sequence which is very interesting. Presented in 1080/24p 1.78:1 with clips from the film in 2.4:1; as with the main doc the sound is sadly lossy Dolby Digital 2.0 stereo but the track is decent and serves the documentary well.

Deleted Scenes (7:59)

Some interesting moments that were removed from the film presented in 1080/24p 2.4:1 with the sound is sadly lossy Dolby Digital 2.0 stereo.

Packaging


Standard blue BD Keepcase.

Overall


The film didn't blow me away but the technical presentation is as strong as can be with some fabulous extras that I found much more interesting. The film has been afforded a high bitrate on a dual layered BD disc and coupled with already excellent audio and video mean top marks. Highly recommended.
| | | | | |
| --- | --- | --- | --- | --- |
| The Film: C+ | Video: A+ | Audio: A+ | Extras: A | Overall: A+ |

---
Rewind DVDCompare is a participant in the Amazon Services LLC Associates Program and the Amazon Europe S.a.r.l. Associates Programme, an affiliate advertising program designed to provide a means for sites to earn advertising fees by advertising and linking to amazon.co.uk, amazon.com, amazon.ca, amazon.fr, amazon.de, amazon.it and amazon.es . As an Amazon Associate, we earn from qualifying purchases.