The Film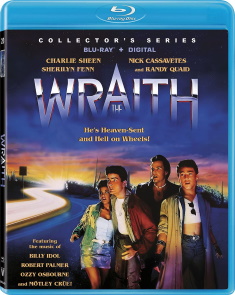 After what felt like an interminable wait the Vestron Video line has returned once again, this time championing a cult title that has been long overdue for a Blu-ray release, The Wraith (1986). Ostensibly led by Charlie Sheen, the film follows a wraith that appears out of thin air in the desert, driving a souped-up Dodge Turbo Interceptor, as it methodically eliminates the members of a local gang of car-thieving criminals. Despite his prominence Sheen supposedly only worked for a day on the film – which seems insane to me because he's in a handful of scenes that take place in multiple locations. That must have been a scheduling nightmare. Everything about this film screams "B-movie" yet writer/director Mike Marvin adds several seemingly minor artistic flourishes that flesh out this world and enrich the wraith's mystery while also managing to provide villains that have more personality than the good guys.

Billy Hankins (Matthew Barry) has been having a hard time adjusting to life after the death of his brother, Jamie. Making matters worse is the fact Jamie's killers – a ruthless car ring led by Packard (Nick Cassavetes) – are still roaming free; they even taunt Billy at his job. Packard has taken Jamie's former girlfriend, Keri (Sherilyn Fenn), for himself – against her will. Nobody in town is willing to stop these out of control kids, not even the cops – until a mysterious figure appears, challenging Packard and his goons to a game they're used to winning: racing. Only when it comes to racing the wraith no one ever wins and the losers are found within the fiery wreckage… perfectly preserved without a mark on them save for one: they have no eyes. At the same time a new kid arrives in town, Jake (Charlie Sheen), and his attention and affection toward both Billy and Keri make it clear to everyone (read: the audience) but those two who he really is.

Something unexpected about this movie is how the leads – Jake, Billy, Packard, Keri – are completely overshadowed by the supporting players. Jake is a calm and cool loner whose secret is only unknown to Billy and Keri. Billy is a good kid having a rough time. Packard is only missing a mustache to twirl because Cassavetes plays him so one-note villainously. And Keri, though given some agency, is the proverbial girl caught in the middle. But then we meet guys like Skank (David Sherrill), a multi-colored mohawked punk with face paint and a penchant for sipping anti-freeze; or Gutterboy (Jamie Bozian), a burned-out cretin with teeth dirtier than his grease monkey hands. There's also Rughead (Clint Howard), the brain of the group with a hairstyle matching Henry from Eraserhead (1977). Then, just to keep things interesting on the protagonist side, there's Randy Quaid as Sheriff Loomis, a driven cop who is absolutely foaming at the mouth to solve this bizarre case. Marvin's writing and direction makes sure these peripheral characters are more than just monolithic faces of good or evil and, in turn, they wind up being the best part of the movie.

There's also plenty of mythology and mystery to the wraith itself that I adore. Weird things, like how after each kill some strange brace on the wraith's body flashes and disappears, the reasoning for which is never made clear. In an interview on the disc Marvin says that is supposed to represent the wraith gaining strength with each successive kill, though since the wraith never seems weak to begin with it's easy to see how that wouldn't come across on screen. The way each gang member dies is chilling, too – cold, lifeless, bloodless, not a scratch on them… except for the missing eyes. The wraith's car is pretty sweet, with Dodge and Chrysler/PPG teaming up to craft a bespoke vehicle, of which six replicas were produced for the film. It looks a bit like an older Acura NSX but leaning harder on a futuristic aesthetic. In addition to being fast the car is also used in unexpected ways.

It's also worth mentioning this film has a killer soundtrack full of '80s rockers and ballads, the highlight of which has to be Ozzy Osbourne's "Secret Loser". Music is a make-or-break element for movies and the choices here aren't all well-known artists but the tunes fit the vibe of the film perfectly, offering the ideal audible component to the teen action unfolding on screen.

Video


Well, the good news is we finally have The Wraith on Blu-ray. The bad news is it looks like the 1.78:1 1080p picture was sourced from a master made long, long ago; probably for the DVD Lionsgate released in 2010. Bummer. It isn't as though the image is a total drag – colors are appreciably rich and the overall picture looks fairly clean with little instances of dirt or scratches. Fine detail and definition are reasonably strong. Some of the effects shots haven't aged too well but that's always to be expected and it never bothers me. A fresh scan likely could've helped here but what we're given isn't bad at all.

Audio


An English DTS-HD MA 2.0 track is the sole audio option and it offers a great listening experience. The killer soundtrack tunes pack a punch, while sound effects and dialogue are never fighting for prominence in the mix. Everything sounds balanced and clean, without a hint of hissing or popping. Subtitles are available in English SDH, English, and Spanish.

Extras


There are two audio commentary tracks – one, with Writer/Director Mike Marvin; two, with Actors David Sherrill and Jamie Bozian.

Isolated score selections are available, featuring audio interviews with Co-Composer J. Peter Robinson.

"Tales from the Desert" (1080p) is an interview with Writer/Director Mike Marvin, running for 16 minutes and 21 seconds.

"Rughead Speaks" (1080p) is an interview with Actor Clint Howard, running for 12 minutes and 24 seconds.

"Ride of the Future" (1080p) is an interview with Stunt Coordinator Buddy Joe Hooker and Transportation Coordinator Gary Hellerstein, running for 11 minutes and 44 seconds.

"The Ghost Car" (1080p) is an interview with Visual Effects Producer Peter Kuran and Effects Animator Kevin Kutchaver, running for 11 minutes and 43 seconds.

"The Wraith Filming Locations Then & Now" (HD) is a featurette that runs for 27 minutes and 11 seconds.

A theatrical trailer (1080p) runs for 2 minutes and 3 seconds.

A couple of TV spots (SD) runs for 1 minutes and 25 seconds total.

An alternate title sequence (1080p) – "Interceptor" – runs for 1 minute and 48 seconds.

Finally, a Still Gallery (1080p) runs for 5 minutes and 42 seconds.

Packaging


The single disc comes housed in a Blu-ray eco-case. A slipcover is included on first pressings.

Overall


As a longtime fan of this film who has been waiting impatiently for an HD release, even with the dated video quality this is a major hit that is loaded with good bonus content. Definitely recommended for fans and -- with the new low price point on this line -- worth it for '80s aficionados who are on the fence about buying.
| | | | | |
| --- | --- | --- | --- | --- |
| The Film: B+ | Video: B- | Audio: B+ | Extras: A | Overall: B+ |