Doctors (The): The Jon Pertwee Years - Behind the Scenes, Vol. 1
R0 - United Kingdom - Koch Media / Reeltime Pictures
Review written by and copyright: Rick Curzon (10th July 2021).
The Show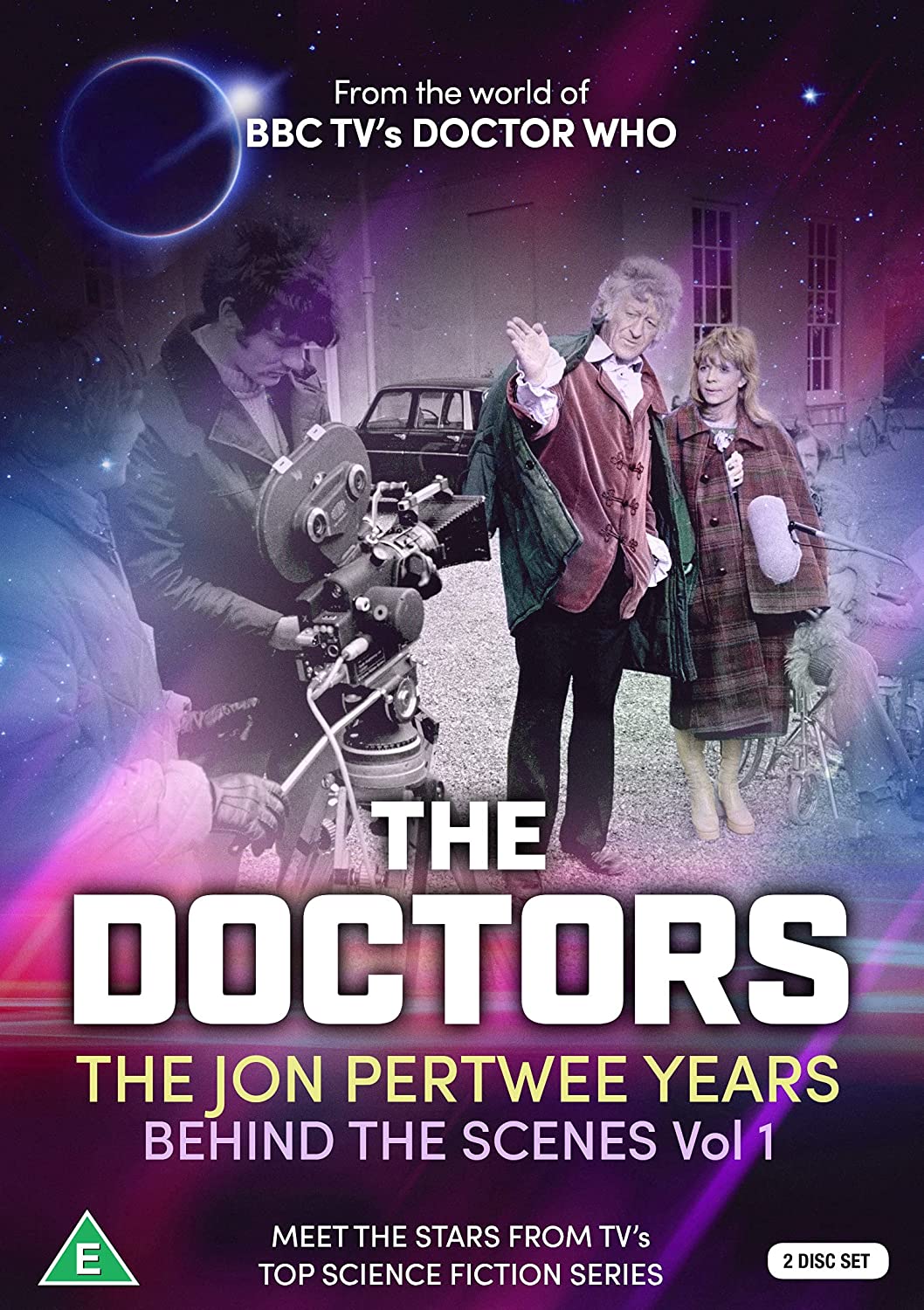 We're delighted to confirm this new series of THE DOCTORS!

These new compilations of classic MYTH MAKERS interviews have proved incredibly popular and we now hope to complete issuing all our catalogue of classic DOCTOR WHO interviews with behind-the-scenes production staff taking centre stage (plus a few extras!).

THE DOCTORS - THE JON PERTWEE YEARS – BEHIND THE SCENES Vol. 1 (RTP0545) – contains interviews with BARRY LETTS (Producer), TERRANCE DICKS (Script Editor / Writer), DON HOUGHTON (Writer), CHRISTOPHER BARRY (Director), PAUL BERNARD (Director), plus bonus interviews with actors ANNA BARRY, DAMARIS HAYMAN, TERANCE LODGE and VALENTINE PALMER!

Presented by "voice of the Daleks" NICHOLAS BRIGGS.

We are only producing a LIMITED EDITION of 1000 copies of each full "glass mastered" double DVD title. For all DOCTOR Who fans, these special collector's editions feature over 5 hours of pure nostalgia, which will give you a whole new insight into the making of your favourite science fiction series!

Video


Keith Barnfather has been interviewing Doctor Who (and Blake's 7) alumni since the 1980s predominantly for his long running Myth Makers range of behind the scenes interview VHS and latterly DVD releases. This latest edition collects together chats with several, personnel from the 1969-74 period that was the Jon Pertwee / Third Doctor era. We have an excellent collection of beautifully conducted interviews.

Image quality tends to vary as you would expect from these kind of productions but none of the segments are poor in any way. All of the interviews are shot on varying types of video and I'd say all are in standard definition and as this is a DVD release that's fine and dandy. Contrast is acceptable, black levels are likewise if occasionally dark greyish. Flesh tones are natural and colours matter of fact without much digital regrading in evidence.

I didn't notice any artefacts or compression issues but to be frank had there been some minor ones it probably wouldn't have detracted in the same way as on a release of Doctor Who episodes. The image is soft by virtue of how it was captured but that is not a criticism. The only way things could improve would be to upscale on Blu-ray discs with the superior encoding / codecs that the format affords. But, this kind of material will probably not support the costs; after all, this is a 2-disc set of extras.

Top marks for the format and taking into consideration the source; 'B-'.

NTSC / MPEG-2 / 2 x DVD-9 / 1.33:1 / 1.78:1 / 328:04

Audio


English Dolby Digital 2.0 Mono / Surround
Subtitles: None

Basic 2.0 stereo that gets the job done. Dialogue is clear and easy to hear and what little music there is (intros and outros) doesn't get in the way.

Sadly, no subtitles have been provided so the hearing impaired are up a gum tree without a paddle.

Extras


None, per se because the actual content is the extras as well.

"Myth Makers: Barry Letts & Terrance Dicks Vol. 1" 1993 interview (74:03)
"Myth Makers: Barry Letts & Terrance Dicks Vol. 2" 1994 interview (99:05)
"Myth Makers: Don Houghton" 1987 interview with 2006 introductions; also includes Bob Baker, Terrance Dicks, Barry Lets and interviewer Julian Knott [the webmaster of Roobarb's Forum] (48:02)
"Myth Makers: The Directors, Vol. 1" 1997 interviews with Christopher Barry and Paul Bernard (53:48)
"Myth Makers: Flight Through Eternity - The Three Doctors, Vol 3" 2008 interviews with Anna Barry, Damaris Hayman, Terence Lodge and Valentine Palmer (53:11)

On those interviewed only Baker, Barry, Lodge and Palmer are still with us.

Packaging


Standard, black 2-disc DVD Keepcase.

Overall


We have an excellent collection of beautifully conducted interviews presented in standard definition which is the resolution the segments were captured on. Image is soft but standard for the format used to capture the images; solidly encoded for the format. The content is also the extras package. Fans of the show will love this set; it's like a pig amongst the truffles with this superb collection of interviews from one of the most highly regarded and celebrated eras in the shows history. Highly recommended for fans of the series.

More volumes please!
| | | | | |
| --- | --- | --- | --- | --- |
| The Show: A+ | Video: C+ | Audio: C+ | Extras: A+ | Overall: B- |

---
DVD Compare is a participant in the Amazon Services LLC Associates Program and the Amazon Europe S.a.r.l. Associates Programme, an affiliate advertising program designed to provide a means for sites to earn advertising fees by advertising and linking to amazon.co.uk, amazon.com, amazon.ca, amazon.fr, amazon.de, amazon.it, amazon.es and amazon.se.