The Film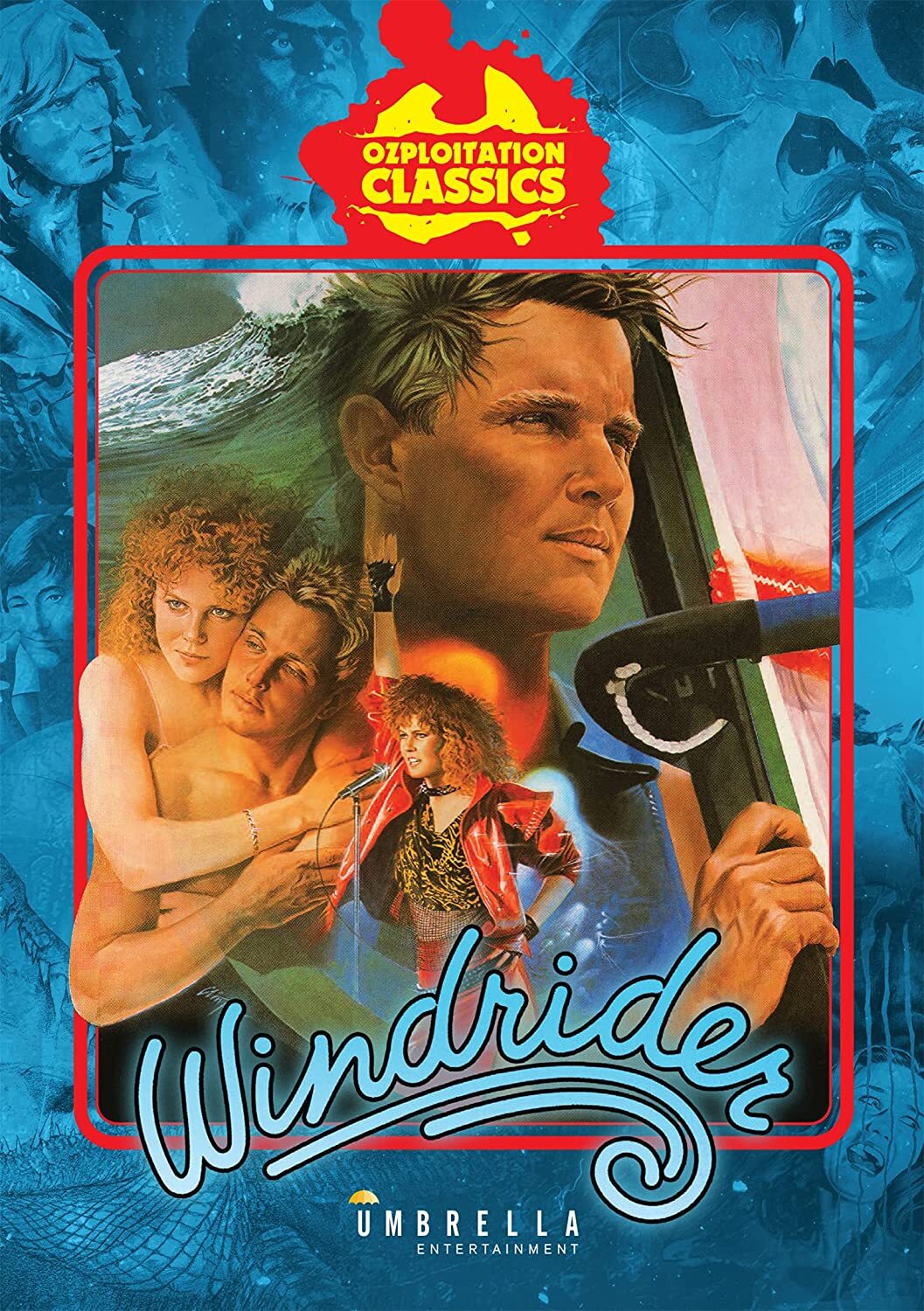 "Windrider" (1986)

PC (played by Tom Burlinson) loves windsurfing. So much so that he's built house right by the sea and uses much of his company time thinking of how to improve his board and sail more than anything else. Living a carefree life as his father (played by Charles 'Bud' Tingwell) is the head of the company, PC has never had to worry about much in life, even if his relationship with his father was not exactly close. Things change for him when he encounters Jade (played by Nicole Kidman), a singer for a local rock band. He falls madly for her but she could care less about his antics to try to win her heart.

"Windrider" takes many cues from teen-aimed comedies of the 1980s Hollywood, from "Risky Business" (1983) to "Ferris Bueller's Day Off" (1986) where lots of sight gags, youth vs the world attitudes, awkward situations, and innocent love stories melded together for box office gold. Set and shot in Perth, Australia, "Windrider" has the fun in the sun atmosphere, modern music cues including a singing character, whimsical fun, yet it didn't catch on with audiences at the time of its release, becoming a box office failure in its own country.

Vincent Monton was an established cinematographer before his directorial debut with "Windrider". From the raunchy comedies "Fantasm" (1976) and its sequel "Fantasm Comes Again" (1977), thrillers such as "Roadgames" (1981) and "Innocent Prey" (1984), as well as the man vs nature horror "Long Weekend" (1978), he was very capable of differing genres of productions. The script, written by Everett De Roche and Bonnie Harris was very light in tone, focusing more on the awkward comedy rather than deeper aspects of the individual characters, which led to a fairly shallow story overall. The big draws of the film were the visuals during the windsurfing sequences as well as the love story portions. For windsurfing, the beautiful visuals of the surfers doing tricks out on the waves captured through slow motion shots, as well as seeing the gorgeous coast of Perth in the sun makes those scenes extremely worthwhile even for audiences not familiar with the sport. The love story on the other hand, while the emotional aspect might not be very deep, the film enticed audiences with the brief nudity seen with Burlinson and Kidman, in which topless shots were shown during the lovemaking montages and shower scenes. The 18 year old Kidman was a family-friendly face in Australian films when she was younger, and this would be the first time she would play a role as an "adult" rather than a child, which surprised audiences at the time. The nude scenes are not at all gratuitous or aggressive, but having some nudity and some swear words thrown into the script bumped the rating to "M", which unfortunately restricted much of the target teen audience from seeing it.

There are many issues with the characters and their motivations. PC is a rich kid who goes through life without consequences, but very little is said about his family life. There is no mother figure and she is never mentioned. Why he is distant from his corporate father emotionally is also never discussed, yet he is fine with working at the company altogether. There are some scenes with them together where the father tries to make some sort of contact, but they never come off as being as important as they should be. The sequence of PC being attacked by a shark is a visual highlight, but the trauma he experiences and how it affects his windsurfing ability later on doesn't feel as strongly connected as it should have been. As for him falling head over heels with Jade, the number of times that she brushes him off in awkward situations is fairly funny, but it doesn't feel natural of her falling in love with him. Their story together feels the least connected, as her career as a musician seems to be brushed aside completely. He isn't supporting her music as he should be and instead she focuses on helping him mentally as he struggles with his life being turned upside down by the shark attack. The character of Coyote (played by Kim Bullad might be the most interesting character of all. He saves PC's life from the shark, his backstory with the nickname "Coyote", as well as his windsurfing skills makes him PC's biggest rival. All this and the character doesn't have a single line of dialogue. There could have been much more with him, so it does seem like a wasted opportunity, yet the mysterious character does have a fascinating presence. The disjointed nature of the characters and their complexities are not explored enough here in "Windrider", keeping things safe on the basic level.

Not to say that "Windrider" is bad, but it could have been much more. The story itself is innocent enough and the visuals are great to see with catchy music in the background as well. But audiences didn't flock to the theaters and it didn't break even with its $2.5 million budget. The film, produced by Barron Entertainment and released by United Artists in America and Hoyts Distribution in Australia opened on December 25th and 26th respectively in 1986. While it was a summer film released in the appropriate season in Australia, the American release was during the cold winter Christmas season. Interestingly, there was controversy with the film from Kidman's comments many years later. With the nude scenes she claimed that she was exploited and disowned the film. Monton claims differently, as he stated that the actors had the final say in doing the nude scenes and took their advice. There was a topless windsurfing scene that Kidman refused to do and that was removed from the script. Monton showed the actors a workprint version of the film with the nude scenes and asked them for feedback. Kidman had no objections at the time, but after her big break in Hollywood, there seems to have been regretful thoughts. Even with her thoughts in mind, the sequences are not at all explicit, but at the same time do not change the film's story or tone if removed. Monton and De Roche have also said in hindsight that having nude scenes and swearing most likely impacted the box office gross and if it were to be done now, they would have opted for a tamer theatrical cut and then the M rated cut for home video, which is a commonplace tactic these days but unheard of in the 1980s. "Windrider" is not means a classic but it does have its charm and is an easy watch, more than 35 years later.

Note this is a region ALL Blu-ray

Video


Umbrella Entertainment presents the film in the 1.78:1 aspect ratio in 1080p AVC MPEG-4. The HD transfer comes from a film print and it does have its issues. The print had some damage marks such as dust and debris, as well as cue blips at the end of each reel. While some damage has been cleaned, there are still some obvious marks including the cue blips still being visible. Colors are also a little dark and contrasty, with light flickering throughout sequences. On the brighter side, film grain is left intact and there are no obvious signs of digital tweaking, leaving a very filmlike image quality throughout. Detail is fairly good throughout as well. Unless they use better elements or have a 2K or 4K restoration, this is as good as it gets for now. Imperfect, yet acceptable.

The film's runtime is 92:18.

Audio


English DTS-HD Master Audio 2.0 mono
The film was produced in Dolby Stereo, but it seems like the print's audio track is a mono downmix, as there is no stereo separation between the two channels whatsoever. This is a disappointment as the music cues from Jade's band and other cuts are left in flat mono rather than in full stereo. On the brighter side here as well, the track is fairly clean, with no signs of hisses or pops, and being well balanced with the music, effects, and dialogue.

There are optional English HoH subtitles in a white font.

Extras


Audio Commentary with director Vincent Monton and writer Everett De Roche, moderated by Mark Hartley
In this commentary, the director and writer are joined by filmmaker Mark Hartley as they look back at the film. They discuss about the windsurfing scenes and how they were shot, the influence of American teen comedies, admitting that Kidman was lip synching during the concert scenes, the Perth locations, mishaps behind the scenes, Kidman's issues years later with the film, and much more. There are a lot of great things talked about and Hartley does bring up a lot of interesting questions as well as quotes from critics and others.
in English Dolby Digital 2.0 without subtitles

"Running Hot" interview with director Vincent Monton and writer Everett De Roche (5:09)
Interviewed separately and edited with clips from the film, the director and writer look back at the making of the film, discussing the windsurfing theme, the comedy, the racy scenes, and how the film failed to connect with an audience. This featurette was edited in 2021 using interview clips from the documentary "Not Quite Hollywood", directed by Hartley.
in 1080p AVC MPEG-4, in 1.78:1, in English Dolby Digital 2.0 without subtitles

Nicole Kidman Music Promo (1:11)
A clip of the musical performance by Jade and her band from the film.
in 1080p AVC MPEG-4, in 1.33:1, in English Dolby Digital 2.0 without subtitles

"Young Days" Music Video (1:41)
A short version of the song featured in the film performed by Boyd Wilson, with clips from the film. It is in very rough condition with a washed out blurry image, windowboxed within the widescreen frame.
in 1080p AVC MPEG-4, in windowboxed 1.85:1, in English Dolby Digital 2.0 without subtitles

Extended and Uncut Bedroom Scene (0:40)
A slightly longer edit of the bed scene between PC and Jade, taken from a workprint cut on VHS. Obviously the image quality is rough considering the source. There is no dialogue for this scene.
in 1080p AVC MPEG-4, in 1.33:1, Music Dolby Digital 2.0 without subtitles

Windsurfing Promo (2:51)
A vintage promo reel from Barron Films of windsurfing without narration or dialogue. Originally shot on film and edited on video, it does look a little washed out but has some pretty incredible shots of riders doing tricks.
in 1080p AVC MPEG-4, in 1.33:1, Music Dolby Digital 2.0 without subtitles

Stills and Promotional Gallery (2:31)
An automated slideshow of behind the scenes photos, newspaper and magazine clippings, with some tracks from the soundtrack including "Young Days" as background music.
in 1080p AVC MPEG-4, in English Dolby Digital 2.0 without subtitles

TV Spot (0:27)
A vintage Australian TV clip with slightly echoey sound.
in 1080p AVC MPEG-4, in 1.33:1, in English Dolby Digital 2.0 without subtitles

Theatrical Trailer (1:47)
The original Australian trailer that has been restored, looking and sounding as good as the film on the Blu-ray itself.
in 1080p AVC MPEG-4, in 1.78:1, in English Dolby Digital 2.0 without subtitles



Packaging


Part of the "Ozploitation Classics" range, this is #4 in the series, which comes with a slipcase. The slipcase states the disc is region B only, but is in fact region ALL. Also, the back of the slipcase has a spelling error with the title of "Risky Business".
The keep case is clear, with the outer inlay having two versions of the poster art - one being Australian and the other being American. Inside is a written note from Monton about the film from April 2021, while the other side has some production stills.

Overall


"Windrider" may not have complex characters with emotional depth, as it is an innocent film focused on windsurfing, being free, falling in love. It's not by any means a lost classic, but it is fair in its enjoyability. The Umbrella Entertainment Blu-ray's image and sound are not perfect either, but it does offer a nice selection of extras, including a great commentary, making this still recommended.
| | | | | |
| --- | --- | --- | --- | --- |
| The Film: C | Video: B- | Audio: B- | Extras: B | Overall: B- |