The Film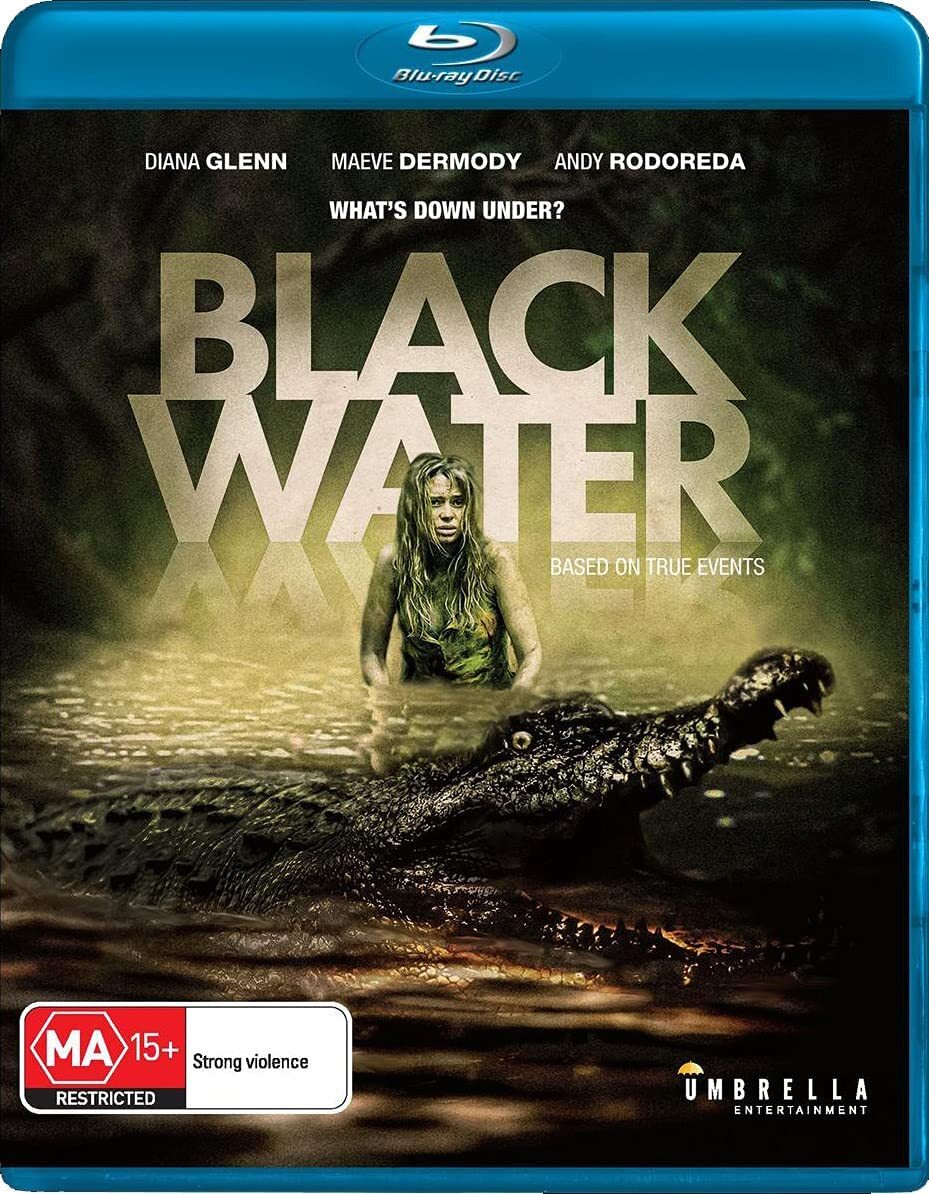 "Black Water" (2007)

Adam (played by Andy Rodoreda), his wife Grace (played by Diana Glenn), and her younger sister Lee (played by Maeve Dermody) take a short road trip to a swampland area where they meet Jim (played by Ben Oxenbould), who offers to take them on a small fishing tour for the afternoon. Things immediately turn terrifying when a large crocodile tips over their boat, and stranding them in the rural swamp, without any way of contacting for help.

A large number crocodile attacks on locals and tourists in Australia over the years, some being fatal. One attack just happened a few days ago as of this writing with two soldiers being attacked in northern Queensland, both men luckily surviving the ordeal. (A news clip from ABC News Australia from August 7th, 2021). "Black Water" is not so far fetched as other survival horror man vs. nature films out there, and the opening states that the story is based off true events. As to which true event it is from is not mentioned, it can easily be a culmination of many differing stories. While a story like this can be fairly plain and simple, with characters getting attacked, characters trying to survive, and characters escaping, the filmmakers add a bit more "meat" to the story to pad out the feature length running.

Before the three main characters arrive at the fishing tour location, there is character backgrounds introduced, with the relationship of the three leads, especially with Grace finding out that she is pregnant, which delights her sister very much. There is also foreshadowing of the crocodile attack with the three watching a crocodile show the previous day. Writers and directors David Nerlich and Andrew Traucki do an admirable job, but it never feels like the audience gets to know the characters fully. There is a montage of photos seen of the family relationship in the opening credits but there doesn't seem to be a lot to say about the characters before the major setpiece comes into play. Were Adam and Grace a happy couple and were they ready for having a child? Was there sisterly tension between Grace and Lee at all? The sisters' mother appears for just a few seconds at the beginning but there was really not much to be discussed there as well. The film crams the characters and their stories in the first 15 minutes which does feel extremely short considering the rest of the 89 minute runtime is dedicated to the characters being stuck in the swamp among the trees. The balance doesn't quite work out, and in essence the film feels dragged by the lengthy survival segment.

One surprising aspect of the film is that the crocodile used was not created by CGI, but was in fact a real crocodile for all the shots. Greenscreen was obviously used for safety purposes, and this gives it an authenticity missing from many similar creature films from the modern era. From its jumps from out of the water to its creepy and quiet ways slowly preying on the characters, there was no trickery to the footage. While all of this is impressive, it doesn't quite make up for the fact that the rest of the film shows the surviving characters climbed up on trees avoiding the crocodile and fearing for their lives. Sure the attempts to get the boat turned back over and trying to outsmart the crocodile leads to tense moments, the tension starts to fall flat after some time for the audience. In addition, having only one crocodile in the entire area seems to be unusual, but then again, they do explain how many of them have been captured for sales, food, and for the crocodile farm as seen earlier.

The production happened to be one of two Australian crocodile films released in 2007. "Black Water" was the smaller one, shot on a very miniscule budget and using real swamp locations, a real crocodile, and a small cast and crew. "Rogue" was the bigger one, shot for $25 million with a much more well known cast, and relied more on CGI effects for the terror. Both films were fairly well received, with "Rogue" getting the bigger attention. "Black Water" was released at various film festivals such as Sitges, Montreal, Nuremburg Fantasy Filmfest, and London Frightfest in 2007, but didn't receive an Australian release until April 24th 2008, alongside some direct to DVD releases in other countries that same year. It also received a number of awards, such as three at the Melbourne Underground Film Festival and a soundtrack award for composer Rafael May from the Australian Guild of Screen Composers. Thirteen years later, director Traucki returned with the sequel film "Black Water: Abyss" with a larger budget and larger cast.

The film has its shortcomings, yet it still has some nice charms. The cinematography by John Biggins is great. Oxenbould's character of Jim and his "Crocodile Hunter" vibe is memorable even if his character was short lived (literally). But overall, the tense nature doesn't quite sustain its runtime, by not dividing enough time between the character development and the survival scenes. It's a good film for a watch but it doesn't have a very lasting or repeating effect as it could have.

Note this is a region ALL Blu-ray

Video


Umbrella Entertainment presents the film in the 1.85:1 aspect ratio in 1080p AVC MPEG-4. For a dark themed horror film it is very brightly colored and lit. Obviously some color correction has been applied, but the color palate doesn't seem to pop very much, having a fairly bland looking image throughout. It certainly looks and feels like a digital production, which can be a good thing, as the image does stay sharp. But there are also some digital artifacts that can be found in sequences. Considering that it looks quite similar in nature to the theatrical trailer found on this disc, it seems to be accurate in how the film originally looked. Overall, it should be a pleasing look for fans of the film.

The film's runtime is 89:16.

Audio


English DTS-HD Master Audio 5.1
English DTS-HD Master Audio 2.0 Stereo
There are two audio tracks available, both being lossless. The 5.1 track sounds quite good, utilizing the surrounds for natural noises such as bugs, waves of water, as well as music cues for the tension. Dialogue is centered and sounds great throughout, well balanced with the music and effects.

There are no subtitles available for the feature.

Extras


Audio commentary with directors David Nerlich and Andrew Traucki
This commentary by the directors have them discussing about the characters, the shooting locations, the use of a real crocodile and the challenges they faced throughout the production. Though there is some interesting information in here, it might have benefitted by having a moderator involved, as it does get slightly dull with the lack of deeper information on the production challenges.
in English Dolby Digital 2.0 with no subtitles

Deleted Scenes (4:12)
Included here are scenes such as Grace buying a pregnancy test kit at the drug store, a shower scene, and an extended scene of Lee reaching for a rope. The scenes are not fully finished, missing special effects and the sound being unmixed.
in 1080p AVC MPEG-4, in 1.85:1, in English Dolby Digital 2.0 with no subtitles

"The Making of Black Water" featurette (23:12)
This featurette includes interviews with the directors and actors, discussing the low budget nature, the difficulties with the production, plus some behind the scenes footage and greenscreen examples.
in 1080p AVC MPEG-4, in 1.85:1, in English Dolby Digital 2.0 with no subtitles

Theatrical Trailer (1:53)
The original Australian trailer is presented here. It has also been embedded below.
in 1080p AVC MPEG-4, in 1.85:1, in English Dolby Digital 2.0 with no subtitles



All the extras here were made for the initial DVD releases from over a decade ago. No new retrospective interviews or other extras are included. The film was also released on Blu-ray in Germany back in 2020, which included all the above extras, plus included a German exclusive short video commentary and a gallery.

Packaging


The packaging states region B only but it is in fact a region ALL Blu-ray.

Overall


"Black Water" has some positives with its production, especially with the real locations and real crocodile used for the film, but its pacing and its lack of character development makes it fall slightly flat for the most part. The Blu-ray includes many of the older DVD extras but doesn't include anything new or exclusive for this edition.
| | | | | |
| --- | --- | --- | --- | --- |
| The Film: C | Video: B | Audio: A | Extras: B | Overall: B- |